Working out in winter comes with pros and cons. Con: when the mercury dips, resisting the siren song of your duvet in favour of a sweaty sesh ain't easy. Pro: if you put in the hard yards now you'll be in peak form for summer and all of its skin-baring shenanigans. Decisions, decisions.
Call us shallow, but there's no better motivator to get your ass off the couch than some new gear, especially if it's been designed to withstand a workout in the cold. These are the best activewear brands to get your hands on this winter.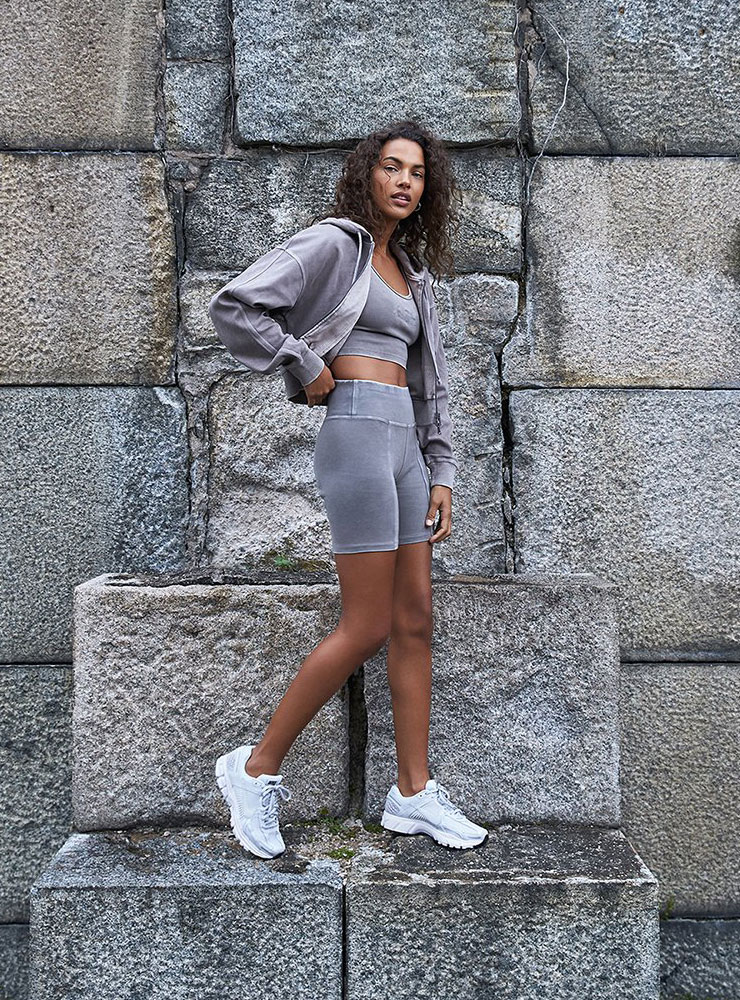 Image credit: Kith
Kith: Concrete
Kith's Concrete collection is, as the name suggests, all shades of grey, and we're here for it. Inspired by the NYC streets and pavements, the collection has been specially treated to achieve a unique, concrete-inspired look and feel, and ranges from soft lilac greys to washed out bitumen blacks. Including hoodies, crewnecks, and oversized tees as well as activewear staples, each piece is super soft and cosy and will easily see you through the season. Shop it here.
Adidas x Fiorucci
A true '80s love story, Adidas has teamed up with Fiorucci for a second collaboration that's about as kitch-y cool as we can handle, and the latest drop has just landed. While the limited edition streetwear line may be inspired by a carefree summer, don't fret, because you can easily repurpose these pieces for an Aussie winter. You'll find cropped hoodies, logo tees, vinyl jackets, trainers, slides, dresses, and accessories (the ribbed crew socks are sure to be instant hits) all baring the Adidas x Fiorucci kiss graphic or the Adidas x Fiorucci logo. Shop it here.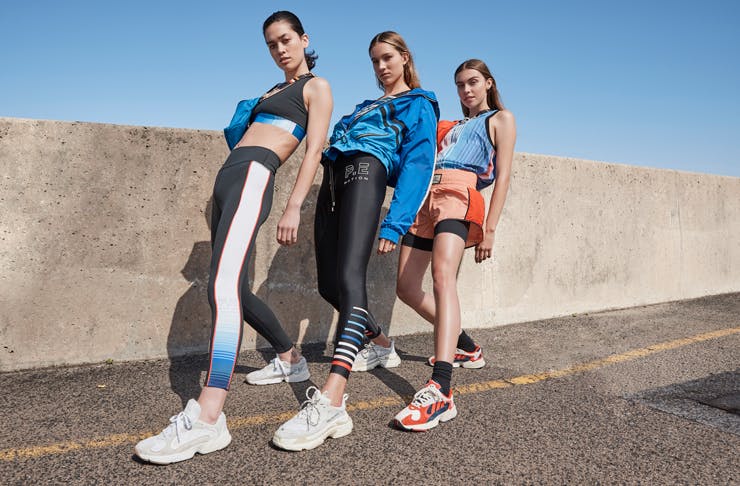 Image credit: P.E. Nation
P.E Nation
If you didn't realise your winter kit was missing an '80's inspired spray jacket, now you do. Aussie label P.E. Nation's unique, retro-inspired take on street-meets-sportswear feels just right for winter, with the new Power Up collection featuring high impact outerwear and drop-crotch trackies effortlessly melding function and fashion. Or get physical in leggings and sport bras with contrast panelling and the trademark P.E. pop of colour. Shop it here.
Satisfy Running
Premium running gear made in France, Satisfy's designs tap into running counterculture and the results are one-of-a-kind collections you're going to want to add to your stash. The Run West collection features au courant tie-dye sweats and cotton tees, windbreakers, and distressed, and 'moth-eaten' hoodies and tanks (the moth holes create vented cooling zones, duh). Shop it here.
Girlfriend Collective
Activewear has been slow to keep up with the responsible fashion wave (which is surprising considering polyester, a key component of most activewear, is made from plastic — that stuff we're drowning in and desperately needs recycling. Go figure), but Girlfriend Collective stands out from the pack thanks to its sustainable and ethical manufacturing process.
The totally transparent, all-sizes-welcome activewear label (stocking sizes XXS-XXXL) is most famous for its buttery soft cult leggings and sports bras, which are all made from recycled plastic bottles and dyed sustainably. And the colourways are a breath of fresh air on a gloomy winter's day. Think spring-y periwinkles, limes, and bright ivory. Shop it here.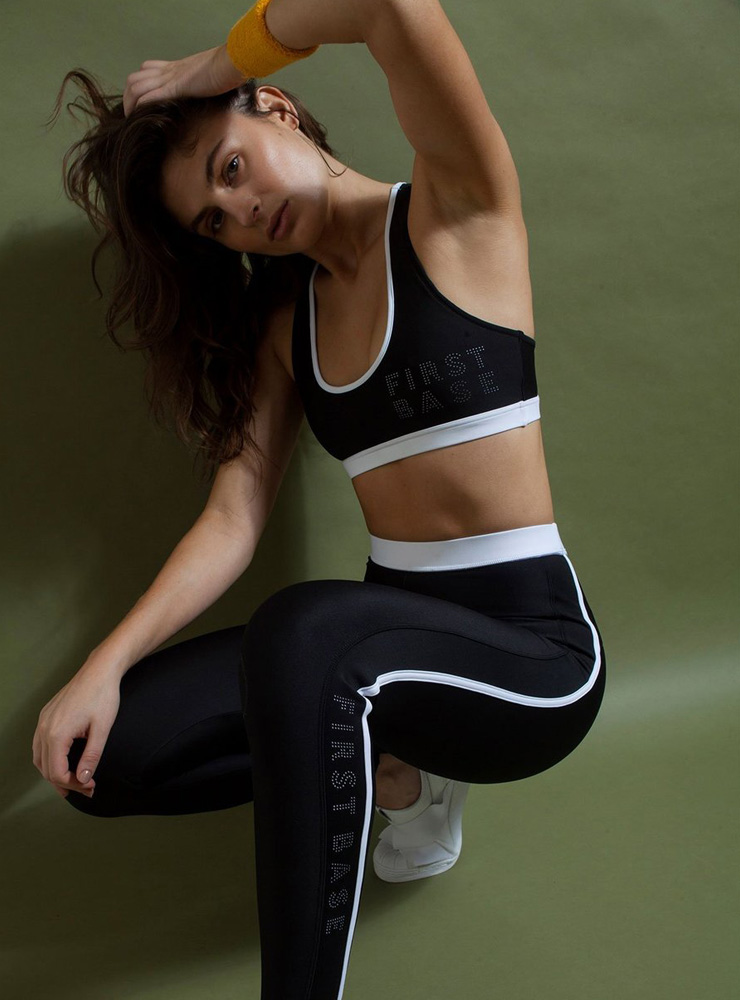 Image credit: First Base
First Base
Aussie label First Base (yep, this may be the only first base you're rounding on this winter) is dishing up ethically and sustainably made basics with a nod to varsity style. The latest winter collection includes retro bombers, windbreakers, and sweaters, and leggings finished with elevated racing stripes. Shop it here.
Outdoor Voices
If you're not familiar with cult US brand Outdoor Voices, you need to swot up, because its uniquely lax take on 'active' is right up every couch potato's alley. Dubbed 'technical apparel for recreation' OV's distinctive colour blocked and comfy designs are made to please the everyday, recreational athlete (i.e. you) and are guaranteed to scare away your seasonal affective disorder. Winter-friendly options like the Free Form Unitard, their best-selling TechSweat leggings, and a new line of brightly coloured Teva sandals basically begging to be paired with socks are our picks. This one is tricky to get your hands on, as it doesn't ship to Australia, but you can check out their online store here. Plus you can sort of get around the no-shipping thing with Australia Post's Shop Mate service.
Nike x Off White
Crowned hottest brand for Q1 2019 (no biggie) Off White's collaboration with Nike is not over, with a women's performance apparel collection set to drop within the next few months. While there's no official release date yet, the 'Track and Field' collection will reportedly include street and activewear staples such as jackets, leggings, sports bras, and running tops in a black and grey colour palette with pops of royal blue and yellow. Keep an eye out here.
EYSOM
Guys, if the old ruggers and singlet have seen better days, it could be time to up your activewear game. EYSOM is the answer to your prayers.
EYSOM (that's exercise your state of mind) combines function with a tailored fit to produce elevated men's activewear you can easily wear from the gym to the pub and back again. Think tees, muscle tanks, and slim-cut shorts in a simple colour palette you would be caught dead in. Shop it here.
Y-3
If there was ever a time to embrace monochrome, winter is it. Adidas and Yohji Yamamoto tie up, Y-3, has your back, literally, with a relaxed, elegant sportswear collection which embraces outerwear that blurs the lines between sports codes. Logos and the three iconic Adidas stripes are out in full force, while the restrained colour palette includes blacks, ivory and reds. Check it out here.
Under Armour Sportswear
Inject an early dose of spring into your sportswear with Under Armour's Floral Collection, featuring watercolour floral prints in everything from crops, leggings, and trainers to underwear and totes. Made to be paired with UA's oversized crews and boxy tees, or your new winter faves, the Women's UA Rush Leggings, in shades of grey, peachy-orange, and bright pink. Shop it here.
Want to glam up your look? Check out Heart Of Bone. THey're Billie Eilish's favourite jewellery label.
Image credit: Kith