Vivid is upon us for another year guys, which means one thing—an excuse to head out into the chilly winter to view the spectacular that is one of the world's best light shows.
To share the excitement, we've joined forces with American Express to give you the full run down of everything you need to eat and drink while you're on the Vivid light walk this year. But the fun doesn't end there. American Express have partnered with our good mates at Dimmi, who've enlisted 70 restaurants across Sydney to help you save your hard-earned cash and have the best Vivid experience of your life.
All you have to do is sync your American Express® Card with your Dimmi account, then book a seat at one of their participating restaurants through Dimmi, and receive $20 back when you spend over $50 during the festival period (T&C's below). You're welcome.
Untied Sydney
Barangaroo
One of the newer additions to Sydney's harbourside scene, Untied Sydney is a rooftop bar that combines delicious cocktails, South American-style nibbles and a view of the harbour. What more could you possibly need from a Vivid pit stop? Our top menu picks are the natural oysters (with dashi and finger lime) and chicken (with jalapeno, adobo and red cabbage slaw) for food. But more importantly, the big pineapple and Tully's plantation for cocktails—they even sound fun, right?
Ripples
Milsons Point
If you want to stay out of the action, while still (ahem) getting in on the action, then you can head to Ripples, which is on the northside and lets you view all of the Vivid lights without crossing The Bridge. For the best of both worlds, book a spot on their Vivid cruise, complete with a four-course set menu, paired wines and a harbour cruise (obvs).
12-Micron
Barangaroo
Finally, Sydney has gone and got itself a late night dessert bar, and we couldn't be happier about this as a mid-Vivid option. The crazy desserts by Darren Purchese are reasons enough to head here—we're looking at you seven-course dessert tasting menu—but the view over Vivid is the cherry on top.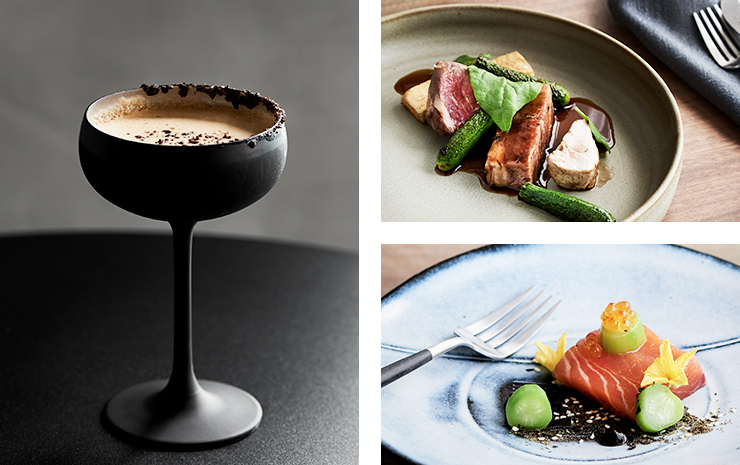 Indu
CBD
Sitting happily on the Vivid light walk Indu will warm you from the inside out with their Southern Indian and Sri Lankan food—because Vivid is in winter, you guys, and it'll be 100% necessary. The staff here are super friendly, so you'll be welcomed with open arms, plus a food and cocktail menu filled with all of your new faves (we're confident with that guess).
Saké
The Rocks
A Sydney institution and absolute no-brainer while out for Vivid, Saké serves up some of Sydney's best Japanese fare. We can never go past their signature sashimi dishes, like the hiramasa kingfish (with soy dressing, house made lime and jalapeno kosho), and always pair it with a cheeky sake explorer float.
NOLA Smokehouse & Bar
Barangaroo
Inspired by the culture and delicious food of New Orleans, including all of the American whiskies you can get your cocktail-loving hands on. As is typical of New Orleans, the menu at NOLA has hints of French, Spanish, Mexican, South American and North African, so when you head here (before kicking off your Vivid crawl), you'll want to start with the chicken liver terrine, then end with the fillet steak au poivre (with bone marrow hash). Along the way, you'll obviously want to order the 'make rum great again' cocktail, the southern julep, or both.
Mejico
CBD
It's no secret that we love ourselves a bit of Mejico, so we'll cut right to the chase on this one. Kick off your meal with the guacamole, which is smashed right at your table (yes, really), then move onto the mushroom ceviche and bone marrow salsa, before polishing off the margarita cheesecake for dessert. Mejico does fill up fast though, so we recommend that you book ahead of time to save any devastation.
Golden Century
Haymarket
When you make it as far as Chinatown you know it's time to settle in for a feast—and you'll want to hit up every single item on the menu at Golden Century. This one is known for their authentic Chinese dishes, so your most difficult decision will be deciding to order the banquet, or to not order the banquet (hot tip: order the banquet).
---
Once you've stuffed yourself silly and are feeling ready to relax with the view over Vivid laid out in front of you, then head for the American Express Invites Lounge. Located in the Quayside room on level 6 of the Museum of Contemporary Art, American Express Card Members will just have to flash their card for entry.
Terms & Conditions: Offer valid until 30/06/2017 or until 15,000 bookings have been allocated. To receive $20 back when you spend over $50 during Vivid, all you have to do is sync your American Express® Card with your Dimmi account, then use Dimmi to book a seat at one of their participating restaurants. Dine and pay on your synced card upon receiving the bill. Offer is valid multiple times per Card Member.
Editor's note: This article is proudly sponsored by American Express and endorsed by The Urban List. Thank you for supporting the sponsors who make The Urban List possible. Click here for more information on our editorial policy.
Image credit: 12-Micron | Ryan Linnager, Untied Rooftop | Alana Dimou, Saké, Mejico | Federica Portentoso