Alfredo and Isabel Aquilizan 'Project Another Country'

With an expected audience of 12 to 15 thousand people over the next few days, Sydney Contemporary is the first art fair of its kind for Sydney. Not just an occasion for the serious collector, works start at around $2,000, and work their way up to the most expensive piece on offer, Damien Hirst's Transportation, 2008, at a cool $900k.
Launched by Tim Etchells (co-founder of the prominent Hong Kong Art Fair) and under the direction of Barry Keldoulis, Sydney Contemporary marks the first time Carriageworks' entire space has been utilised for a single event. Up until a few weeks ago George Miller's Happy Feet production team maintained residence in half the space.
Over 83 local and international galleries have relocated for the weekend, representing 300 artists and bringing over 1,000 works with them.
Director Barry Keldoulis, having just returned from John Kaldor's home where he conducted an intimate and rare tour of the family's incredible contemporary art collection, led a second tour for the morning throughout the Sydney Contemporary space. Read on for some of our Sydney Contemporary highlights.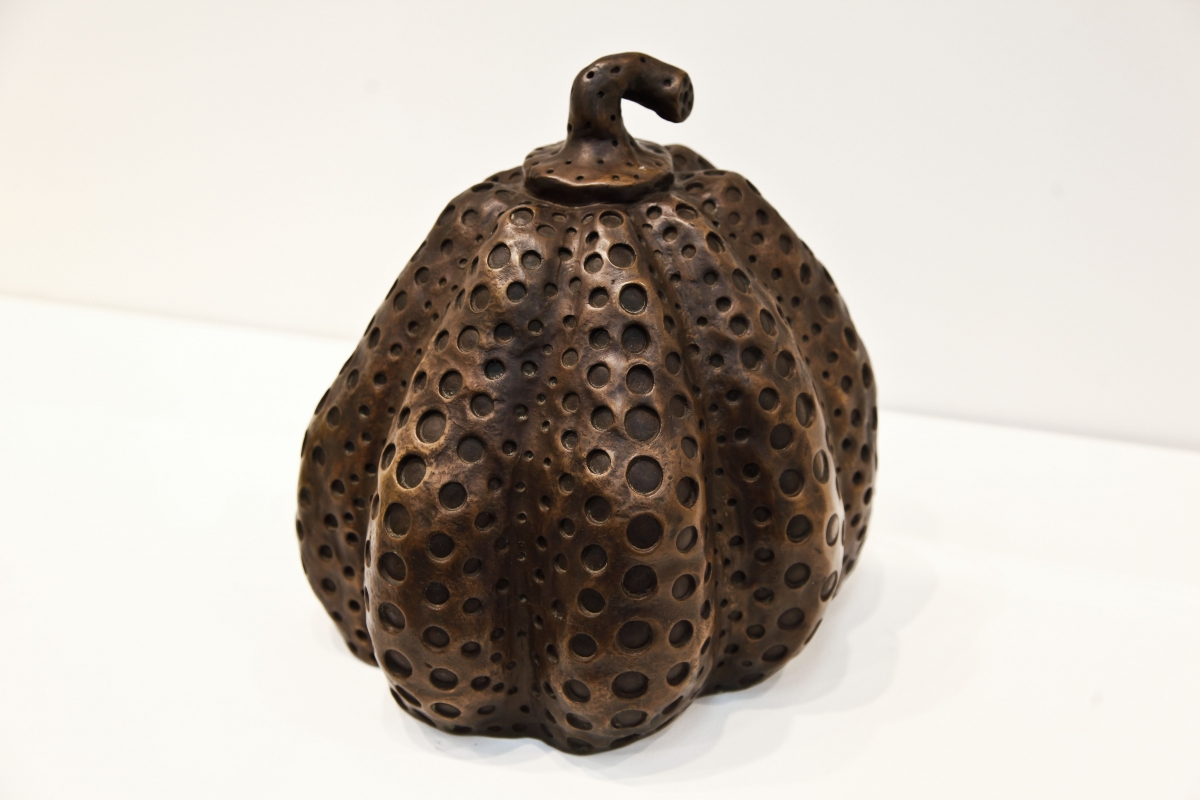 Yayoi Kusama 'Pumpkin'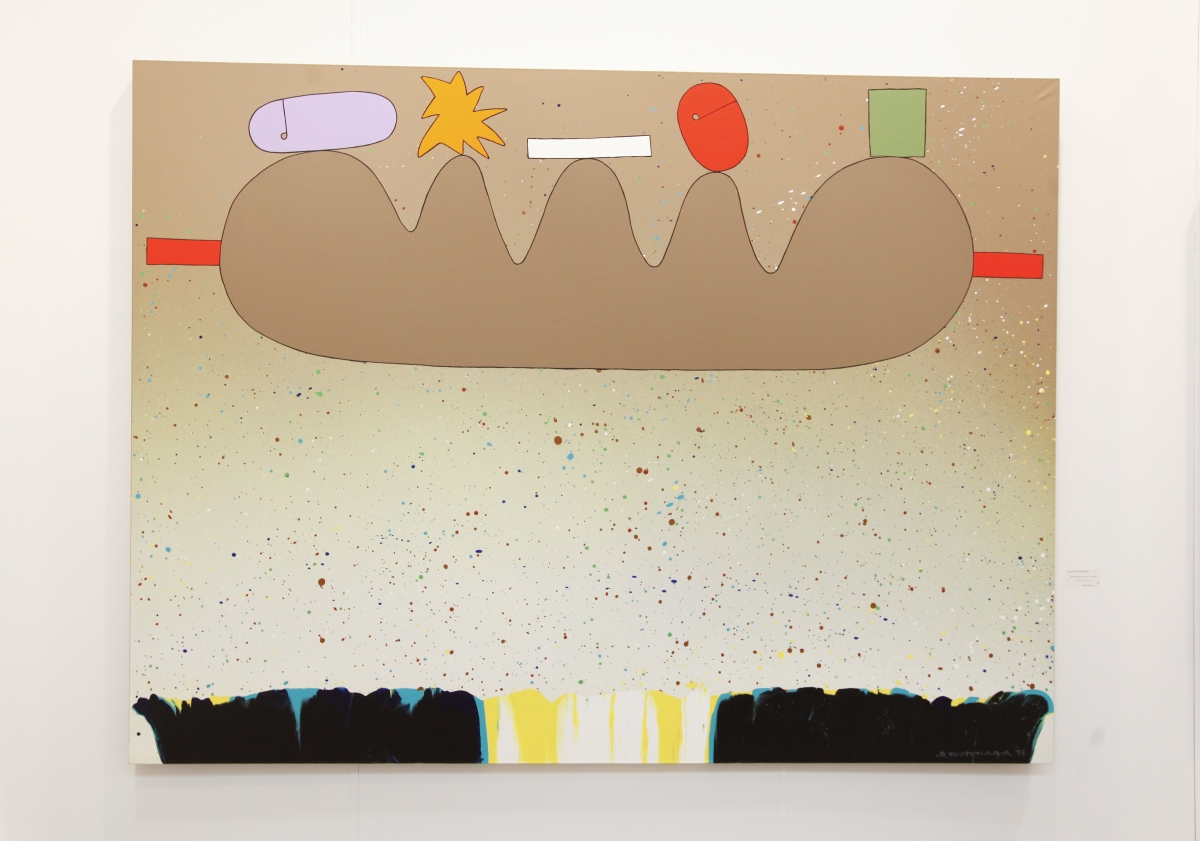 Sadamasa Motonaga 'Beiju Katachi Toitsutsu'

Whitestone Gallery
Based in Tokyo and founded in 1967, Whitestone Gallery's collection includes some extraordinary works by a number of Japanese masters. Yayoi Kusama, Hiroshi Semju (the youngest artist they represent at age 59), Sadamasa Motonaga, Kazuo Shiraga and Chiyu Uemae (their most senior artist at 93 years of age) are represented by Whitestone Gallery.
Highlights include: Hiroshi Senju's tranquilly bright waterfalls of pure colour pigment; Yayoi Kusama's Pumpkin; Sadamasa Motonaga's playful, optimistic abstractions; and finally to two co-founders of Japan's famed Gutai Art Association—Chiyu Uemae and Kazuo Shiraga. A mixture of Uemae's oil paintings and multilayered material works are on display, and of note Shiraga's Fragrance, 1975, which he painted with his feet.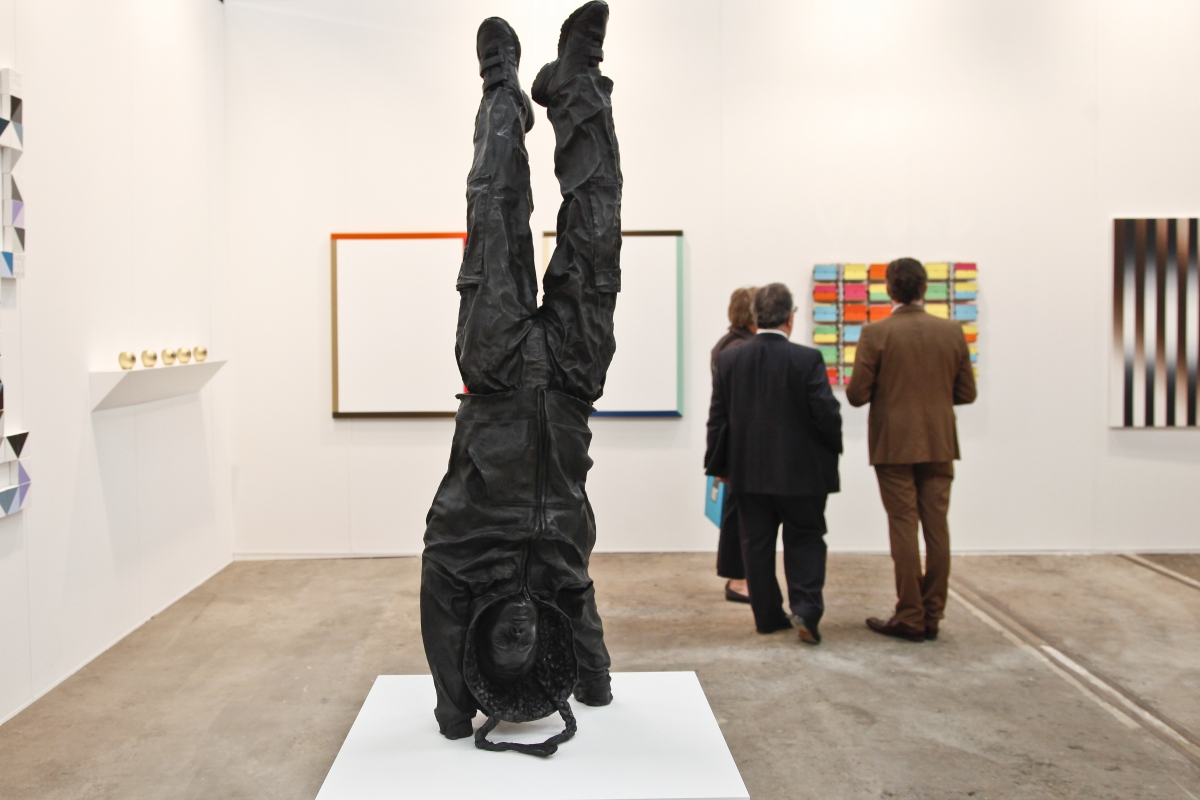 Caroline Rothwell 'Handstanding Youngster', 2012-2013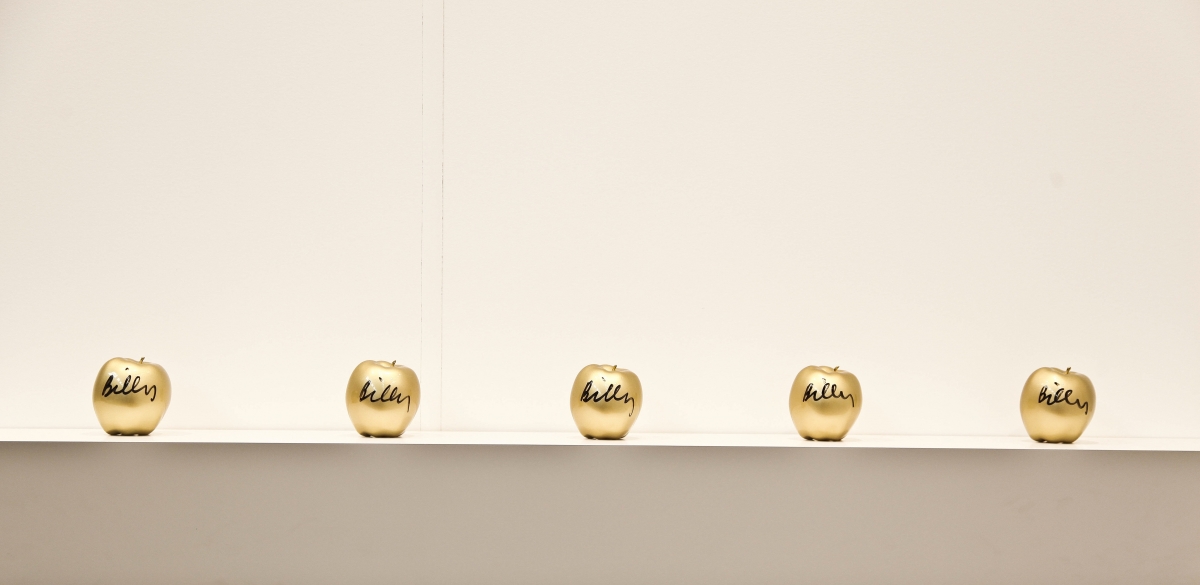 Billy Apple 'Five Decades'

With a very interesting mix of multidisciplinary artists in their stable, Starkwhite gallery is a prominent voice in New Zealand's contemporary art scene. The Auckland-based gallery brought works by artists including: Billy Apple, Caroline Rothwell, Jae Hoon Lee and Rebecca Baumann.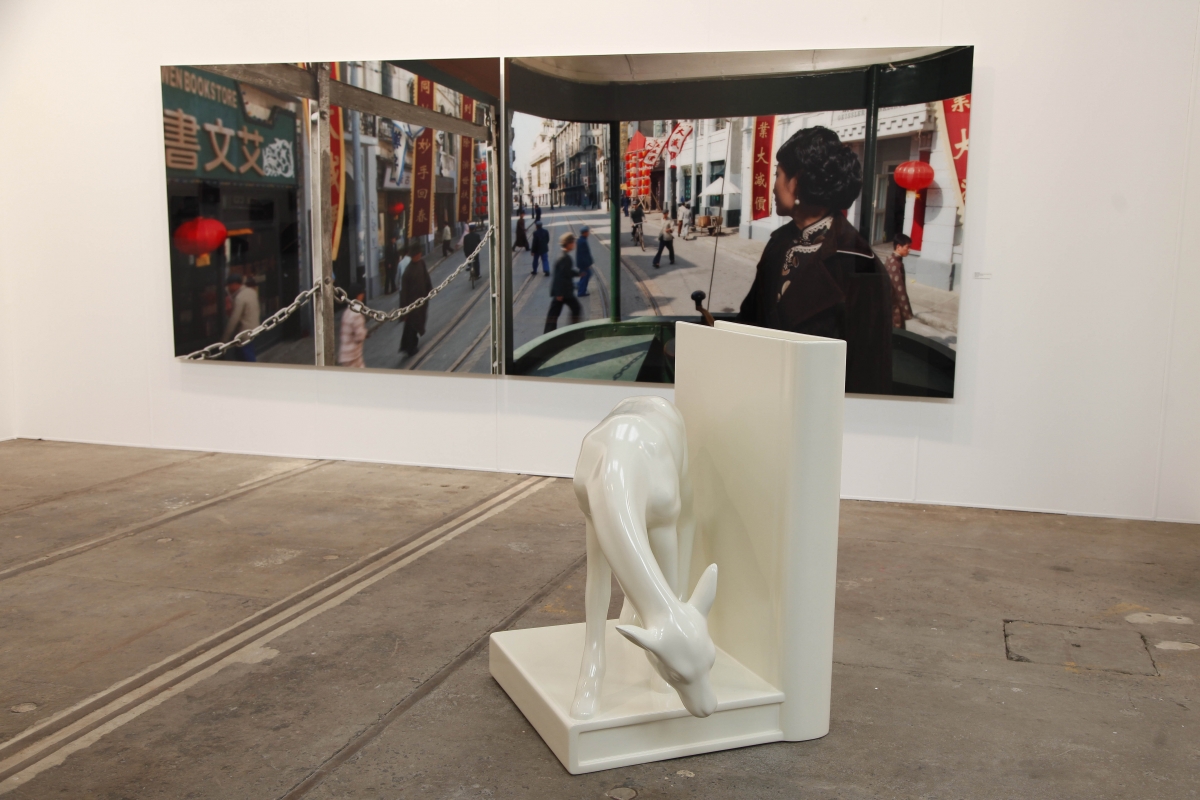 Michael Parekowhai 'Seldom is Herd' (sculpture) 2009; Isaac Julien 'Nanjing Road Tram' (Ten Thousand Waves), 2010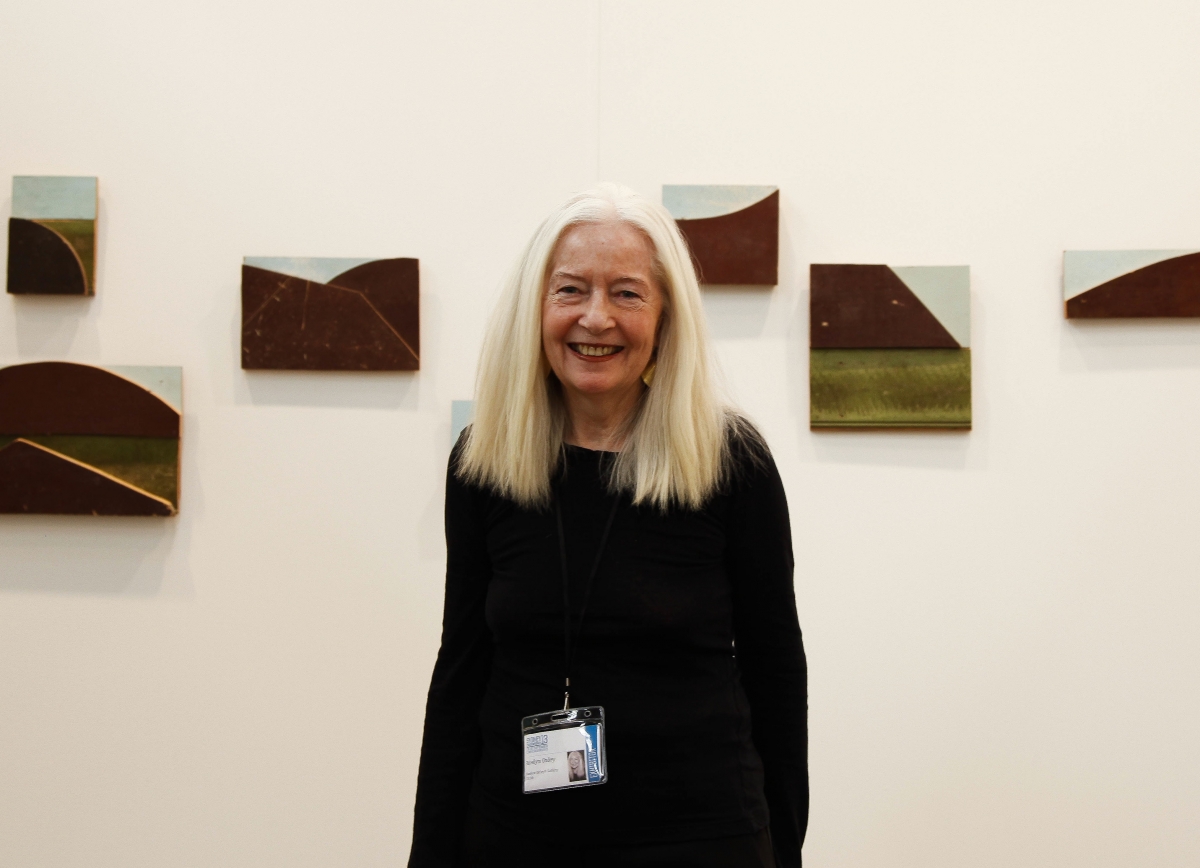 Roslyn Oxley of Roslyn Oxley Gallery in front of Rosalie Gascoigne 'Skylark', 1994

Renowned Sydney-based Roslyn Oxley9 Gallery exhibited a very beautiful and uniquely yellow Dale Frank, She was clearly a lesbian because she always has a good swig of whiskey in her white wine, 2013, along with works by Michael Parekowhai and Rosalie Gascoigne. Roslyn was on hand to share more about her artists and the collection.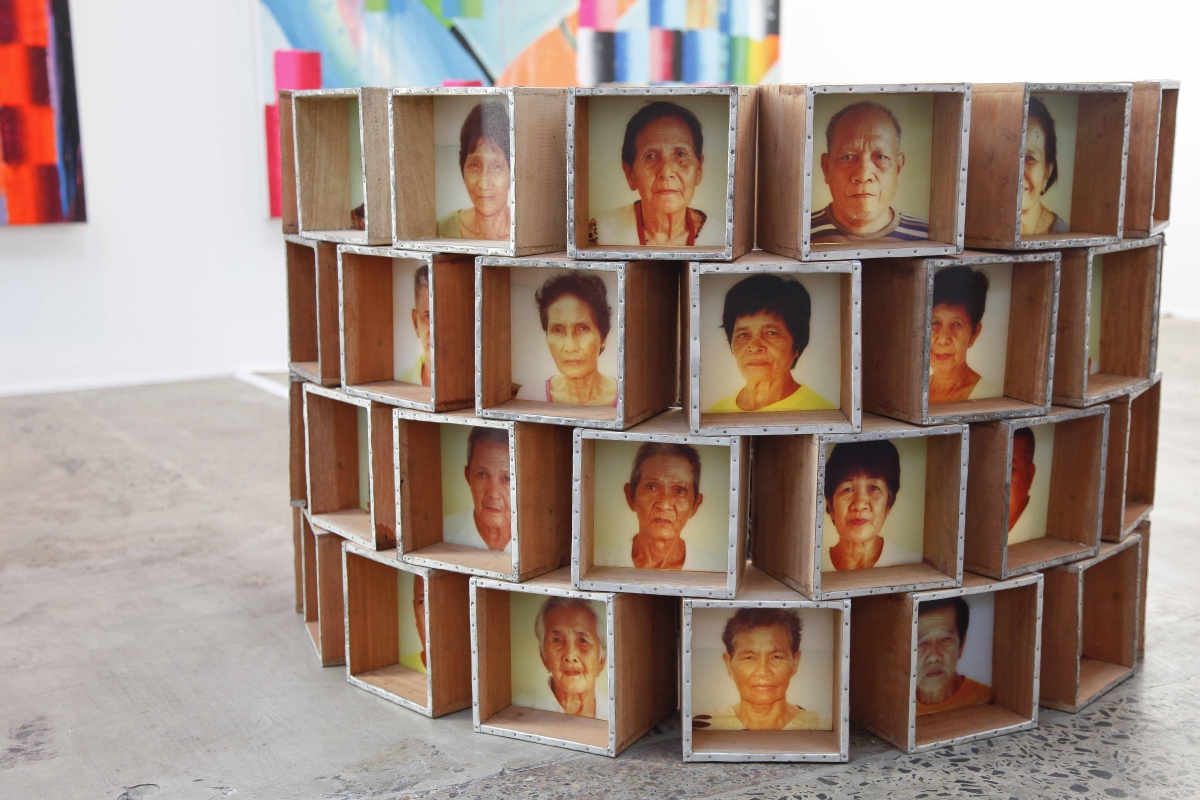 Diokno Pasilan 'Gantangan ID', 2012
Philippines-based The Drawing Room is a contemporary gallery located in Makati City. The gallery represents Filipino artists whose works combine cosmopolitan, urban thinking with personal and cultural histories. Alfredo and Isabel Aquilizan's stunning set of tin crowns (pictured top of page) offers a wonderful juxtaposition between the regal associations of such an item, whilst being comprised of old soup, tuna and condensed milk cans. Additionally, Diokno Pasilan's Gantangan ID references agricultural life using the gantangan boxes (the typical measurement for rice and produce in the Philippines) to house the profile pictures of a village's community.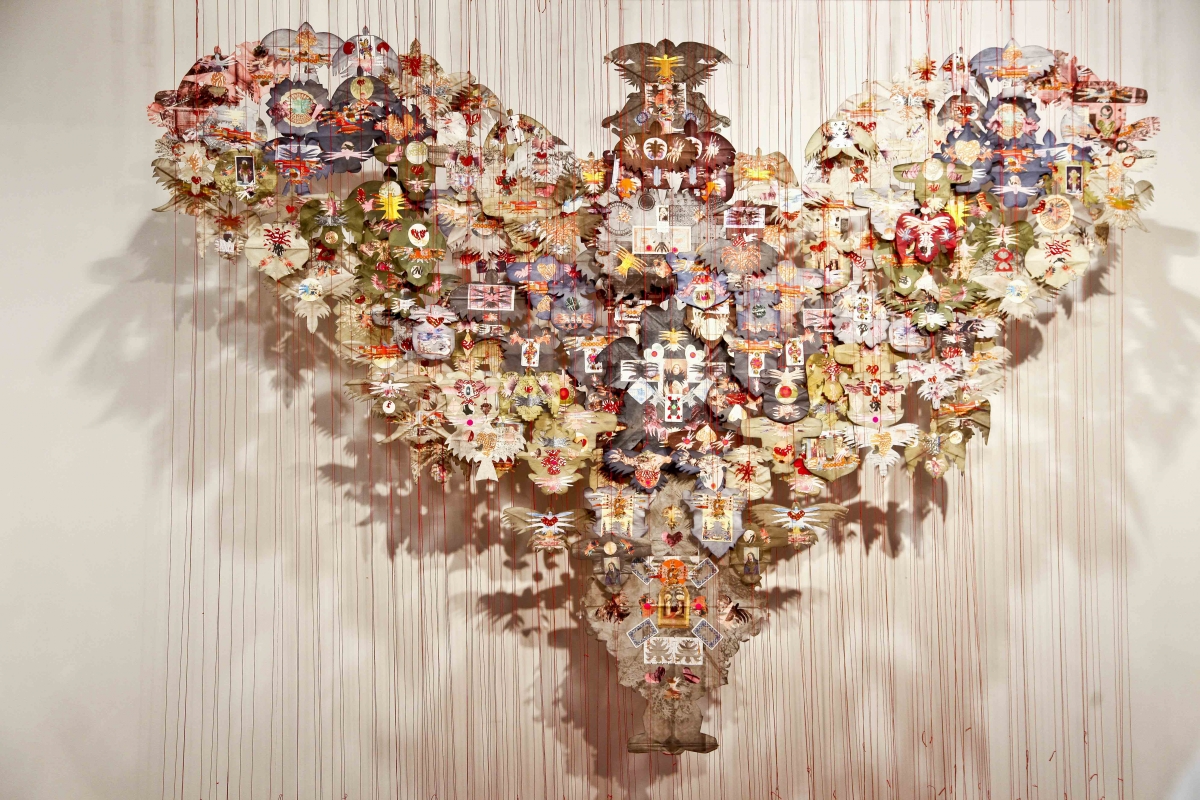 Lyndi Sales '159/295'
Opening its doors just this year, .M Contemporary is exhibiting as part of the Project Contemporary section of the fair, devoted to galleries less than three years. A collection of artist Lyndi Sales' work is the focal point of .M Contemporary's display. 159/296 is a large, beautiful installation representing the lives lost in the tragic Helderberg plane crash of 1987; Lyndi's father died on the flight. Thought to be caused by the South African regime in power at the time, the lives lost were mainly South African and Taiwanese nationals. Lyndi Sales is based in Cape Town, South Africa.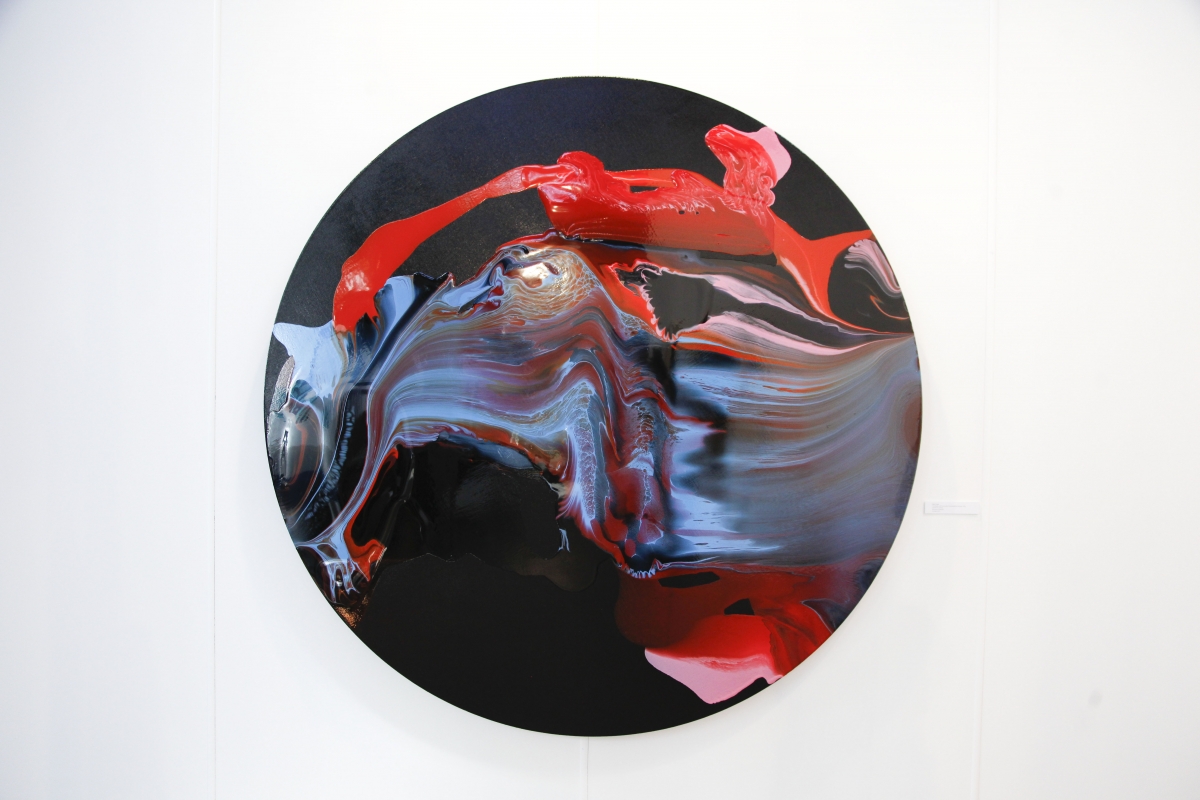 Dale Frank 'The Always Well Lubricated Campbelltown Beauty', 2012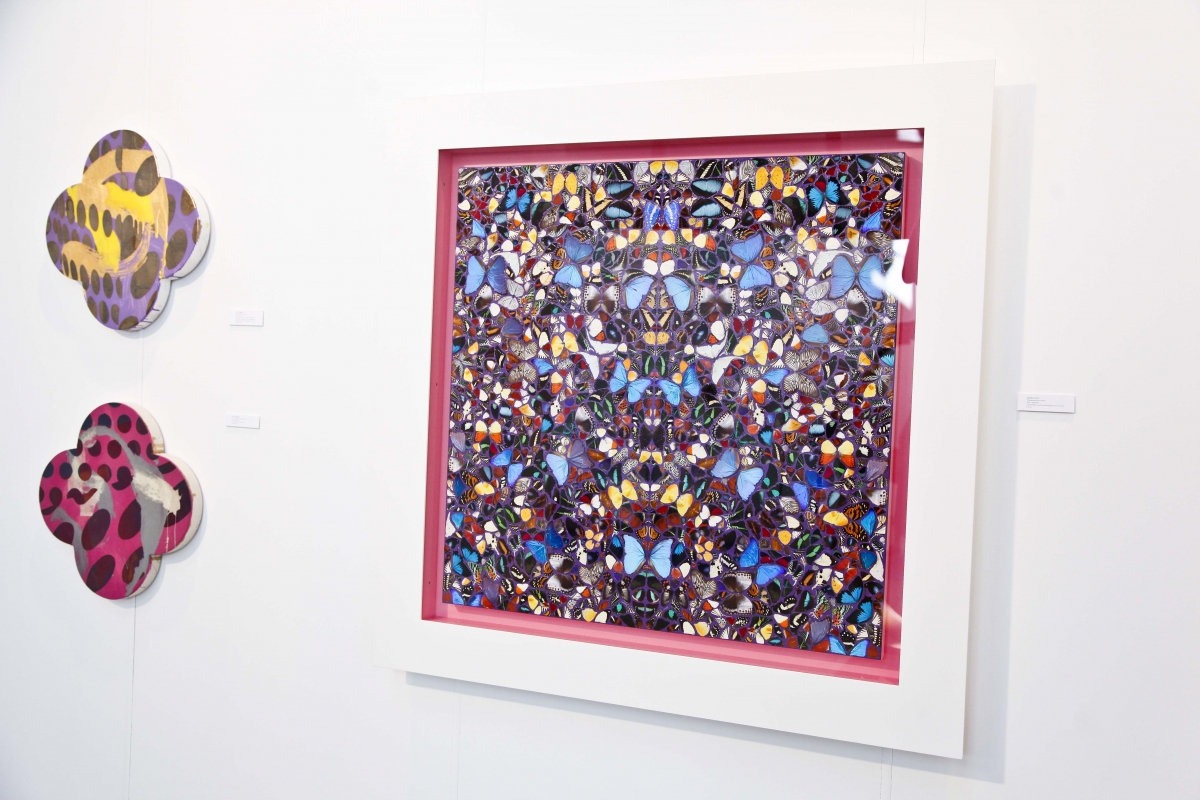 Damian Hirst 'Transportation' 2008
Auckland-based Gow Langsford Gallery brought an outstanding curation of works to the fair, including a number of stunning Dale Franks and British artist Damien Hirst's Transportation, 2008. As mentioned, Damien Hirst's piece fetched the highest price tag at Sydney Contemporary.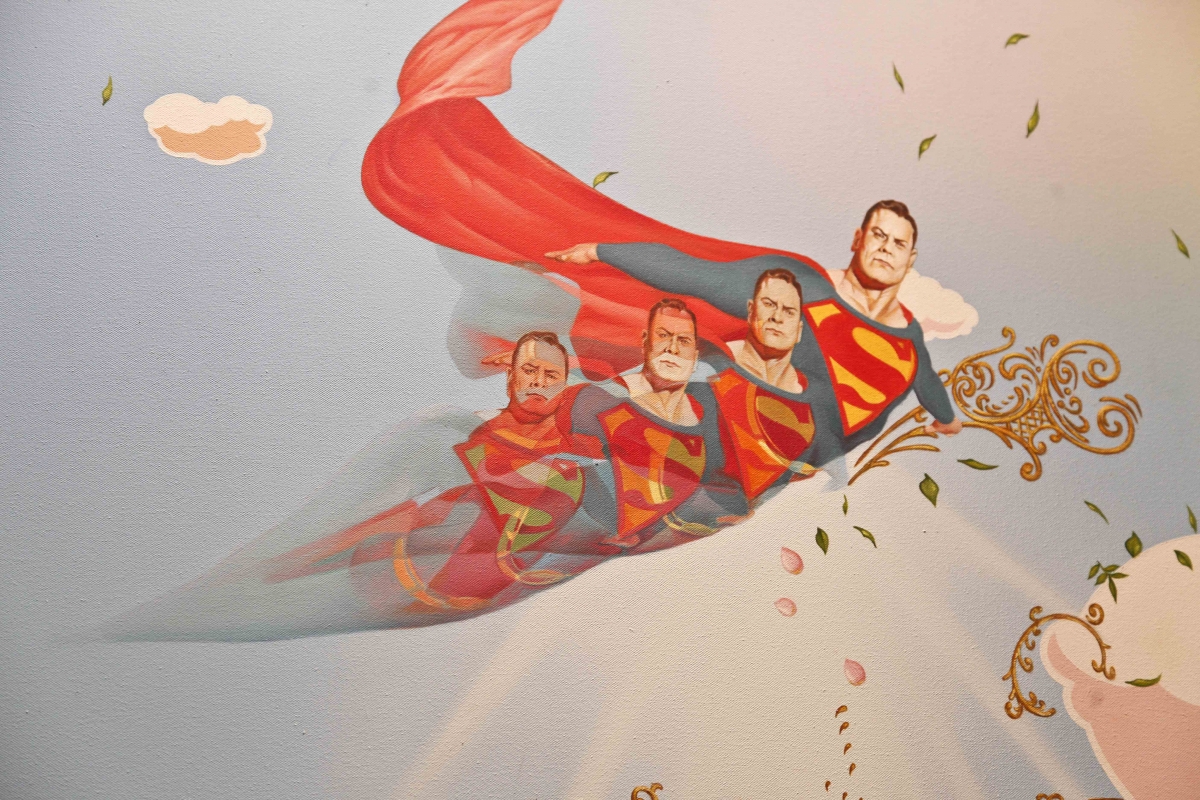 Thukral & Takra 'Wonder Woman III' (Flying Girl) 2011 [Part of the work pictured]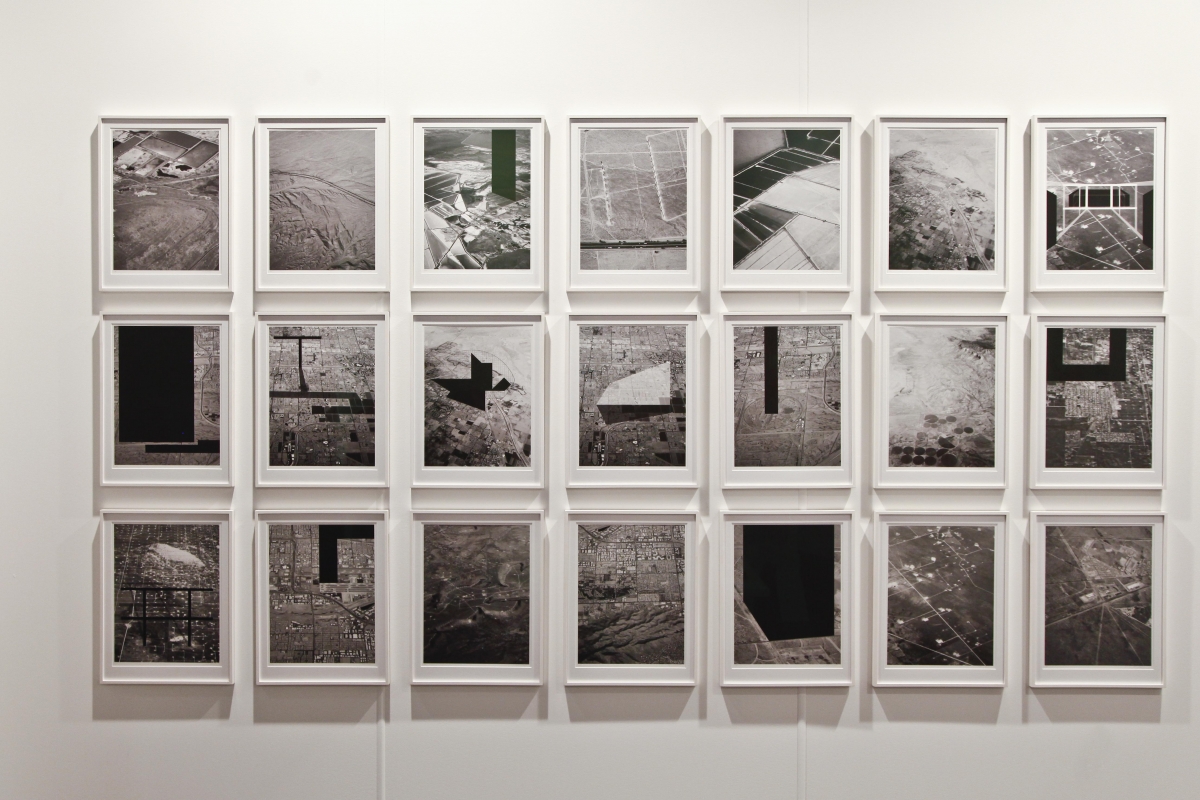 Seher Shah 'Mammoth: Aerial Landscape Proposals', 2009
Nature Morte gallery is based in New Delhi, India, representing contemporary Indian artists Thukral & Tagra (Jiten Thukral and Sumir Tagra) and Pakistan-born, New York-based artist Seher Shah. Seher Shah's Mammoth: Aerial Landscape Proposals comprises a collection of altered surveyor images, with a touch of the artist's presence incorporated into each piece. Thukral & Tagra's works focus upon the growing wealth of India's burgeoning middle class and the implications that come along with this exponential social change.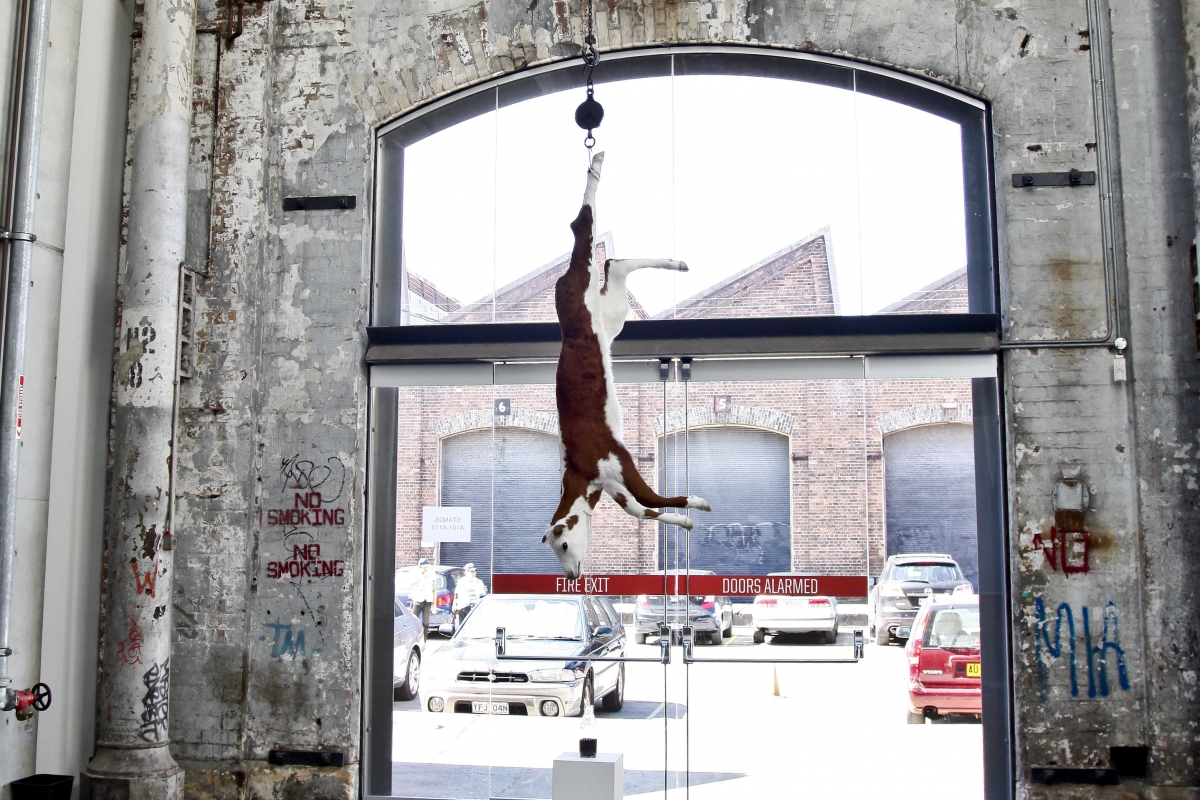 Julia DeVille 'It's a Wonderful Life'
Jan Murphy Gallery is a leading Brisbane-based contemporary space, which represents established and emerging artists from across Australia. Artists including Ben Quilty, Victoria Reichelt, Lara Merrett, Jason Benjamin, Julia DeVille and Jason Fitzgerald are part of Jan Murphy Gallery's stable. Of note is Lara Merrett's majestic Stop Making Sense and Julia DeVille's confronting It's a Wonderful life taxidermy.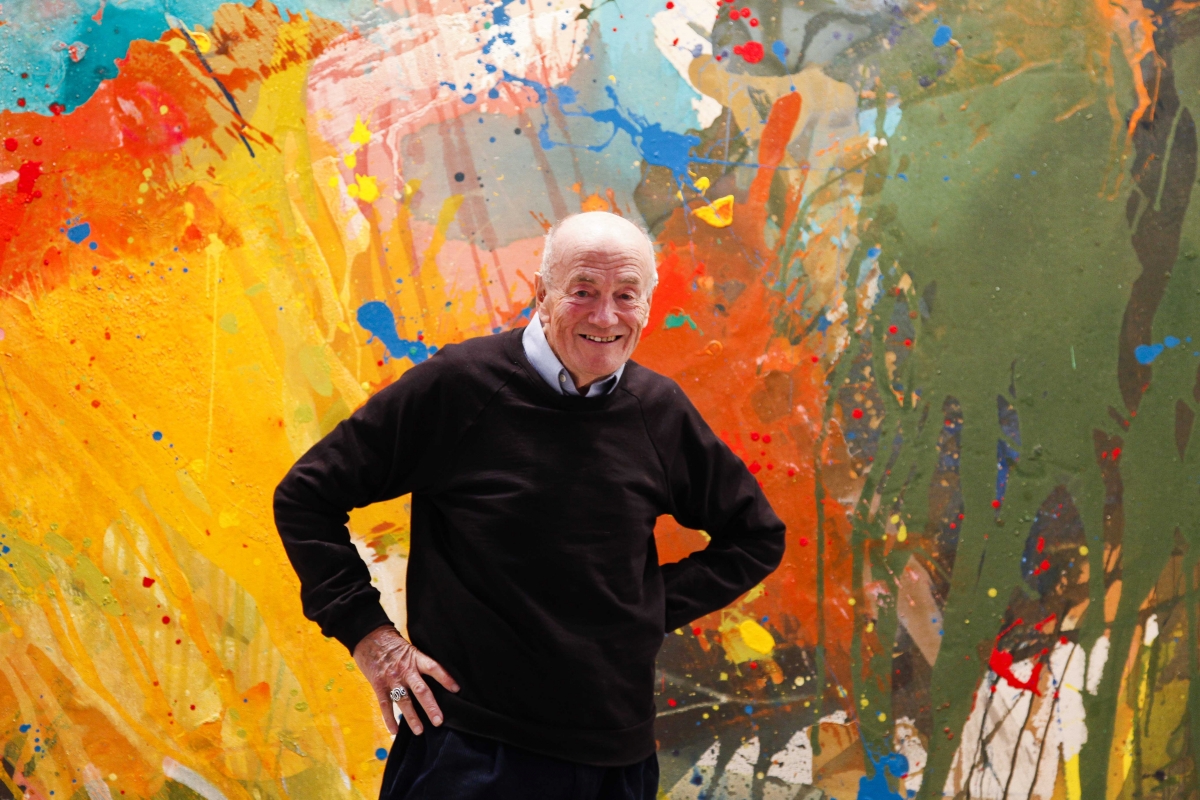 Sydney Ball in front of 'October Fields', 1976
An absolute highlight of the fair is the Sydney Ball collection from Sullivan+Strumpf gallery. Australia's iconic abstractionist, Sydney Ball, celebrates his 80th birthday this October and in a wonderful move by Sullivan+Strumpf gallery, Sydney Ball's October Fields, 1976, is being exhibited for the first time and on sale for $150k. In addition to Ball's major work, modestly priced acrylics on paper starting at $3,600 are for sale, as well as screen prints from $3,150. What an incredible way to start your contemporary art collection but with a Sydney Ball no less!
TUL Note: Jasper Knight and Isabelle Toland's The Hangman's Scaffold is a standout feature of the Installation Contemporary (pictured below).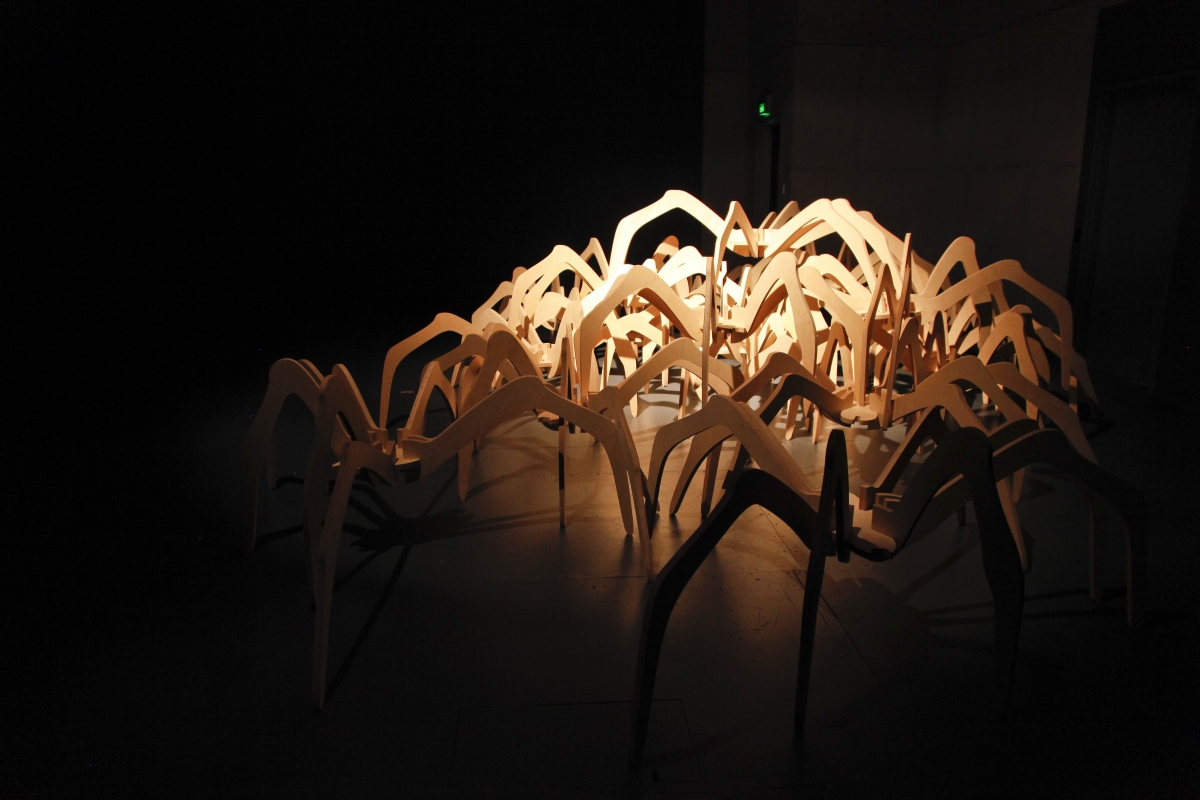 Tickets are available at the door of Sydney Contemporary, Carriageworks Eveleigh, over the weekend—$25 per adult and $15 per concession. Opening Hours are Saturday 10am – 6pm and Sunday 10am – 5pm.
Image credit: Anastasia Nielsen