Japan is on everyone's lips these days, but there's so much more to this island country than the bright lights of Tokyo. Don't get us wrong, Tokyo is incredible, as detailed here and here, but getting out of the capital city and exploring what's on offer in Sapporo, Fukuoka, Nagasaki and Osaka will well and truly make you fall in love with this country (if you haven't already).
Get ready to load up on ramen, kitschy bars, stunning sights and, surprisingly, loads of great coffee.
Here are four cities well worth exploring on your next trip to Japan.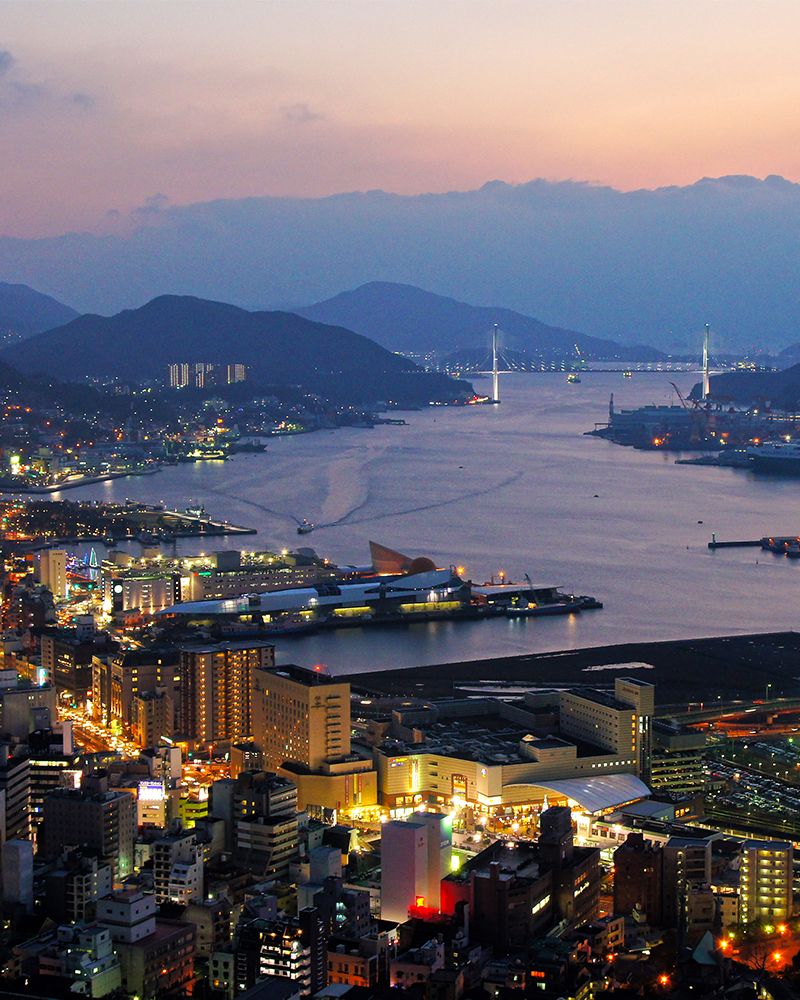 Nagasaki
Nagasaki has risen from its unfortunate past into a lively city rich in equal parts culture and nature. There are ample places for reflection in this port city which is found on the island of Kyushu.
Hotel
Garden Terrace Nagasaki Hotel & Resort
Centrally located on Mount Inasa, the Garden Terrace Nagasaki boasts sensational sights of the city skyline and harbour. The rooms are large for Japan's standards and offer ocean views and terraces, while the hotel houses a pool, wellness centre and teppanyaki restaurant.
i + Land
Natural hot spring baths, saunas, rooms with hammocks and ocean views all await at the recently renovated i + Land in Nagasaki. With a myriad of room types on offer, including a 'bark lodge' in case you meet any canine companions along the way, several restaurants and a bakery.
Coffee
Juma Cafe
Close to Peace Park, Juma Cafe has your espresso needs sorted. Cross your fingers and hope you catch their 'coffee dog' Leo while you're there—he's extra fluffy and adorable.
Blueprint
Yes, Blueprint does coffee, but you'd be mad not to grab one of their Insta-worthy bubble teas as well. They also have a bunch of set meals on offer, including croissants, booze and an afternoon tea special.
Eats
Shippoku Hamakatsu
One visit to Shippoku Hamakatsu and you'll be brought up to speed on the local cuisine. Served in Chinese-inspired banquet-style known as shippoku ryori, you'll get to taste everything from hydrangea fried bean curd to green tea soba noodles.
Bread A Espresso
If you're looking for a western breakfast, head straight to bread A espresso in Gotomachi. This tiny bakery serves sweet and savoury breads with flavours like earl grey, walnut and raisin, and white chocolate and macadamia nuts. Their coffee is killer too.
Yossou
Home of chawanmushi (steamed savoury egg custard), Yossou has built itself a strong reputation over the past 140 years. Made with bamboo shoots, shiitake mushrooms, eel and gingko, the creamy soup-like custard may not sound or look appealing at first glance, but you'll polish off a bowl in no time.
Fukusaya
You haven't been to Nagasaki until you've tried castella cake. Best accompanied with hot tea, this syrupy sponge cake can be found at Fukusaya stores in Amu Plaza and Funadaikumachi.
Unryutei
One of the best gyoza joints in Nagasaki, expect fast service, bite-sized dumplings and cheap and cheerful vibes.
Drinks
Bar IWI
Owned by a Kiwi, Bar IWI does cheap drinks, craft beers and is open late.
Bar Miura
Grab a seat at the counter of this cute, traditional bar and order your Japanese whisky of choice: Yamazaki, Taketsuru or Hakushu.
Vibes
Peace Park
Since the atomic bombing of Nagasaki the region has had a huge focus on peace, and Peace Park is a must-visit to reflect on the atrocities of WWII. Remnants from the epicentre of the explosion can be seen under glass at Hypocenter Park and Memorial Park houses the Nagasaki National Peace Memorial Hall. If you, like us, need to brush up on your history, the Nagasaki Atomic Bomb Museum details the history of nuclear weapons, their devastating effects and pays tribute to the 150,000 people affected by the bombing in 1945.
Hashima Island
Hashima Island (also known as Battleship Island as it looks like a ship from afar) is worth hopping on a tour for. It's hard to believe this ghost-town, which was abandoned in the 70s, was once one of the most densely populated places on earth with its dilapidated buildings and historic ruins. The island used to be home to an underground coal mine, but when coal supplies dwindled everyone jumped ship. Since then it's been a popular site for tourists, offered inspiration for Javier Bardem's lair in the 2012 Bond film Skyfall and has become a UNESCO World Heritage Site. Snap up tour tickets right here.
Mount Inasa
Offering the best views of Nagasaki and one of the best night time views in Japan, trekking up to Mount Inasa is mandatory. And by trek, we mean via ropeway (cable car), bus or car. Check out the restaurant, Inasayama Observatory and Fuchi Shrine when you get to the top.
Nagasaki Chinatown
Home to the stunning Nagasaki Lantern Festival, which coincides with the Lunar New Year, Shinchi Chinatown is a feast of colour, sights and smells. It's also the top spot to chow down on Nagasaki's signature Chinese-influenced noodle dishes—Chanpon and Sara Udon.
Day Trips
Huis Ten Bosch
You'll find Dutch influences throughout Nagasaki as it was the only city to open to the west during the Edo period. But the influences don't just stop at architecture and food, there's even a Dutch theme park called Huis Ten Bosch. A one and a half hour train ride (or one-hour journey by road) from central Nagasaki, the theme park resembles a mini-Holland from the middle ages and includes canals, museums, shops, restaurants and hotels. Head there during the Big Tulip Festival, which takes place between February and April each year. Book your tickets here.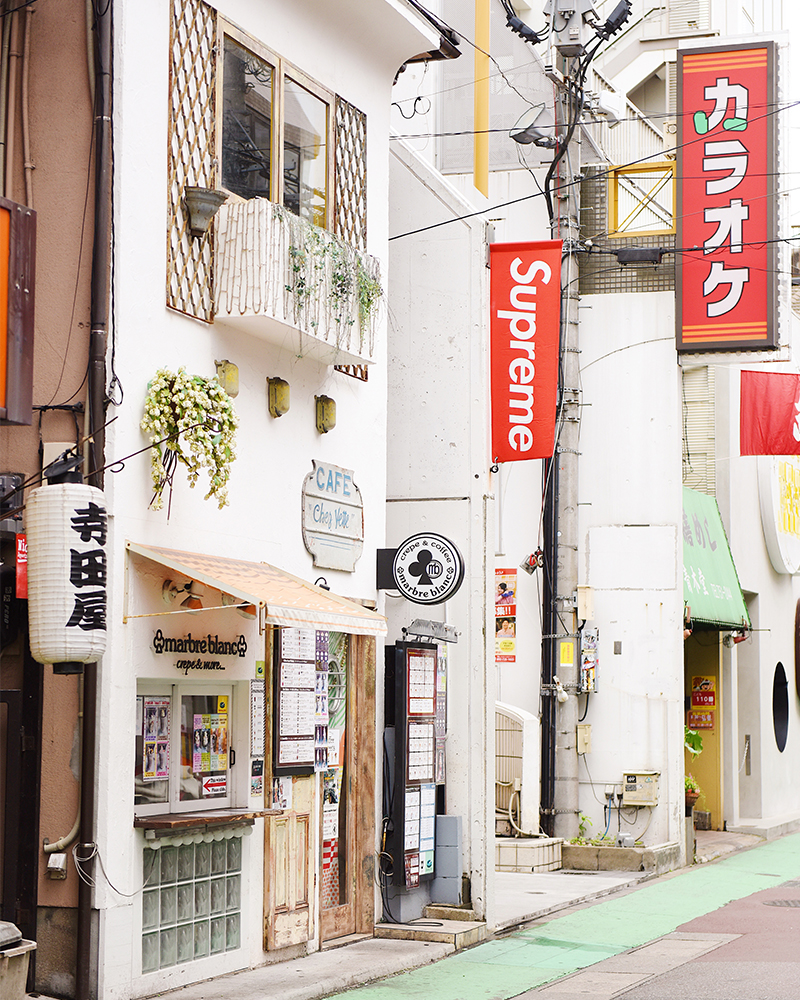 Fukuoka
Well connected by Japan's phenomenal bullet train system, Fukuoka is also situated on Kyushu island and is the nation's fifth largest city. The contemporary metropolis is densely populated, making for the perfect hub from which to take day trips and it also happens to be one of the 12 Japanese cities hosting the 2019 Rugby World Cup.
Hotel
Oriental Hotel Fukuoka
Recently renovated, Oriental Hotel is right next to Hakata Station, making it a super convenient location if you're looking to tackle a few day trips. The rooms feature natural textures and are fitted with humidifying air purifiers, which is a very welcome addition come winter time.
The Luigans Spa And Resort
Away from the hustle and bustle, if you're looking for a relaxing escape The Luigans is just that. Perched on the shores of Uminonakamichi Seaside Park the rooms are large and the hotel has resort-style pools, a relaxing spa and great (albeit somewhat expensive) dining facilities.
Hotel Il Palazzo
Hotel Il Palazzo was built by Italian architect Aldo Rossi in the early 90s and was one of Japan's first design hotels. While its rooms are a little dated, the pink and green façade with Roman-like columns is definitely one for the 'Gram. Be sure to ask for a non-smoking room if that's what you'd prefer.
Coffee
REC COFFEE
Since launching as a mobile coffee shop in 2008, REC COFFEE has grown to encompass four brick and mortar stores across Fukuoka and one in Tokyo. Co-founder Iwase Yuwa is an award-winning barista and the cafes specialize in French press coffee and espresso, as well as more creative concoctions like brown sugar lattes and ginger cinnamon lattes. Be sure to pick up a bag of REC COFFEE beans as a memento.
Manucoffee
The coffee culture in Fukuoka is strong and Manucoffee is another spot sourcing artisan beans and roasting them locally. Housed in a bright yellow building in Fukuoka city, the shop seats 25 and is the place to go for a winning cappuccino.
Eats
Hakata Issou
Home of Hakata ramen (one of the "Big Three" hubs for ramen in Japan), if you don't chow down on this soupy, noodly goodness when in Fukuoka you haven't done your travels justice. At Hakata Issou you'll find the steaming bowls of house-made buckwheat noodles in pork broth that many say is the best they've ever tasted. Expect queues.
ICHIRAN
You didn't think we'd stop at one ramen place, did you? ICHIRAN dedicate all of their time to perfecting their Tonkotsu ramen, and it shows. With several locations around Fukuoka, you're never far from a bowl of the good stuff.
Pizzeria da Gaetano
With all of the ramen and sashimi you'll be eating, there will come a time that you'll crave pizza, and when the hankerings strike you'll want to head to Pizzeria da Gaetano.
Drinks
Ningyo Shoji
Get your bar hop on and head out to Nakasu's bar alley. Packed with loads of small bars, you can duck in and out until your heart's content.
Caveman
A favourite with the locals, Caveman has all of the beer, whisky and cocktails you'll need to get you through a night in Fukuoka. They're also serving some pretty tasty curry rice for when those late-night cravings set in.
Yumekichi Wine
A Euro-inspired wine bar, head here if you're thirsty for natural wines galore.
Coyote Ugly
Get excited, because Coyote Ugly is exactly what you're expecting. A bar based off the 2000 hit film starring LeAnn Rimes, Tyra Banks and Piper Perabo, you can expect plenty of bar dancing, butt slapping fun… just don't ask for water.
Vibes
Nakasu
Northwest of Fukuoka's popular shopping spot, Canal City, you'll find the tiny island of Nakasu, which comes alive at night with small 10-seater bars and yatai (food) stalls. Get there via the subway on the Kuko Line.
Temples And Castles
From Fukuoka Castle's ruins and the Tochoji temple to Japan's oldest zen temple, there's no shortage of historical relics to scope out.
Ohori Park
Work up a sweat on the two-kilometre walking path around Ohori Park's pond while soaking up the city views, then head over to the Japanese Garden and Gokoku Shrine.
Owl Family
Forget cat cafes and head to Fukuoka's one and only owl cafe. It's without a doubt, a hoot.
Day Trips
Yufuin
The one-and-a-half-hour drive from Fukuoka is one thousand percent worth it for the incredible cakes, bakeries, fairy tale vibes and Studio Ghibli spots that await in Yufuin. Definitely stop at Yufuin Burger for lunch and Kiki's Bakery for a snack.
Beppu
Around two hours away, Beppu is home to over 2000 hot springs and steam seeps out of almost every crack in the pavement. There are plenty of hot springs to visit, all different shapes, sizes and colours, as well as onsens galore. There's even a hot spring that's filled with crocodiles dubbed monster mountain hell… thankfully it's fenced. We highly recommend checking out this one-day private tour, or this onsen.
Kyushu
This island is Japan's most south-western. It's a lush tropical paradise, and on this tour, you'll get to visit the Dazaifu Tenmangu Shrine surrounded in plum trees; you'll visit not one, but two, hot spring towns and take a stroll through the quaint streets of Yufuin. Book here!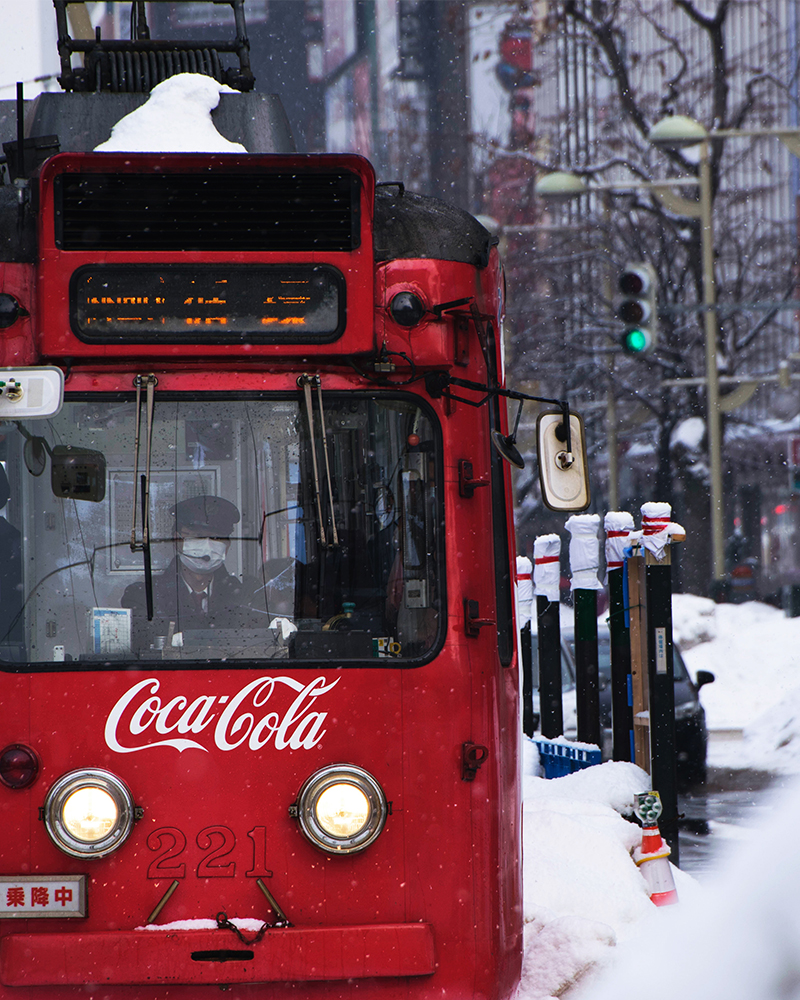 Sapporo
A snow-lovers' paradise in the mountainous Hokkaido prefecture, Sapporo is, you guessed it, best visited in winter. That said, if you're headed to Japan in the warmer months, you'll get a kick out of its fields of flowers, beer gardens, Hokkaido-style soft serve and fresh seafood.
Hotel
UNWIND HOTEL & BAR
A cosy and central escape, UNWIND is all lodge vibes, wooden accents, warm tones and dull lighting. There are multiple fireplaces, a rooftop fire pit, fire-themed bar and, the icing on the cake, free wine every day between 5pm and 7pm.
La'gent Stay Sapporo Odori Hokkaido
Two hot springs, comfy rooms and some of Japan's greatest hospitality is found at La'gent Stay. Opt for the buffet breakfast for a variety of dishes—it's always more interesting Japanese-style.
Coffee
Morihico
Kick start your day with a strong brew from the roasters at Morihico. They've been around the traps for over 20 years and know plenty about good coffee. You'll find them at multiple locations around Sapporo.
Baristart
An adorable little coffee shop, Baristart sources beans from local roasters in Sapporo and Tokyo. And to them, milk is a big deal, sourcing only the best supplies from dairy farms all over Hokkaido.
Eats
Soup Curry
One of Sapporo's signature dishes, Soup Curry is just as delicious as it sounds and makes for the perfect warming dinner on cool nights. There are plenty of great spots to get your hands on a bowl all over the city, but Suage Soup Curry and Nishitondendori Soup Curry are some of the best.
Hanamaru
Once you're done slurping up soup curry it's time to hop on the sushi train at Hanamaru. This buzzing spot above Sapporo Station is usually packed, but it's definitely worth the wait if you have to.
Jingisukan
Jingisukan is another of Sapporo's signature dishes. In simple terms, it's like the Japanese version of Korean BBQ whereby you cook lamb on a rounded grill. Spots to try include Jingisukan Daruma and Sapporo Genghis Khan.
Aoi Sora
Japan's vegan and vegetarian culture is growing, but it can still be hard to find the spots that aren't sneaking beef and pork broths into your dinner. Hit up Aoi Sora Organic Cafe if you're doing a meat free Monday.
Drinks
Sapporo Beer Garden
Japan's oldest beer, a visit to the Sapporo Beer Garden will quench your thirst nicely. Encompassing several restaurants, check out Kessel Hall and Trommel Hall for their incredible interiors while you sink a few brews. Hungry? You'll want to lock this buffet in.
Bar Yamazaki
The living legacy of its founder Tatsuro Yamazaki, this bar has been a winner with locals for more than 50 years. Order the Sapporo cocktail and enjoy the cosy feels.
Vibes
Sapporo Beer Museum
Once you're done with the brewskies at Sapporo Beer Garden, head on over to the beer museum to sink some hoppy knowledge into your brain. The hard part will be trying to remember everything once the buzz has worn off.
Odori Park
Adding some lovely greenery to the city centre, Odori Park is a kilometre-long park with lush trees, fountains and wide open spaces. It's beautiful in winter, but particularly pretty in summer.
Sapporo Snow Festival
Catch the Sapporo Snow Festival in February each year. Larger than life snow and ice sculptures take over the city at Odori Park, Susukino and Tsu Dome (which also scores some fun snow slides). Once you're done having a gander, get back to the slopes at Mt Moiwa.
Sapporo Snowmobile Experience
If Japan's largest snowmobile course sounds extra-fun to you, listen up. This 60-minute tour will see you zipping across the snow, potentially catching glimpses of wild animals.
Day Trips
Historic Village Of Hokkaido
Step back in time at this outdoor museum, which showcases architecture from the Meiji and Taisho Periods (1868 through to 1926). Finish up at the Hokkaido Museum to keep your historic deep-dive going.
Otaru
30 minutes from central Sapporo the stunning canal town of Otaru awaits. Plan to stay on after sunset to soak up the romantic atmosphere. Try this sake brewery tour, or this rickshaw tour. There's also this full-day guided tour that includes a visit to Nikka Whisky Yoichi Distillery (hello, Japanese whisky).
Shikotsu-Toya National Park
Home to the most famous hot spring resort in Hokkaido, amazing views of lakes and volcanic mountains, Shikotsu-Toya National Park is a feast for the eyes. Set out on a hike and then soothe away the aches and pains in the hot springs.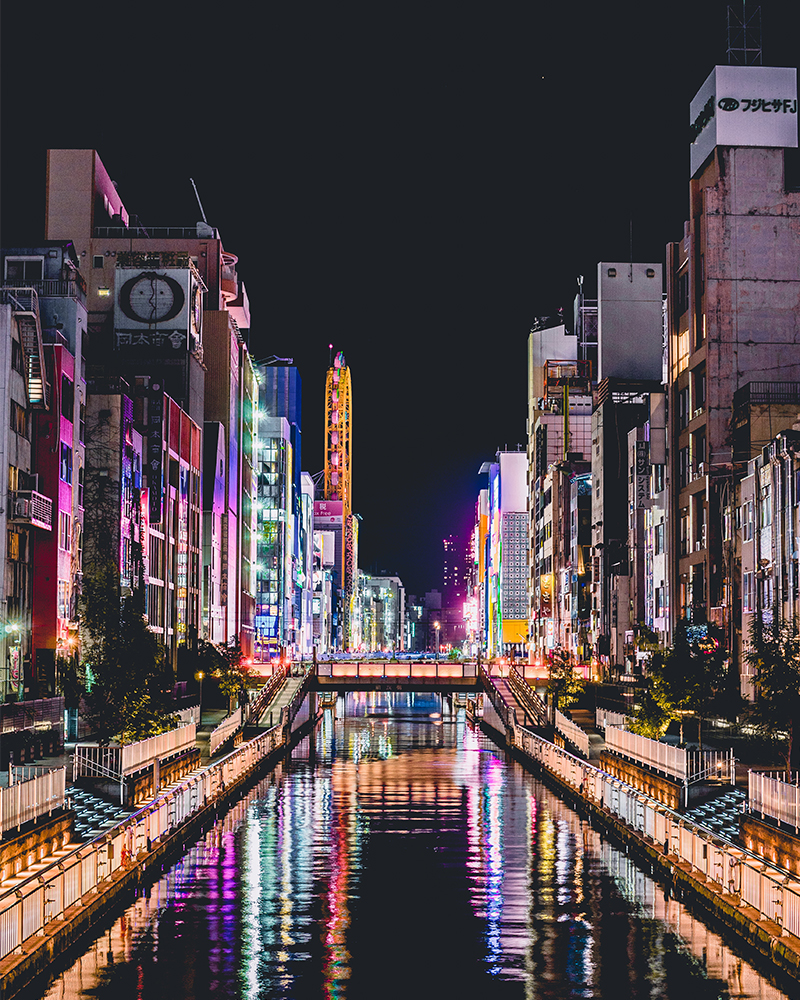 Osaka
With an impressive food and drink scene, bright city lights, modern architecture and loads to see and do, Osaka is a Japanese city begging to be explored. You might just want to book a few more days here than you initially planned.
Hotel
Hotel Cargo Shinsaibashi
Don't complete your Japanese sojourn without a night at a capsule hotel. Hotel Cargo is an affordable option at $54 per night. You'll get free WIFI, 24-inch TVs, access to a jacuzzi and free manga comics.
The Blend Inn—Studio
A small boutique hotel with only seven rooms for sharing or single-use, The Blend is as individual as they come. A severe concrete box, the design hotel makes use of coloured curtains on all its windows to add interest. The rooms are simple and there are plenty of break out areas if you're keen to chill out and meet other travellers.
Senlax Inn
With loads of shopping and eating options nearby, Senlax Inn is a great place to rest your weary head. The rooms are big and comfortable.
Coffee
Brooklyn Roasting Company
Hailing from, you guessed it, Brooklyn, and with three shops across Osaka and one in Tokyo, Brooklyn Roasting Company is onto a very good thing with their coffee. There are loads of different blends to try, alongside goodness like peanut butter and jam doughnuts.
Streamer Coffee Company
We're unsure if it's intentional, but Streamer Coffee Company's logo and font resemble a familiar American coffee chain. Regardless, they make a winning cup of joe and are famous for their cold brew and free pour lattes.
Eats
Hajime
Hajime has graced lists of the world's best restaurants and boasts those coveted Michelin stars, so you're definitely going to want to book this one in… if you can afford it, that is. The full French-inspired tasting menu will set you back over $500, but there is a shorter option that's on the 'cheaper' side. You can't put a price on a once-in-a-lifetime experience, can you?
Yamachan
On the much cheaper end of the spectrum, we have Yamachan, where you'll find the Osakan delicacy, Takoyaki. Once you pop these battered balls of fried octopus, you can't stop.
Naniwa Kuishinbo Yokocho
This place calls itself a food theme park, which sounds like a dream come true, and it is. Here you can tuck into all of the street-style food you desire (think: Japanese savoury pancakes, katsu skewers and curry rice) in the confines of an indoor Edo-style market complete with red lanterns. And the good news; it's all budget friendly.
Shunsaiten Tsuchiya
Shunsaiten Tsuchiya does tempura, and they do it well. Well enough to garner two Michelin stars. The kaiseki-style restaurant serves a variety of courses, with the Afternoon Tempura being the most affordable option. Be sure to try a few different sakes while you're at it.
Drinks
Space Station
If you haven't discovered by now, Japan is full of kitschy bars, and here's another must-visit in Osaka. This videogame-themed bar has got all your favourite gaming platforms, including Atari, NES, Super Nintendo and Play Station, as well as an Oculus Rift. You won't just be getting a buzz from the drinks, that's for sure.
Bar Nayuta
Dubbed 'Your Nocturnal Apothecary', Bar Nayuta will not disappoint. Their cocktails are impressive, the bar is moody and the crew here makes their own infusions, bitters and liqueurs.
Rooftop Bar 00
Everyone loves a rooftop bar and Bar 00 will certainly get your night off to a good start. Centred around a pool on top of the NewJapan Capsule Hotel in Namba, the bar offers the best tunes from DJs and a lounge for when your feet are too sore to keep dancing.
Vibes
Osaka Castle
One of Osaka's most stunning buildings, Osaka Castle was first built in 1583 before burning down in 1615. It was rebuilt in 1620 only to be burnt down again in 1665 and then finally reconstructed in 1931. Now it's home to a museum and is particularly beautiful to snap during the cherry blossom season. Snap up tickets for your visit here.
Dotonbori
Restaurants, bars and bright lights abound in Dotonbori, a bustling entertainment district that spans a canal in Osaka. Save this one for the evening, it's much prettier come nightfall. And this five-night club pass will give you access to all of the best nightspots.
CUPNOODLES Museum
The world's first instant noodles were invented by Momofuku Ando in 1958 in his Osaka backyard, so it's only fitting that you visit the CUPNOODLES Museum while you're in town. Here you don't just learn about the history of CUPNOODLES, but also get your hands dirty learning to make chicken ramen and the iconic packaging. The Instant Noodles Tunnel is definitely one for the 'Gram.
Tenjinbashisuji Shopping Street
At 2.6km long, Tenjinbashisuji is the longest shopping mall in the country, taking roughly 40 minutes to stroll from one end to the other. With 800 stores to check out, you're going to want to save your cash for this shopper's paradise.
Day Trips
Kyoto
Thanks to the bullet train (shinkansen), you can get from Shin-Osaka Station to Kyoto Station in under 15 minutes, making it an absolute no-brainer for a day trip. There's loads to see, but if you've only got a day to explore, try and check off the Golden Pavilion (Kinkakuji), Fushimi Inari Shrine, the bamboo groves of Arashiyama and the Geisha district of Gion.
Awaji Island
Traverse the longest suspension bridge in the world (it's 3.2km long!) and you'll arrive at Awaji Island. Check out the incredible Naruto tidal whirlpools, Hike to Sumoto Castle and scope the view across Osaka Bay, then relax in the Matsuho no Sato hot springs.
Image credit: Koi Visuals, 663Highland, Suhyeon Choi, Tycho Atsma and Banter Snaps.
Editor's note: Urban List editors independently select and write about stuff we love and think you'll like too. Urban List has affiliate partnerships, so we get revenue from your purchase.
This article is sponsored by Japan National Tourism Organization (JNTO) and proudly endorsed by Urban List. Thank you for supporting the sponsors who make Urban List possible. Click here for more information on our editorial policy.