A celebrity in his own right, the late British interior decorator and designer, David Hicks, styled for the rich, royal, and famous. His design legacy is one of bold, clashing colour, dynamic geometric shapes, and over-the-top contemporary opulence.
I first stumbled across the flamboyant personality that was the British interior decorator-designer, David Hicks, in 2007. Australia's political prisoner of the same name had just been released from Guantanamo Bay and the topic was in full fervour throughout our media outlets. This led to my double take, while fossicking through Rozelle Markets, when I stumbled across the hardback, David Hicks Living With Design.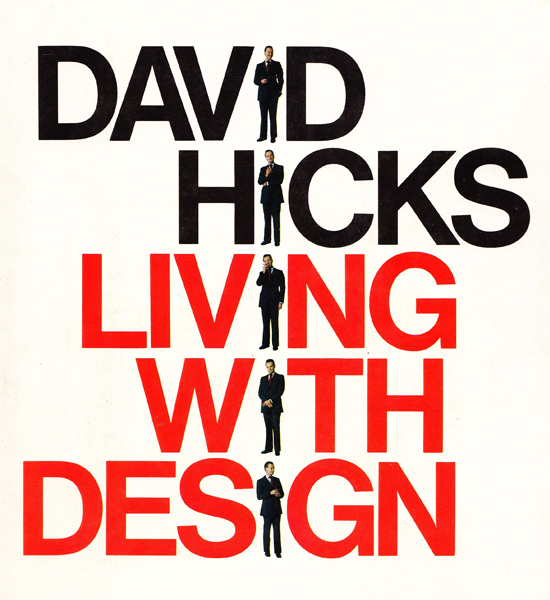 What I discovered, was a designer who had played an integral part in creating key aesthetics from some of my favourite interior design periods—the '60s, '70s and '80s. Think James Bond meets Buckingham Palace and you have a David Hicks' interior.
Hicks reinterpreted interior environments in such a way, that floor and wall coverings, soft furnishings, and inconsequential thoroughfares became works of art. He possessed an uncanny ability to meld historical building features, and British antiquity, with contemporary art, modern furnishings, clashing colour, and futuristic form. All the more incredible was the British upper class's fascination with his work, where a conservative and refined aesthetic had traditionally been favoured.
At the height of his career, Hicks famously charged $1,000 per hour for his services; he expanded into retail with his eponymous label, which included carpets, fabrics, homewares, and fashion accessories; he authored nine design books; and lent his designer eye to a BMW interior, and set design for film.
In 1954, Hicks' career received a kick-start after British magazine House & Garden published the London home he had decorated for himself and his mother. Later, he collaborated with architectural firm Garnett Cloughley Blakemore (GCB) on commissions for Lords, Ladies, and Earls, and on the high-profile refurbishment of the George V Hotel in Paris. Among his famous clientele, which included Vidal Sassoon and Mrs Condé Nast, he could site the Prince of Wales, having designed his first apartment within Buckingham Palace. Hicks also designed carpets for Windsor Castle.
Apparently, there is nothing the American socialites love more than a royal connection, and so Hicks' next move was to expand to the US. Hicks designed apartments across Manhattan and sets for the 1968 film Petulia, starring the beautiful Julie Christie and George C. Scott.
By the '80s, Hicks was considered one of the world's best decorator-designers and his practice operated extensively throughout Australia, Japan, Europe, and America. He was even responsible for the decoration of the King of Saudi Arabia's yacht interior.
Looking back over David Hicks' extensive oeuvre, it is clear the impact he has made, not only on our interior spaces, but on the fashion accessories, art, and design we use day-to-day.
Top Image credit David Hicks: Nicholas Engert - A Designer's Viewpoint
Remaining images taken from: 'David Hicks Living With Design'