Mimi LaMontagne is not your average fashion designer.
For starters, she's currently working full-time as the Media and Communications Manager at Rip Curl, tripping around the world with champion surfers whenever she's not working out of the major surf brand's HQ in Torquay, Victoria. Originally from Southern California, she's a freelance writer too—penning stories for Red Bull and Vice.
It's a busy life, and when she found herself in hotel rooms more than she was ever in her own loungeroom, she felt that new age phenomena called "career burnout" start to creep on in.
What LaMontagne really loves are slow afternoons chilling at home with a cup of red wine and a plate of homemade pasta (we can definitely relate here). And so, without any formal fashion cred or long-time dreams of fashion week, she started a loungewear label called The Silk Robe.
Mere weeks after launching her new label, LaMontagne is in Portugal for the Rip Curl Pro—but we caught up with her for a few spare minutes to find out how she dreamt up The Silk Robe, her biggest challenges and why she thinks we should pair sweet silk with takeout pizza instead of trackies and baggy tees.
Can you tell us a bit about your work leading up to now?
I'm actually quite new to the fashion world, if you can even say I'm in it now! I'm a writer and storyteller by trade, and have spent the majority of my working life in editorial and content production. I've been lucky enough to be a part of the surf industry, working for magazines and brands and using my skills to help tell the stories of professional athletes. I feel incredibly blessed to be able to be a part of huge moments in sport, like winning World Titles, and to work so closely to world-class athletes and humans.
While I've been developing The Silk Robe and getting the brand to this point, I've also been working at Rip Curl as the Media and Communications Manager out of their head office in Torquay, Victoria. My work involves producing content and managing media for Rip Curl's elite athletes and across Rip Curl's global events platform. As I write this I'm in the small fishing town of Peniche, Portugal, here to work on the Rip Curl Pro Portugal and manage Rip Curl's World Title campaign for Gabriel Medina. The town smells like sardines and has incredible waves.
On the side, between Rip Curl and the creation of The Silk Robe, I freelance for companies like Red Bull, Vice and production projects.
Where did you pick up your passion and skill for fashion?
It was at Rip Curl that I was first introduced to the fashion world, although I understand that surf fashion is a very different world from the one that The Silk Robe belongs to. But I learnt the process of design, fabric, production and sourcing, etc. I am lucky enough to call many designers my close friends, and used their knowledge and expertise to help guide me through the huge learning curve of creating The Silk Robe.
So what inspired you to start The Silk Robe?
I think more than ever, we live in a world that is so draining—between our work, our family and our friends, we barely have time for ourselves. We are constantly connected, our phones, our iPads, our computers—someone always needing something from us – and I think that takes its toll. Now more than ever we need to take the time to recharge.
My work at Rip Curl and freelancing is incredible, but it can also be quite taxing. I spend all day talking to people, constantly switched on, always on the move. When you add in socialising, playing sport, etc., it can just get to be all a bit much.
I started realising that I really needed to give myself the luxury of saying no—of staying in, sitting on the couch, having a glass of red wine, a nice meal, and just simply doing nothing. In the rare moments this happened, I realised the only thing I had to wear that was comfortable was a baggy old t-shirt and shorts, or track pants and a hoodie. It didn't make sense to me that in this moment when we're trying to treat ourselves a bit, we wear things that make us feel sub-par. We should be wearing something that makes us feel good, that lifts us up and adds to the concept of treating yourself.
I wanted to create something with simple, clean lines, that was high quality and felt luxurious. I also thought it needed to be practical and versatile, because high-quality silk is an investment and you should be able to wear it across any occasion. Clean lines, relaxed fits and total versatile luxury. So if you do decide you might want to pop out for a drink with a friend, there is no outfit change required.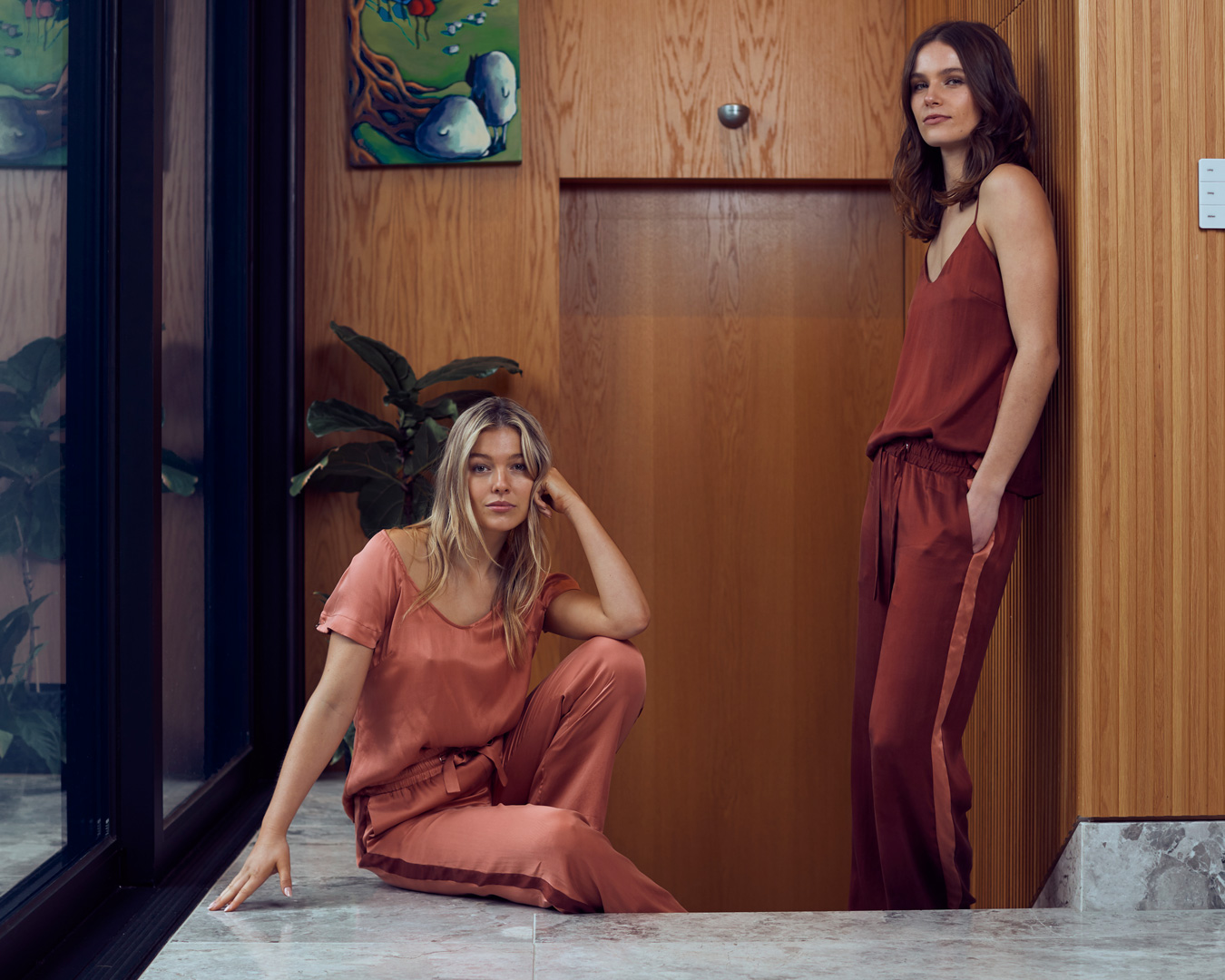 What was the first step to getting your idea off the ground?
I have a good friend who runs a snowboarding outerwear label, and the first step for me was many long walks with him about how to start a business, design process, production process, etc. Once I started to understand what it would take, I called on my design friends to help guide me through the process of designing the range. From there I dove into trying to find a supplier, and learning everything there is to know about silk. It's basically been a snowball since then, and by far the biggest learning curve of my life.
What have been the biggest challenges in starting a new fashion business in 2019?
To be honest, I'm still figuring that out! I think the hardest thing is cutting through the marketing and getting customers to trust the brand. There is so much choice out there, and so much noise, that it's difficult to make a drop in the ocean, no less waves. It's a learning curve to understand what works and what doesn't, what is worth spending money on and what isn't critical. And a lot of it, I've been told, comes back to Facebook Advertising—which is a world unto its own—and if you don't know what you're doing it can be a lot of money for minimal return.
And on the flip side, what have been the biggest benefits?
When I started this journey I told myself that even if The Silk Robe failed and I lost all of my investment, that I would have learnt so much it would be invaluable. The learning from starting a business is such a huge benefit.
Additionally, I am just really excited to be able to do something positive with the brand. To be able to have a voice and a platform for that voice, in today's world, is a huge thing. I really want to focus the brand on a message towards giving yourself space to recharge, and within that, taking care of your mental health. My goal is to partner with a brand like Beyond Blue and use The Silk Robe to not only help spread the message of taking care of your mental health, but also help by donating a percentage of sales.
What's been your biggest pinch-me moment with the brand so far?
I had a photo shoot scheduled prior to the brand launch, and the samples were going to be late. I had no choice but to get on a plane and fly to Shanghai, China, to meet my supplier and hand carry the samples back to Australia for the shoot. The process of meeting the people creating our range, of seeing the process, understanding the way things worked, that was incredible. And then beyond that, seeing the images from the shoot and realising that this was something I created, entirely by myself, that was a huge moment.
Funding is a major hurdle for startups, how did you secure capital to start The Silk Robe?
Honestly? I worked really hard and saved my money, and decided that rather than putting my hard-earned dollars into a house deposit I'd rather invest in starting a business. It's terrifying, putting all of your money into something you don't know will work, but it's very rewarding. I think cash flow will be something that will evolve with The Silk Robe as I see sales come in and understand expenses.
What advice would you give to other people wanting to kick off a side business?
Be prepared for late nights and early mornings, and even if you're exhausted, enjoy every second of it. You will look back fondly on those ah-hah moments that come all too often when starting a new business.
If you have a setback, learn from it. And remember that, even if you failed, at least you had the courage to try. That's an accomplishment in itself.
Do you have other plans for The Silk Robe, like expanding the collection or developing new products?
I do! I have a kimono in the works, designed to be versatile and convert into a wrap dress. I'd love to have that ready for Christmas. I also have a few key design ideas I'd love to bring in as staples to the range; but before I start creating new products I need to understand what is resonating with people and what isn't, in my current range.
Check out The Silk Robe's stunning silk dresses, tops, shorts and more right here. And for more epic career stories, jump over here.
Image credit: The Silk Robe