Paris Couture Week is one of the more special events on the global fashion calendar.
It's basically where designers get to let their creativity totally explode, where fashion is art and art is fashion, where huge statements are made and the creative leads behind some of the world's biggest fashion houses really work their magic to make you feel something.
Nope, you probably won't be wearing any of Paris Couture Week's outrageous, over the top creations anytime soon—these works of art are typically one-offs reserved for the likes of Celine Dion, Anna Wintour's guest list for the Met Gala and Lady Gaga (definitely some contenders for her Oscar's outfit here).
Even so, the underlying vision in these collections, alongside the absolute mastery of design and craftsmanship, is always telling for what's to come, where fashion is moving and where the world is at.
Here's what went down, what we loved and a few big and bold ideas we're ready to take on now.
Meme Dresses
Viktor Horsting and Rolf Snoeren, AKA Viktor & Rolf, sent a set of 21 oversized outrageous gowns down the runway, each slashed with corny one-liner Instagram captions. The duo, known for creating couture that comments on the excessive nature of couture, created more blissful irony in layers (and layers) of about 8km of punchy, colourful tulle.
Titled "Fashion Statements", the collection was a natural hit on the internet, with fashion editors and influencers posting pics of the overblown slogan dresses beside hashtags like #mood and #same. Speaking to WWD, Snoeren said the aim was to create a "strange contradiction" and to highlight of some of the banal and surface deep elements of Instagram and internet culture. Yes Viktor & Rolf, we're on board for fashion statements and slogan tees calling for a bit more depth in our overall existence.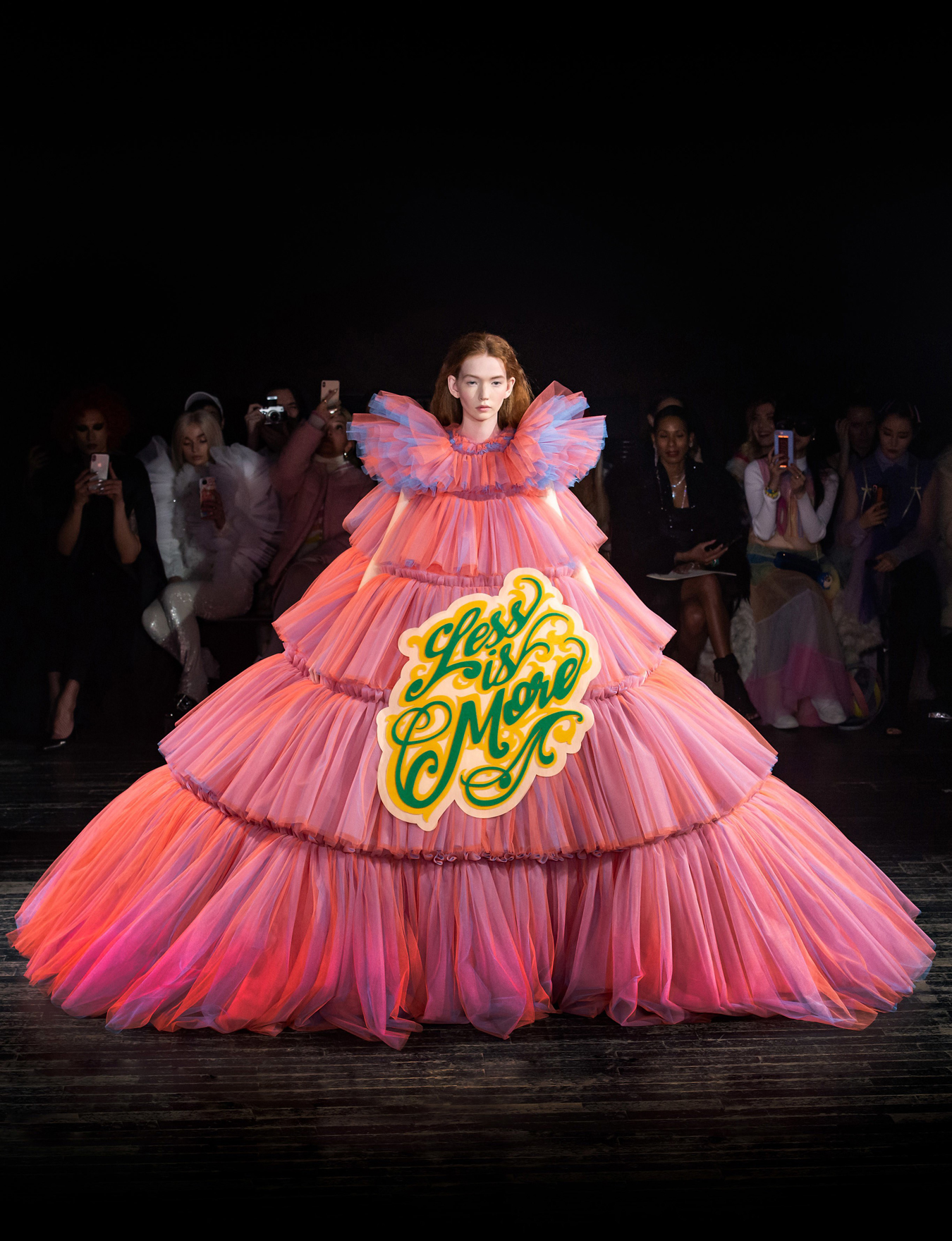 Viktor & Rolf Spring 2019 Couture
Future forward
Fashion loves to inject a little science fiction into our wardrobes from time to time. In 2019, it's part cyborg, part gamer battlefield, part prep for some sort of post-apocalyptic lifestyle.
Olivier Rousteing decided to reignite Balmain's haute couture atelier after the fashion house's 16-year hiatus from the program. Loosely titled "Dreams Come True", the collection featured a tonne of futuristic-looking hats and sharp suits I'm sure Lady Gaga would be into, some silver opera-style goggles and a whole lot of potentially controversial body paint. In Rousteing's future, we'll dress as edgy, ethereal future beings in glorious pleats, soft pastels and glittering crystals. TBC on the face paint.
80s to the max
Embellishment, extra, exaggerated, excessive—all generally good words to describe a couture runway show. Still, a new version of big, bold, eccentric maximalism (the polar opposite of "pared back") is making headway everywhere in the fashion world. It's a movement that had a lot of sway in the 80s, so does this spell the end of our love of all things 90s?
For Maison Margiela, John Galliano recalled Club 57 and the 80s art scene in New York. Set against a graffiti-style backdrop, his "Artisinal" collection featured a chaotic rainbow of printed silk, feathers, tassels, reflective fabrics and a clipped Yves Klein blue poodle.
Olivier Rousteing's aforementioned couture debut was punctuated with giant pearls—as bags, bracelets, beads and bubble skirts. Even the models themselves were oversized pearls, covered in iridescent paint. At Jean Paul Gaultier, exaggerated shoulders made a come back as sharp shark fins; there were lashings of crimped hair and forgotten shades of 80s-style green like chartreuse and sage.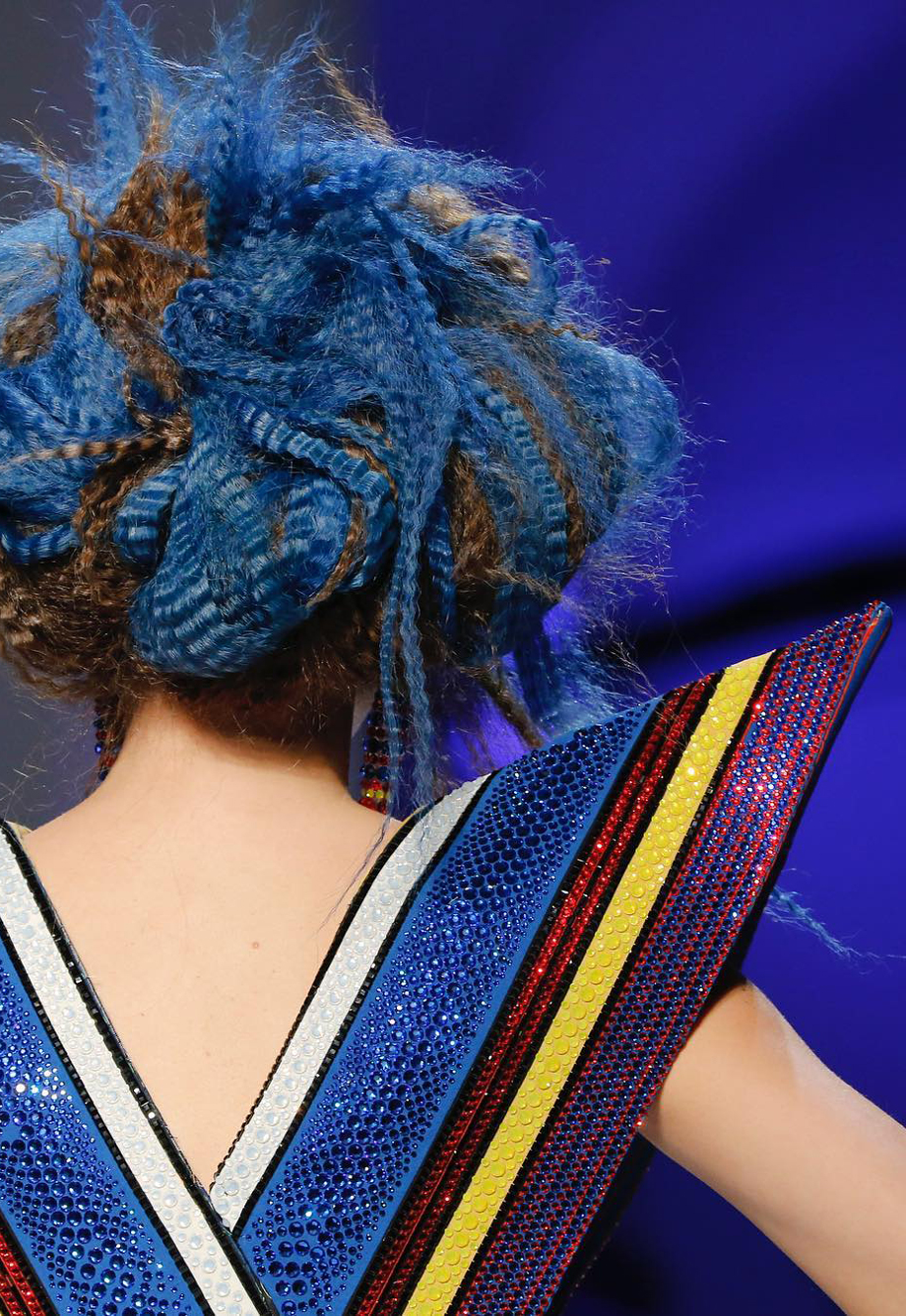 Jean Paul Gaultier Spring 2019 Couture
And we'd be remiss not to mention Pierpaolo Piccioli who brought maximalist queen Celine Dion to tears (among other design heavy-weights) at Valentino. Piccioli celebrated diversity and beauty in a sincere and stunning collection. Among all the beauty and fashion tears: block colours, florals, lots of volume and even more chartreuse.
Make like natural phenomena in Nike's new Northern Lights Airmax 720.
Image credit: Balmain Spring 2019 Couture.