There's no denying Aussies are downright obsessed with Scandi culture—and rightly so. With their wildly cool street style, covetable nordic home designs and all-round effortless aesthetics, they're the trendsetters we look to for inspiration time and time again.
From fashion to skincare and home decor, we're bringing you seven Scandi trends that are on the rise, thanks to Rekorderlig Cider, so you can breathe a sense of Scandi style into every corner of your life.
Long, Baggy Shorts
Forget bike pants, you'll be rocking these exaggerated, knee-grazing, oversized shorts with everything come summer. Scandi powerhouses Ganni and Brøgger really set the scene at Copenhagen Fashion Week back in August and we're just starting to see this trend trickle into our feed and sashay down the streets here in Australia. Influencers everywhere have been trying out the look so let this be your reminder to get amongst it too.
Shoe Straps Over Pants
The Swedes are known for their inventive styling tricks and this simple trend is no different. Now that the balmy weather has hit, we're trading in our chunky sneakers for barely-there sandals—but with a Swedish twist. Take your everyday get-up to new heights by lacing up your sandal straps on the outside of your jeans or trousers. It's a chance to show off your shoes and turn a staple outfit into a fashion-forward one. Not only does it look damn cool but this trend also requires little to zero effort to pull off.
Warm Colour Palettes
If you've ever been in a Pinterest-induced haze of interior design, you may have noticed most Scandi homes are all awash in light and bright white hues. But more recently, dark earthy tones and pops of colour have been creeping into the Scandi palette with worn leather couches, deep-sea blue rugs, and even blush pillows. It's the result of hygge—the desire to create a warm and cozy space—that's influencing Scandi design aesthetic—and now yours too. One thing's for sure, buying into this dark colour palette will create a moody and grown-up living space perfect for your IG aesthetic.
Storage As Decor
Nordic decor is typically marked by stark minimalism and functionality but now, the Swedes are doubling their storage items as statement styling pieces. Gone are the days of stowing away shelves or baskets in your closet, now you can proudly display them in your home. Everything from storage racks, kitchen organisers, clothing and shoe racks are all fair game—just ensure they're of quality and aesthetically enhance your space.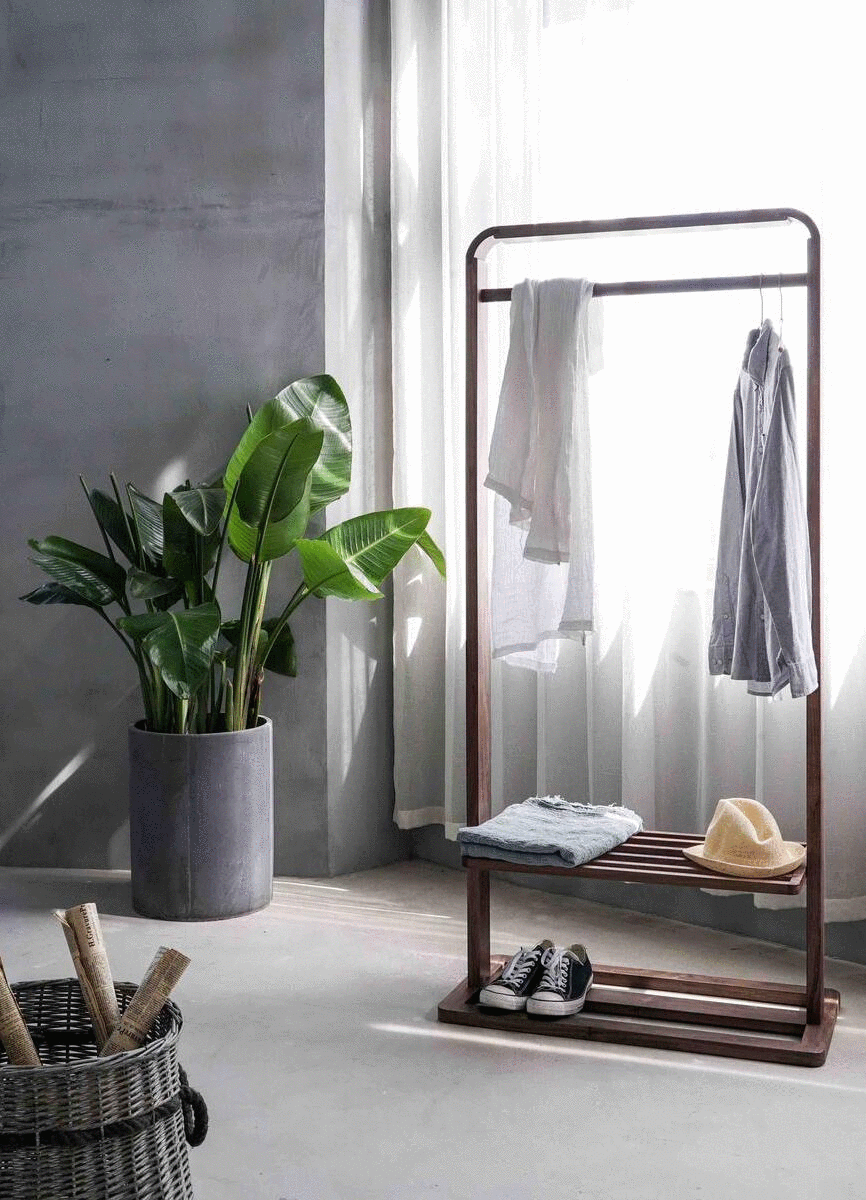 Low-Maintenance Skincare
Taking the total opposite approach to the indulgent Korean skincare regimen that skyrocketed in popularity this year, the Swedes are dialling it way back. While not abandoning skincare completely (they're by no means endorsing the 'skin fasting' or 'skincare' hype), instead they're choosing one to two hero products to use both morning and night. Each product usually has a dual purpose so they're working harder for less, meaning more bang for your buck and less time spent applying layers of expensive serums and potions. If Hygge—the Danish idea of warmth and coziness—had its time in the spotlight, get ready to embrace lagom, meaning 'not too much, not too little'. This is a proportioned and balanced skincare regimen we can certainly get behind.
All-Natural Makeup Looks
Much like every other aspect of Scandi culture, it's all about a less is more approach. First thing's first, foundation is a non-essential. Scandinavians look after their skin religiously with sunscreen, a balanced diet and regularly hitting the sauna to relax and detoxify—it's their secret beauty weapon. The idea is that when their skin is in tip-top condition, there's no need for much else. Opt for a dewy base like a tinted moisturiser or concealer used sparingly. Beyond this, they simply aim to enhance their natural features using products like a cream highlighter for a healthy glow, brow gel for full and fluffy brows, and a slick of mascara for lightly defined eyes. Not only is this look chic, it's simple and less time-consuming to achieve every morning.
Food In The Wild
The harsh Nordic climate meant past generations had to get their hands on food any way they could by hunting, fishing and foraging. Now, Nordic chefs are adapting these old practices into modern cuisine with chefs like Rene Redzepi at Noma in Copenhagen (otherwise known as the best restaurant in the world) creating entire menus from foraged ingredients. The concept goes well beyond cooking, making it more about the experience and understanding where the food has come from. Don't worry, you don't have to venture into the wild to try out the Nordic food trend of foraging, simply growing your own produce in your garden like mushrooms, herbs, berries and edible flowers will bring you closer to the Nordic way of eating. Just don't forget to wash it all down with a crisp glass of Rekorderlig's new Blush rosé cider.
So next time you're on the hunt for your next statement piece, think premium and know the Swedes always do it best. Cue an online shopping spree fuelled by Rekorderlig's new Blush rosé cider.
Editor's note: This article is sponsored by Rekorderlig Cider and proudly endorsed by Urban List. Thank you for supporting the sponsors who make Urban List possible. Click here for more information on our editorial policy.