Chase Kojima is one of Sydney's most exciting Japanese chefs—and he's just dropped an epic new project that's all about fresh-as-anything, fine dining style takeaway sashimi, and supporting Sydney's next-wave chef talent.
Kojima's resume includes time in the kitchen as executive chef at Nobu in the Bahamas and, more locally, heading up Sydney restaurants Sokyo and CHUUKA (a collaborative Chinese-Japanese diner with Victor Liong that opened in Pyrmont last year). Now, he's bringing his A-game to the world of sashimi with a brand new takeaway concept called Simulation Senpai.
Set up at the Tramsheds pop-up kitchen, the Simulation Senpai menu features a series of ultra-fresh sashimi and chirashi (sashimi over sushi rice) takeaway boxes—but this is a far cry from your standard shopping mall sushi fix.
"Our menu is carefully curated using only the freshest seasonal produce, a lot of which we handpick at the fish market early in the mornings," Kojima says.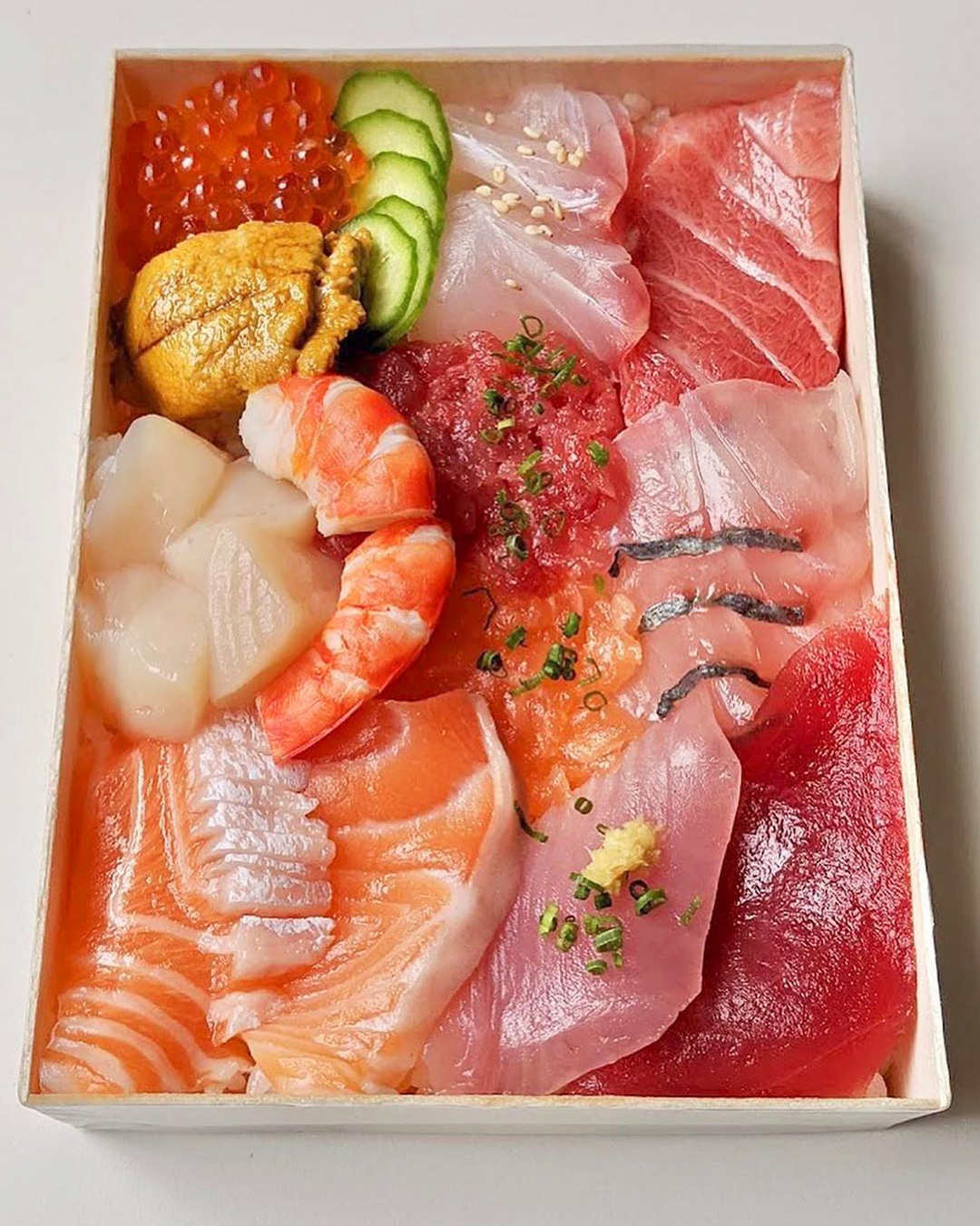 True to his style, there are some innovative, seasonally-led ideas in the mix at Simulation Senpai.
Alongside the "Hoseki Bako", which translates to treasure box and features a selection of the best fish from the fish market each day, there is a black truffle Chu-Toro don made with tuna tartare, lightly marinated Senpai secret sauce, Japanese mountain yam puree, pickled daikon radish and served over Masshigura steamed rice with black truffle shavings on top.
The Zenbu don comes with various cuts of tuna, which have been lightly marinated in Senpai secret sauce and are served over Masshigura rice with pickled ginger and premium wasabi. For something sweet, there's a Simulation Senpai yuzu tapioca pudding made with fresh mango puree, Japanese citrus, sago tapioca and coconut cream.
Everything is available to pre-order, made fresh in-house daily, and then available to pick up on Fridays and Saturdays.
For now, the menu will remain the same—unless Kojima is inspired on his trip to the fish market. "Every week I go to the fish market and may see something new—if yes I'll create a new dish."
And through Simulation Senpai, Kojima has been able to employ more than 15 chefs. "I plan to carry on this business after COVID, as we know, the aftermath of this virus is detrimental especially to many chefs being unemployed," he explains. "I want to help as many chefs as I can to keep them going. This project has made me realise how much chefs can benefit from working in a small team, learning more about quality control and presentation."
You'll find Simulation Senpai at Tramsheds pop-up kitchen (1 Dalgal Way, Forest Lodge). Pick up is available on Friday and Saturday for lunch from 12.30pm - 2pm and for dinner from 5pm - 6.30pm. While Kojima does pick up a little extra fish for walk-ins, pre-ordering is recommended. Head over here to check out the full menu.
Did you hear? Nobu is about to open its first Sydney restaurant.
Image credit: James Adams, Simulation Senpai