It's hard to remember a time when Sydney wasn't as burger crazy as it is now. When it comes to burgers, Sydney gets it oh-so-right. From the flavours, to the height and the general deliciousness that can only be found between two buns, we'd forgive you for wanting to smash a burger on the daily.
Bring on the gooey cheese, glaze, crack bacon and double patties.
Here are Sydney's best over the top burgers.
Marvin Glaze | Burger Point
Wentworth Point and Marsden Park
No one can resist the glazed buns topped with bacon. Add fried chicken or pulled pork to the mix for an epic serve-up plus we can't forgive you if you leave without ordering the infamous cheese dip.
Culture Burger | Culture Bean
Kograh
The famous 'culture burger' down south is stuffed with marinated chicken, halloumi, rocket, vine-ripened tomato, sun-dried tomato pesto mayo and hollandaise served on a charcoal bun. And yeah, you'll be coming back for this one.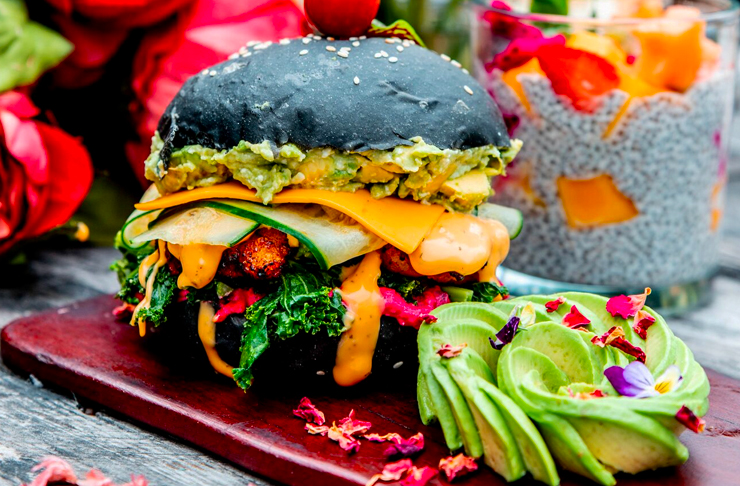 Big Mick | Milk Bar
Redfern
If you're all for the McDonald's Big Mac, then you need to hit up Milk Bar by Café Ish's take on it. The Big Mick has the signature double patties with cheese, lettuce, pickles and a burger sauce. You vote on which one is best.
Hamburguesa | Barrio Cellar
CBD
A Mexican inspired hunk of meat, we are eternally grateful to the folks at Barrio Cellar for cooking up this creation. With jalapeno and chimichurri mayo to get your taste buds dancing, you can also order this burger wrapped in a burrito. Now that's the dream.
Kernel Sanders | Brades Burgers
Parramatta
This chicken-y goodness is about to get a lot better thanks to Brades Burgers' iconic hacks menu. You've already got the Southern fried chicken thigh, American cheddar, streaky maple bacon, corn slaw and chipotle aioli, but how about adding mac n' cheese or hash browns? We won't say no.
Triple Loco Burger | Ze Pickle
Surry Hills
The Triple Loco burger is the best (it's damn delicious) and worst (wear your stretchy pants team) thing to happen to anyone, ever. Forget a simple burger bun, this burger is wedged between two grilled cheese toasties. In between these cheese toasties are 3 wagyu beef patties, triple jack cheese, triple maple bacon, smoked brisket, ZP sauce, smoked jalapenos, fried onion straws and slaw. Our advice: do not attempt this Sydney burger alone, gather the crew and show the Triple Loco who's boss.
The Famous Trufflenator | Dee Why Hotel
Dee Why
The Dee Why Hotel's 'Trufflenator' is renowned in burger circles and for a good reason. With a double patty, truffle mayo, truffle butter, truffle-infused Havarti cheese, truffle maple syrup, bacon, cheddar and onion rings, this one will put you to work.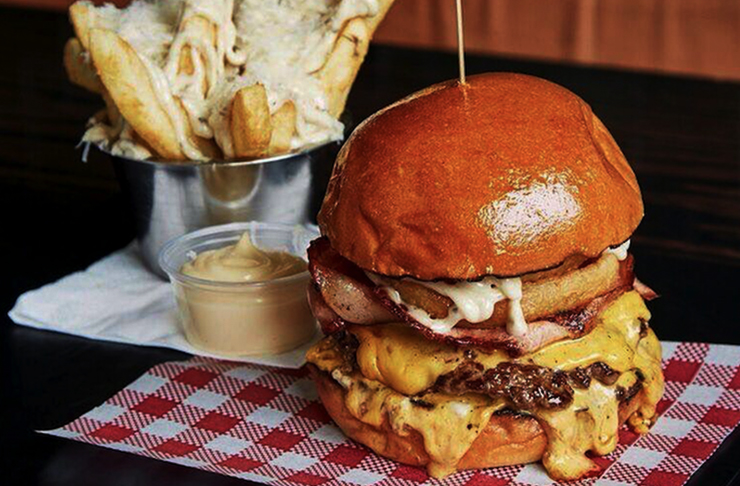 Aussie Burger | Chargrill Charlies
Various Locations
The Aussie stack at Chargrill Charlies is on a whole other level. Here, the burger manifests into a toasted milk bun packed with lettuce, tomato, onion, chicken, cheese, pineapple, bacon, egg, mayonnaise and of course, the top secret piri piri sauce.
Psychedelics | Happy Ending
Concord
A fairly new addition to the Sydney burger scene and owned by the famous Mister Gee, you know you won't be disappointed. The mix of flavours from the provolone and maple bacon to the truffle mayo and smokey jalapeno pineapple relish is enough to get you hooked.
Chuck Norris XL | Burgers Anonymous
Balmain and Darlinghurst
Ever heard of crack bacon? Well, at Burgers Anonymous, the Chuck Norris XL is sporting it as well as onion rings and hickory BBQ.
Double | Down N' Out
CBD and Top Ryde
Down N' Out is the closest us Sydneysiders can get to an authentic In N' Out styled burger. The double bears a resemblance to the iconic double-double that graces USA's west coast. Substitute the normal burger sauce for tiger sauce and you'll have trouble restraining yourself.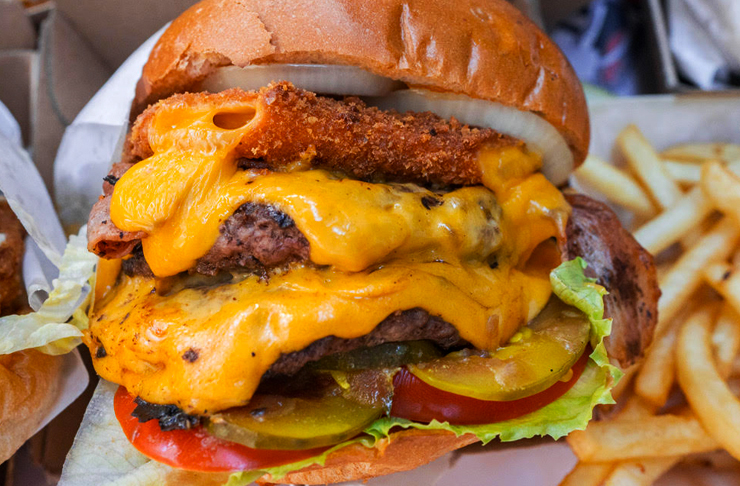 Grizzly Bare | Bare Grill on Bourke
Surry Hills
At Bare Grill you can add raclette cheese onto any burger for $7. We recommend grabbing the grizzly for the cheesiest dish in Sydney. Four patties, four slices of cheese and four pieces of bacon. Yup, feel that drool.
And while you're here, check out Sydney's most insane cocktails.
Image credit: Caitlin Hicks