When it comes to burgers, Sydney gets it oh-so right. From the flavours, to the height and the general deliciousness that can only be found between two buns, we'd forgive you for wanting to smash a burger on the daily.
Now ICYMI Sydney does not do things by halves. It's safe to say that when it comes to OTT burgers in Sydney the limit does not exist (see what we did there?) and many of our favourites are taking their bun game to next level and beyond. Always one to have your back, we've tried, tested (and yes by that we mean eaten), and sacrificed our diet all to bring you the most over the top burgers in Sydney. Enjoy.
Big Poppa Burger | Milky Lane
Bondi
Bondi's Milky Lane has brought the Big Poppa burger into the world and quite frankly our lives are all the better for it. Behold a wagyu beef patty, smoked beef brisket, maple smoked bacon, mac 'n' cheese pattie (yes, you read correctly), cheddar and onion rings. This burger is friggin' enormous, with two patties and three types of meat (undo that top button now) along with some serious condiment game—BBQ sauce, mustard, tomato relish, aaaand Milky Lane special sauce.
Butter Soft Burger | Mister Gee Burger Truck
Sydney
The Butter Soft burger at first glance may appear to be a simple (and delicious) cheesy bacon burger, but when you look (or sniff) a bit closer, you'll realise this burger is all your wildest cravings coming true. Between a crispy bun lies a grass-fed beef patty, double American cheese, tomato, onion and a bit of special sauce—but wait, there's more. Cue bacon jam and peanut butter caramel, oh yes we are dead set serious on this one. Bacon jam and peanut butter caramel are how we burger and more importantly, how we roll ourselves home.
Blame Canada Burger, Bar Luca
CBD
With an amazing title comes an amazing burger. Bar Luca is famous AF for its Blame Canada burger and rightly so. A perfect beef patty, with maple glazed streaky bacon, American cheese, poutine (yeah, boy) and maple aioli. Your belly deserves glazed bacon, poutine and maple aioli. Should anyone try to tell you otherwise, tell them we can't be friends.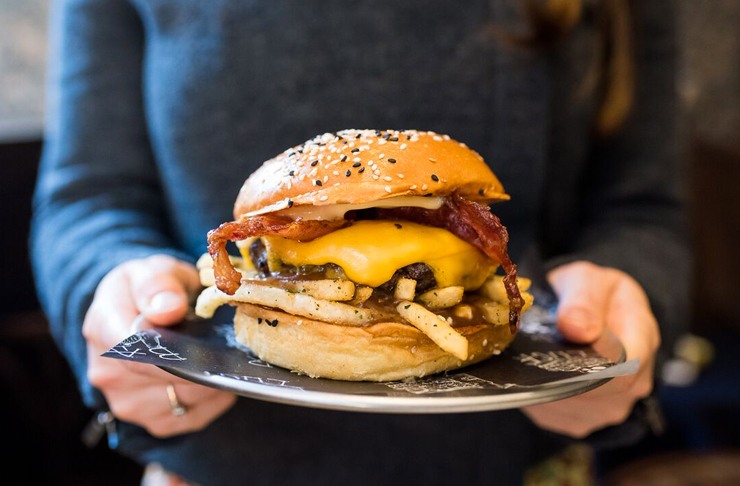 Pastrami Burger | Thiq Bar
Neutral Bay
The new kid on the burger block in Neutral Bay, Thiq Bar is home the genius that is—the pastrami burger. Squished between a milk bun you'll find all the usual suspects: house smoked pastrami, Gruyere cheese and sauerkraut, accompanied by a droolworthy dipping jus. This burger is everything—rich, cheesy, meaty, salty and totally delish.
The King | Royal Stacks
Chatswood
This burger has every bit of deliciousness you'd come to expect from a quality feed; beef patty, tomato, lettuce, American cheese and mustard but with a fat, crispy mac 'n' cheese croquette placed smack bang in the middle. The burger is a warm hug from the inside, and should always be accompanied by a milkshake, frozen custard (or both) each and every time.
Infamous Primo Burger | Burgers By Josh
North Sydney
Sometimes hanger gives you the much-needed strength you require, introducing the Infamous Primo burger from the legends over at Burgers By Josh. Prepare for the food coma of your life, as you bite into this tasty potato bun with double signature Wagyu patty, double American cheese, bacon, pickled jalapenos, lettuce and beer battered onion rings. You got this, remember? Good, go.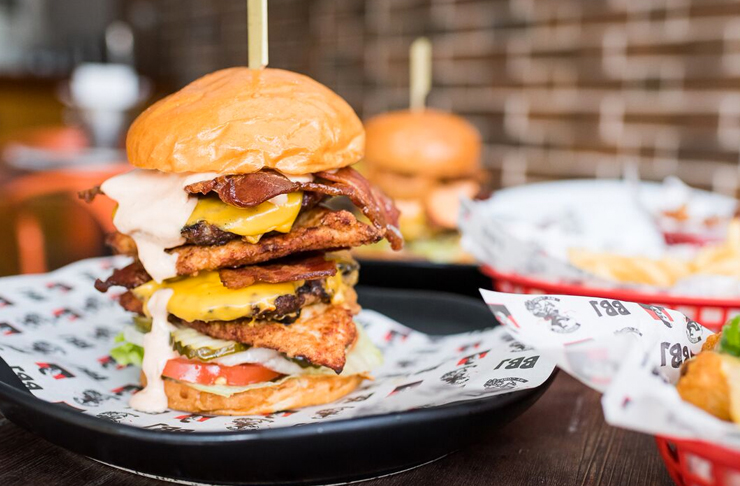 Return Of The Mac | Erskineville Hotel
Erskineville
Okay, so this burger may just have what it takes to take the title of most OTT burger in Sydney—let me explain. In between these good-looking buns you'll find fried chicken, bacon, twisties (oh yes), mac 'n' cheese and some mighty fine burger sauce. There's not a green in sight, and we guarantee you'll love it.
Triple Loco Burger | Ze Pickle
Surry Hills
Perfect burgers don't exi…. Hold right up. The Triple Loco burger is the best (it's damn delicious) and worst (wear your stretchy pants team) thing to happen to anyone, ever. Forget a simple burger bun, this burger is wedged between two grilled cheese toasties. In between these cheese toasties are 3 Wagyu beef patties, triple jack cheese, triple maple bacon, smoked brisket, zp sauce, smoked jalapenos, fried onion straws and slaw. Our advice: do not attempt this Sydney burger alone, gather the crew and show the Triple Loco whose boss.
Ze Pickle | Image credit: Caitlin Hicks