Takashi Murakami is, without doubt, an artist for our age and—according to the head curator of the Art Gallery of NSW Justin Paton—he's one of the top five most successful living artists in the world.
He's also just created an explosive new artwork for Sydney, made up of a massive 502 individual silkscreens—the hero piece in the Art Gallery of NSW's impressive Japan Supernatural exhibition.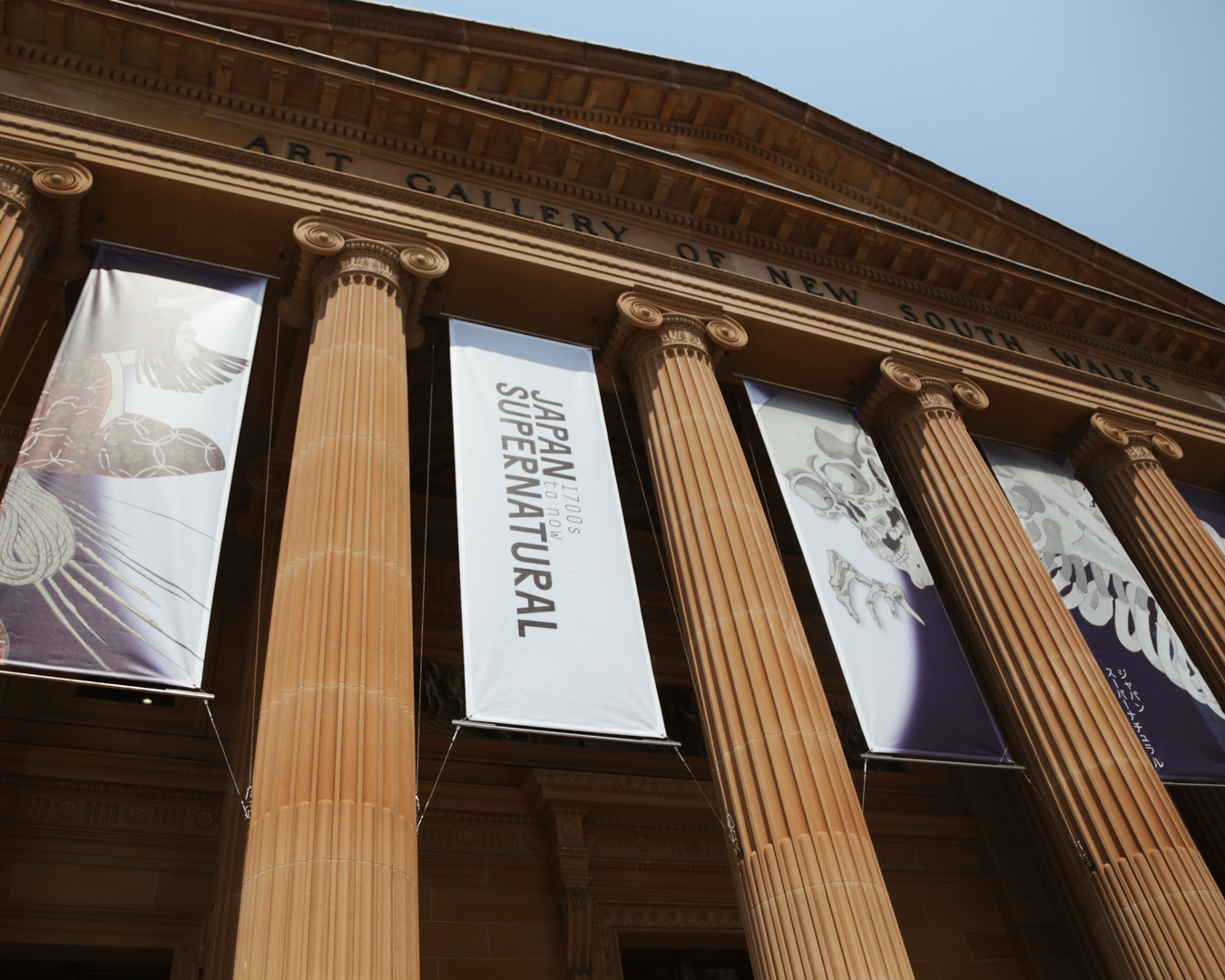 Haven't heard of him? Let's catch you up. The Tokyo-based art superstar is credited with forging his own post-modern art movement (called Superflat, it's influenced by manga, anime and the distinct "flat" aesthetic in Japanese art history). He's held major solo exhibitions at the Palace of Versailles, the Mori Art Museum and the MOCA in Los Angeles. His follower count on Instagram currently tops 1 million, and his paintings have sold for more than $US 15 million.
He had a partnership with Marc Jacobs during his Louis Vuitton tenure creating the now-iconic noughties-era coloured monogram, and last year he collab'd with Virgil Abloh on a series of exhibitions for the Gagosian Gallery in New York City. He created the album artwork for Kanye West's 2007 album Graduation and his recent collaborative mixtape with Kid Cudi, Kids See Ghosts. He also made the animation for the Billie Eilish song, "you should see me in a crown".
"I love collaborating with other artists, again and again, because we understand each other," Murakami told us at the opening of Japan Supernatural.
The new Sydney piece he has created covers some thirty metres and is the largest single painting to enter the Gallery's international art collection. Its title is equally as lengthy: Japan Supernatural: Vertiginous After Staring at the Empty World Too Intensely, I Found Myself Trapped in the Realm of Lurking Ghosts and Monsters.
Addressing the crowd at the painting's big reveal, Murakami called the densely layered piece a "stupid cat painting"—and while pop culture might be woven into his oeuvre, there's a lot more to take in than a whiskered ginger feline spirit lord with trippy eyes.
Murakami says he's inspired by the "news and YouTube, and what's going on the world, political situations and natural disasters." To tie in with the broader Japan Supernatural exhibition theme, this painting also draws on the Edo period (1603-1868) in Japan, especially the work of artist Utagawa Kuniyoshi.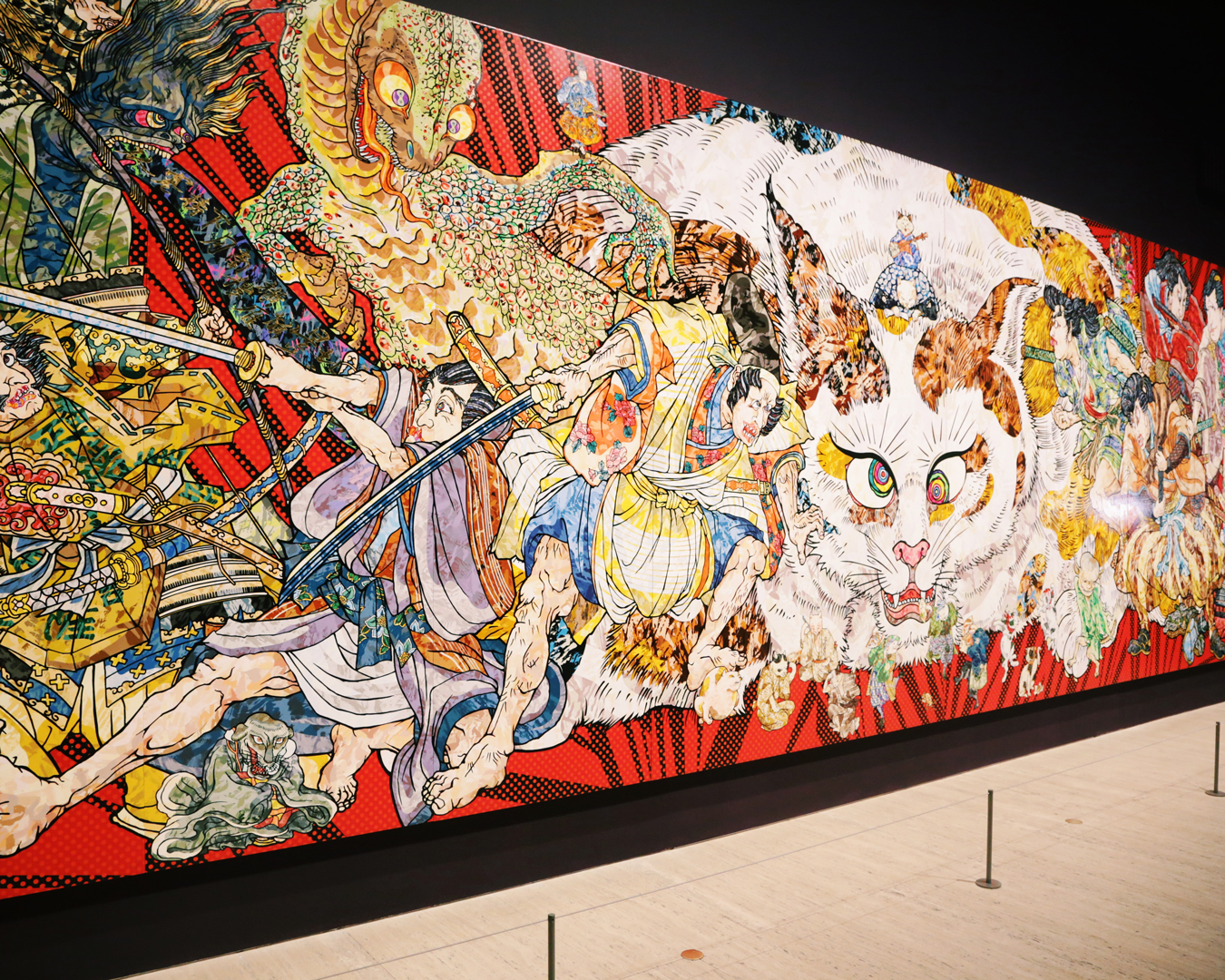 It took over a year to create ("The canvas is the final moment—painting takes only about a month, while the sketching takes more than a year," he explains).
The encircling exhibition explores the imagery of monsters, spirits, ghosts and demons in Japanese art from the 1700s to now, featuring work from artists like Katsushika Hokusai, Chiho Aoshima, Fuyuko Matsui and Miwa Yanagi. When it came to working in yōkai (monsters, ghosts and demons) and spiritual iconography into his new work, Murakami admits he got a bit spooked.
"At first I was sketching in yōkai, but I became afraid of some kind of potential curse that might be set upon me," he confessed. "You can see some of the female ghosts in Fuyuko Matsui work in the next room, but I actually became quite scared and took them out." Murakami's ghosts come out instead through cats and warriors, struck with effervescent, synthetic colour and warped, twisted faces—everything is writhing and moving, floating across some terrifying spiritual plane.
More information about the exhibition is here.
The Details
What: Japan Supernatural
When: Until 8 March, 2020
Where: Art Gallery of NSW
For more art and exhibitions to see this month, head over here.
Image credit: Darren Luk