Every now and then a business comes along that is as much about realising one person's dream as it is about supporting other people's dreams. Wandering Cooks is one such enterprise, designed to foster food lovers of all kinds with a dream to turn their passion in to a viable business.
Located in South Brisbane, this new and beautiful space is the brainchild of Angela Hirst, herself an enthusiastic foodie who had tried the hard way to make a living, on her own, from her passion. Thankfully, the struggle she faced led to the concept behind Wandering Cooks, which endeavours to give food businesses the space, facilities and support they need to succeed.
The Urban List was so intrigued by this great idea that we thought we better have a good chat to Angela to bring us up to speed with all things Wandering Cooks…
TUL: Angela, do tell us more about Wandering Cooks: what is it, and how does it work?
Wandering Cooks is kitchens and community for food entrepreneurs. We provide food businesses with the resources they need to grow their business, and their passion for business.
The first stage includes kitchens to rent by the hour, food and equipment storage to rent long and short term, and a great big event space for parties, supper clubs, whatever you like!
The second stage, which is just beginning, is providing marketing support, connecting people to food business specialists, and providing forums to foster collaboration and knowledge, so that we can all grow from each others experiences of food business.
TUL: What inspired you to establish Wandering Cooks…?
In 2011, I had a 3 month old, a growing food blog, and a drive to start my own food business. I began teaching cooking and indulging my passion for preserving, but I just couldn't figure out how to make an income from either. Schlepping my stuff in and out of other people's kitchens took as long as the cooking classes I was running, and they would cost me more than I'd make! I realised I knew very little about how to run a business, and that not having access to a licenced commercial kitchen was just one facet among many missing resources for new food businesses.
TUL: Why do you think this is an important platform for businesses working with food?
Because being passionate about food is just the beginning for most people, and before us, turning passions into successful food businesses was a rough road. If you don't have business skills, and if you're doing all the daily grind of keeping up with your demand, it's very hard to step back far enough from what you're doing to see what your business needs, strategically, to take you to the next step. We want to make that process just that little bit easier for everyone. And we want people to see what bounty can come from collaborations, community and dreaming big.
TUL: Where are you located, and what does the space offer?
We are on the corner of Fish Lane and Cordelia Street, in an old warehouse with a big carpark. We've got plans for all of it, but at the moment, this is what the space offers:
There's the kitchens and storage that we're known for (4 kitchens and lots of storage space — it's all gleaming and gorgeously new!). Then there's our dramatic yet casual event space, which takes up the remainder of the warehouse,
And finally, there are our vertical edible gardens growing wherever I can find a place for them. They'll be our movable walls that will shape different event spaces as customers require.
TUL: Aside from tangible materials and space, what else do you hope Wandering Cooks can contribute?
Tangible resources and space are what people know they need when they start their food businesses. But once that's secured, and they start doing the work of a business owner, there's so much more to it.
We will offer them ways they can understand their businesses better, their market better, and we'll be creating new avenues to reach their customers as well.
First up, on December 7th at 5pm, we've got our inaugural Conversations with Punch, which is an event where people involved in food businesses, or food related industries, can come together, share their experience, find potential collaborators, or… just drink some punch! Check out our website or Facebook page for more details.
And there'll be plenty more coming up, so just sign up to our Newsletter, and 'like' our Facebook page, to keep in the loop with our plans. Alternatively, you can simply call us, tell us about your food dreamings, or your existing food business, and we can figure out how we can best cater to your needs. The more we hear from people, the more ideas we get!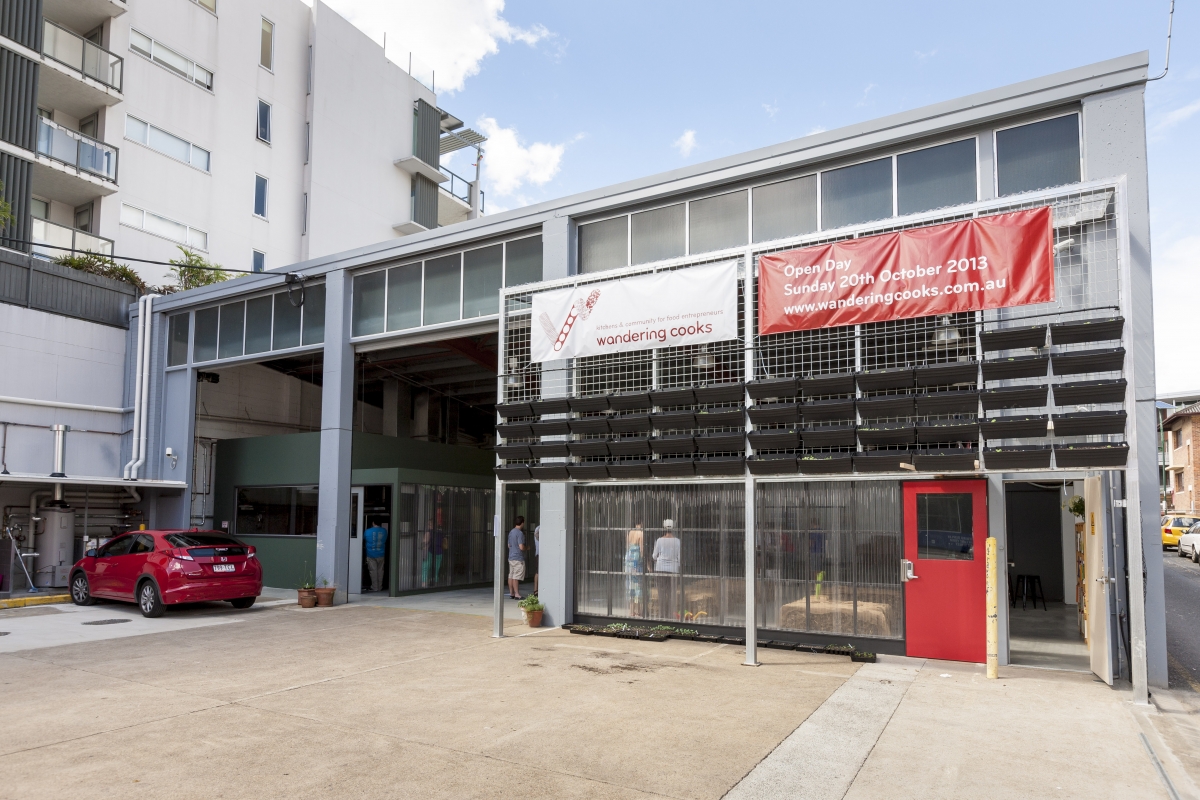 TUL: Which food businesses are you already working with?
Alphabet Café, Yummbox, Oz Harvest, Food Stream, Koma Sliders, O Goodie, The Chai Cart, Bee One Third, Black Market Mittens and several others who haven't yet been 'named'.
TUL: What are your plans for the future of Wandering Cooks?
They're huge and diverse! I'm constantly thinking of more ways Wandering Cooks could help grow people's food dreams — in some respects — literally! The herb gardens are coming along nicely and there are many more mobile food walls on the way. We'll happily grow herbs for our customers, for use in their products.
TUL: Lastly, any tips for anyone wanting to start their own business? Or who are dreaming of changing careers?
Imagine your dream business. Write it down from the perspective of one of your customers — imagine the ultimate experience. Then, make sure you're really offering something other people want — research your market. Once you can do both these things, then you just need to start the demanding and rewarding process of implementing your dreams, step by step!
TUL Note: Nadia Buick co-directs The Fashion Archives, is a freelance fashion curator, and recently submitted a PhD at QUT, so it's no surprise that she knows a thing two when it comes to art and style. Nadia is an avid wearer of vintage (just ask for her best spots about town), collects old paintings and postcards and can always find the beauty in a little clutter.
Images credit: Wandering Cooks