It's no secret that we have a complete and utter love for denim; our heart beats true for that indigo hue. However, we've parked our ol' faithfuls in lieu of fresh white jeans, which you best darn believe can be worn each and every day of the week.
With super-flattering cuts and faultless finishes, Victoria Beckham Denim nails the perfect pair of skinny leg white jeans. We wouldn't expect anything less from the perennially stylish former Posh Spice.
Still not sure how to style your newly purchased pants? We look to some of the fash pack's best-dressed members for tips on how to wear white jeans all day, erry day.
Monday | Coffee Date at Industry Beans | Melbourne
White jeans scream casual cool—the perfect attire, really, for your Monday morning coffee date at Melbourne cafe Industry Beans. Follow uber blogger Jules Sarinana's lead and pair your denim with a relaxed striped shirt, messy pony and just-dressy-enough nude heels.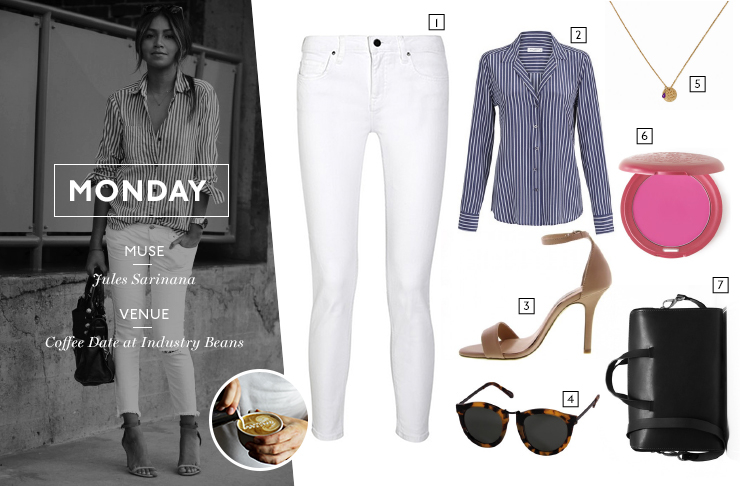 1. Victoria Beckham Denim Ankle Slim Mid-Rise Skinny Jeans in White from camargue
2. Equipment Adalyn Shirt in Crown Blue Multi from mode sportif
3. Tony Bianco Lovinia Heels in Skin Capretto
4. Karen Walker Harvest Sunglasses in Crazy Tort
5. By Charlotte Flower of Life Short Necklace in Gold Amethyst
6. Stila Convertible Colour in Fuschia from Mecca
7. Plus Equals 3+2 Bowler Bag in Black
Tuesday | Lunchtime Power Shop at Aje | Brisbane
When it comes to styling your denim, no one knows better than denim queen Tash Sefton. One half of Australian style blog TheyAllHateUs, we'll be channelling Tash's white on white look for our lunchtime power shop at Aje.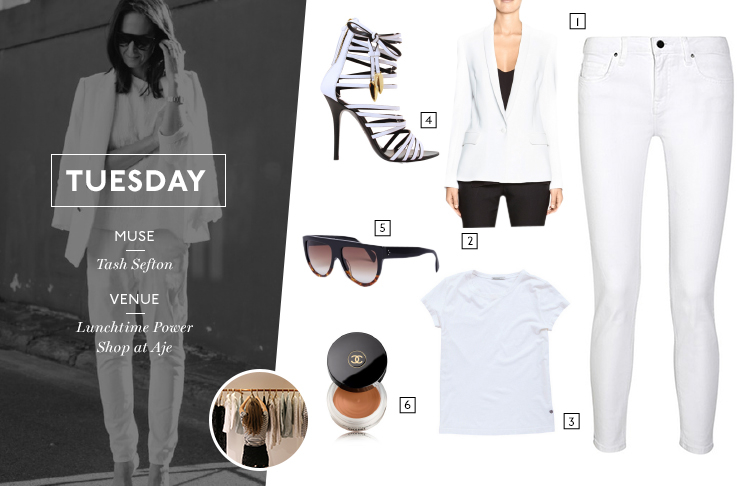 1. Victoria Beckham Denim Ankle Slim Mid-Rise Skinny Jeans in White from camargue
2. Camilla and Marc Strategist Blazer in White
3. Alexa Chung for AG The Boyfriend Tee in True White from Grace
4. Giuseppe Zanotti Tie Strap Heel in Black/White from Miss Louise
5. CÉLINE Flat Top Sunglasses in Black/Tort from Tuchuzy
6. Chanel Soleil Tan de Chanel Bronzing Makeup Base
Wednesday | Business Lunch at Pei Modern | Sydney
Think you won't be taken seriously if you wear denim to a meeting? Think again, Listers! For a business lunch at Pei Modern, do as Emanuelle Alt does and wear your white jeans with power pumps and a crisp, oversized shirt—after all, this is serious (fashion) business!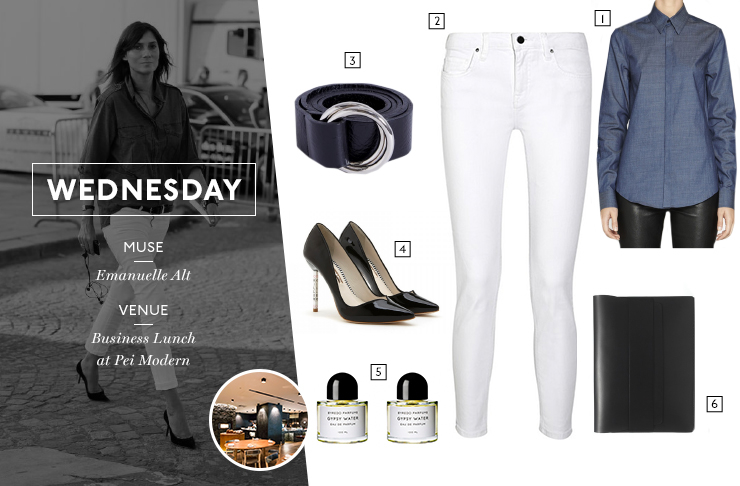 1. Camilla and Marc Estelle Shirt in Chambray Denim
2. Victoria Beckham Denim Ankle Slim Mid-Rise Skinny Jeans in White from camargue
3. B-Low The Belt Elle Waisted Belt in Black/Silver from Tuchuzy
4. Sophia Webster Patent 'Killer' Pumps in Black from Maryon's
5. Byredo Parfums Bal D'Afrique Eau De Parfum from Mecca
6. Plus Equals 8+2 Laptop Clutch in Black
Thursday | Dinner and Drinks at East End Den | Melbourne
When it comes to style, Kate Moss is BOSS! And if Mossy can rock white denim of an evening then you sure as heck can too. Simply throw on a tux jacket and rock 'n' roll accessories, add a dash of 'tude and head on your way to dinner and drinks at hot Melbourne CBD restaurant-bar East End Den.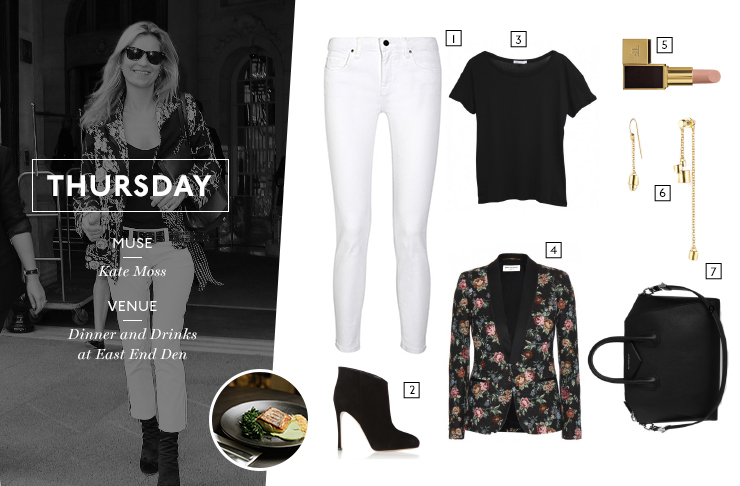 1. Victoria Beckham Denim Ankle Slim Mid-Rise Skinny Jeans in White from camargue
2. Gianvito Rossi Suede Ankle Boots in Black. Find Gianvito Rossi at Miss Louise.
3. ONE by One Teaspoon Abbey Tee in Black
4. Saint Laurent Tuxedo Jacket in Sable Tapestry Black from Parlour X
5. Tom Ford Lip Colour in Nude Vanille
6. Eddie Borgo Cylinder Pendulum Earring in Gold
7. Givenchy Medium Antigona Bag in Black Goat Leather. Find Givenchy at Marais.
Friday | End of Week Cocktails at Heya Bar | Brisbane
Friday nights call for a cocktail (or two…or three…) at Brisbane cocktail bar Heya Bar, donchathink? As for our outfit inspo, we're all about sleek and simple monochrome, a la Sara Donaldson from Harper & Harley. A classic black accessories and killer heels add just enough edge!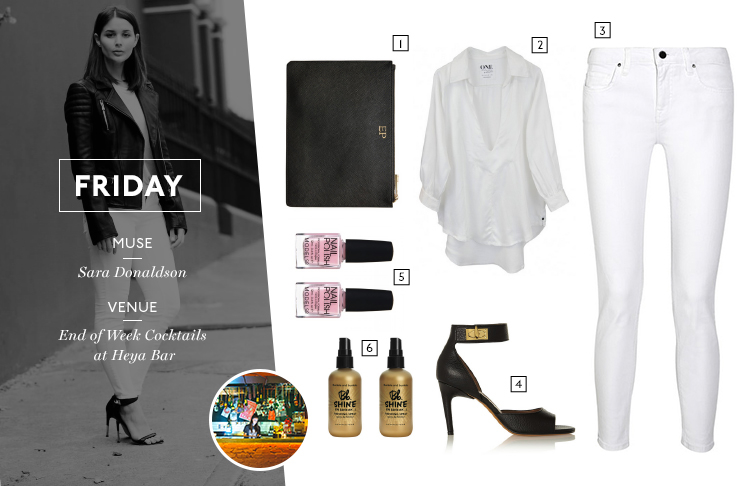 1. The Daily Edited Leather Pouch in Black
2. ONE by One Teaspoon Le Pure Shirt in White
3. Victoria Beckham Denim Ankle Slim Mid-Rise Skinny Jeans in White from camargue
4. Givenchy Shark Lock Sandals in Black Textured Leather. Find Givenchy at Marais.
5. ModelCo Nail Polish in Baby Doll
6. Bumble and Bumble Shine On (And On) Finishing Spray from Mecca
Saturday | Long, Lazy Brunch at Orto Trading Co.| Sydney
When dressing for Saturday brunch at Orto Trading Co. comfort is key, which is why it's a smart idea to wear your white jeans with an oversized knit and luxe sneaks. And since you'll have your phone on hand to capture your #foodporn moment, a kitsch phone cover is a must. As you were.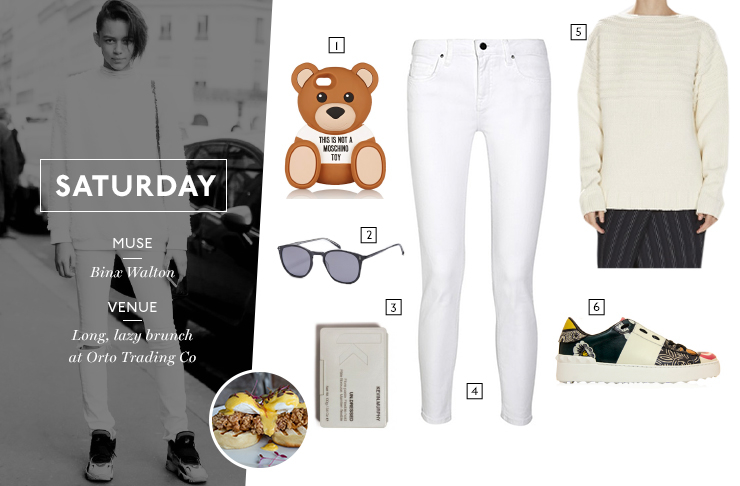 1. Moschino Teddy Bear Silicone iPhone 6 Case
2. Garrett Leight Kinney Sunglasses in Matte Black from bassike
3. Kevin Murphy Un.Dressed Flexible Hold Hair Paste
4. Victoria Beckham Denim Ankle Slim Mid-Rise Skinny Jeans in White from camargue
5. bassike Cotton Merino Chunky Knit in Ivory
6. Valentino Mime Sneakers from Miss Louise
Sunday | Market Sesh at South Melbourne Market | Melbourne
In our opinion, there's no better way to spend a lazy Sunday than by heading to the South Melbourne Market. Make like Karolin Kurkova and peruse the rows of fresh fruit and veg in your white jeans, striped tee and comfy cool flats.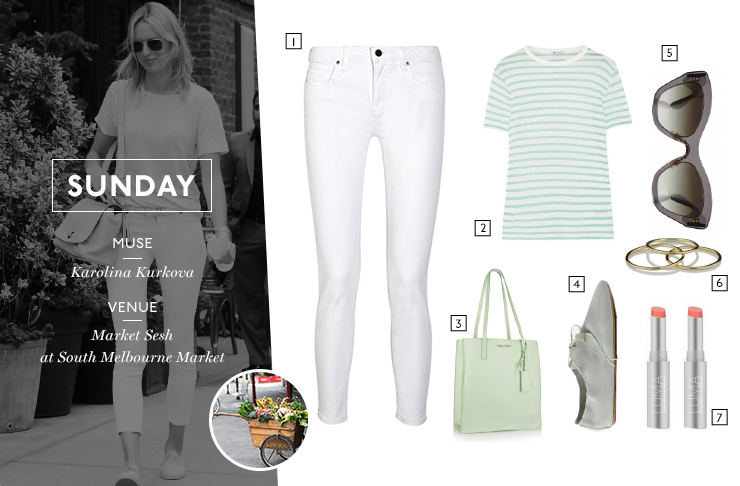 1. Victoria Beckham Denim Ankle Slim Mid-Rise Skinny Jeans in White from camargue
2. T by Alexander Wang Striped Slub Jersey T-Shirt in Light Green/White. Find T by Alexander Wang at Incu.
3. Miu Miu Textured Leather Tote in Mint
4. Hobes Leah Goren Flats in Duckegg Blue
5. Miu Miu Transparent Cateye Sunglasses in Charcoal from Green With Envy
6. Baby Anything The Goddess Thin Rings in 9ct Yellow Gold
7. Luma Cosmetics Sheer Lipstick in Natural Pink
Main Image Credit: Oh Frantastic