July, we had our moments, but August hs arrived in Brisbane and we couldn't be more thrilled! This month is filled to the brim with things to do, see and taste in Brisbane. We've got everything from an espresso martini festival, a craft coffee festival, a burger festival and the endless 'good vibes only' party boat that is Seadeck cruising the brown snake. Brisbane, don't ever change!
Start making plans; we bring you 23 of the best events popping up in Brisbane this August.
Arctic By Customs House
Tired of nippy nights out in winter? (Those Ekka winds are REAL!) Thank goodness for Custom's House: they've brought back those luxuriously toasty igloos—this year, in partnership with Belvedere Vodka (because we all know that's how you keep warm...). Easily the best riverside spot for a winter tipple, their signature Belvedere Express (Vodka, Kahlua and chilled espresso) is warming us up from the inside out.
When: Throughout August
Where: Customs House, CBD
For more info, click here.
Seadeck
Get back at all your mates who jetted off for the European summer and live it up on Seadeck; Brisbane's uber-luxe party boat that is giving us all the good-time feels until October (!). We'll take the Brisbane River over the Seine any day! Cue tropical music and flowing Aperol spritzes, and you've got the next best thing to Cannes! Pop a bottle, because the best revenge is served up ice cold.
When: Friday nights, Saturday & Sunday afternoons throughout August
Where: Departs from Southbank, River Lookout Cruise Terminal
Get all the info here.
Whale Watching Season
Ok nature lovers, this one's for you! The humpback whales continue their own version of a winter vacay in the warm tropical waters of QLD (I mean, who could blame them?). Stake out your best vantage point, and give them a salute as they pass by on their annual pilgrimage up the coast throughout August.
When: Throughout August
Where: get inspo on the ideal viewing spots, here.
Expo Liasion
Boasting an extraordinary lineup with the likes of jewel John Farnham, Client Liasion are here to rock our world with their very own festival! Featuring local talent Alice Ivy, Luke Million, KLP, NO ZU, John Howard (DJ Set), Rainbow Chan and Total Giovanni, there will be nothing short of quality entertainment for the evening. But that's not all! Attendees can expect thrilling wood-chopping demonstrations, artisanal ice-sculpting and a custom-built dessert buffet guaranteed to further sweeten the entire affair. We're swooning just thinking about it.
When: Aug 28th
Where: Victoria Park, Herston
For more info, click here.
Brisbane Burger Festival
Ready your stomachs Brisbane, because BurgerFest is back! For one day only Brisbane's best burg slingers will be setting up shop at The Triffid. Lucky Egg, Five Boroughs, Miss Kay's, Moo Free Burgers, Burger Project, Greaser and the Triffid's OG burgers will all be on offer. Wash it down with an ice cold beer and you'll be set!
When: Aug 25th
Where: The Triffid, Newstead
For more info, click here.
Bakery Lane Craft Coffee Festival
Brisbane, our love affair with coffee has reached fever pitch, thanks to our very own craft coffee festival! Think coffee-flavoured eclairs, coffee crepes, tiramisu cups, espresso cupcakes (courtesy of Le Petit Paris Bakery and Cakes & Sh*t), and of course Brisbane's finest coffee being served up. With live entertainment until late, masterclasses and espresso martinis on the rotation, we can't think of a better way to get our coffee fix!
When: Aug 4th
Where: Bakery Lane, Fortitude Valley
For more info, click here.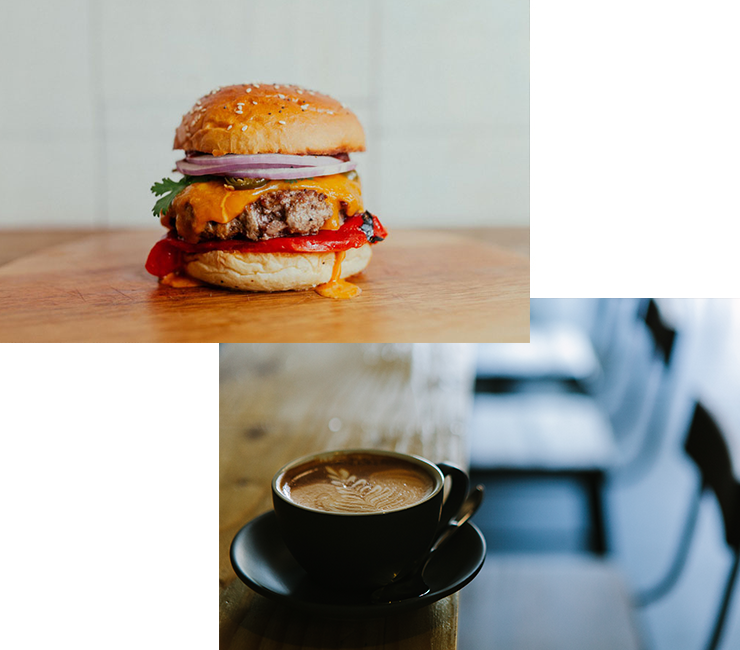 Espresso Martini Festival
Paying true respect to our one true love, the not-so humble espresso martini, Brisbane's caffeine-fuelled Espresso Martini Festival is the perfect way to cut loose on the Ekka Holiday Eve! Tickets are just $45pp (+ booking fee), which includes a slick espresso martini on arrival and a selection of street eats from Hello Please and Ol' School. We're buzzing just thinking about it!
When: Aug 14th
Where: 10 Fish Lane
For more info, click here.
Annual Vegan Ekka Day Festival
It's that time of the year again where the winds pick up and we all go gaga for the Ekka! What better way to honour veganism and sustainability in Brisbane than The Green Edge's Ekka Day celebrations! With vegan dagwood dogs, show bags, bake sale, live music, market stalls and raffles, get all your Ekka goodness all in the one spot, and entirely cruelty-free! Bring along the fam and your dearest furry friends—all creatures are welcome great and small.
When: Aug 15th
Where: The Green Edge, Windsor
For more info, click here.
Beer Yoga
For beer drinkers that like yoga and yogis that like to drink beer, we've got something that is obviously for you! Beer yoga; a workout where laying down is considered exercise AND you can unwind over an ice-cold Stone & Wood. Sounds heavenly to us! We can't think of a better excuse to cancel our gym memberships.
When: Aug 9th
Where: Ballistic Beer
For more info, click here.
Good Food Month's Night Noodle Markets
The Night Noodle Markets are back by popular demand as a part of Good Food Month—and thank goodness for it! Sharing some of the most incredible food, sights and sounds of our favourite Asian food stalls, we urge you to try ALL the dishes! With eats from Hoy Pinoy, Waffleland, Teppanyaki Noodles, Donburi Station, Black Star Pastry, N2 Gelato, The Original Korean twist potato, Puffle, Poklol, Gelato Messina & Shallot Thai, you won't be disappointed!
When: Ends August 5, so hurry! It's open 4pm-late
Where: South Bank
For more info, click here.
Redcliffe Kitefest
Revisit your childhood and cross the Hornibrook for the Annual Redcliffe Kitefest. It's a bit of a spectacle when a huge bunch of colourful kites converge in Pelican Park. Hold on tight and discover the (surprisingly) calming focus of kite flying! Move over mindfullness colouring books...
When: Saturday 25-Sunday 26 August
Where: Pelican Park, Redcliffe
For more info, click here.
Strawberry Sundaes At The Ekka
It's the best ice cream you can eat (a big claim, and we're not afraid to make it!).10 tonnes of strawberries, 1800 litres of cream and 18 000 litres of ice cream is ready to be transformed into those sensational Ekka Strawberry Sundaes. Despite the well planned over-supply, we're sure they won't last for long!
When: Friday 10-Sunday 19 August
Where: RNA Showgrounds
Get all the info here.
Brisbane Marathon Festival
We hope you've been keeping up with your training throughout winter. The 27th Annual Brisbane Marathon Festival is on the 5th of August. Run a full or half marathon, or tackle the 10km, 5km or 2.2km kids run. (That's right, there's even a distance fit for the doona lovers.) You'll be gliding (or hobbling) along the riverfront, over Brisbane's bridges (hopefully not the steep ones!) and past our most loved landmarks. It's all about the journey right?
When: Sunday 5 August, 6am-12pm
Where: Brisbane City Botanic Gardens
Get all the details here.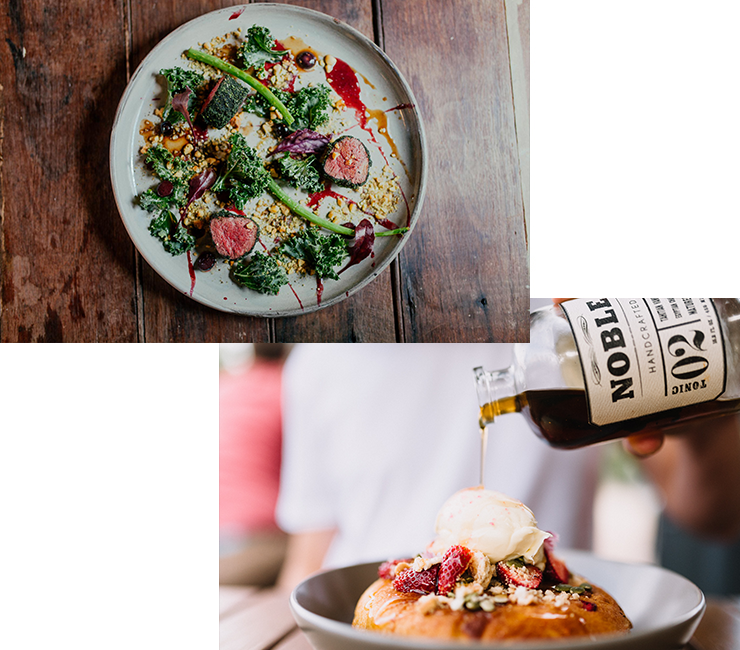 Which Way Home
Full of humour and heart, Which Way Home is a must see theatre production showcasing at the iconic Brisbane Powerhouse. Celebrating the high open skies of our country and what it means to be Indigenous in Australia today, ILBIJERRI Theatre Company is putting on a feel good father-daughter story.
When: Wednesday 8-Saturday 11 August
Where: Brisbane Powerhouse
Get all the details here.
Wynnum Central Beach Volleyball
Bayside beach babes, get down to the Wynnum Wading Pool Arena stat! It's been transformed to a beach volleyball court this winter, and there's not much longer left to go! In more great news, it's completely free to use for the public on weekends. BONUS!
When: 4-5, 11-12, 18-19 August, 1Pm-3pm
Where: Wynnum Esplanade
Get all the details here.
Five Flavours Beer & Cider Festival
We would never say no to a mid-week frothy. Live out your unrequited hump day dreams and get down to Riverlife on Ekka Wednesday for a battle of the brews. Taste all of their beers and ciders, so you can pick a favourite while you take in the riverside views!
When: Wednesday 15 August, 1pm-8pm
Where: Riverlife
Get all of the details here.
Jade Buddah's Full Moon Party
Jade Buddah low-key has the best dance floor in Brisbane. See out August in style and join them for busting a few shapes at their Full Moon Party. With a $55 drinks and food package and live dj's, it's a no brainer.
When: Saturday 25 August, 5pm-late
Where: Jade Buddah, Eagle St
Get all of the details here.
Hakanai
A viewing of the Hakanai technology-fused dance performance will get you cultured quickly. There will be a gigantic light up cube and a collision of French and Japanese creativity. Sparking a conversation between digital technologies, the human effort, visual arts and movement; a review of this poetic performance is sure to impress your mates!
When: Thursday 16-Saturday 18 August, 7.30-9pm
Where: Brisbane Powerhouse
Get all of the details here.
Courtney Barnett At The Tivoli
She's just so damn relatable, AND catchy! We just love her and she's performing live at The Tivoli this August. We bet her cool-girl vocals sound even more distinctive live than when we're foot tapping in the office.
When: Wednesday 22 August, 7pm
Where: The Tivoli
Get all of the details, here.
Bridge To Brisbane
Another fitness event—huzza! Maybe the universe is sending us a message? Watch the sun rise from some of Brisbane's best bridges in the annual 10km fun run. Try to finish on time and treat yourself to a delicious Sunday brunch (because the best part of exercise, is definitely the post work out refuel!).
When: Sunday 26 August
Where: Wickham Terrace, Spring Hill
Get all the details here.
Mercedes-Benz Fashion Festival
Dig out your best threads and treat yourself to a taste of this season's latest fa-shun trends. With stunning production and showcases of Brisbane's best fashion talent in beautiful heritage venues, you can definitely expect a VIP experience. Hurry, because last year's tickets sold out (FAST!)
When: Sunday 26-Thursday 30 August
Where: QUT Gardens Point, Old Government House and St John's Cathedral
Get all the details here.
Brisbane International Film Festival
If questionable foreign films have turned you off the international movie scene, then think again! Palace Cinemas curate the best overseas films every year. With an exciting line up of freshly released films from Cannes, Toronto, Sundance and Berlin, you can expect some captivating screenings! Watch out for a couple of home grown premiers too!
When: Friday 17 August-Monday 3 September
Where: Palace Barracks and Palace Centro
Get all the info here.
Queensland Poetry Festival
Look, we really are just a bunch of wordsmiths (with an equal love for food). If you're anything like us, you will also be gearing up for The Queensland Poetry Festival. We already know the healing power of food, and this year we will be attending to explore this year's theme, the healing power of story.
When: Thursday 23-Sunday 26 August
Where: Judith Wright Centre of Contemporary Arts
Get all the info here.
Know what else is coming in hot this August? This bad boy.
Image credit: