Whether your summer prep starts in July or you like to hold off on any exercise until the first of January, there's something about the season that makes us all feel a little healthier. Maybe it's the lack of oversized sweaters to hide our expanding waistline forcing us to eat less cheese, maybe it's all the water drinking needed to recover from the summer hangovers—who knows?
Either way, we've outlined a (balanced) itinerary for your summer featuring plenty of activities to get you feeling tip tip—and to make space for all the fruit mince tarts.
December
Stretch Out At Beer Yoga
If yoga sounds way too much like exercise to you, how about combining it with beer? That's right, Felons Brewery hosts a yoga session on the grass every Monday night, where you can stretch through some slow flow all while sipping on a frothy pour. Just don't spill it.
When: Every Monday, 5.30–6.15pm
Where: Felons brewing Co., Howard Smith Wharves
For more information, click here.
Book In A Wellness Staycation
You know what? You deserve a staycation. No ifs or buts about it, treat yourself to a mini holiday by staying in one of Brisbane's luxurious (but totally affordable) hotels for an all-round, incredibly relaxing weekend without having to leave town. Feel free to sleep in, hit the spa and just take it easy. You'll ease into December feeling ready to take on the world—find out how here.

Soak And Steam A Day Away
December = stress. Put it all behind you for a few hours and treat yourself to a long hot session at one of Brisbane's best places to soak and steam. Whether you're wanting to sink into a bubbling spa, sweat out toxins in a sauna, or even treat yourself to a facial and body scrub, click here for our top picks for Brisbane most luxe spas.
Get A Massage
Season's greetings, the holidays are finally upon us! You deserve a pat on the back for making it to the end of the year in one piece—or are you? If your limbs are ready to crack from a year's worth of uncomfortable office chairs and train commutes, soothe those aching muscles with the help of a masseuse. Consider it a Christmas present to yourself. Find our fave massage studios here.
Finally Try Floating
Floating, you ask? Why, it's only the best way to begin the new year (and if you played your cards right, you got a voucher for Christmas). Soothe your soul and mind by stepping into an otherworldly pool of peace and bliss, and then just float all your worries away. Want to know where the best spots to float are? You can find them all here.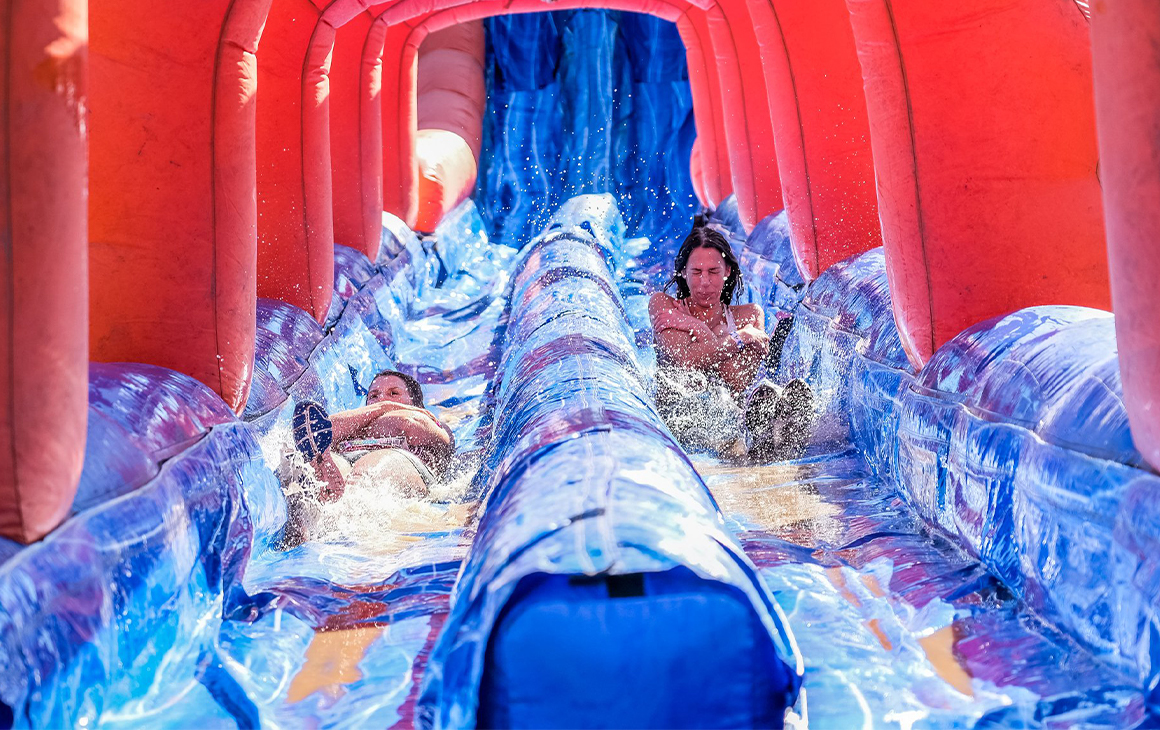 January
Slip 'N' Slide At Foam Fest
With 2020 upon us, it's time to hit the ground running (literally) at this 5km fun run, complete with foam pits, waterslides and a whole lot of mud. Sure, there's some huffing and puffing involved—but mainly it's hurtling down slip 'n' slides and leaping through jumping castles filled with foam. Warrior cries (and stain remover) at the ready.
When: Saturday 11 and Sunday 12 January
Where: Sirromet Wines, Mt Cotton
For more information, click here.
Create A Summer Reading List At The Lifeline Bookfest
Is reading more often one of your new year's resolutions? Don't know where to start? Luckily, Lifeline is holding their bookfest mid-January to help you on your way. Pick up a few books that peak your interest and go sit under a tree—you'll feel totally relaxed with the sun warming your cheeks as you eagerly devour word for word. Enjoy the company of yourself and the good book in your hands.
When: Saturday 18 January–Monday 27 January
Where: Brisbane Convention and Exhibition Centre
For more information, click here.
Try One Of Brisbane's Toughest Workouts
If toning up or losing those extra kilos you put on over the holidays is also one of your resolutions, then you have to give a red hot crack at one of Brisbane's most sweat-inducing workouts. Whether it be crossfit, cycling, HIIT, or barre, it's time to stick to your resolve and head to your choice of workout in order to get those legs pumping. Head here for our pick of Brisbane's toughest workouts.

February
Take a Hike
Taking a brisk walk through the great outdoors is a sure-fire way to feeling at one with both nature and yourself. Lucky for us, Brisbane and surrounds are home to plenty of hiking trails ranging from low to high fitness levels, so there is something for everybody. Not to mention you can also take your pick of bush, coastal, elevated or waterfall-abundant trails—we've got them all right here.
Have A Laugh At Livewired Comedy
Don't they say laughter is the best medicine? Say hello to a Sunday afternoon giggling away at the Brisbane Powerhouse's comedy event—do we even need to mention it's free? If you've got post-Christmas blues or are just feeling down in the dumps, this is the perfect way to turn that frown upside down and have a jolly good belly laugh with the local comedy scene.
When: Every Sunday, 5pm
Where: Brisbane Powerhouse, New Farm
For more information, click here.
Say Namaste To A Yoga Class
Yes, it's time to end summer with some more yoga. But not just regular yoga—yoga in one of Brisbane's most gorgeous yoga studios. Not only will it bend your body in ways you didn't know you could, but the serenity of the studio will leave you feeling absolutely blissed out. Give both your body and your mind the Vinyasa or Bikram (your choice) it deserves, and finish February (and your summer itinerary) feeling accomplished. You can find the most beautiful yoga studios in Brisbane here.
Want more summer itineraries? We've got one for the foodies, adventurists and action lovers.
Image credit: Jake Melara, Amy Higg, Foam Fest