Climate change is a daunting issue, so much so that it's hard to know where to start. Is there any ethical consumption under capitalism? It's all so stressful it makes you want to crack a tinnie, right?
Well raise your glass to the brewing pioneers at BrewDog, who have come up with a cracking means of combating the climate crisis, becoming the world's first carton-negative international beer business.
James Watt, co-founder of BrewDog said, "Our Carbon. Our Problem. So, we are going to fix it ourselves. Huge change is needed right now, and we want to be a catalyst for that change in our industry and beyond. We fully acknowledge that we are a long way from perfect. However, we are determined to rapidly and fundamentally change everything as we work hard to ensure we have a positive impact on the planet."
The move is founded in its belief that carbon neutral is no longer enough, and that businesses should be having a positive impact on the planet. So BrewDog is unveiling a climate action program with $55m of green investments across its business.
Part of this ambitious plan is the launch of a new headliner range, brewed at BrewDog's Murarrie brewery, DogTap. Available to buy online, the range includes the beer that started BrewDog's craft beer revolution, Punk IPA, alongside their Hazy Jane New England IPA, Elvis Juice Grapefruit Infused IPA, and a West Coast Classic Pale Ale.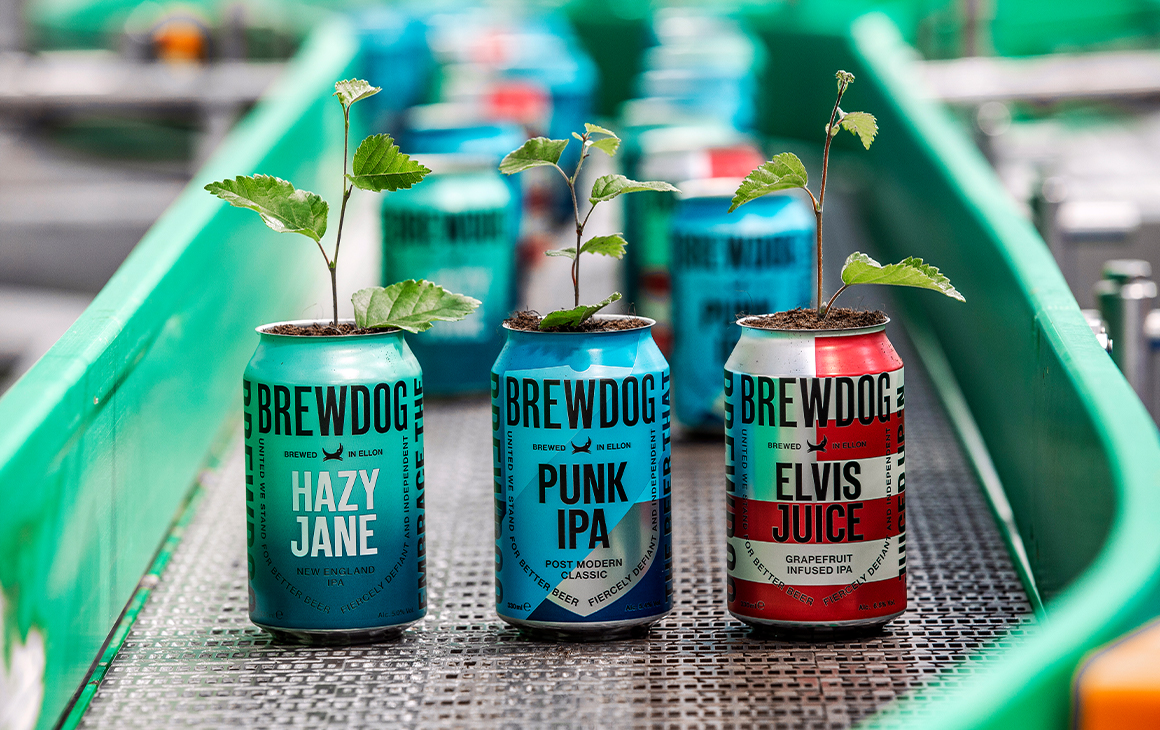 Just brewing craft beers in the heart of Brisbane helps reduce the carbon emissions from the transport involved in importing beers, but BrewDog is going the full mile to achieve a positive environmental impact, with a number of green infrastructure and sustainability initiatives. This includes generating some of their own green energy with solar panels, partnering with Carbon Neutral's Yarra Yarra Biodiversity Project to offset all excess C02 emissions and more.
How does a business go from being carbon neutral to carbon negative? Trees, lots and lots of trees. BrewDog has purchased a whopping 2,050 acres of Scottish Highlands with a plan to plant one million trees over the next few years. But what about the waste that a brewery normally creates? Well, bring your cans back to BrewDog's planned sustainable drive thru, where they'll collect your empty cans and glasses. Soon you'll also be able to order from their online store and get a delivery from an electronic vehicle. Plus, the brewery's closed-loop, zero-waste packaging items including growlers, mini-kegs and returnable bottles.
Determined to be true climate change warriors, BrewDog is going legit, so don't just take their word for it. Teaming up with independent carbon offset and environmental standards agencies The Woodland Trust, Australia's Carbon Neutral, Ribble River's Trust and Nature Conservancy of Canada, they are signalling that this isn't just a cheap advertising pitch.
A carbon negative business, locally brewing quality craft beers. Ahh, how refreshing. Cheers to BrewDog! The team are so for real, they've released a sustainability report that details all the information about their current carbon impact and plans to change it, which you can check out here.
Looking to change up your own habits? Why not start a fruit and veg co-op with your mates.
Image credit: BrewDog