We went behind the scenes with the charming duo behind Public Bar and Restaurant as they invited us into their eclectic New Farm pad to talk share plates, cocktails, and eating scorpions.
You two started Canvas bar, and now you're onto Public. How did you get started in the bar industry?
Bonnie: When I finished school I was saving up to go on my gap year. The easiest thing to do was get a job in a bar. So I went off of on my gap year, came back, was trying to pay off my bills and started working for a really cool company called the Matchbar group, which I found really interesting. It wasn't just like just working in a bar. We had master distillers flown in from around the world to talk to us. It was more than just a job; it felt like you were actually learning, and I got really hooked on cocktails.
Drinking them or making them?
Bonnie: Ha! Little bit of both. I was given a really good opportunity at a really young age from that company to go Ibiza to open up a bar from scratch for them there, and it was a massive learning curve. I just got stuck into it. I had the responsibility of everything to do with that bar, so I went from tending bar to being responsible for everything. Set up, everything. And I think I got a bit addicted to it.
When the season finished I went to Chamonix, in a boutique hotel out there, and I helped out for a season. When I came back to England I thought, I want to do my own thing. But not in England! Then I moved out here, and that's where I am now.
Tom: I started washing dishes at the age of fifteen in an Indian restaurant in a little Kentish village. I progressed up to become a waiter. Then I bummed around for a few years before I ended up in France doing the ski season. I started off working the kitchens but then I decided I wanted to pursue a career in front of house, in front of people, rather than tucked up in a hot kitchen. So I started off bar tending, and it kind of started from there.
Over the years I've done everything, every position you can do in a kitchen, and it eventually cumulated in opening Canvas and opening Public. It's what I've always done; it's what I know.
Why did you choose to settle in Brisbane?
Bonnie: I've lived out here before. I've lived in Melbourne for a year, and I loved Melbourne. Tom had never been to Australia before and I said 'you have to come to Melbourne, it's really cool!'
But when we got here we found it had become a bit pretentious. Every shop front was sushi shop, a bar or a restaurant; it was really competitive. We didn't have a huge budget, and Tom didn't feel like he was really in Australia, so we decided to take some time out and go for a road trip. We came up and visited by Dad in Tenterfield, and stayed there for 3 months picking fruit. We came up to visit some friends in Brisbane, and we thought it was nice and close to my family, and it was nice and sunny up here. We got jobs and really liked it, and just stayed.
It wasn't our intention to come to Brisbane, because I had been to Brisbane five years previously, and I really didn't like it! I thought it was the most backwards town! It was amazing how far it had come in those five years, and how far it has come since we've been here.
So it wasn't planned but I'm definitely glad we ended up here.
What do you love about the Brisbane dining scene? What do you think is exciting about working in it right now?
Bonnie: It's so new, still. It's very fresh. Everyone is really excitable about everything that's happening in Brisbane. Because it is so new.
Tom: There are lots of ideas that you can bring to this city. It's fun. It's a vibrant city. People are friendly. People enjoy new experiences. We just need to get them dining a bit later on, rather than at 7pm every night!
It's an exciting city; there a lots of things happening, lots of things evolving. Things have a come a long way since we first arrived here 4 and half years ago, and they are going to carry on that way.
Bonnie: I really like the fact that in Brisbane there is healthy competition. Everyone is opening up new venues and doing it in quite rapid succession, but there is really healthy competition between owners. Rather than trying to out-do each other, we know that if we try and grow together it's only going to boost Brisbane. Also it's really friendly and everyone is really supportive of everyone else, which is really good.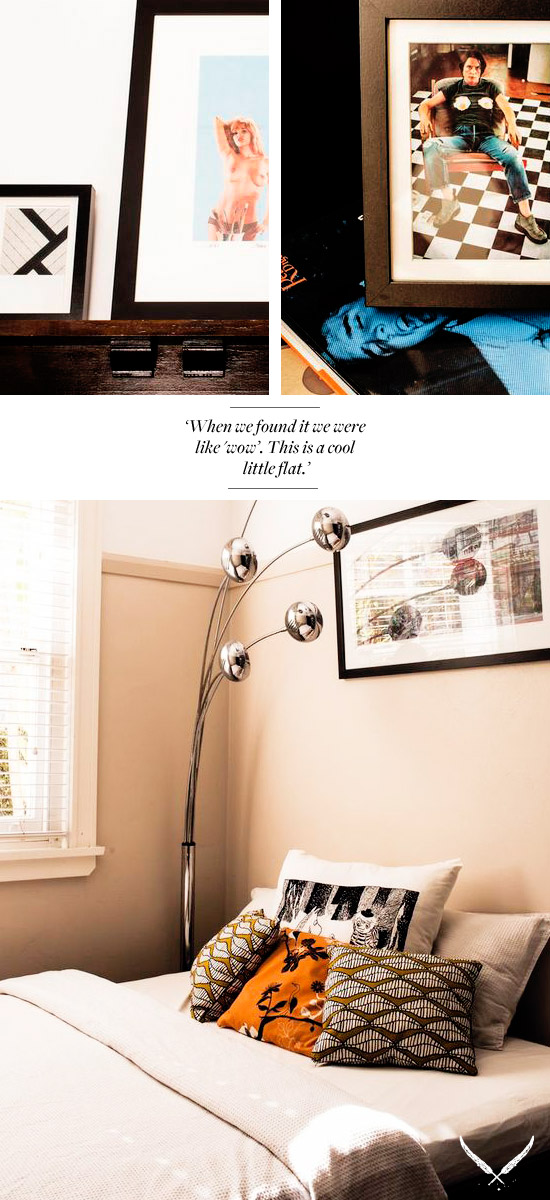 You used to own Canvas, now you have Public. What does Public represent as your growth of business owners. How are the businesses different?
Bonnie: It's the next step forward isn't it?
Tom: My background is very much restaurants and food, whereas Bonnie's is the bar. Canvas was so bar focused, we really wanted to do something more interesting with food. It was a natural evolution really.
We saw the site, saw the space, it had a good bar, but we really just wanted to concentrate on the food. I think the thing with Canvas was that everyone was drinking, but we found people wanted that whole experience. When you go out now, you do want that whole experience. You want to be able to sit at the bar, have a few cocktails, but then you want something more substantial. Something more social.
Is that why you were drawn to the share plates idea?
Tom: We just love the social aspect. Dining should be fun, you know?
Bonnie: Yeah, and I get food envy! When I go out with Tom I always want what he's ordered. And with share plates there is no food envy, because they are designed for sharing.
Tom: Food is supposed to be fun. It's sociable. There is nothing worse for me than seeing someone come into a restaurant and sit down with their guests and bolt through their meal in 25 minutes.
We want to encourage people to graze, to have fun. They do it so well in European cities, like tapas in Spain. People graze all night, and that's a good way of doing it.
Bonnie: I think we also wanted to get the concept out there that dining out doesn't have to be an occasion. If you go to other cities, if mum and dad don't want to cook they just go out to a restaurant. You don't have to dress up to the nines. You don't have to splash an enormous amount of money around. It can just be part of your everyday life. It doesn't have to be a special occasion.
Sometimes eating out casually is cheaper than eating at home, and there's less wastage.
When did you decide to start Public?
Tom: We had Canvas for 18 months. We like being very hands-on with our venues to start, and obviously Public, being a lot bigger than Canvas, requires a lot more attention. Once all the systems are in place and you know how it's going to run best, I think its good to get a team in behind you so you can look at doing other things.
With Canvas that probably happened within six months, but it's only now at Public, 18 months in, that we've started to get a team in place here so we can look at doing new things. But I think for us it's very important to remain in the business, to be very hands on. No one's going to look after your business like you will.
We always have a few ideas bubbling away in the background. So we need to spend a year and half in the business to get those ideas going and then we step away and do something else.
What does a typical day look like for you?
Tom: A typical day involves us being here by 9am in the morning, having a look in the diary, seeing what's on for the day and the week.
Now that we are stepping away from the business, because we are training up our management team, we are concentrating a lot more on the bigger picture. The marketing, and actually directing the business in the way we want it to go, rather than being stuck in the day to day running of the business. So now we are in a position where our managers run the business and we can feed in to them. There are a lot of developments going on.
Tell me about your place?
Tom: It's a little art deco unit. It's really interesting. When we found it we were like 'wow'. This is a cool little flat. It used to be a little church hall, then they split it up and made it into two units. But it still has all the original art deco features, so it's pretty unique.
We used to live in an apartment in Woolloongabba that had no soul. You would walk in and not want to spend any time there. So we wanted to find something a bit unique.
What do you like about living in New Farm?
Bonnie: Everything! It's close to the city, but still green. There's a nice café culture. Our friends live around here as well. It's convenient. Convenient and pretty! You're near James Street, which has some great spots. You're near the valley if you want to go out (not that we do!). There are markets just down the road and it's near New Farm Park.
Where's your favourite coffee spot in New Farm?
Bonnie: I really like Choquette for a pastry and a coffee.
Tom: Yeah we go to Choquette quite a lot.
Bonnie: If we want a sit down breakfast, The Vine has recently been done up. It's down on Merthyr road, near the Moray street café.
Tom: Don't tell everyone. It'll be too busy!
Bonnie: It's recently had a refurb', and it's not too hectic crazy-busy. It's really comfortable; the food's really decent; the coffee's beautiful. And the service is good.
Tom: The frustrating thing about going out for breakfast or coffee around New Farm on the weekend is that everywhere is just so, so busy. I get it, but it's good to have a few secret spots that we know aren't that busy.
Bonnie: So not The Vine, never go to The Vine! (laughs).
Tom: And We like Banneton as well.
Bonnie: Yeah Banneton do good coffee. But Choquette's just round the corner from us!
Where do you go out for a drink?
Bonnie: For a casual drink we go round to Gertie's, or down to James Street. Gertie's is just around the corner from us and it's good for a quick, casual drink. Carrie in there is always very entertaining! So that's our little local. But if we're going out for an afternoon thing we would probabaly go down to Sixes and Sevens or somewhere on James Street.
Bonnie: Though on Sundays you will always find us at Beccofino! Love Beccofino! It's our Sunday afternoon session. Pizza, duck ragu, lots of wine. We're happy.
Which restaurants do you think are doing something really exciting at the moment?
Bonnie: I really want to go to Mr Wongs in Sydney. We've done quite a lot of restaurants in Melbourne and Sydney over the past year, but there are a lot of newer things that have popped up that we haven't gotten around to seeing yet.
Bonnie: And we've just started doing bugs and insects here.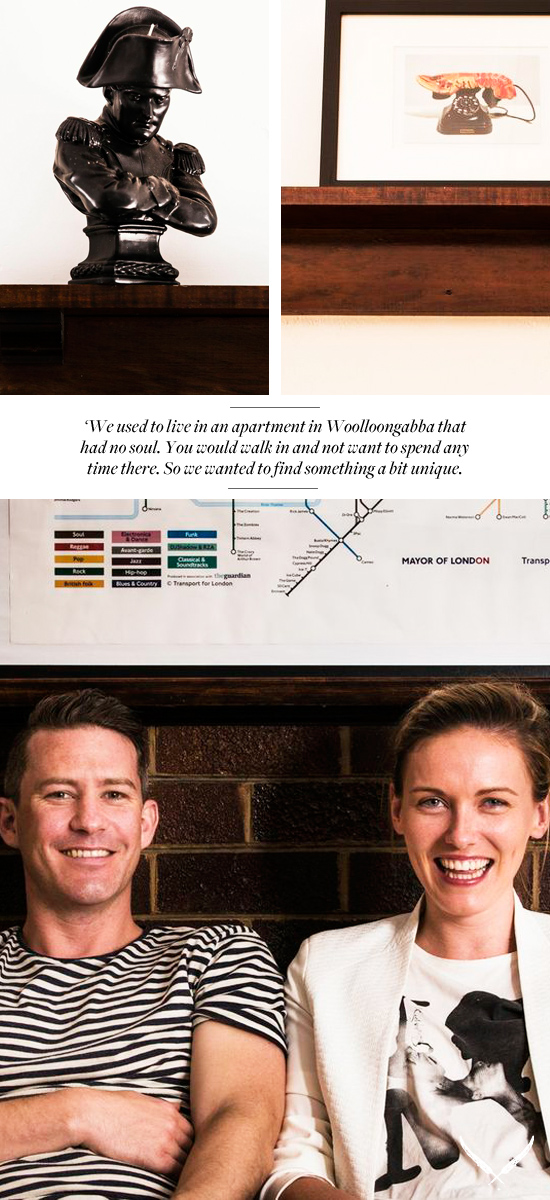 Yeah, we've heard about the scorpions!
Bonnie: So obviously I would like to see what Kylie Kwong is doing with them down in Sydney. Because she's using them too!
How are the scorpions going?
Bonnie: Sold out last week! The tables were desperate to have them. It's great!
Any plans for more bugs on the menu?
Bonnie: No! We don't want it to dominate our menu. We don't want it to be gimmicky. We don't want it to just be a novelty. There are some other insect dishes that are going to be coming up, going into summer. But it's not going to turn into an insect farm here, we promise!
What's next for you two?
Bonnie: Top secret. if we tell you, we'll have to kill you!
Tom: Yeah we have a couple of ideas that we're playing around with. For us it comes down to location really. We love food; we love drink; we love cocktails. And I think there's a still a lot of opportunity in Brisbane. The evolution in the last 4 years has been phenomenal. But I think there is still room for some interesting concepts. Especially in terms of embracing the outdoor lifestyle.
We want to hear!
Bonnie: We have 3 or 4 concepts up our sleeve, but they are all very dependent on location. But we're not in any rush to do anything. We built up Canvas and sold that on. And now Public is doing really well for us, so when the right site comes along that's going to be key for us.
Tom: It's top secret!
Image Credit: Geoffrey Zabell