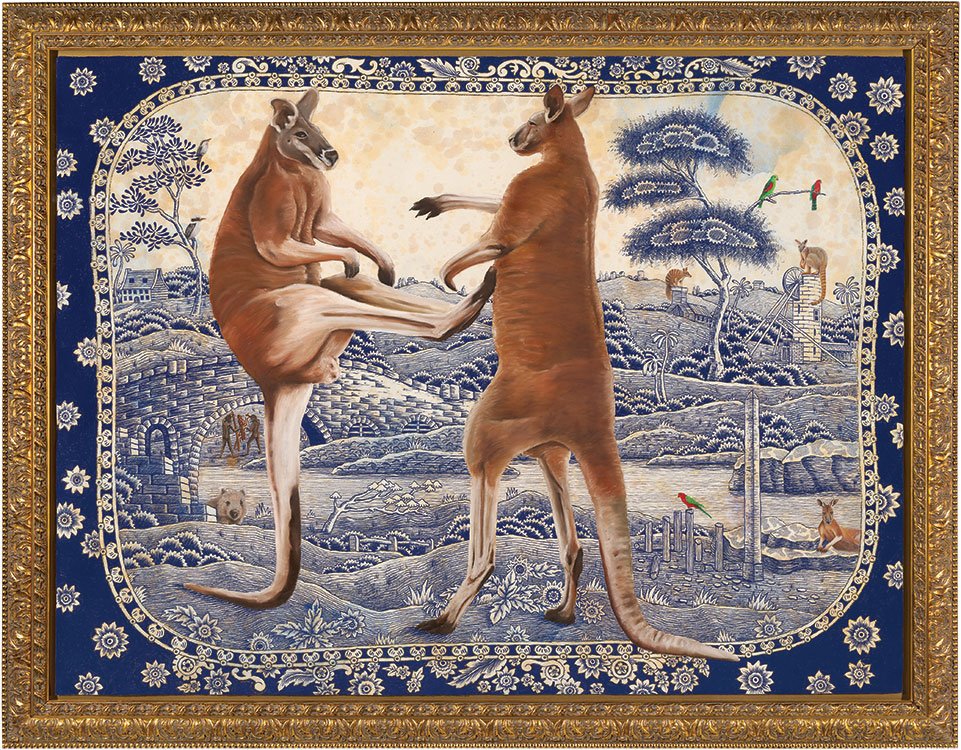 Danie Mellor
Culture Warriors 2008
pastel, pencil and wash with glitter and Swarovski crystal on Saunders Waterford paper
147 x 195 cm
Collection: National Gallery of Australia, Canberra
Purchased 2008
Danie Mellor is a highly collectible Australian artist, whose work sold out (for Jan Murphy Gallery/ Sophie Gannon Gallery) within minutes of the doors opening at last year's Sydney Contemporary Art Fair. He has a unique approach to combining his Indigenous and non-Indigenous history, creating layered images that are like entry portals to other worlds. It is a poignant, spiritual and humorous slant on Australian history. Mellor spent significant time as a child with his grandmother in the rainforest of the Atherton Tablelands. He currently lives and works in Sydney but states, "There is an element of the rainforest in everything I do".
Parrots wear bells on their heads, cockatoos look down from stark white branches, kangaroos, embellished in mosaic, examine gold-framed drawings. The sculptural kangaroos interact with the drawings, gazing up at images in predominantly blue and white, which use full colour to flag indigenous inhabitants — Aboriginals, fellow kangaroos, dingoes and parrots. Such is the world of Danie Mellor's artistry. This is his first significant survey exhibition, drawn from work created in the last 14 years, laid out in four galleries at the University of Queensland Art Museum as Exotic Lies Sacred Ties and travelling to Victoria and Darwin later this year.

Danie Mellor
Advance Australia fair 2009/2013
taxidermy, mosaic china, painted timber, artificial rock, gold leaf, neon and found objects
152 x 74 x 78 cm
Collection of the artist
Mellor's creatures, created with taxidermy and, whether left naturalistic with fur or embellished, look real. (With the Cai Guo-Qiang exhibition at GOMA it would seem that the animals have a majority in Brisbane's galleries at present.) Yet Mellor's focus, on Australian history, cultural secrecy and rituals, and with their detail offering an entry portal to another world, is charming, beautiful and conceptually rich with story.
Mellor was born in Mackay in 1971 and has European and Indigenous Australian ancestry (Mamu, Ngagen and Jirrbal peoples, from North Queensland). As a child, his family travelled and moved many times, yet he was always aware of his multiple cultural heritages. Becoming an artist was part of, "Beginning to integrate it in a meaningful sort of way... exploring [it] and finding meaning in something like an artistic practice was incredibly important [and] leads to a very different personal understanding of your place within multiple cultures — it was such a challenge, but it's also an incredible gift."
Yet there is little sense of his labour-intensive approach in the viewing of these works. Exquisitely detailed drawings, decorated with glitter, and framed in gold in a traditional fashion are like doorways into a magical world, a journey offered to the viewer to, like Alice, fall down the rabbit hole. His images layer elements of history with an imaginative narrative, and draw on the rituals of the western Masonic tradition, Christianity, indigenous ceremonial practices, Australian flora and fauna and mythologies of an Arcadia.
He suggested, "Ultimately, it's a matter of allowing the magic of that creative process to have its own momentum. What is created, then, is a number of different narratives interlocking, interwoven, connected, that continue to unfold with each and every picture or exhibition or sculpture. That's part of the process of being an artist — it is process-oriented, but there's also an intuitive thread, like a river that carries you onward."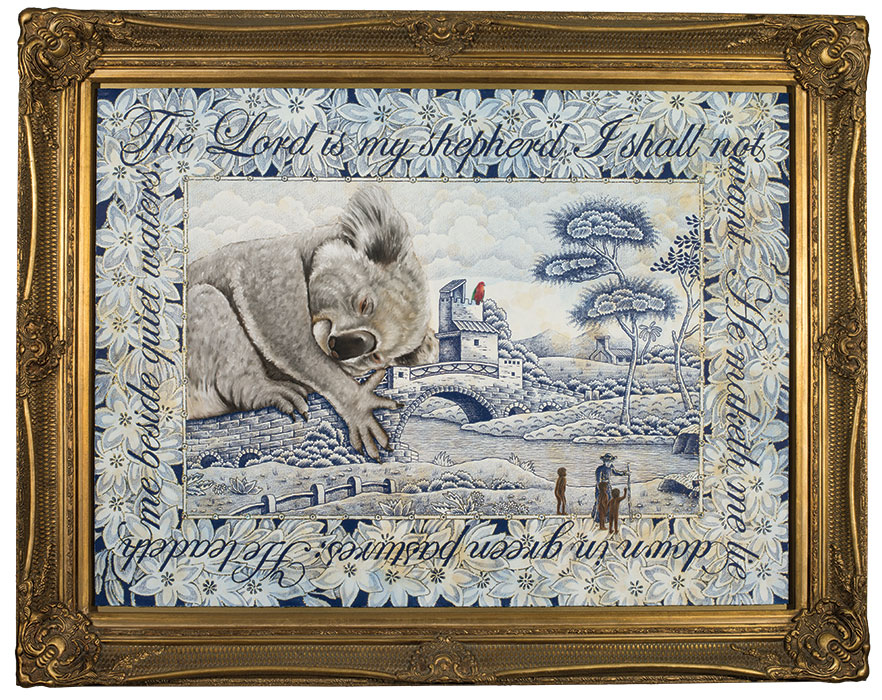 Danie Mellor
The promised land 2009
pastel, pencil, glitter, Swarovski crystal and wash on Saunders Waterford paper
88 x 118.5 cm
Private collection, Brisbane
Mellor's popularity was reflected in the opening event. An artist talk prior to the official launch drew some 250 people who gathered to hear him speak about this significant selection of work. Highly articulate, as befits his status as an academic at the Sydney College of the Arts, he conveyed the potency of his aesthetic. In his work we see a new sense that what unites Australia's Indigenous and non-Indigenous may be more significant than what sets us apart. This is a must see exhibition that is sad yet affirming, poignant yet joyful, acknowledging the tragic histories of Indigenous Australia with a beautiful reclamation of the detail of the past.
Danie Mellor: Exotic Lies Sacred Ties
Where | UQ Art Museum
When | 1 February to 27 April 2014
&
Where | TarraWarra Museum of Art, Healesville
When | 10 May to 27 July 2014 &
Where | Museum and Art Gallery of the Northern Territory, Darwin
When | 29 August to 16 November 2014
TUL Note: Louise Martin-Chew is a freelance writer (and director of consultancy mc/k art). She worked at the Queensland Art Gallery (more briefly but at the same time as Saines) between 1984-1986. Her most recent book examines the life and work of Sydney-based sculptor LINDE IVIMEY (UQ Art Museum, 2012).
Danie Mellor, quoted in "Parallel worlds: Hetti Perkins and Danie Mellor in conversation", Maudie Palmer and Samantha Littley, Danie Mellor: Exotic Lies Sacred Ties, The University of Queensland Art Museum, 2014: p.57.
"Parallel worlds: Hetti Perkins and Danie Mellor in conversation", Maudie Palmer and Samantha Littley, Danie Mellor: Exotic Lies Sacred Ties, The University of Queensland Art Museum, 2014: p.45.