When it comes to a girls' day, first date or just a creative activity to do on a Sunday afternoon, there's nothing like a good paint and sip session to tick all the boxes—which is why we're pretty stoked that Brisbane has scored itself another paint and sip studio in Frida's.
Officially opening this Friday 4 September on Paddington's Given Terrace, this new studio is totally luxe. Forget paint-splattered walls and plastic glasses, instead you'll be perfecting your brushwork underneath dangling chandeliers, listening to pumping tunes, with a raised stage area where an artist leading each class explains each of the steps you'll take to paint a masterpiece.
If you happen to recognise the name, it might be because Frida's was originally a Hobart paint and sip studio, with owner Rebecca Green deciding to open a second studio when she moved to Brisbane due to popular demand. With both studios she wanted to create a sophisticated space that provided somewhere to have a fun, creative night out—one that you could dress up for, but was more than just dinner and drinks (don't worry about your fancy duds, aprons are supplied).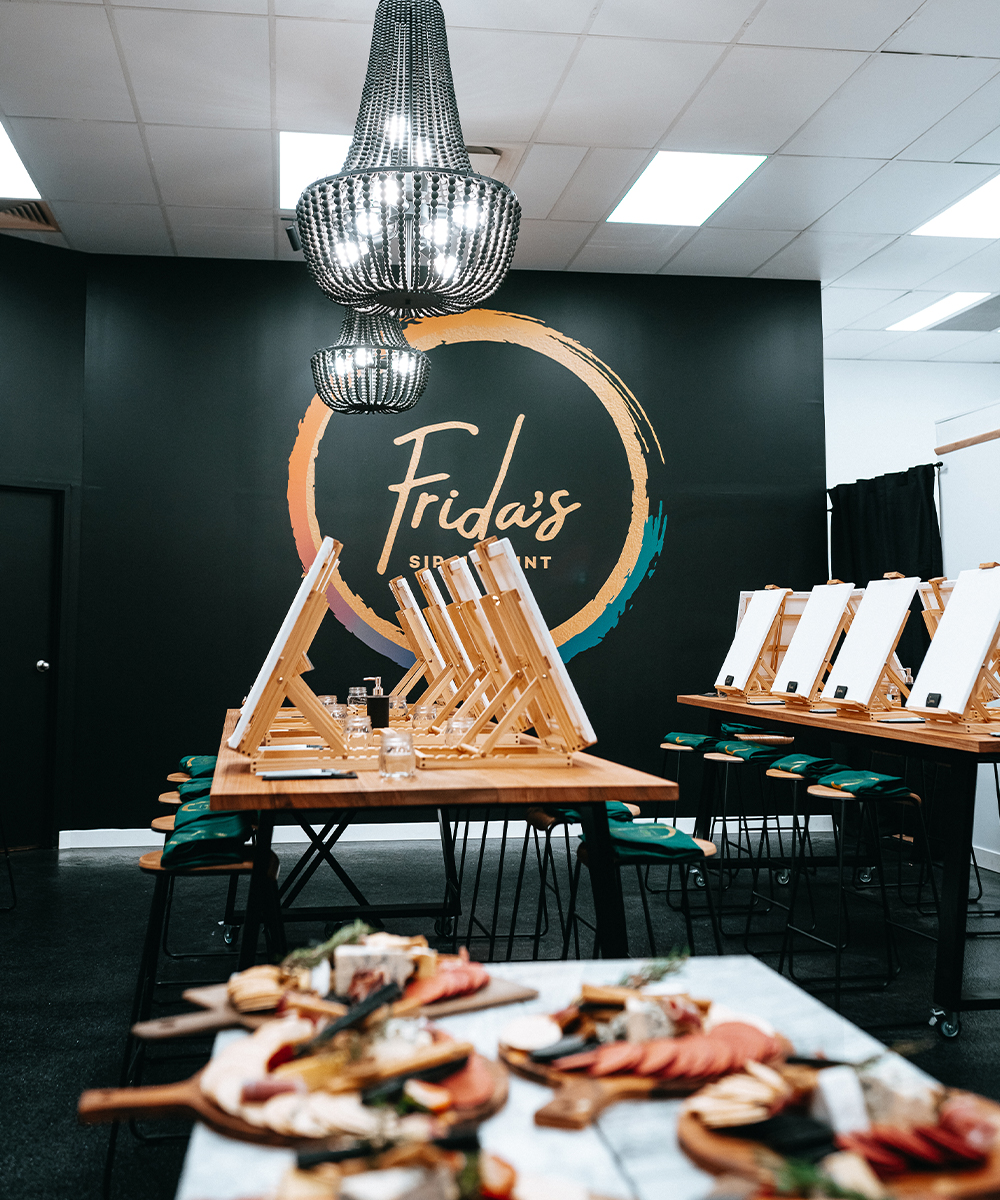 On the class schedule, you'll find a variety of sessions available, with a different painting to re-create in each. All the sessions are run by local artists, who'll be creating a new painting to add to the rotation each week, so if there's nothing that catches your eye right now, you can keep checking back for more works soon.
Frida's will also be doing regular 'Paint Your Pet' sessions, where you send in a photograph of your pet beforehand, as well as the far more hilarious sounding 'Paint Your Mate,' where you'll paint a portrait of each other—no promises that you'll still be mates when the final images are revealed. And Harry Potter fans, you'll want to keep an eye out for the adult Harry Potter painting sessions that will pop up occasionally—just don't accidentally book yourself into a booze-free family session.
Though all glassware and ice buckets are provided, the $66 sessions are completely BYO, so you can pop champagne or just bring along a four-pack of beer, it's up to you. You can even bring your own snacks—DIY cheese platter, anyone? Or, if the thought of packing cheese knives and boards sounds like too much effort, just get one from Kettle & Tin next door, whose menu you can order from via your phone.
Want a fully catered experience? Well hang tight, because the crew will soon be introducing high bubbles sessions: paint and sip with the addition of champagne and nibbles. For now though, you can head to the website to book yourself a class.
Looking for date options? Check out these romantic ideas that aren't dinner and a movie.
Image credit: Supplied