He's a photographer, father, and founder of Ross Street Studio — a home for Brisbane creatives and a unique workspace and gallery in Newstead. We joined Sam in his eclectic and very cool workspace, and in his newly renovated Ashgrove cottage — along with wife Cass and their charming infants, Tom and Will — where he shared his favourite Brisbane haunts, let us in on how he made his Ross Street pipe dream a reality, and told us why Brisbane's the place to be for the young and inspired.
TUL: What's your training and background? Where were you before Ross Street?
Sam Thies: I studied multimedia in 2002 and 2003 and from there I moved into more of a multimedia position. It saw me doing a lot of digital video editing, web design and dabbling in all those new and exciting industries back in that day.
After plugging away at that for two or three years, I fell in love with graphic design and really wanted to do that. I then moved into advertising as a designer and was supremely passionate about everything design.
I always had a camera and I think with all those different industries and techniques in multimedia, photography weaves its way through it all.
I studied a little bit of photography in that initial multimedia course, but it was pretty brief. I armed myself with a digital camera quite early in the piece. It was always a hobby, and I used it here and there throughout my career.
After working in advertising in Brisbane for 2 years, I moved to London and there I got the opportunity to work for some really cool small design houses and some bigger ad agencies as well, just freelancing. It opened up my eyes to the scale of advertising worldwide and it was quite exciting. It was also very fast-paced and quite grinding, which, coming from Brisbane, was very different ? you kind of hit the ground running over there.
It was very, very fun, but it only lasted a year before I thought I've got to get back to Brisbane. It's not just the work; it's the travelling and partying you do over there. When I got back to Brisbane I wanted to start my own shop and run it my own way. I wanted full creative control.
London lasted 12 months, then got a job in an ad agency as an art director. I took it because I really wanted to hone down my skills. I had a multitude of skills, which I was never really mastering. I wanted to focus on just one thing. Art direction was great because it is the real creative thinking in this whole industry. I did that for two years, in which I learnt more than I could have ever imagined.
In that time I met some great guys and learnt about some really talented creatives — they were my mentors and still are today. During that time I also got to go on a lot of photoshoots and see how it worked from a commercial level. You know, big sets and lots of talent over two or three days of shooting. Big-scale stuff.
TUL: When did you decide to focus on photography? And what was your inspiration?
ST: By 2008 things started to go downhill with the GFC and people started to become less willing to spend so much. It made me look at the model of advertising, and how the big agencies were starting to deteriorate with all this middle management. It made me starting thinking, maybe I do want to get out again and start my own shop, now that I've got all this really great experience.
I convinced myself that I've still got to focus on one thing. I didn't want to move out and still be this jack-of-all-trades. So, I thought I'd give photography a crack. At the agency we shot a lot in-house, not to any extreme level though. I learnt a hell of a lot off photographers during that time — not studing their lighting or anything — that's not really what you should do. But, I learnt that there is so much more than rocking up with a Canon and shooting. It takes a lot of time and costs a lot of money. I guess that's just what it takes to get an amazing image. Whether it's for fashion or advertising, there's a lot of time and effort put into it, and that really excited me. I could apply all my energy and solve problems, as well as give myself something to focus on that is always changing. Sitting at a desk and drawing up ideas and playing on a computer was starting to weigh me down a bit.
At the age of 30, which was a bit of a worry, I guess I wanted to start a new career. But I had mortgages and kids on the way so it was quite a risk. But, in the end, those risks were a drive to succeed. Initially it started very slow — it was very tough and probably a little bit daunting. But, the jobs started to roll in and I started to build up my portfolio. I guess my background in conceptual art direction let me offer a lot more than other photographers could. I'd come up with a storyboard and mood boards, and all these things I learnt as an art director. I knew how to pitch, which shows clients a lot of confidence. And, that my headspace was in their headspace. I still apply that today, 3 years into photography. A lot of people come up to me and ask me where I studied photography and I'm like it's not that simple. I'm technically pretty crap. I've had to teach myself. But, what I really push myself on is the conceptual side of things and new ideas. If it's not technically perfect, that's ok. The ideas and concepts are there.
TUL: What kind of photography do you do?
ST: I'd love to just shoot fashion if I could, but I think, living in Brisbane, it's quite tough to make a living shooting just fashion. I'm settled here and I'm hoping that it does evolve and become a lot stronger. And, I think it will. The cultural landscape in Brisbane is really starting to pick up and fashion will come along with that evolution. The majority of my work is really mixed. I think it's tough to specialise in anything in Brisbane as a photographer. I do a lot of advertising work. I've got quite a few contacts from working in the industry that I still keep in touch with. But, having worked in an ad agency, I have insight into the industry. Photographers have one shot to show their work to an agency and if it's average you won't see them again. You've only got once chance, and I'm really conscious of that. I've never presented my work to an ad agency. I'm not ready — I don't think my folio is good enough at this point. I guess there's a standard that I want to set before I hit up anyone in Brisbane that I respect.
To date, most of my work has been word of mouth — people I know or have met along the way — my own personal network. Obviously, with things like Facebook there's a lot of free marketing avenues to get your work in front of people and that's worked really well for me so far. The next step for me is to hit big ad agencies, and I'm probably a couple of months away from that. Other than fashion and advertising, I do a lot of lifestyle stuff. I think Brisbane is quite abundant with property development and there is always going to be a marketing campaign for people drinking coffee in a brochure; That's good bread and butter work. You also get really random things like rainwater tank products, food etc.
Probably the biggest, toughest and noteworthy shoot I've done was for a car company. That was big scale, big budget and very tricky. The Japanese clients were very strict, and their mannerisms and protocols are very different to here. But, very exciting. It was quite a production — you know, 24 hours worth of shooting and a week of retouching. You've just got to arm yourself with the right attitude to be able to deal with these big-time clients that are used to being respected and wined and dined, as well as the smaller scale clients where you need to be much more personable and help them through the exercise. It's exciting because every day is different.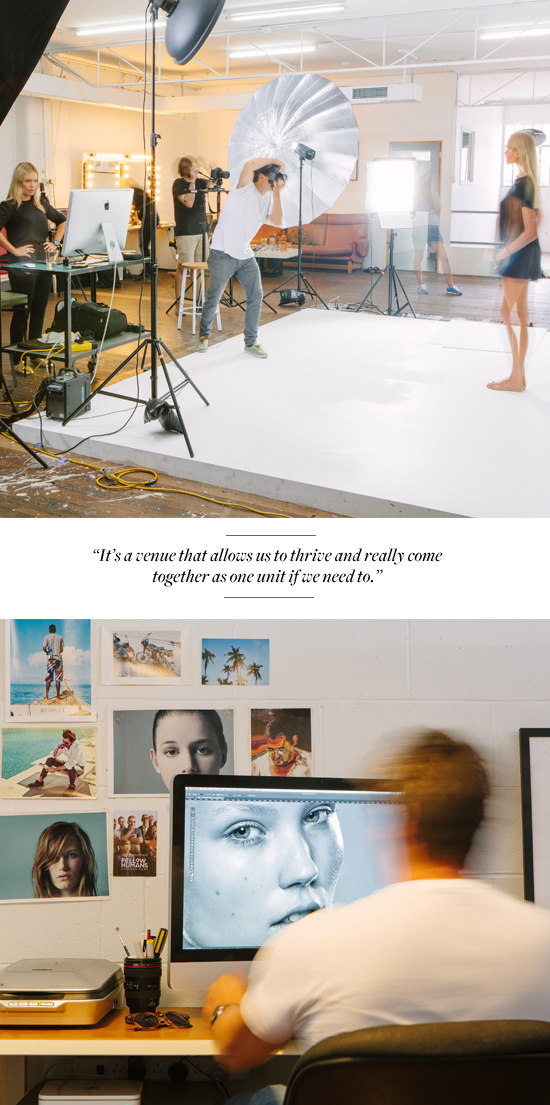 TUL: When did you open Ross Street Street Studio? And what inspired you to get it going?
ST: Ross St was a bit of a pipe dream. As I mentioned, working in a big agency there's a lot of challenges around being a creative to getting your idea to the client.
There are quite a few people in between that bend and weave that idea. There's not a lot of direct interaction between the creative and the client. On top of that, once I left the agency there weren't too many options for me professionally to have an office or space. It was either working from home, or somewhere like Lightspace — I think they offer some interesting options over there. I guess my initial idea was to pool together really good creatives (photographers, graphic designers, social media gurus, art curators and the like) from Brisbane, where we're all paying rent that we can afford. It's a venue that allows us to thrive and really come together as one unit if we need to. If we need to nab a big client we can offer a whole range of different services. On the other hand, there's no pressure if we just want to work individually. At a big agency, ideas tend to get lost in translation, but in here, I can get my client in and we can speak directly and work out a really good creative direction for them. As well as being a creative hub, and having access to the studio, we wanted to offer a menu of options. If you just want photography done, then that's great, but there are a plethora of other services on offer. And again, there's absolutely no pressure to use them. We've just got a team of really great guys that work well together. It just makes sense — we can communicate without wasting time travelling to another office, or emailing back and forth. It cuts out a lot of expenses that come with a traditional setup.
TUL: What's it like working for yourself and running a small business? What are the pros and cons?
ST: The freedom. When you are in that creative way of mind, it doesn't just come between 9am and 5pm. When someone says here's the brief, nail it in an hour, it just doesn't work. The idea may come in the middle of the night, or first thing in the morning. That was one thing I really struggled with in an agency — turning up between 8am and 5pm and having to solve problems on the spot, right there and then. Some days I'm in here at 4.30am in the morning with an idea and just wanting to get it down on paper, some days I'm here until midnight, and other days I'm not here at all — I'm just at home or going for a drive to look at a location.
That's definitely the case with photography — you can't be locked into a 9am to 5pm desk job, you need to be able to get out and really have that flexibility. That's a massive pro. That flexibility harbours creativity. And, I think that everyone else in here has the same attitude. It's that, on top of everyone in the space generating their own energy. When one business gets excited about winning a pitch or nailing a job, it lifts the mood. Even though we're all individual businesses, because the space is open-plan, a big win or success rubs off on everyone. It also sets a high standard that everyone wants to try and match. Especially with the photography guys — if someone's doing something really kick ass, it makes you want to get moving and beat it. Do an even better job. It's all done in fun, and very amicably. It just builds a big strength to drive and succeed in here.
Also, if Ross St wasn't here, we'd all be working from home. And working from home isn't fun. You have a lot of distractions. There is no shortage of distractions in here, but most of them are good; conversations about what's cool at the moment, what's doing well, who's doing what campaign ­­— it's all idea generation. And we're not all restricted to client work. A lot of us do our own personal work in here too. We shoot for small exhibitions, short films, and things like that. When the client work is drying up, or not there for a week, we'll pull our heads together and try and come up with a little idea to flesh out and shoot, which is good fun.
Looking at the cons, for me, there is a fair bit of work in keeping this place running. I was hoping to sort of slide in, and have a house where people can settle in, have their desk space and crack on with it, but often I'll be wiped out for a day organising tradesmen to come and fix bathrooms or sorting out new furniture, getting signage etc. Just little things like that. There's always maintenance in this place. We basically built it all ourselves. It was pretty much a blank canvas when we first moved in. It just takes a lot of time, and I guess I hadn't prepared myself for that. It's not a huge con, but it is always there. When I'm out on a shoot, I'll get a call to let me know something has gone wrong, and I guess that I hate not being there to solve it. I'm more than happy to do the work, it's just always bad timing. If we had a venue manager, that would be great. But that costs money.
TUL: How do you select the types of creatives that work in the space?
ST: It's up to me. The first crew that moved in was very much handpicked. That doesn't sound quite fair, but in a place like this, when you've got sometimes-conflicting businesses or competing businesses sitting side-by-side and it's open plan, we've all got to be able to get along. There can't be any passengers and there can't be anyone who's too outspoken, pushy and loud. Everyone's got to be able to work together seamlessly. It's a pretty unique setup. There aren't too many office or creative spaces filled with individual businesses.
We obviously face issues of people talking on the phone about confidential projects they're working on, and even having clients in here that one team is working with and they don't want another designer or photographer to see what their up-and-coming pitch is about. There are privacy issues, and to date we've done a really good job of addressing that. Everyone in here respects each other's business and each other's clients. I think the people I've chosen to come in have all been really decent operators, but also, some of the best in their field. We wanted to have a really high standard of creatives in here, but at the same time we wanted a really high standard of personalities as well. There are no super-precious divas in here. We've all got to be able to get along.
TUL: What does a typical day look like for you?
ST: There's no typical day, which is what I really love. I didn't want to sit behind a computer for the rest of my life designing things. I do love doing that, and I think the person that now suffers the most is my wife, as I now do that at night. An ideal day would be waking up at 5am and having an early morning shoot, then having everything finished up by lunchtime and sitting in the office and processing all the photos, and making sure the space is running smoothly and no one is pulling each other's hair out. Then, I'd ideally like to get home by 4.30-5pm to see my sons. That would be my ideal day, but they're very rare.
TUL: What about in your free time? What do you get up to on the weekend?
ST: I'm definitely a family man. Ideally, it's spending the weekend at home and hanging out. I also love the beach. My parents live down the coast, and my wife's parents have a place up the coast so we usually hit Sunshine Beach or Currumbin when we can. My wife likes to sunbake and chill out, but I can't lie on the beach — I'm too fidgety. I have to be surfing or mucking around. I really like travelling too. We get to go on a couple of overseas trips a year, which is great. I love seeing and experiencing new cultures. The more travel I do, the better I feel. It's also really good inspiration for being creative — seeing new sites and experiencing new things.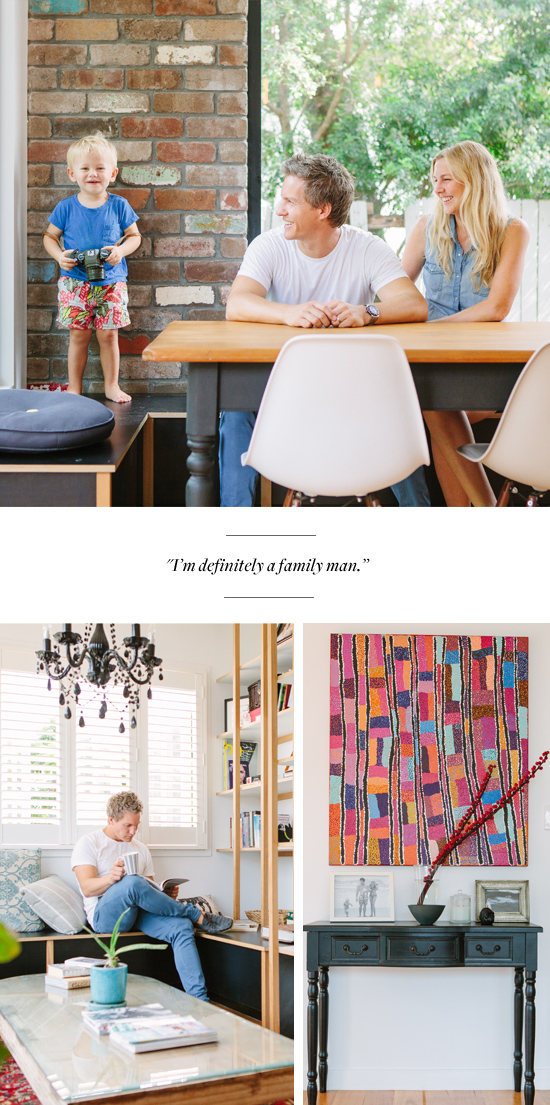 TUL: What do you love about Brisbane? What's kept you here?
ST: I've done a bit of travel and work overseas and I think until you do that, you don't realise how good Brisbane is, especially if you've grown up here. The natural thing in modern days is to get out of Brisbane and try and make a real crust of your career in a big city somewhere else. I definitely did that. I was in LA earlier in my life and then London, but when you come home you realise how much more you can achieve without having to spend a hell of a lot of money. All your networks are setup in Brisbane and it makes it a lot easier to start a business and really thrive. In recent years, there's really encouraging signs for the cultural landscape here. It's really starting to grow. Like the Bolshoi Ballet coming to Brisbane and being a winning location over NSW and VIC. Nationally, it's becoming quite a cultural hub. And, in terms of what I do, there's definitely a lot of potential and growth on the horizon. I'm very excited. It'll definitely keep me here, despite temptations to pack up and move to a bigger city.
Sam's Picks
Favourite place to Eat?
Crosstown Eating House
Favourite place to Drink?
The Golden Pig
Favourite place to Shop?
Vieille Branche
Favourite place to Indulge?
Esquire
TUL: Who designed your home? How long was the design and build process?
ST: The design period for our house was probably about 12 months.
The builder suggested an architect for us. His name is Michael Fiumara. We worked really closely with him to include some of the requests that we had. I really wanted the recycled brick and large windows.
One of the big things Michael tries to educate people in, is that you don't necessarily need to have more bedrooms to create a great house, so he was very insistent on having a void above the kitchen, which created a much nicer place to live. The area is full of beautiful natural light. And that was a big step for us, because in this day and age, when you renovate, you usually want a five-bedroom house to make more money when you're going to sell it. It's what the real estate agents are pushing. But it's actually, when you live in it, not as nice when you have more bedrooms because it's a bit more claustrophobic. It doesn't work with the natural lighting, which provides harmony and all those things that make a house a nice place to live. So that was enjoyable—to be educated by him and then see the result for ourselves and be really happy with that tough decision that we made. That was cool.
TUL: What were the challenges you came across during the build?
ST: There were a lot of challenges along the way.
When we were working with our builder we took a lot of the responsibility with some of the traders and suppliers ourselves, and the bricks were part of that. The bricks themselves were sent up from Sydney and basically there were ten palettes of bricks we moved around, which we did ourselves by hand, so that was a big job. But then, again, the labour was all worth it because of the results; we were really happy with how it turned out.
We also got concrete bench tops, which was another big decision we had to make. The easy choice was to use caesarstone, a product that isn't going to mark easily, and it's very easy to install and less of a headache for cabinetmakers. But we went for something that was bit more natural and it sets off the kitchen really nicely.
When you buy a little two bedroom cottage and do a renovation, the first thing you think about it how to create more storage space. Because they're notorious for having absolutely no storage. So it's just a luxury to have the cupboards to actually put things in, and a pantry that's big enough to store the food a growing family needs.
Ryan McDonald was our builder, and he was exceptional from start to finish. He's a friend of mine as well, and sometimes it can be risky to build a house with a mate but in this case it worked really well, and he was very transparent and open for the whole process. It was very enjoyable.
TUL: Which is your favourite room?
ST: Definitely the kitchen. We love to cook and create and have fun in the kitchen. With young kids, the biggest thing for us was having a kitchen that we could see the rest of the living space from, so it's very open plan, but it also spills out to the backyard. We wanted to centre the house around the kitchen basically, because we do like to entertain and we like to cook, so we spend a lot of time in the kitchen.
In our last house the kitchen was very separate to the dining room and the living room, and the backyard, so that was one of our main prerequisites for our floor plan—to have that big kitchen that you can see the majority of the living space from. And it's probably bigger than we were planning on building.
I also saved all the hardwood slats that wrapped around the base of the house, which is over 50 years old, and I ended up dressing the timber back and using it as cladding on the front of the kitchen bench. I also saved all the steel from the old carport and used it to build the frame of our new dining room table.
TUL: What do you love about living in Ashgrove?
ST: I grew up in Paddington, and I went to Ashgrove State School as a kid and played sport in Ashgrove up until I was 28. But to actually move there and live there was a bit of a leap; it's a very family oriented area.
We were in Red Hill before that, and before that I was in Paddington where I grew up. But I was in Ashgrove nearly every day, growing up. A lot of my friends were from there. When we decided to move there it came down to the fact that we wanted a big block, and we wanted our kids to grow up where there were good schools and lots of parks and things like that. So it was a very grown up decision.
My first few years there I was sort of missing the cafes and restaurants of Paddington, and the access to city, but it's really only another suburb away.
TUL: Have you found any secret treasures in Ashgrove?
ST: Yeah there are some great little spots in Ashgrove. Banneton Bakery, which we go to most Saturday mornings. They do some great bread, great pastries, and really good coffee.
And I think the best Indian in Brisbane is just around the corner. Taj Bengal, it's phenomenal.
Also Junk Bar — it's a pretty cool little bar and they do great cocktails, and it's great to see there's something like Junk Bar in Ashgrove. It's pretty unique to the area. It's great to have something fun like that that's not a tavern or a bistro or something.
TUL: Any pipeline plans? What's next for you?
ST: I'm working on quite a big-scale project that's going to take 5 years. I can't say too much about it, other than it's a photographic census of Australians from 2013-2018, which will take me around the country photographing interesting characters. Not famous people, just average Australians with a really strong story. It's all going to come down to camera technique and the way it's presented, which will make it different to anything that's been done in the past. It's going to be huge, and cost a lot of money. I'm still working on funding for that. It's really exciting and hopefully in 20 years time someone will appreciate that there is a real insight into that time period in Australia.
Image credits: Daniel Maddock