Do you read a million design blogs? Have you ever wondered how to render your home more Pinterest-worthy? Ever dreamed of blowing up big on Instagram? Maybe you have a secret calling to make your own fluoro baskets? If yes, The School's Brisbane Roadshow is a very exciting opportunity for you.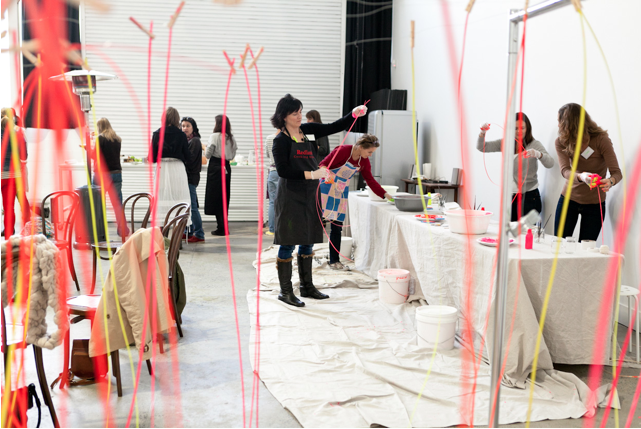 Run by interior stylist, Megan Morton, The School offers regular classes set in an enormous bright white studio in Rosebery, south-eastern Sydney. It's a purpose-built space where creative adults and kids can try their hands at cool crafts like printmaking, sewing, photography, pavlova making, and even a spot of Shibori (the ancient Japanese art of tie dying . . . Google it, it's amazing).
For those of us who love to make things, this is the stuff our wildest, creativity-triggering dreams are made of. Now, thanks to The School's Roadshow programme, the opportunity to put our heads together with some of the most incredible artisans and stylists from across Australia is coming up to Brisbane this July.
Frankly, all the sessions sound like gold, but we do have a few top picks of the best of the bunch:
We'd give our eye teeth to create vignettes with Kara Rosenlund, the gorgeous Brisbane-based stylist, queen of the interior still life, and providore of vintage goods. (You might recognise Kara, along with her Travelling Wares caravan, Frankie, from The Powerhouse Markets.) Her work and blog are a constant source of inspiration, so spending an evening together over a bit of editorial photography sounds like our kind of heaven.
Being that we're more than a little Instagram obsessed, we're keen on taking some pointers on styling enviable snaps, improving our feed, and drawing bazillions of fans to our brand with Stephanie Somebody, the Melbourne designer with over 12k followers hanging off her every click.
For those of us who love interior décor, and are still figuring out a personal aesthetic for our home or business, Megan Morton will be teaching

two clever workshops

on Finding Your Own Style and the Science of Styling. If you're thinking about re-decorating anything, pay attention because by you'll be leaving with a workbook that's an interior scheme in the making: Concise, achievable, and, most of all, totally suited to you.
And doesn't learning to make fluoro baskets sound seriously fun?
Sessions will be hosted at Toby Scott's stunning photographic studio in Clayfield and are already selling, so book yourself in sharpish!
TUL Note: Catherine is a Brisbane-based blogger and purveyor of neo-traditional food, craft, and home-styling wares at The Spring Shop. For more recipes, DIY projects, style tips, and notes from around town, you can follow her at The Spring Blog.

Images credit: The School