Brisbane, it's that time of year again, our beloved Brisbane Festival is back and the program is promising a mash-up of epic beats, award-winning theatre, 'Gram-worthy art activations, and guaranteed good times.
From 90s gospel dance parties and champagne cabaret to magical fire gardens and a labyrinth of doors, here's everything you need to see and do this month, thanks to Brisbane Festival.
Blanc de Blanc Encore
Off the back of a record-breaking summer season at the Sydney Opera House, the magical world of Blanc de Blanc is now headed for Brisbane. Serving up a mindblowing blend of singing, dancing, and acrobatic feats, you'll be transported to a champagne cabaret nirvana. Cue the confetti—you won't want to miss this party, so secure your seats immediately.
When: Friday, 6 September to Saturday, 28 September
Where: The Courier-Mail Spiegeltent, Southbank
Head here for more info.
The Church of House: Groove Terminator
Throw on your Sunday best and get ready to worship the church of house music. Join 90s dance music royalty Groove Terminator as he brings his cult HOUSE 5 DJ mix to the Tivoli, backed by Paul Mac, Josh Abrahams the Gospo Collective choir and DJ Black Amex. Snap up tickets ASAP because this holy set is going to bring you to your knees.
When: Friday, 6 September
Where: The Tivoli
Head here for more info.
1000 Doors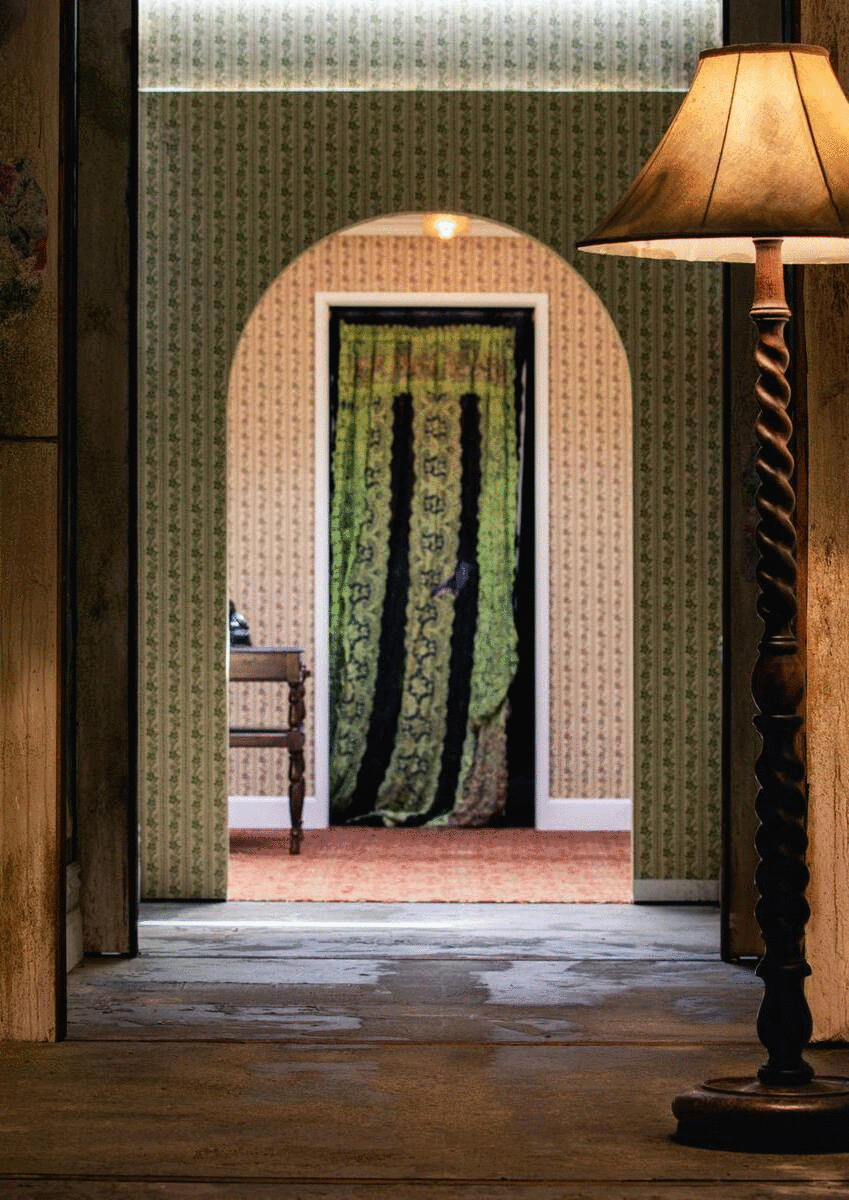 You might recall last year's House of Mirrors but this year you'll be stepping your way through a twisted maze of never-ending doors. The installation comes from Christian Wagstaff and Keith Courtney who are the crazy-talented guys behind the upside-down crosses at Dark Mofo, as well as last year's House Of Mirrors. Score your tickets here and prepare to lose yourself in 1000 Doors.
When: Friday, 6 September to Saturday, 28 September
Where: Treasury Brisbane Arcadia
Head here for more info.
Riverstage Birthday Bash:
Hot Dub Time Machine, Cub Sport, Confidence Man, Last Dinosaurs And Clea
If you didn't catch his slot at Falls Festival and Coachella, fear not. Hot Dub Time Machine is bringing his time-travelling party to Brisbane with a monster mash-up of audio and visuals in celebration of the Riverstage's 30th birthday. Joining Hot Dub is a banging lineup of Brisbane's best. Indie-pop artist Clea will open the show with her sweeping hypnotic vocals while indie rockers Last Dinosaurs will get you pumped up. Electro-pop wonders Confidence Man will join the fun with choreographed dance routines and certified pop rockets and, to cap off the lineup, alt-pop heroes Cub Sport will bring their emotionally-charged anthems along with some super-secret guests you won't want to miss.
When: Saturday, 7 September
Where: Riverstage
Head here for more info.
Communal Table
If you love food and dancing (who doesn't?!), then you'll want to snap up tickets to Communal Table. This world premiere comes from Dancenorth, Australia's powerhouse dance company that gave us last year's exquisite Dust. This year's multi-sensory event sets out to illuminate the most basic of human desires through the sharing of four fundamental ingredients—food, wine, conversation and dancing. It's a firm yes from us.
When: Wednesday, 18 September to Saturday, 21 September
Where: The Joinery
Head here for more info.
I'm a Phoenix, Bitch
Hailing all the way from Edinburgh Fringe Festival, UK theatre-maker Bryony Kimmings brings her "must-see, beg-for-a-ticket show" to QPAC's Playhouse. Kimmings will take you on an exhilarating ride about motherhood and heartbreak via pop video, art installations, and original pop songs. Book your seats and strap in for the ride.
When: Wednesday, 18 September to Saturday, 21 September
Where: QPAC Playhouse
Head here for more info.
Fire Gardens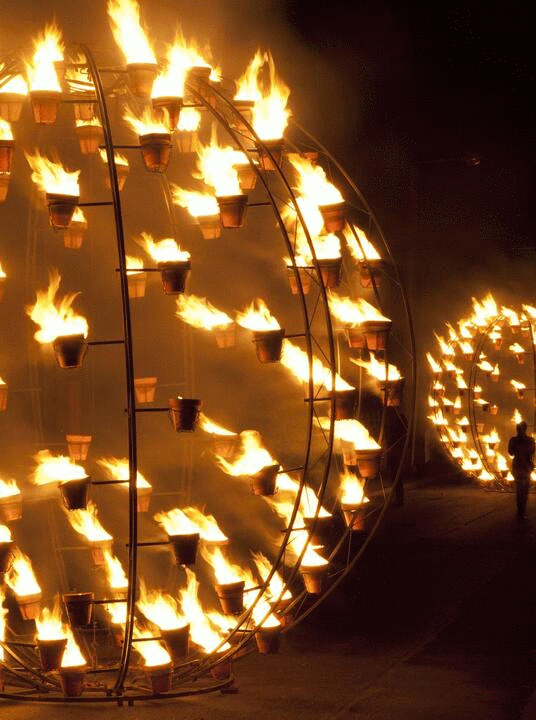 You probably saw this event light up your feed last year when it hit Melbourne and now we're stoked to announce it's finally our turn. The magical Fire Gardens will be heating up the City Botanic Gardens thanks to French artists Compagnie Carabosse. They've done Stonehenge, The Kremlin, a bridge in Vietnam, a former prison in Morocco and of course, Melbourne. Now, they're bringing their fiery playground to Brisbane, building up enormous flame installations and raging bonfire displays.
When: Wednesday, September 18 to Saturday, September 21
Where: City Botanic Gardens
Head here for more info.
Invisible Cities
Treat your senses to this spellbinding mix of theatre, choreography, music, architectural design and projection mapping as it creates a succession of alternative worlds before your very eyes. Invisible Cities is reinventing the theatre experience and completely reimagining what is possible in live performance. Pair cutting edge technology and digital storytelling with the acclaimed UK dance company Rambert and the result is pure magic.
When: Tuesday, 24 September to Saturday, 28 September
Where: 880 Fairfield Road, Yeerongpilly
Head here for more info.
Carmouflage Rose
Brisbane-based musician, singer and rapper Carmouflage Rose brings us the knockout anthems we didn't know we needed. His tropical beats and signature dance-hall/reggae aesthetic makes up his unique sound of his Zimbabwean motherland. Part of an epic line-up of music at Southbank's Spiegeltent, you need to get down to this pop-up venue for a true 'festival-only' experience. We'll see you there.
When: Thursday, 26 September
Where: The Courier-Mail Spiegeltent, Southbank
Head here for more info.
City and Colour, Sunsuper Riverfire
Wrapping up Brisbane Festival with an absolute bang, City and Colour will takeover the Riverstage, followed by back-to-back sets from special guests The Jezabels, Odette and Asha Jefferies. Set to the backdrop of the dazzling Sunsuper Riverfire fireworks, forget calling up your mate to see if you can squeeze onto their balcony to catch the fireworks this year, get tickets to City and Colour instead.
When: Saturday, September 28
Where: Riverstage
Head here for more info.
With an amped lineup like this, you'll want to avoid the heartbreak of missing out. Secure your tickets now and check out the full Brisbane Festival program here.
Editor's note: This article is sponsored by Brisbane Festival and proudly endorsed by Urban List. Thank you for supporting the sponsors who make Urban List possible. Click here for more information on our editorial policy.