You know the book we're talking about. The only cake book that has ever mattered, and that ever will matter. The shiny, 1980-something testament to food styling that turned your parents into a snivelling mess at least once a year. Perhaps you were a barbie dress cake kid. A somewhat simple, yet visually effective confection, you just took what life gave you, making lemonade left, right and centre. Or maybe you were more of an old woman that lived in a shoe child—the kind that insisted upon showing up your classmates with your pretty cakes and non-second hand geography textbooks. Jerk.
What you may not know, is that the seemingly innocent cake that sat, adorned with candles, on the plastic-tableclothed table in your backyard, had an incredibly profound impact on the person you turned out to be.
Here's how your life was decided by the Australian Women's Weekly Children's Birthday Cake Book cake of your choice. Side note: yes, you chose this life.
The Number One
Aim low. That's what your parents taught you. As a direct result of this piss-easy cake, you were the first to get a job at the local McDonald's, but got fired because you kept putting your mouth under the soft serve machine for bants. Years later, you developed an app called 'McFluzz Cuz', a revolutionary piece of technology that allows users to check ahead and see if the soft serve machine at your local Maccas is working.
The Fairytale Castle
One of your parents was an engineer. We know this because there is literally no other possible way that any human could complete this and come out alive. And we know because we tried once, and it looked like a ghost had melted on top of an upside down stool, and a unicorn had jizzed on it. After conning your parents into this cake, you quickly realised you were a sociopathic manipulator, and went on to destruct your school, Cruel Intentions-style.
Humpty Dumpty
It was a traumatic afternoon. You didn't know that Humpty was indeed made out of a real eggshell, ate him in one bite so no-one else got any, and ended up in the hospital with a sore throat and a solid chip on your shoulder. Flash forward 20 years: the protein shake pyramid scheme should pay off any day now, so you should be off your cousin's couch and into that home-gym-office situation any day now.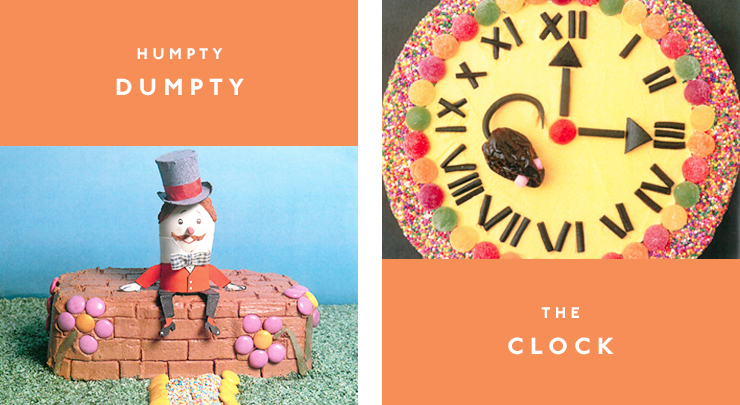 The Clock
Remember that? The one that had a date as a mouse? Woman's Weekly were so ahead of their time. After mastering Kumon and getting into a very prestigious university, you came across a batch of circular-shaped 'special' brownies at a party, and within eight months you had a full head of dreadlocks, a combi van and an array of anti-establishment songs you love to play on the ukulele. Life is chill, man.
The Train
You know the one we mean. The holy grail. The 'blood sweat and tears' that sat on the front cover, mocking your mother and keeping her up at night as you begged for it. You haven't settled for anything less that perfection since, resulting in three very anxious children that hide every time you exclaim, "Oh, heavens to Betsy, WHO left this scrunchie out??'
The Swimming Pool
Once you turned 13 and those six-year-old Ferals TV pyjamas you loved mysteriously disappeared while you were at school, the only thing that could console you was a big pile of jelly on top of a chocolate cake, with plastic naked babies floating in it. These days, you're a sass-talking nurse that consoles people with saline drips and too-hard jelly while they recover from minor surgery by day, and a clicker of those 'single mum makes $1200 a week doing absolutely nothing' ads by night.

The Race Car Track
Remember that snot-nosed kid your Mum made you invite? It was him that fingered the icing before anyone sang happy birthday, eliminating at least 70% of the expected "ooohhhs", and pretty much ruining the rest of your life. The following years were a haze of Sabrina The Teenage Witch and Crash Bandicoot. These days, you find simple joy in making fake Facebook accounts and writing seething restaurant reviews on Zomato. That'll show them.
The Duck
After a few years of therapy that stemmed from a confusing fantasy involving Scrooge McDuck and Monica from Playschool, you started your own raw organic food company. No-one really knows what you actually do, but you can charge $20 for two teaspoons of raw honey from acai-fed bees, so it's safe to say you're over the whole duck fantasy palaver. For now.
The Pirate Face
That frowning face really did a number on you. By the time you finished your HSC and vomited all over the bus to your school formal after party, you and your girls had the walk-through-KFC-drive-through thing down to a fine science. You have a 1.2 star Uber rating, you've been ghosted after three Tinder dates more times than you can count, but you make up for it in spontaneous margarita evenings with your squad.
Prefer to just buy your birthday cake? Read this.
Image credit: Women's Weekly