Mind-blowing—it's not a term we throw around lightly. But we're quietly confident this new hidden bar in Burleigh will do just that, and so on many levels.
Firstly, how a sleek bar has been constructed in the middle of Burleigh and flown totally under the radar is beyond us. Not to mention utilising what was a near non-functional space—more a dingy storage room—before a savvy team from Byron Bay got their hands on it.
Lockwood opened with no fanfare over the weekend, filling their seats via pure word of mouth. Why? Because this, folks, is a true speakeasy-style bar. One that's off the beaten path with a discrete entrance. And we're not going to tell you exactly where either, because frankly, that's all part of the allure.
Even more mind-blowing, is that this new venue is one of at least four cool new bar and restaurant offerings lined up to join this nook of Burleigh before summer arrives. True story! But we don't want to overwhelm you, so more on that another time…
Though what warms our cockles the most? The fact these upbeat young gents have hand-selected our beloved Burleigh—the bohemian pocket at the beating heart of the Gold Coast— because, despite its popularity, it still exudes the down-to-earth optimism, rawness and sense of community they value so deeply. We always knew our dearest Burleigh was special. And it appears now, in the second half of 2017, we will witness this corner of the Coast turn the page on yet another exciting new chapter.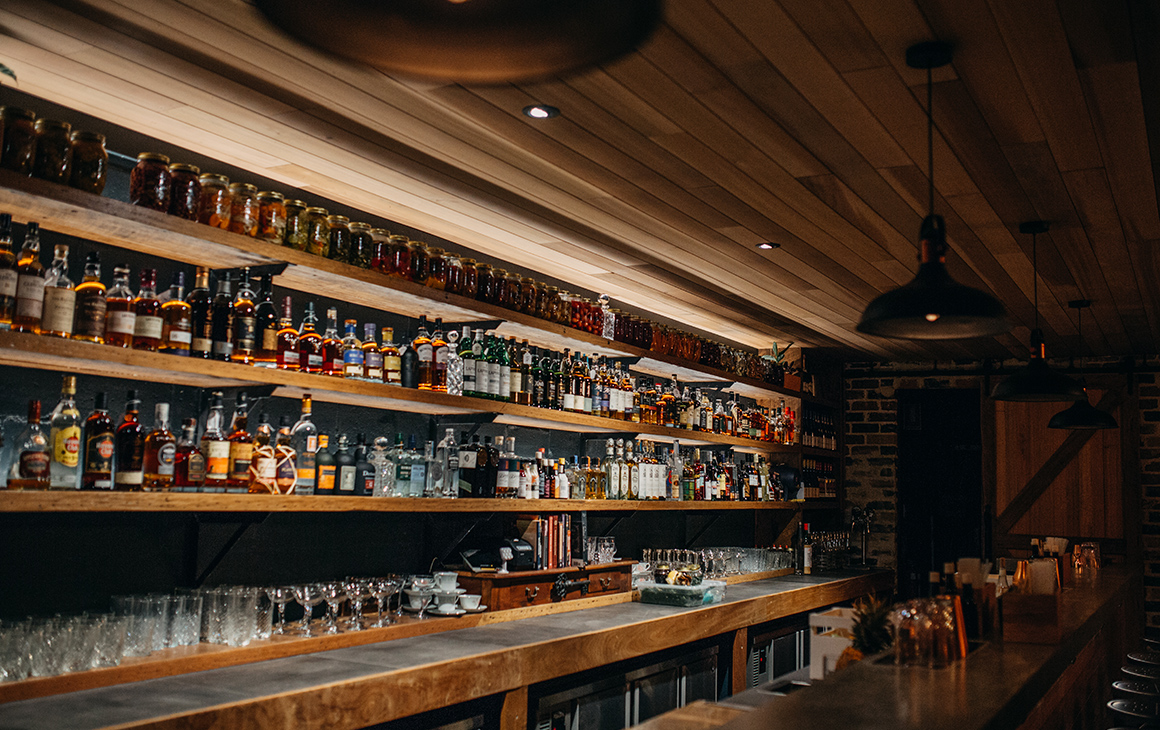 With creds like Byron Bay's The Roadhouse Cafe, Harvest Newrybar and Stone & Wood brewster between them, co-owners Brenden Yeo and Zach Wright, together with builder mate Paul Hodgkinson, are the charismatic chaps we have to thank for bringing this moody 1920s Prohibition-inspired bar to the Gold Coast.
In authentic speakeasy spirit, until you're in the know, Lockwood is not easy to hunt down, and even when you do know where to look, you still must request entry via text message. Its that sense of discovery, mystique and exclusivity that'll have your heart skipping beats.
Behind the blood red door and velvet curtain, the smallish back alley space has been completely transformed to include a nine-metre bar with Australian cedar and Tasmanian oak lining most surfaces, accents of forest green subway tiles, dimmed pendant lights and vintage skeleton keys hung symbolically in random places. A classic wagon wheel chandelier glows softly from the ceiling, along with a smattering of candles creating the perfect ambient lighting that'll make anyone look five times sexier. And who doesn't want that?
Behind the bar, Lockwood's impressive line up of 70+ whiskies will rotate regularly, sat alongside bottles of rum, vermouth and award-winning Brookie's Gin (who Brenden reps for locally and which features proudly on the timeless cocktail menu).
Pull up a stool at the bar where stylish bartenders are dressed in ties, waistcoats and flat caps, and ready for a banter while they mix your Rob Roy (a stiff Scotch whisky version of a Manhattan) or as you sip on Boilermaker beer and spirit combos like a Mexican dark lager Negra Modelo chased with tequila. All as seductive mood-inducing blues and rockabilly tunes, think Creedence and John Lee Hooker, set the tone for an intimate night behind closed doors. With space for 100, though the preferred number is around 50 guests at a time, these guys are honing right in on the dying art of classic bartending and old-school personalised service.

While the new 'small bar licence' technically allows Lockwood to operate without food, the lads know you're going to get picky after a few cocktails and glasses of quaffable Italian and French table wines. Also lining the back bar are over-sized bottles of pickled conserves that will eventually make their way down and onto your charcuterie board. Complementing the pickled goods will be gorgeous cuts of cheese, cured meats, olives, along with European-style tinned seafood like sardines in oil and stuffed squid in its own ink.
In a nutshell, this place is cool. As hell.
If you haven't guessed, we're already massive fans and we're putting our money on it that we won't be the only ones. So folks, get there this weekend and say a giddy howdy to the new boys in town.
The Details
What: Lockwood Bar
Where: Somewhere in Burleigh #findthereddoor
When: Thursday to Monday, 5pm 'til late
Looking to soak up that sore head from the night prior? Hunt down these top brekkie joints in Burleigh.
Image credit: Hayley Williamson for The Urban List