We've always adored Coolangatta and the far southern end of the Coast.
Though despite the fabulous scenery, surf and hubbub of visitors and tourists, the really notable restaurants and after dark options have been few and far between. Which is why we're darn stoked to tell you that the hospitality buzz of late is about to trickle much further south.
This week, we were treated to a first look at the southern Gold Coast's newest addition and, let's just say, this place has our names written allll over it.
Baskk Kirra Point is an upbeat and sophisticated breath of fresh air, and one that's sure to turn some serious heads. With a license that runs 'til midnight and DJs locked in for Friday, Saturday and Sunday evenings, we're confident this joint will set the Cooly social scene a-flutter.
From the same family that put Point Danger on the map as a place to sip coffee and brunch with impeccable ocean views at Cafe DBar; Steve, Donna and daughter Briellen Archeacon now have their sights set on making gorgeous Kirra Point, at the northern end of Coolangatta, into a destination in its own right.
Search and you'll find a wealth of words bask synonymous: lounge, lie, savor, recline, relax, enjoy, luxuriate… all words that were floating around in the owners' minds as they conceptualised and designed their space. And the extra K? Well, that's for Kirra Point, and a locale that's about to get a whole lot cooler with the arrival of Baskk.
Where do we start? Oh, how we're a sucker for a limewash and bright white fit-out; it's fresh, sharp as hell, soothing and just makes you wanna pull up a comfy lounger and linger with a swanky cocktail in hand.
At Baskk, everything you see, touch and feel is made with natural materials. From the interlaced sandstone blocks fronting the bar and the smooth Suar wood bartop, Indonesian imported lime-washed furnishing, rattan pendent lights and stools, straw throw pillows, dark timber recycled railway palings under your feet, splashes of driftwood, linen and seagrass, and a knotted rope swing that lures you to an Insta-worthy nook.
Décor colours are purposefully low key, so the vibrancy can be delivered through the colourful and creatively-plated dishes and luxe cocktails.
Baskk's secret weapon in the kitchen is gifted chef, Oscar Wade. Don't be fooled by his baby face, this talented young chef has worked under the likes of Luke Managan at Sydney's Glass Brasserie as well as 117 Dining at Intercontinental Sydney. We've already had a sample of some of his artfully presented signature dishes—dishes that are about to officially set the bar high in the far southern GC.
On the menu you'll find grazing starters like peking duck tacos, crab arancini and shaved Jamon Iberico (hello Spanish siestas). The next level mains list carries the likes of Wagyu sirlon with salsa verde, torched salmon with a miso glaze and refined Udon noodles with charred prawns, for a flirt with Asian influences.
Majority of dishes are designed for sharing, but best of all, and in line with the overall 'bask in the sun' concept, you're encouraged to dine progressively and linger. Some oysters and Kingfish sashimi or raw ocean trout now, a pizza between rounds of cocktails, followed by a cheese board or dark chocolate Nitrogen mousse dessert. We could totally see ourselves whiling away a few hours here.
Home to one of the only wood fired pizza ovens in the far southern end of the Coast, their pocket-sized takeaway pizza menu was designed for those on a lazy holiday agenda; who can grab a wood fired pizza to go and venture up to watch the sunset from Kirra Hill.
Breakfast will be all about the barista bar, fresh juices, gourmet toasts and bagels, plus light and satisfying Hawaiian poke bowls and blended bowls (think: classic acai, dragonfruit, green apple and Paleo Nutella). Local roaster Social Espresso is supplying a signature Bassk bean blend that's 100% organic and fairtrade. Grab a coffee and a spot on the deck in the morning sun or, if it were us, we'd be strolling across the road to wriggle our toes in the sand.
Though it's the late afternoon and evening possibilities that have us really excited.
Pull up a lounge inside, or settle on the deck and watch as the sun dips over the ocean and the sky melts into all varieties of pastel hues. Sounds blissful, right? DJs are planned Friday to Sunday afternoons and late into the evening; playing chilled house that morphs as the night progresses and space for a dance floor is cleared.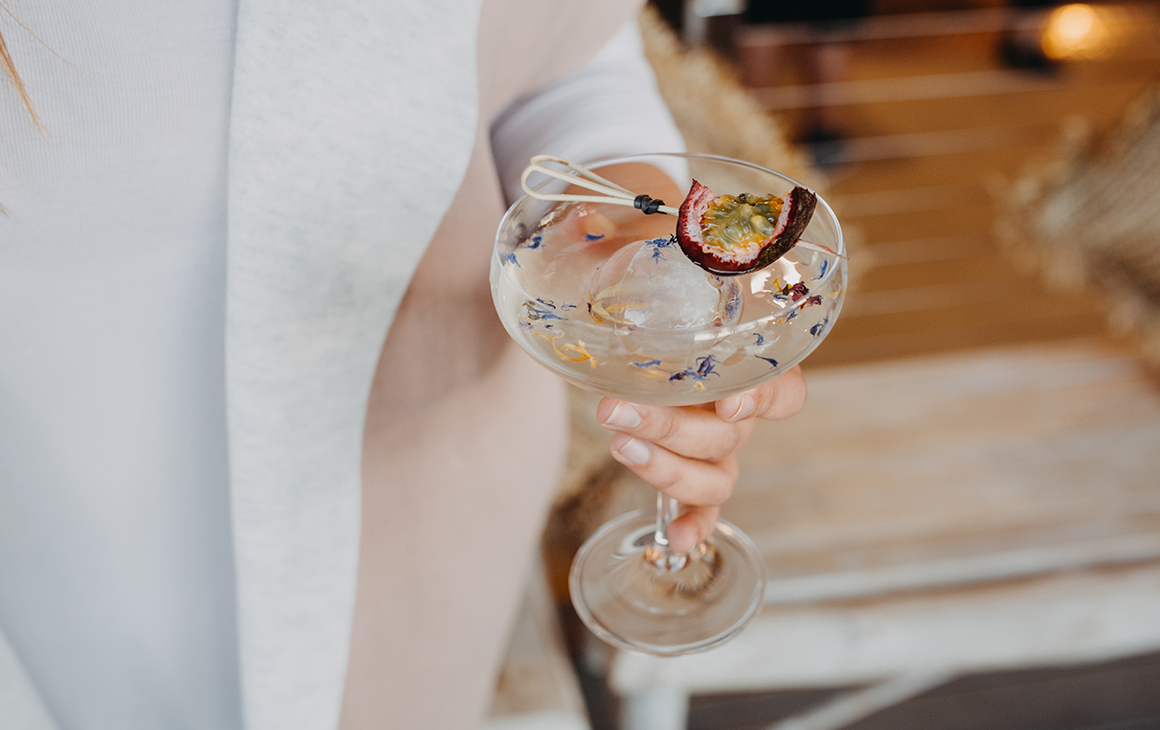 Sommelier Andrew Crabtree and co-owner Briellen have poured all their energy into a solid wine list and cocktail offerings featuring the likes of a White Cosmo (vodka, fiorente elderflower, white grape pavan and pretty flower petals to garnish) or the cheeky Pornstar (your choice of vodka, passoa, pineapple, Prosecco, vanilla martini, passionfruit and the flower petal rose ice ball). Depending on your poison of choice, there's a spritz of rose water, earl grey or lavender misted over your cocktail on delivery. Fancy!
Gin is oh-so-fashionable right now and their gin list is as long as the selection of intriguing mixers. On the beer side, they challenge you to find a cheaper craft beer on the Coast, with $7 schooners of Balter pouring daily, alongside their own Baskk beer brand—a lager and gold lager, Black Hops, Mad Hueys and Stone & Wood. Yep, it's a very local line-up.
If you're anything like us, you're constantly in desperate need of a vacay. Fortunately, this weekend, you won't need to jump on a plane to feel like you've been whisked away to someplace exotic.
Make tracks to Baskk this Sunday (June 8) and test the waters in what's sure to be a lively addition to your Sunday session options; with a ticketed grand opening gala dinner to follow soon.
Where: Beach House Plaza, 52 Marine Parade, Coolangatta
Image credit: Hayley Williamson for The Urban List