The last time I came to Bilambil I was an under-achieving inside-centre for the Byron Bay Red Devils Under 10s rugby league side. I don't remember much about that day—but then again, it was 1983—though I faintly recall an awful lot of cows and green rolling hills, a barely-warm meat pie and a kid twice as big as me pushing my face into Bilambil's chocolate-brown soil.
Thank God I won't be playing football today; or that there's no microwaved Four'n'Twenty pies on the menu at Potager. Though I'm sure relieved to see Bilambil— and neighbouring Carool where you'll find Potager—are just as rural as they always were. You can buy $3 bags of horse poo by the roadside here, and I'm late for lunch because I have to stop… twice… for chickens to cross the road (and yet I'm barely 15 minutes from Coolangatta).
Though, that's about where the country hickness ends at Potager…. well, almost. There is a rooster just below us where we perch on the restaurant's sun-drenched deck who starts our lunch off in full song. "Sorry," our waitress says. "Stedman got out of the pen" (Stedman's pen-mates include the hens, Oprah and Gayle). Though, he soon goes quiet enough in the warm winter sunshine on this glorious Friday like the rest of us, staring at the view over Coolangatta and Kirra.
I love this place from the moment I pull into its driveway. It feels elegant in a genteel country kind of way, but not enough to seem pretentious. There's nice enough cars in the car park, but they're not the $100,000-plus European variety you'll find so often these days at noted eateries further south in the hills made of gold behind Byron (that can make you feel not worthy turning up in a Holden). While the grounds are certainly impeccably manicured, the restaurant's built in a cute country cottage whose front wall is entirely covered in succulents.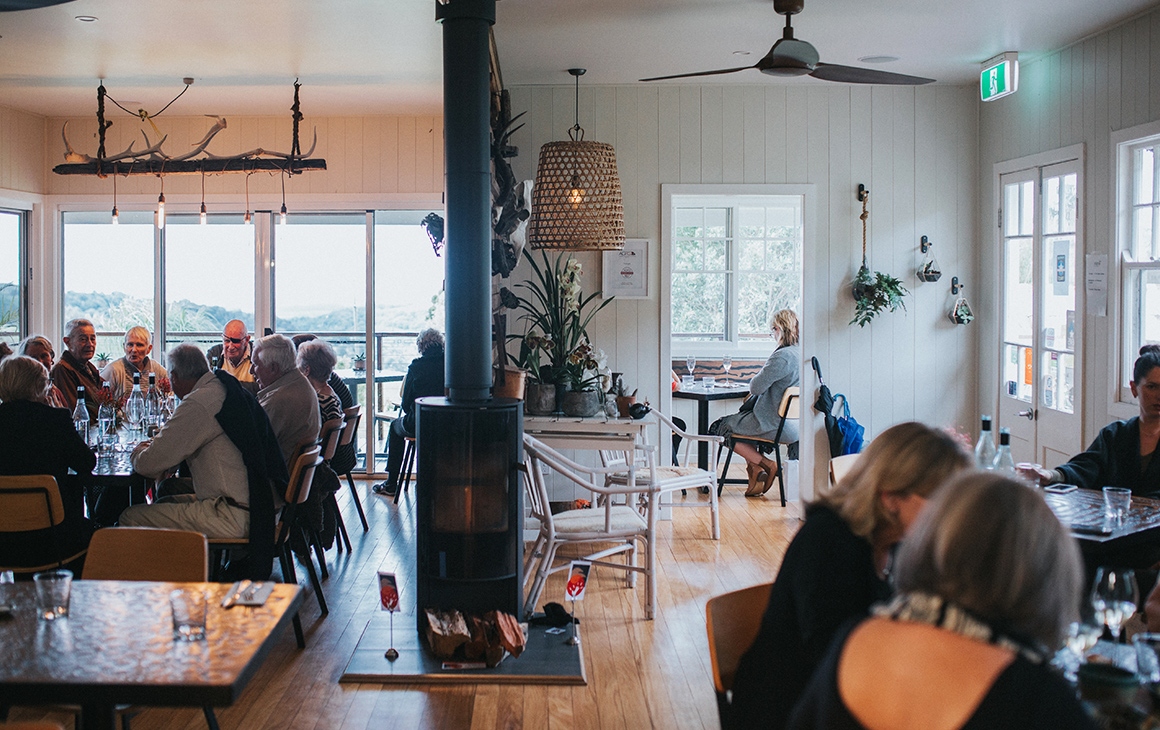 A waitress greets us at the door before we've even had time to enter and leads us to a table out back. Co-owner Peter Burr comes to the table. He's owned the property with partner Gareth Leslie (who was formerly the chef at Earth And Water and Gwinganna) for 12 years, but they only opened the restaurant 12 months ago. "We wanted Potager to feel like you're eating in someone's house," he says. "And it does, some nights half the restaurant seems to know each other."
That's the vibe of this place. It's the sort of establishment where diners don't mind asking "what's that?", in fact, it's encouraged. Just as well too, otherwise I might've missed the grilled octopus altogether. It comes with skordalia ($18) and it's without a doubt, the best octopus I've ever, ever tasted in my life. I'm not sure if it's the perfect char or the ink jus that's sending me crazy, even now, days later, I'm thinking back to every bite.
There's no two-hour meal limit at Potager, Burr said often diners will sit at their table all afternoon. And so we wait in the sunshine, staring out across a tiny green valley at rows of vineyards cut into the hillside. The winery's called Ilnam, and their Chardonnay and Cabernet Sauvignon is on the menu; and it's good too, who'd have thought: the Tweed Valley does wine!
I don't resist Potager's signature dish for my main—Peruvian sudado de pescado, or as it's otherwise know: fish stew. The meals are enormous at Potager so my bowl would be enough, really, for the two of us. The freshest of fish comes courtesy of a local fisherman who takes his boat right out to the edge of the Continental Shelf; he's also the local air-conditioning bloke. There's prawns in my bowl big enough to pass as lobsters.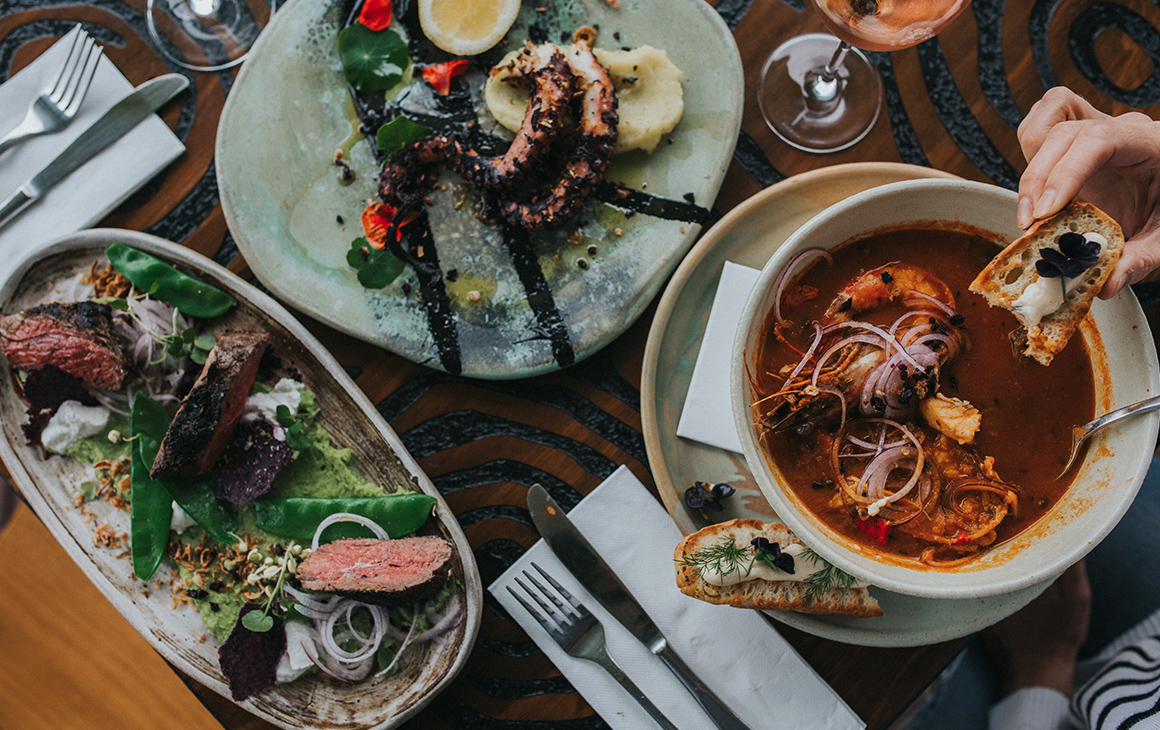 And outside, rosellas fly between enormous mango trees, and Stedman uncoils himself from the bed he's dug in the veggie garden to take himself back to his pen. Coffee arrives with a dessert of aero chocolate with honey ice-cream, whiskey jelly and orange curd ($14) that's as delicate as the fish stew was plentiful. The diners at the next table are asking "what's that" and I'm telling them they'd be insane not to order it. That's because they would be. And I'm feeling the kind of warmth inside that comes with sunny Fridays off and the perfect place to spend them at.
By now, chit-chat between diners has moved from "what's that" to musings on the pace of modern life and why we all need a little Potager in our schedules. I couldn't agree more, for being here, I think, is more than a lunch or a dinner, it's an occasion. It's a meal that lasts as long as you want it to; with food as good as you'll get it (everything here is home-made, from the bread to the preserves to the ice-cream), in a secret valley of the Gold Coast-Tweed I bet you've never thought to travel to (another beautiful crack in the ancient volcano we all live beside). And so, if you need to order an Uber to get yourself home, Pete Burr has no problems whatsoever minding your car overnight. "Happens all the time," he says.
The Details
What: Potager—A Kitchen Garden
Where: 502 Carool Road, Carool, NSW (15 minutes drive from Coolangatta)
When: Friday and Saturdays 12pm to 4pm and 6pm to 10pm; Sundays 12pm to 4pm
Looking for more cafes and restaurants worth jumping the car for? This should keep you busy.
Image credit: Hayley Williamson for The Urban List