Winter in Melbourne can be tough to ride out, but luckily, it provides us with the perfect excuse to escape in search of warmer climates, white sand isles and tranquil waters.
To help you thaw out this winter, we've teamed up with the experts at Cebu Pacific to serve up a sun-soaked list of the Philippines' most pristine beaches. With 7,641 islands on offer, you'll want to see who made the top 10.
El Nido, Palawan
Scoring the number one spot—two years in a row—for Travel & Leisure magazine's 'Best Island In The World', there's a reason that El Nido tops the charts as home to the planet's most stunning beaches.
Located on the northwestern tip of Palawan, El Nido boasts one of the most diverse ecosystems in the Philippines with marine life including dugongs, turtles, sea cows, dolphins and over 100 species of coral, as well as thousands of species of fish, limestone cliffs and an abundance of native flora and fauna.
With all of the dreamy lagoons, crystal clear waters, caves and waterfalls on offer, El Nido is nothing short of awe-inspiring and the untouched landscapes provide a sense of mystery for all those who encounter the rocky paths and perfectly picturesque vistas.
Must do
Eat bird nest soup and swim with whale sharks.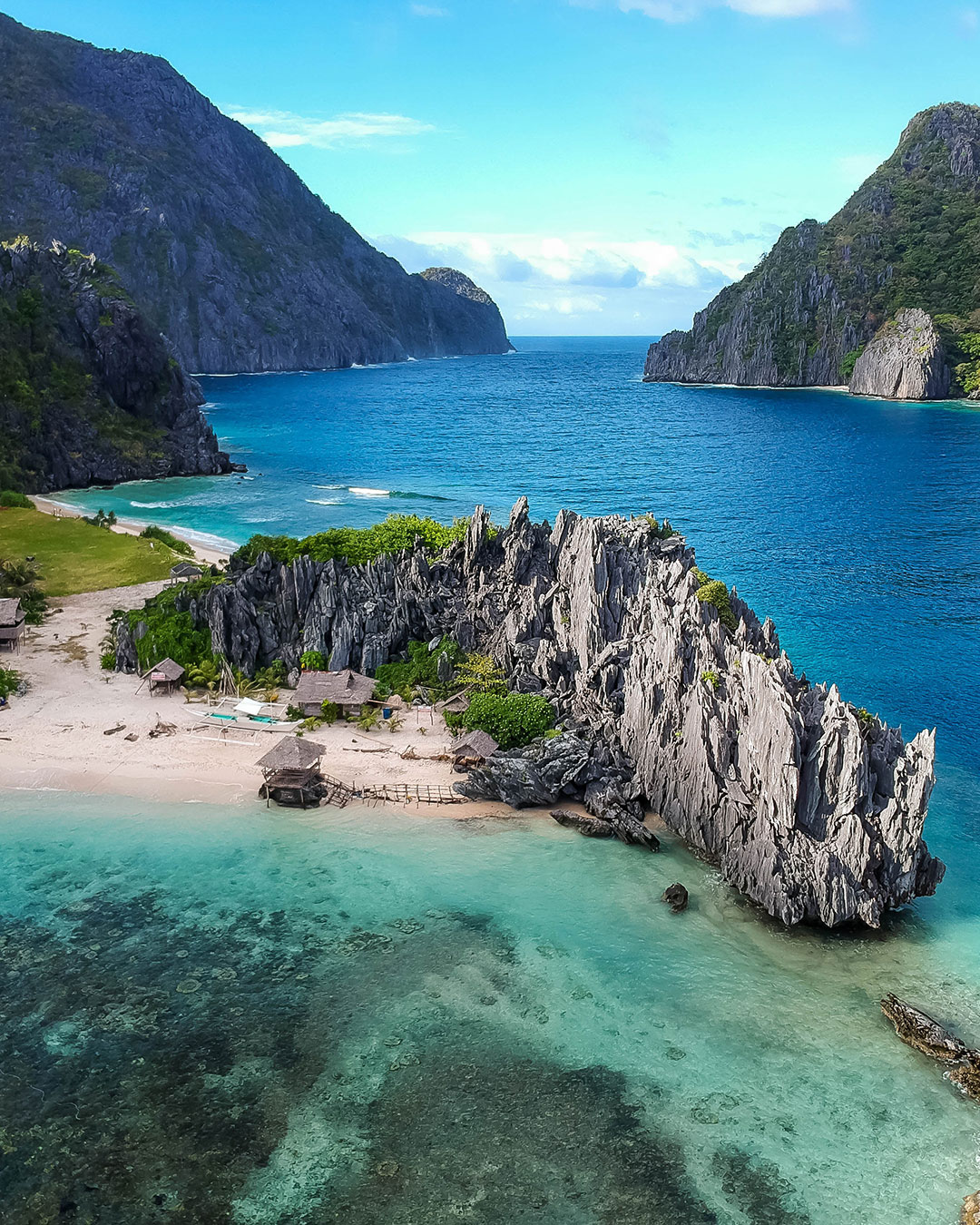 Coron Island, Palawan
Located northeast of El Nido, Coron Island is another must-visit destination in Palawan's north. Home to an array of stunning beaches, this special part of the Philippines is one of the best places in the world for scuba diving with underwater visibility extending up to 24 metres.
Atwayan beach is your go-to for Pinterest-perfect white sand, with rentable huts for an afternoon siesta after a long swim. Another must-visit is Banol Beach, with swimming access to sunken WWII Japanese ships making it the ultimate underwater treasure trove.
But it's not just the jaw-dropping beaches, Coron Island is also home to Lake Kayangan, Asia's cleanest lake. It's a bit of a trek to get there, but all worth it once you witness its grandeur and take a dip in the warm and inviting water.
Must do
Watch the sunset from the Maquinit Hot Springs.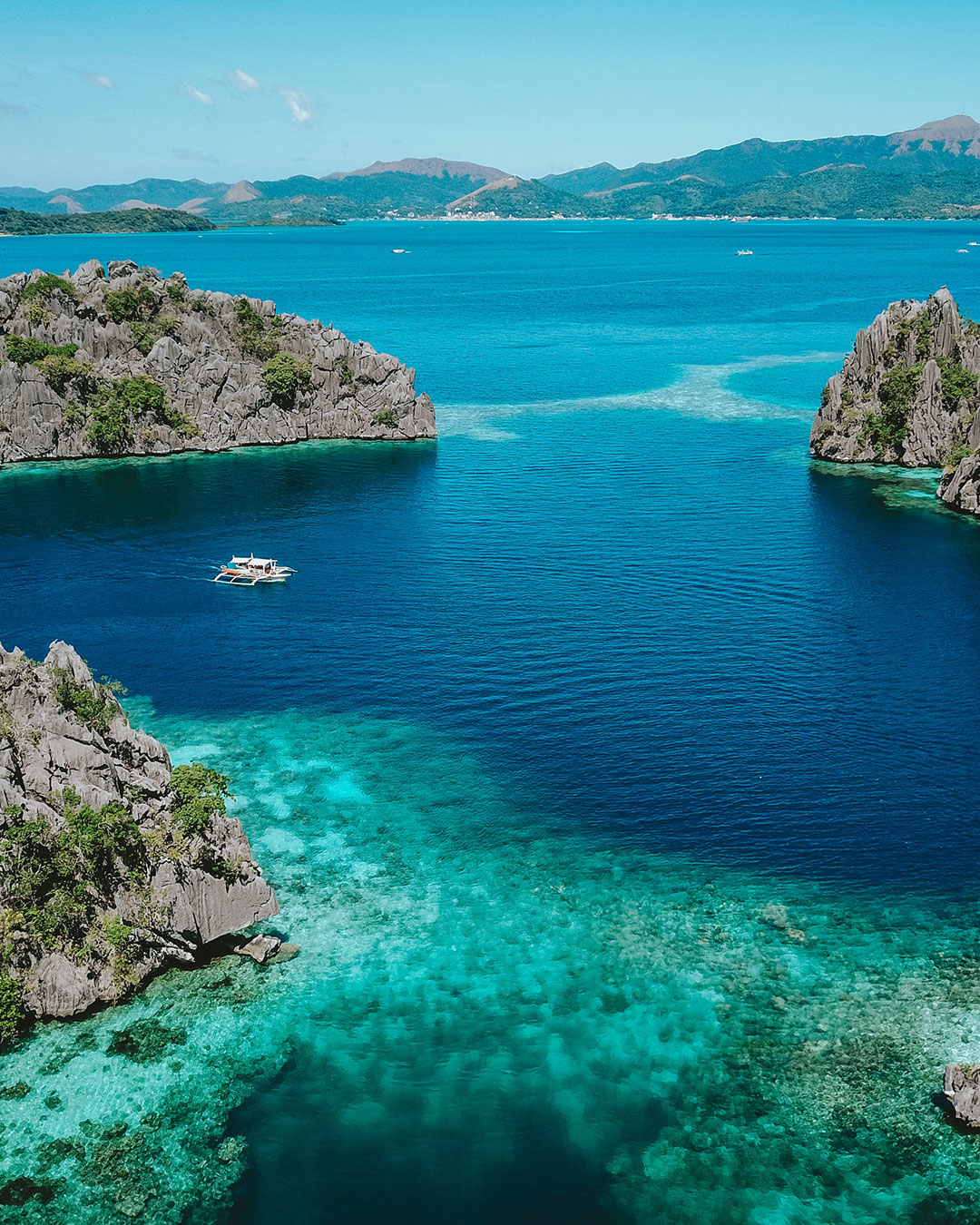 Pagudpud, Ilocos Norte
Located on the northernmost tip of Luzon Island, Pagudpud is often referred to as the Boracay of the North because of its impossibly white sand and turquoise water.
Less developed than other popular tourist destinations in the Philippines, Pagudpud boasts untouched beaches away from the tourist hordes. Our favourite spots to soak up the sun are Saud Beach or a leisurely tricycle ride to the Blue Lagoon.
Best yet? The northerly location receives strong winds, which makes this slice of paradise the perfect place for watersports like kite surfing. Sign us up.
Must do
Take a trip into Vigan City to explore old Spanish houses and tuck into some traditional Vigan empanadas (fried pasty) and longganisa (sausage).
Bantayan Island, Cebu
This tropical paradise might be small, but the desolate beaches and heavenly neighbouring islands are a match for couples looking to escape and disconnect.
Located just west of Cebu, this oasis is the definition of distraction-free. There's minimal resorts and few bars, making it is the ultimate escape for laid-back travellers seeking beachside naps, swimming in dream-like waters and incredible cuisine.
If boredom does strike (not likely), you can always pay a visit to the Virgin Islands, take a dip in the Ogtong Cave, snorkel at Silion Island or even skydive over Sante Fe.
Must do
Head to MJ Square for a delicious feed of the island's freshest seafood.
Moalboal, Cebu
If you're starting to notice a trend with Filipino beaches, we're here to tell you that Moalboal is no different, boasting white sand beaches and an abundance of natural wonders.
Revel in Basdaku White Beach and its impressive 1km stretch of pure white sand against aqua blue water, making it a dream for scuba diving, snorkeling, kayaking and kite surfing. If you're on the hunt for sands a little less travelled, head to the palm tree laden Lambug beach, perfect for a serene swim.
Next, you have to make a splash at the enchanting Kawasan Falls or visit the dreamy Pescador Island.
Must do
Swim with a million fish on the world renowned sardine run—you won't regret it.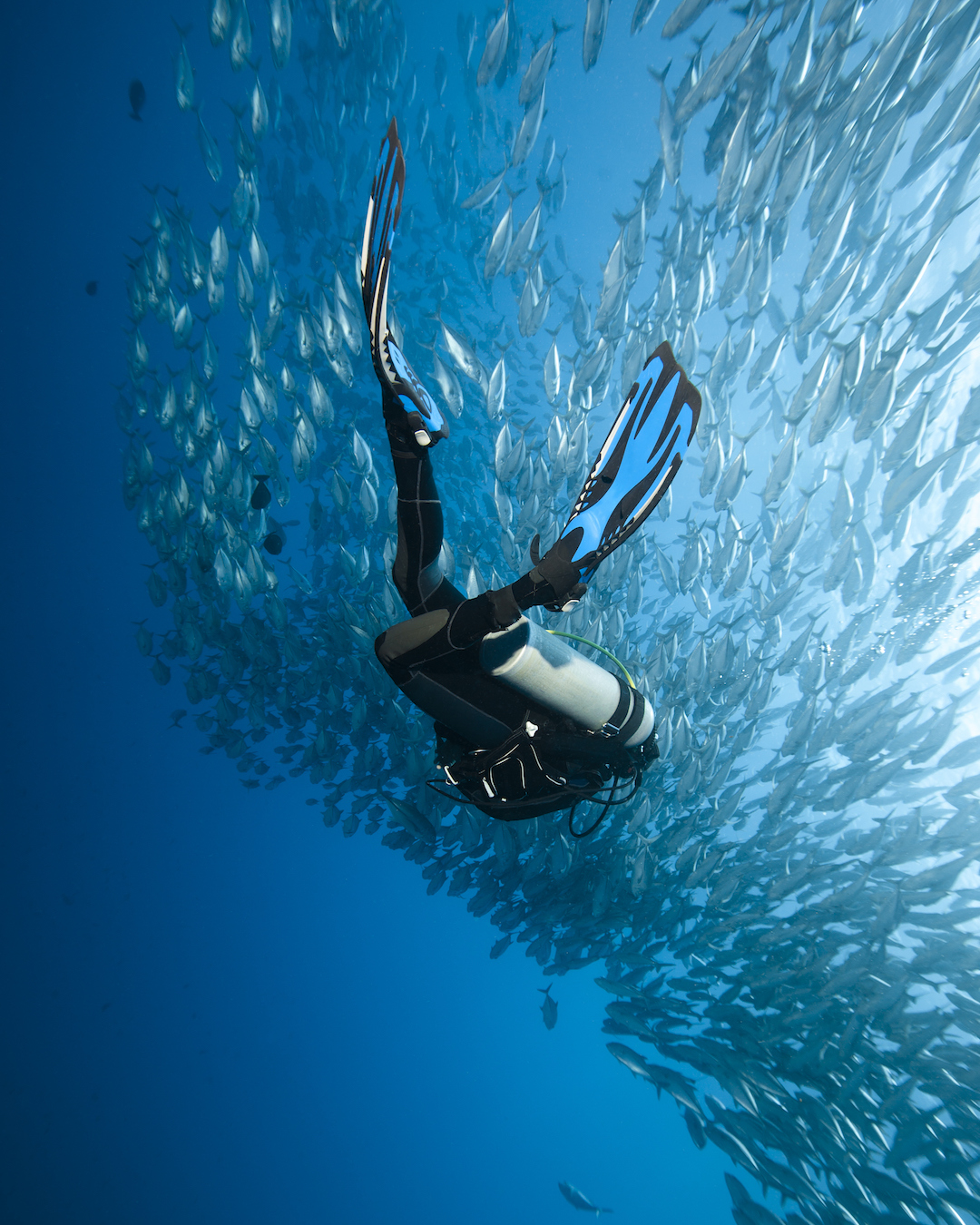 Salagdoong Beach, Siquijor Island
Among the thousands of islands in the Philippines, Siquijor Island is definitely one to add to your list for the best cliff diving the country has to offer.
While the beach isn't huge, there's plenty to see and do with cement piers for cliff diving and a water slide cut into the rock face that spits you right into the ocean. Your can even rent huge unicorn floaties and glass bottom kayaks.
If you're keen to chase waterfalls, make sure to head to the nearby Cambugahay Falls, tucked away in the countryside. Showing off with its bright blue water, you'll want to make sure you take a few snaps of this three-tiered waterfall with pools perfect for swimming.
Must do
Snap a pic at the Coral Cay Resort swing followed by $2 sundowner beers.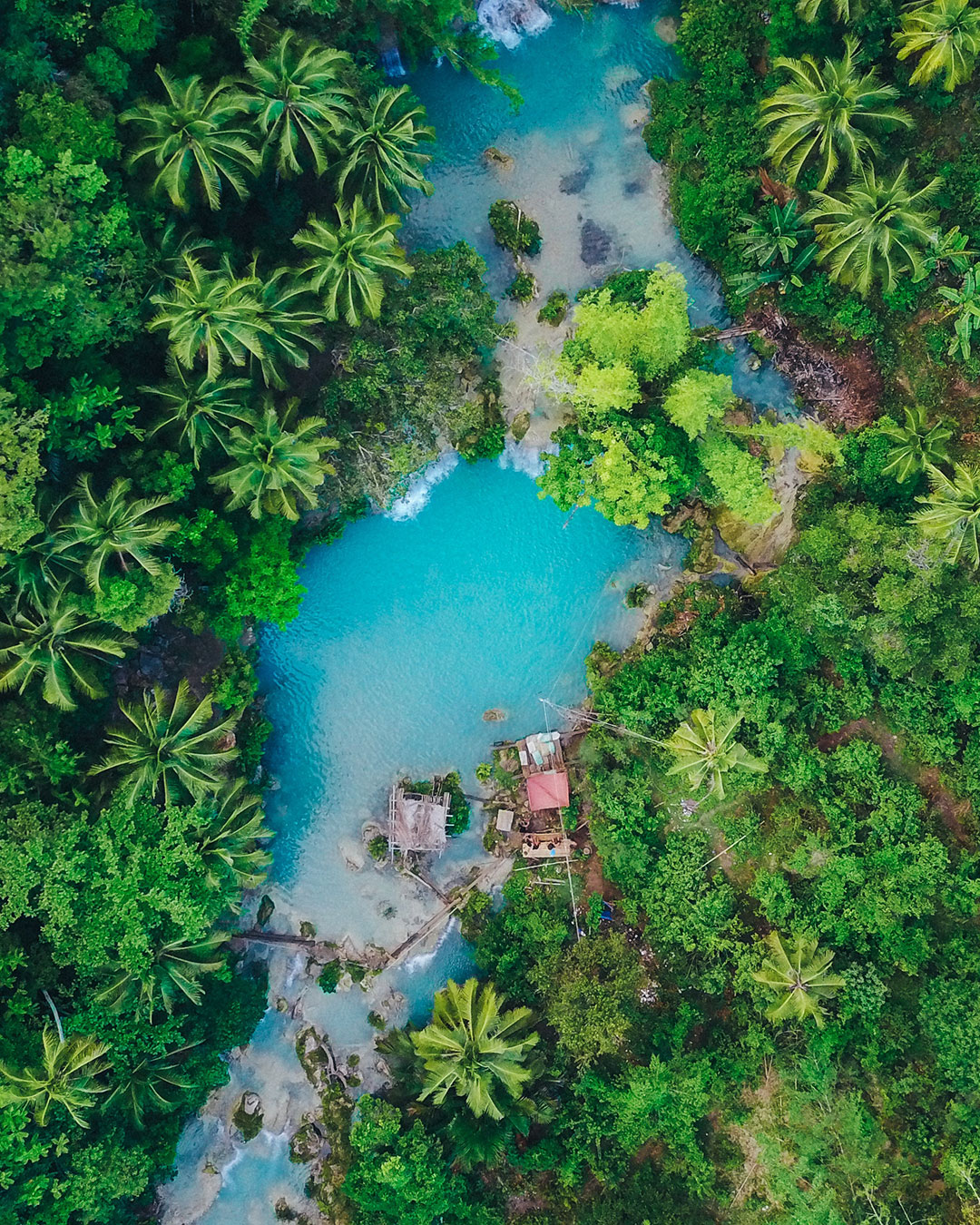 Canibad Beach Cove, Samal
The elusive Canibad Beach Cove in Samal, may be the world's worst kept secret—so we thought we best share it.
Nothing good in this world comes easy, so trust us when we say the private charter to reach the beach will be totally worth it once you discover you're the only ones there.
Located near some of the vacation destinations in the Philippines, you'll find plenty of restaurants, world-class resorts and vibing bars to venture to once you're done soaking up the seclusion of this cove.
Must do
Get some epic Go-Pro or drone footage while braving the Canibad's cliff jumps.
Caramoan, Carmines Sur
'Survivor' fans, get ready to geek out. The impeccably stunning Caramoan beach has hosted not one, but two 'Survivor' seasons back in 2010, so you know this place is the real deal when it comes to that deserted island feeling.
Located on the lower eastern side of Carmines Sur, you can expect to encounter flour-like sand beaches, deep caves, tranquil lakes and water rich in marine life, making it ideal for kayaking snorkeling and scuba diving.
If you're keen to explore further, Caramoan is a great base for island hopping, with the beautiful Matukad and Lahos islands only a short journey away.
Must do
Rock climb the limestone cliffs in search of hidden caves and lagoons.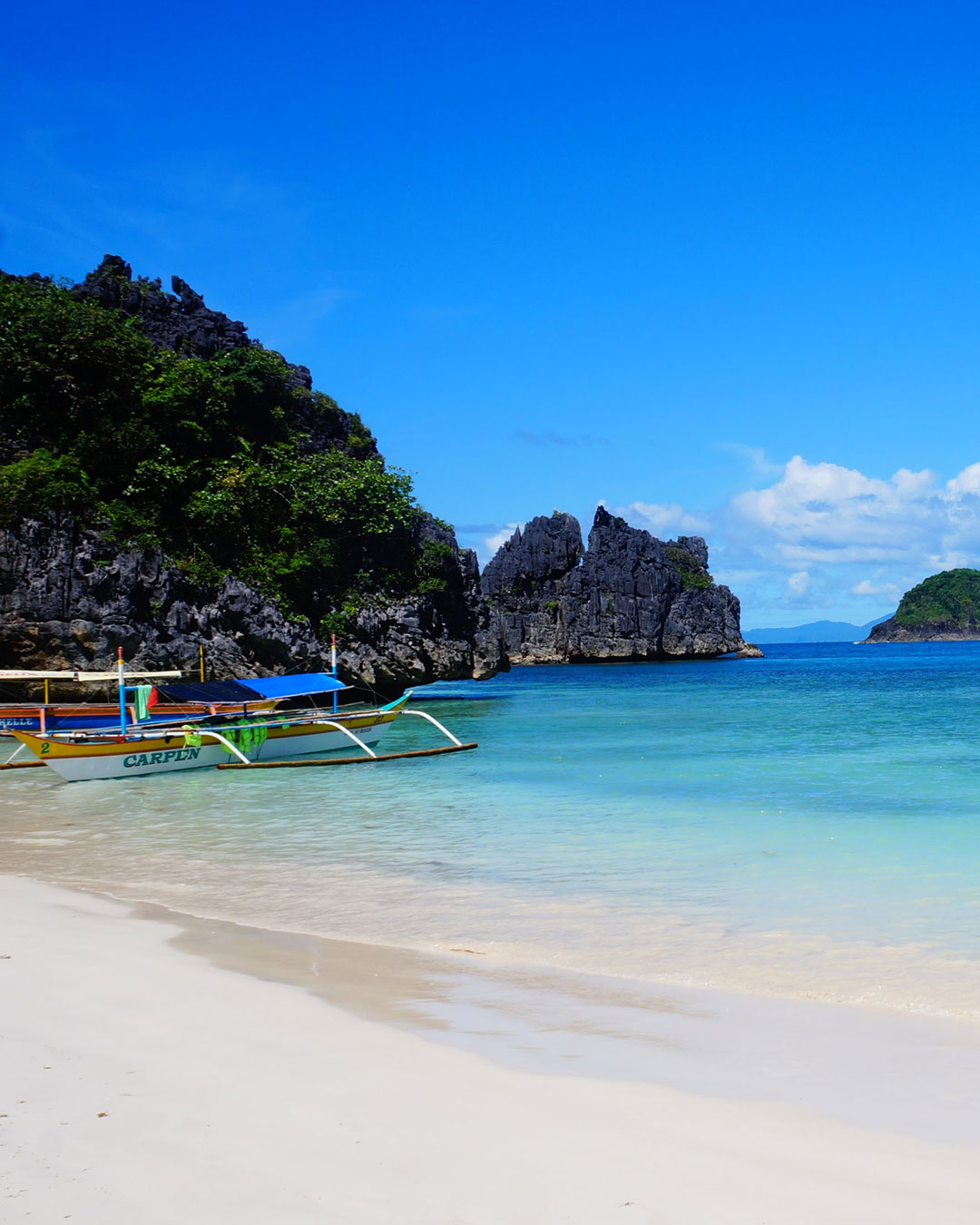 White Beach, Boracay
You've most likely read about Boracay in travel blogs, seen pictures of its stunning beaches splashed across Pinterest, or heard stories from your friends and family. As one of the most popular islands in the Philippines, the list would not be complete without a mention of White Beach.
Stretching over four kilometres, there's always plenty of lounge chairs to kick back in with a coconut or simply seat yourself on the blindingly white sand while you take in the splendour of this world-renowned beach.
When you're not soaking up the sun with a cocktail in hand, you can get amongst the endless water activities during the day, and stay up late for the pumping nightlife. You'll find us tucking into a feed at one of the many great restaurants.
Must do
Make sure to take full advantage of the beach amenities and order a Mango Melon fruit shake from Jonah's.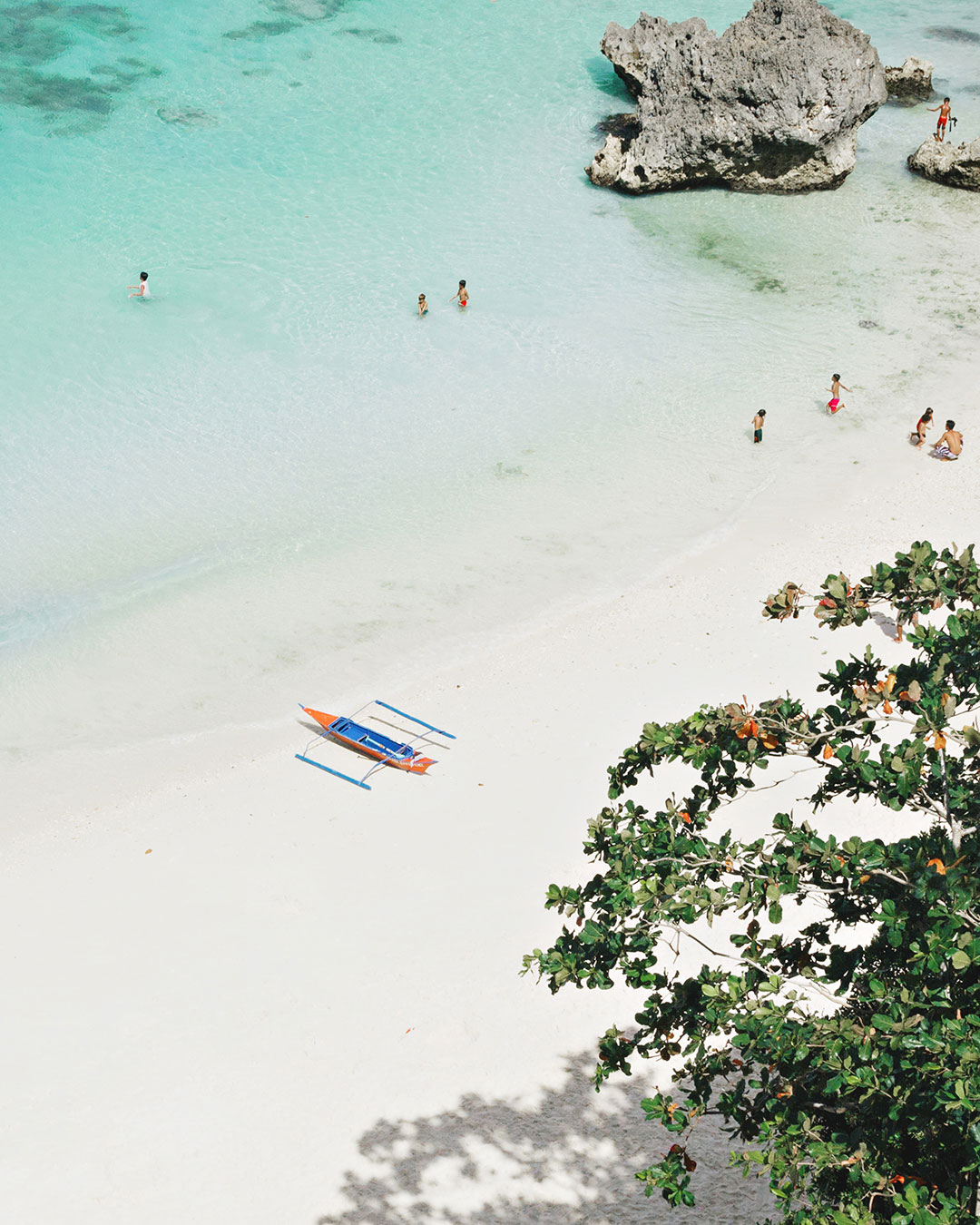 Gigantes Sur Island, Iloilo
Powder white sand and bluer-than-blue water makes Gigantes Sur Island postcard material, with shorelines perfect for sunbathing and the ultimate location to soak up some serious sun and salt.
Get ready to climb over cliffs in search of Tangke, the secluded saltwater lagoon surrounded by a wall of monolithic cliffs and minimal tourists. The trek is totally worth the effort.
There are more hidden gems speckled within kilometres of the coastline, so make sure to island hop. Our favourite? Cabugao Gamay. Just take a 45-minute ferry and you can marvel at the emerald green waters and embark on a foot trail to the top of a hill giving you a jaw-dropping view of the island.
Must do
Don your activewear and brave the steep cliff climb and hidden forest to find Pawikan Cave.
Time to ditch your coats and reach for your swimsuits. Cebu Pacific flights from Melbourne to the Phillipines run 3 times weekly, head here to book yours. And while you count down the days to your Phillipines escape, watch this video for a taste of what's in store for you.
Editor's note: This article is sponsored by Cebu Pacific and proudly endorsed by Urban List. Thank you for supporting the sponsors who make Urban List possible. Click here for more information on our editorial policy.