There are so many restaurants with gluten-free options on their menus these days. No longer a passing phase, gluten-free is here to stay, and the variety and taste is just as good as the real deal.
This round up of the best gluten-free dinners in Melbourne isn't exhaustive, but, in my humble opinion, it's a selection of the very best our city has to offer.
HUXTABURGER (VARIOUS LOCATIONS)
One of the first to offer a gluten-free bun, the original Huxtaburger at Huxtaburger is still the best beef between bread you'll find in the city. The gluten-free bun will add $3 to your burger, but when you bite into the beef, tomato, cheese, lettuce and pickles, and have mustard, mayo and tomato sauce dripping from your chin, you'll know it was worth it.
CARLTON CURRY HOUSE (CARLTON)
The Carlton Curry House is little known, but famed amongst the converted for its gluten-free naan bread, served as a side to their delicious Indian curries. Stick with your favourites like Butter Chicken or Rogan Josh, and savour every mouthful with that delightful naan.
GAZI (CBD)
When I used to think of Greek food, my mind conjured up a tasty fish 'n' chip shop souva – but that was before I visited Gazi. Now I think of their souvas, served in a house made gluten-free wrap with chips. INSIDE the souva. CHIPS! Chicken or duck are the winners on this menu, and make sure you order some of the delicious gluten-free bread for the table. Even your gluten tolerant friends will thank you.

Image Credit: GAZI Facebook
THE IMPERIAL (CBD)
Pub fare is pretty standard the city over, so it's refreshing to find a drinking hole that boasts gluten-free dinner options further than a Caesar Salad or a steak. I can personally vouch for the simply yum salmon with bok choy and a side of the potato skins (served with cheese and bacon!). Gluten-free pizza is available, too.
DAVID'S (PRAHRAN)
A restaurant that is nearly as old as me, David's serves dumplings and traditional Shanghai cuisine with all the style of a modern eating house. The gluten-free Mother in Law fish stew of rockling, spinach, ginger and garlic broth has all the flavours you'd expect from a recipe passed down through the generations. Perfect for a cool night.
MAMASITA (CBD)
The first mainstream restaurant to have an entirely gluten-free menu, I have queued for hours at the top end of Collins Street for the opportunity to eat the 'Elote callejero' – street style chargrilled corn with queso, chipotle mayo & lime. While it's only a starter, I haven't found another like it, and I'd happily eat it for main too. The spice and lime combo is a party in the mouth.

Image Credit: Mamasita Facebook
PORTELLO ROSSO (CBD)
One of my favourite spots in the city, Portello Rosso is a Spanish tapas and jamon bar, beautifully fitted out in a laneway and dimly lit. The chef's selection is the way to go, and the crispy skinned pork belly served over almond and garlic puree is the highlight of the menu and, I'm calling it, one of the best gluten-free dinners a guy or gal can enjoy in Melbourne.
VA BENE PIZZERIA (DOCKLANDS)
Gluten-free pizza seems to pop up everywhere nowadays, but the best crispy base belongs to Va Bene Pizzeria in the Docklands. No matter how many times I return, I can't go past the Zucca pizza – pumpkin, mozzarella, parmesan, oregano and rocket. You'll tell yourself you won't eat the whole thing, but you will. Bon appetite!
RAILWAY CLUB HOTEL (PORT MELBOURNE)
On any given night out, steak is the go-to of anyone intolerant to gluten. A safe bet, grilled meat with vegies can be counted upon to satisfy. But if you are going to do steak, you should do it right, and the Railway Club Hotel's eye fillet is the best you'll find in Melbourne. Melting on the tongue and providing a direct contrast to the crispyness of the handcut chips, you'll never look at steak the same way again.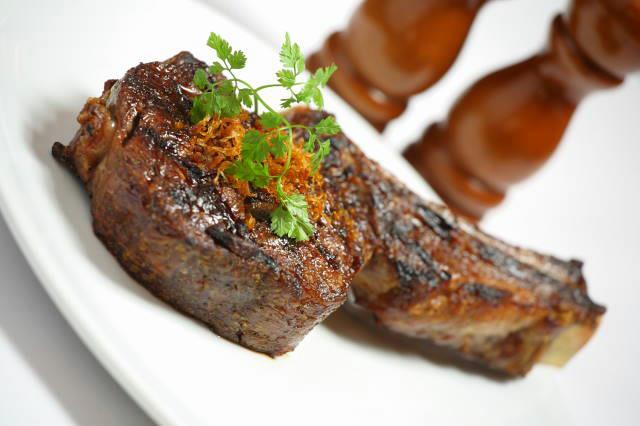 Image Credit: Railway Club Hotel Facebook
CAFÉ VUE (CBD)
If in need of a dinner on the go, be it at a desk or over a bottle of wine in a park somewhere with your beloved, a Café Vue box is the perfect choice. A gluten-free Café Vue lunch box is the ultimate indulgence with a starter, salad, savoury and sweet to satisfy all your cravings. The menu changes regularly but you'll never be disappointed.
CHOCOLATE BUDDHA (CBD)
Most Japanese lends itself to being listed gluten-free – until you add the dreaded soy sauce that taints most Asian dishes. Chocolate Buddha clearly lists the gluten-free options, and I've never been able to go past the char-grilled chicken with a balsamic teriyaki glaze and mayo. Served with steamed boy choy, a salad of rocket & tomato, and rice, this is filling and healthy.
MRS PARMAS (CBD)
The holy grail of gluten-free must be the chicken parma, but the locations of coeliac-friendly crumb-crusted chicken with sauce, ham and cheese are few and far between. Mrs Parmas claims to have them all, and indeed she does with a gluten-free parma AND a gluten-free beer on the menu. Not to be missed when one is craving the simpler things in life.
THE CUPCAKE QUEENS (VARIOUS LOCATIONS)
For an after dinner treat, the gluten-free cupcakes at The Cupcake Queens are the only way to go. Available in vanilla or chocolate mud, I can't go past the divine sweetness and simplicity of the buttery vanilla. The perfect end to any meal.
CAFE HENKEL (BRUNSWICK)
Certified by Coeliac Australia, it doesn't get much more gluten-free than that. These guys are a new cafe in Brunswick. You can find them on UberEATS, and due to high demand, they've also started doing gluten-free catering. Nice one!
Want more gluten-free? Check out our roundup of the best gluten-free breakfasts in town - both Northside and Southside!
Main Image Credit: The Seaside Baker