Hidden amongst stunning frocks, bicycle parts and vintage records are some of Melbourne's best-kept secret cafes. These less-than-obvious hotspots provide weary shoppers with a convenient way to refuel and reboot without ever leaving the shop. Here are five of Melbourne's top camouflaged cafes you will be glad you stumbled across.
HUSK
Husk has earned its reputation for housing stunning local and international designs. Wondering past the tempting racks of high-end pieces, you will find yourself at Husk Cafe. Both the Hawksburn and Albert Park stores feature these cozy Bohemian style cafes where fashionistas can sip on specialty tea and coffee.
For more info on Husk, click here
CAPTAINS OF INDUSTRY
This trendy gentlemen's hub offers barbering, shoemaking and the perfect quiet spot to enjoy a steaming cup of Joe. The old-world style store offers a great mix of retail and hospitality and is frequented by some of the more stylish men of Melbourne.
For more info on Captains of Industry, click here
CIBI
Pairing the simplicity of Japanese designed homewares with beautifully balanced dishes, Cibi cafe is a hidden gem amongst a sea of furniture. Enjoy a Japanese breakfast plate on the weekend after picking up some one-of-a-kind pieces for your new digs.
For more info on Cibi, click here
WHITE RABBIT RECORD BAR
Searching for a vintage record could have you conveniently discovering White Rabbit Record Bar, where vinyl plays all day long while light bites and refreshing drinks are served.
For more info on White Rabbit Record Bar, click here
À BLOC BICYCLE SHOP
After shopping for all things bicycle related and browsing the well curated gallery at À Bloc Bicycle Shop, why not sit down at the spacious cafe and chat about what's hot in the world of bikes? À Bloc is the perfect secret sanctuary for the bike aficionados of Melbourne and encourages everyone to embrace the fast-growing bicycle culture.
For more info on À Bloc Bicycle Shop, click here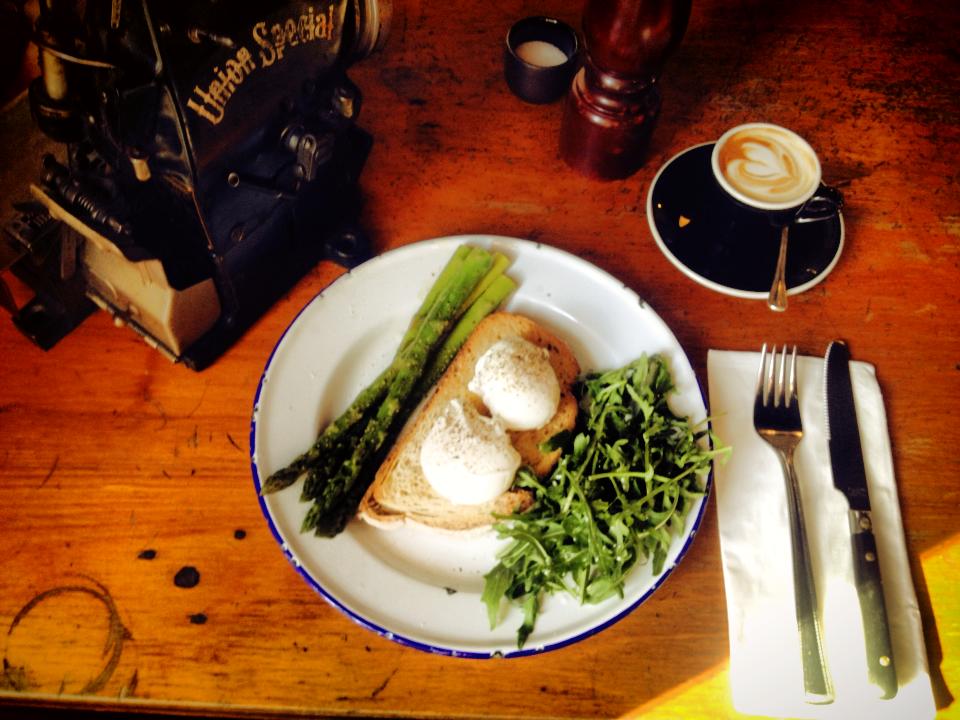 Poached eggs & asparagus from Captains of Industry Facebook.

Main image credit: Ciclosfera