UPDATE: If you're looking for more healthy desserts, read our recently published Best Vegan Desserts round-up.

I'll be honest. I generally pick a restaurant or cafe based on their dessert menu. Full disclosure – I'm a Health and Fitness Coach AND I have one hell-of-a sweet tooth. Luckily, there are some real gems in Melbourne, which allow me to indulge without facing the ugly crash-and-burn that comes after a sugar indulgence, and also works with my gluten-free requirements. If you want to have your cake and eat it too, read on for 9 of Melbourne's best healthy* desserts. (Sure, they're not totally guilt-free, but they're on the right track!)
DIY Froyo from Frozen by A Thousand Blessings
2013 saw an explosion of froyo stores in Melbourne. Paying by weight, you could potentially pay $10 for a spoonful of yoghurt and a cup of gummi bears, if you really wanted to! Froyo is really what you make of it, though, and Frozen allows you to create something deliciously guilt-free. Both the Natural and Green Tea flavoured froyo are sweetened with stevia – a natural herb, which is 300 times sweeter than sugar. The yoghurt is made from organic biodynamic milk, and the 'add ons' are also largely organic – although resisting the urge to fill up your bucket with organic pieces of lemon slice and cheesecake could be a challenge.
My pick: Green Tea and Natural Froyo (half / half) topped with organic strawberries, chia seeds, passionfruit coulis, and toasted coconut
Frozen by A Thousand Blessings | Various locations here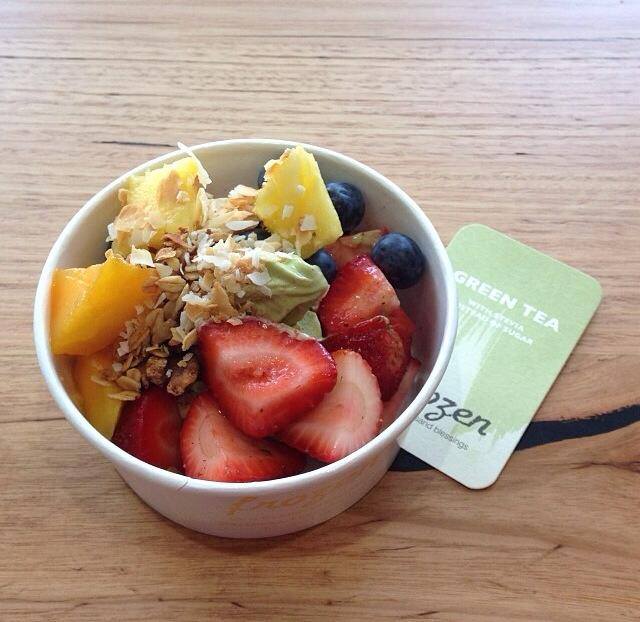 Image Credit: Frozen by A Thousand Blessings Facebook
Red Quinoa Secret from Shakahari
After indulging in Shakahari's higher-class vegetarian dishes, this unique dessert will leave your sweet tooth satisfied without that sickly feeling. High protein red quinoa and sago are cooked in coconut milk, pandan leaves and palm sugar, with crushed, caramelised pecan nuts. The protein from the quinoa and good fats in the coconut milk won't leave you with a sky-high insulin spike that'll send your body into meltdown, like with other high-sugar desserts.
Shakahari | 201 - 203 Faraday Street in Carlton
Cupcakes from Mister Nice Guy's Bakeshop
Mister Nice Guy's Bakeshop has a number of items that are vegan, egg free, dairy free, gelatin free, soy free, made with natural colours, largely organic and fairtrade. There are gluten and nut free items available, and they're working on many fructose free options! They also have raw cakes - yep, they've totally got it all covered! If you need a cupcake, Mister Nice Guy's Bakeshop is where you want to be.
My pick: Golden Comb (aka 'golden gaytime') which is a vanilla toffee cupcake with caramel frosting, topped with chocolate ganache + honeycomb. Soy free, vegan, nut free, made with coconut milk, and a gluten free option is available!
Mister Nice Guy's Bakeshop | Various locations here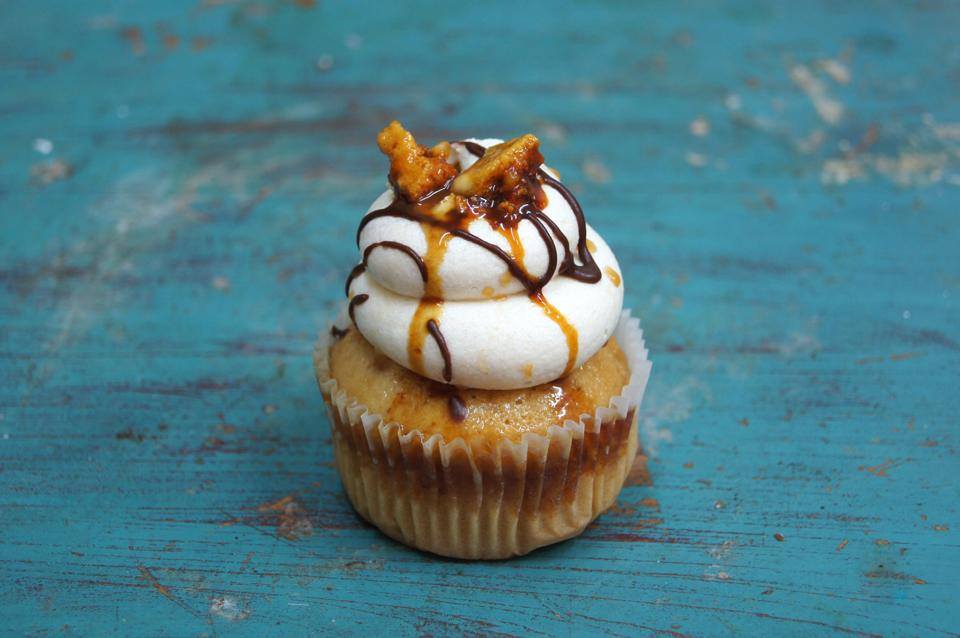 Image Credit: Mister Nice Guy's Bakeshop Facebook
Green Tea Ganache from Yong Green Food
If you're too full from your meal to fit in a full-sized dessert, the Green Tea Ganache at Yongs will leave you super satisfied. A simple but delicious combination of green tea, brazil nuts, agave nectar and coconut covered in raw dark chocolate, topped with a goji berry. Perfect to get takeaway too!
Yong Green Food | 421 Brunswick Street in Fitzroy
Raw Cakes from Pana Chocolate
Pana Chocolate is the cult brand for raw, sugar and dairy free chocolate. Their Richmond café has a great rotating assortment of raw cheesecakes, tarts, raw truffles, plus way more. Raw chocolate cake, caramel pecan slice, almond milk hot chocolate are just some of the guilt-free treats you can enjoy, while you stock up on regular boxed Pana Chocolates.
Pana Chocolate | 491 Church Street in Richmond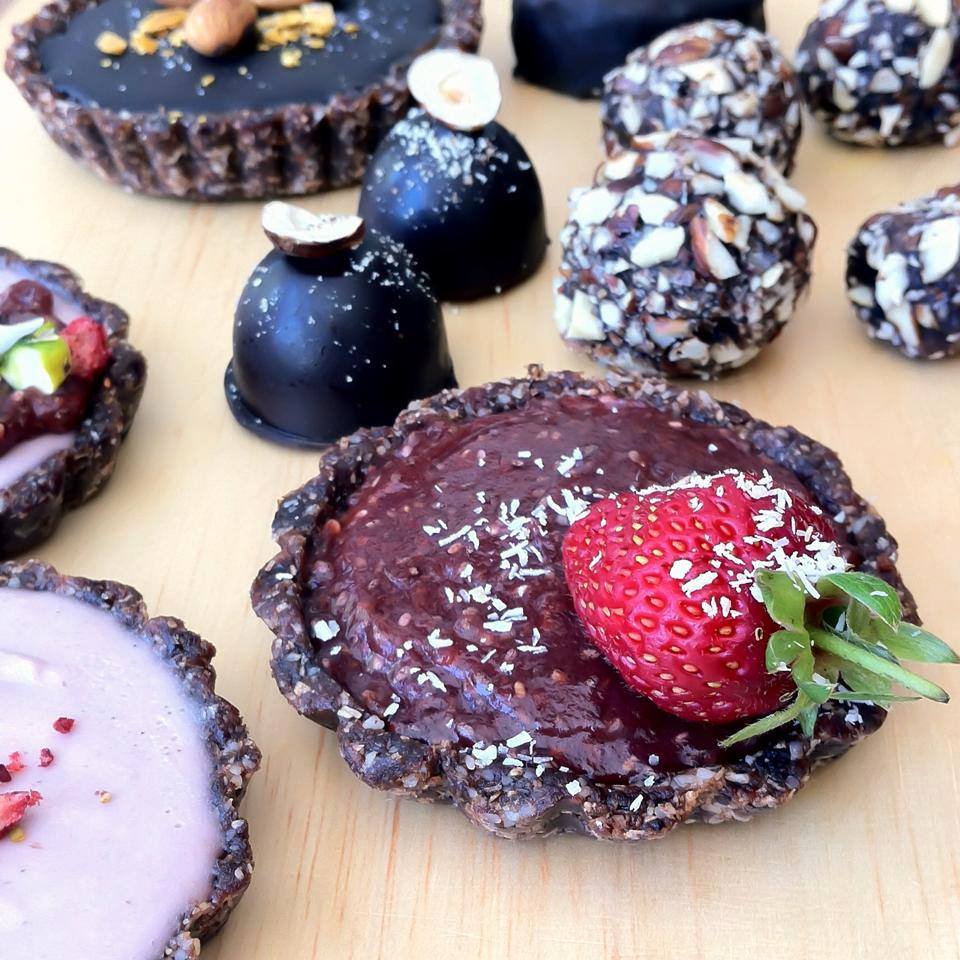 Image Credit: Pana Chocolate Facebook
Nickers Cake from Surfcoast Wholefoods
Made by Naked Treaties in Byron Bay, this is just one of the delectable 'clean' desserts you can get at Surfcoast Wholefoods. Made from cashews, almonds, coconut, cacao, maple and coconut syrups on top of a raw cheesecake base, this is a perfect treat that is reminiscent of a Snickers Bar.
Surfcoast Wholefoods | Shop 104 Torquay Central, 41 Bristol Road in Torquay
Acai Bowl from The Nutrition Bar
The Nutrition Bar is a fantastic new haunt in Richmond and is Melbourne's first clean fast food bar. Serving smoothies, cold pressed juices, protein drinks, breakfast bowls, salads and a selection of superfood balls. Okay, so some might argue that Acai bowls are more of a breakfast meal, I say, pardon? A delicious sweet-but-not-sickly treat made from superfoods, fruit and coconut water, this is definitely one of my favourite sweet treats at any time of the day.
The Nutrition Bar | 121 Swan Street in Richmond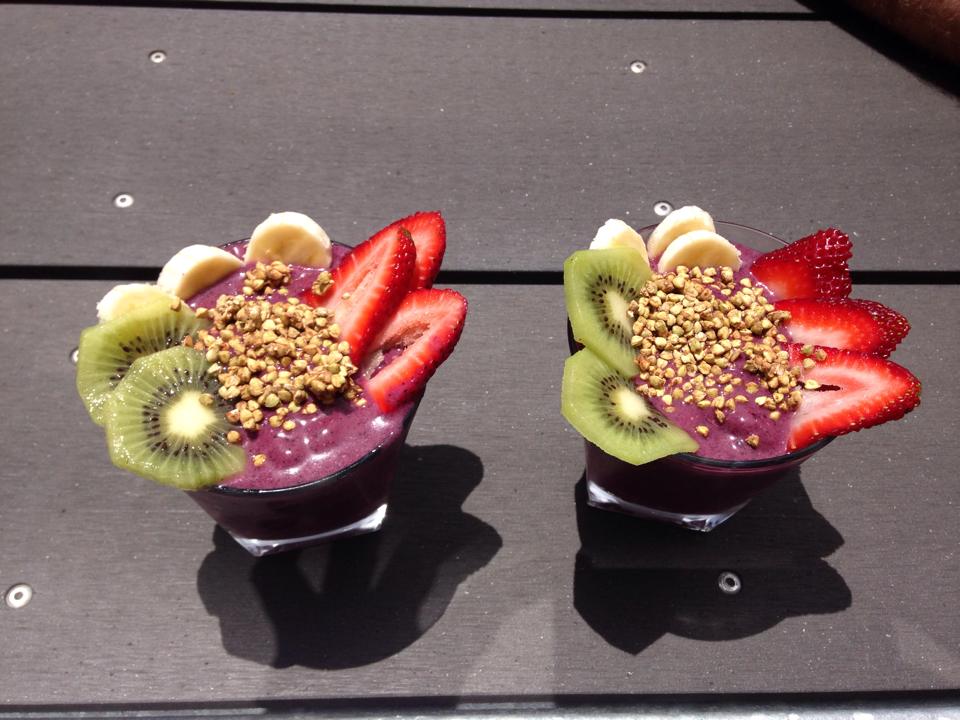 Image Credit: The Nutrition Bar Facebook
Gelato from Fritz Gelato
Fritz Gelato is organic as well as lower in sugar, fat and calories than other ice creams and gelatos. No preservatives are used and they also serve organic donuts and coffee.
My pick: Caramelised Fig & Roasted Almond, and Salted Caramel (both award winners!)
Fritz Gelato | Various locations here
Coconut Ice Cream from Zebra Dream
Coconut Ice Cream is a delicious and indulgent alternative if you are eating dairy free. This ice cream is made in Melbourne, is organic and vegan. You'll find Zebra Dream roaming around some of Melbourne's must-visit events, markets and festivals (it's sold from an old-style ice cream peddler bike!). With eight flavours available, my pick is salted caramel, which is sweetened with coconut nectar, and contains the superfood mesquite powder!
Zebra Dream | To find out where the Zebra team will be next, follow them on Facebook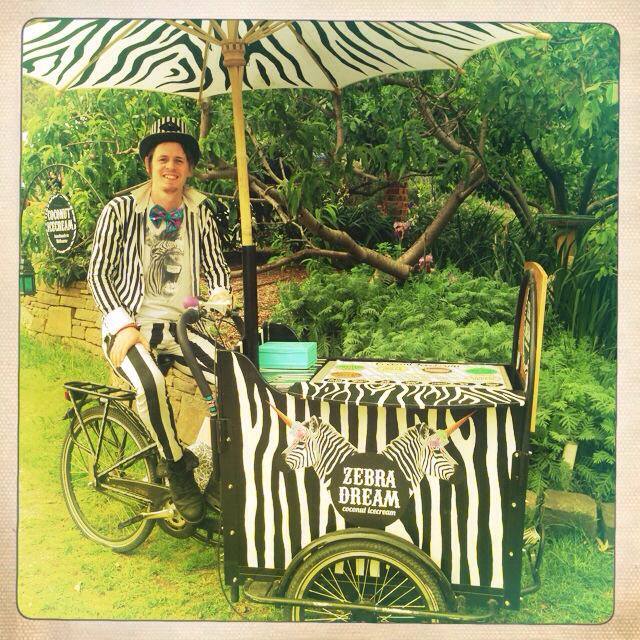 Image Credit: Zebra Dream Facebook
Main Image Credit: Delicious Stories