Back in 2018 a Deakin University study identified Aboriginal names for Melbourne's initial suburbs such as Fitzroy, St Kilda, and Brunswick among others.
The crack team put together consisted of members of the Aboriginal community, historians, linguists, and anthropologists from a range of different organisations.
The team studied colonial records housed at Melbourne Museum 10 Aboriginal names for the suburbs of the 19th century.
Forgotten names for these suburbs were discovered in notes made by Gippsland magistrate and anthropologists, Alfred William Howitt. The team of researchers found notes of conversations between Howitt and ngurungaeta (leader) of the Wurundjeri-willam, William Barak inside the leather-bound notebooks. The conversations between the two are thought to have happened between 1897 and 1901.
The notes taken by Howitt were written mostly in the Woi wurrung language that was spoken by the four Koorie nations that lived in and around the Port Phillip region for thousands of years.
There was no map drawn with the notes, so many of the descriptions point to particular areas or landmarks of the suburbs that occupy the land today.
Here are the names uncovered in the notebooks.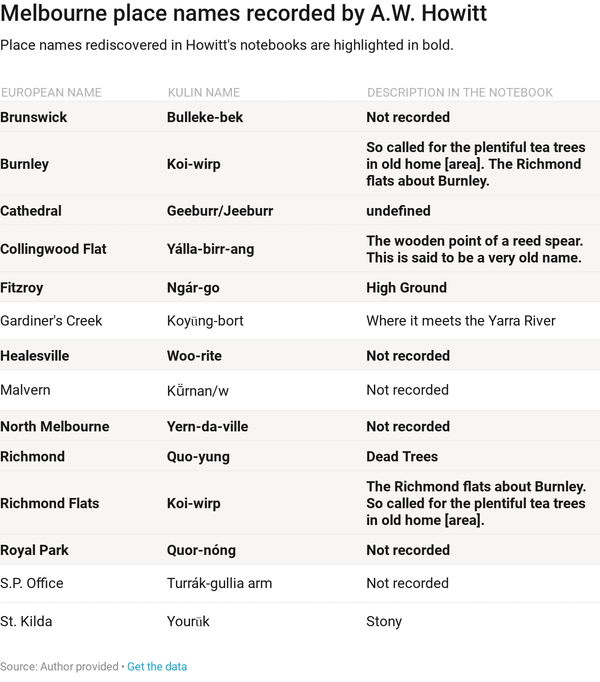 Image: via The Conversation
Read more about Deakin University's study on its website.
Keep up to date with everything happening around Melbourne here.
Image credit: Artra Sartracom​