If you're going to thank one suburb for two decades of Melbourne's bar scene boom, thank Fitzroy. Draw a red line around Victoria St, Smith St, Alexandra Parade and Nicholson St, and you'll catch most of the city's best bars—everything from cheap brewpubs and candlelight wine bars to schmancy cocktail lounges where you can blow a week's wages on a single martini.
We're serving these straight up. Here's our pick of the best bars in Fitzroy.
The Everleigh
Back in 2011, The Everleigh was one of the front-runners that shook up the Melbourne cocktail game and landed this city on the international map. It's a joint venture between Sasha Petraske (the genius behind New York's Milk and Honey), Michael Madrusan and Lauren Schell. They've released their own batch bottled cocktails since, but this is still the place to bring out-of-towners for a Negroni loaded up with Navy Strength Ice (only the best at this place). A revamp and renno in 2017 saw them add a glamorous private space, The Starling Room, which can seat groups of 15 or fewer.
Black Pearl
When international award-winning bartenders come to show off their skills in Melbourne, they usually take up residence at The Black Pearl. Along with The Everleigh, it's probably Fitzroy's classiest (and most respected) cocktail bar. The doors closed briefly back in 2015, but these days the Black Pearl is open 7-days a week, serving up impeccable mixes to locals and visitors alike. During the week is the best time to visit—on Friday and Saturday nights, the place tends to get pretty rammed, although you can seek sanctuary at The Attic, just upstairs. Pro tip? Try the sausage rolls. They're rumoured to have turned even the staunchest vegetarians.
Bar Liberty
Let's hop off the cocktail train for a moment. Bar Liberty is a died-in-the-wool wine bar—one of Melbourne's best. The brainchild of two ex-Attica alumns, plus Casey Wall (Cutler & Co, Rockwell & Sons), and Banjo Harris Plane, the 2015 Sommelier of the Year. It's named after an innocuous little line in Star Wars: Revenge Of The Sith (fun trivia), and you'll find a few cheeky flourishes around the place. Not least Harris Plane's beautiful champagne sabre. Vino-lovers will find an interesting mix of organic, natural and local wines, but Bar Liberty also rocks sour beers, indie labels, no-ethanol spirits and 'no garnish' cocktails. "Everything in the glass belongs in your mouth."

Photography: Michelle Jarni
The Rum Diary
One of our favourite books, and one of our favourite bars. The Rum Diary is a "rum soaked drinking experience", sister to Beneath Driver Lane in the CBD. But while Driver Lane is big into the whisky and blues, The Rum Diary specialises in (you guessed it) rare and interesting rums. In fact they brew their own bottle, which you can sample up at the bar. You can also sign up for special rum flights (a good option for beginners) or just kick back with one of the best Old Fashioned in Fitzroy. Oh, and if you're gonna browse the rum list, bring a comfy chair. It goes on for about 10 pages.
Bad Frankie
Home to the famous 'Lamington Jaffle', we've got Bad Frankie on Greeves St. The atmosphere in here is just right: well designed but unpretentious, with big knotted ropes hanging from the ceiling (they look like they used to moor The Titanic). The drinks list is almost exclusively local too—think Victorian indie gins, Tasmanian whiskies, rum from the Swan Valley and vodka from Kangaroo Island. If you want to know what's hip and happening on the local spirits scene, sidle up to the bar and get chatting to owner Seb Costello. That man's like a walking alcohol encyclopedia. Jaffles are the order of the day here, and they come in some kooky flavours. If it's your first time, you pretty much have to try the Lamington: a choc sponge jaffle, filled with jam and rolled in coconut (with cream on the side). Ridic.
The Elysian
Now one for you whisky-lovers. There are some excellent whisky des in the CBD (Whisky Den being a great example), but few people would argue that it's worth the tram ride to check out The Elysian on Brunswick St. There are about 280 bottles on display behind the bar (and counting), and Co-owner Kelvin Low does a good job of getting rare and single barrel releases whenever he can. Low and his co-owner, Yao Wong, both came from Whisky & Ailment in the CBD, but this is their own baby. The whisky list is broad, including bottled sourced from Japan, Ireland, Holland, Australia and Germany, but they do tend to go heavy on the Scotches. Extra smoky, extra peaty. Just the way we like it.

Photography: Griffin Simm
AbsinthiA
You might know this place as Absinthesalon. They changed the name in early 2018. Now it's AbsinthiA—but owners Rebecca Lombardo and Vince Morino have kept the rest pretty much as is. You've still got 19th-century absinthe decanters on every table, beautiful crystal wear, that stunning green-lit absinthe garden off to the side. Most people miss this place because it's tucked down Rose St, behind a (relatively) unmarked door. Don't be shy, head down on a weeknight and give that door a knock—we guarantee you'll love it in here. It's less about luminous green jello shots and more about old-school absinthe appreciation (in fact there's even a three-drink maximum). Trust us, that's a good thing. This stuff packs one hell of a wallop.
Polly
You could certainly make an argument that Melbourne's serious cocktail scene started right here at Polly. It's been going strong for almost 18 years and has even been featured in Lonely Planet. The best way to do Polly is to sit yourself down on one of the plush velvet couches and start working your way through the cocktail list. This might take some time, as there are over 130 bottles of spirits and dozens of mixes to choose from (their Blueberry Pisco Sour is pretty damn good, if you're looking for a tip). Better yet, head up to the bar and challenge the bartenders to create something bespoke. As long as it's not rammed on a Saturday night, they're usually all too happy to oblige (after 18 years in the game, they're probably sick of making Manhattans and Cosmos, you know?)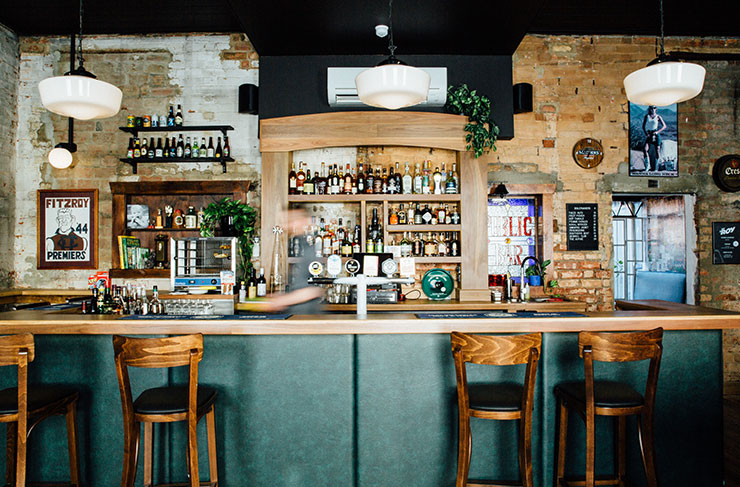 Photography: Annika Kafcaloudis
The Roy
The Roy could have so easily become something gross—a beer-swilling man-cave fuelled with testosterone and misogyny. But the guys from Polly have pulled off something pretty awesome here: this is a bloke's bar that accepts all-comers. And in a weird way, it kind of celebrates in manliness. There are 12-year-old single malts behind the bar, a dedicated Boilermaker menu, and a collection of sporting memorabilia that'd rival your Grandad's shed: think old Benson & Hedges memorabilia to Budweiser neons and Fitzroy '44 premiership posters. Throw in some footy on the big screens and the best damn sausage roll we've ever eaten, and you've got a real winner.
Naked For Satan
Of course Naked was going to make the list. It's probably what people think of first when they think 'Fitzroy bar'. And mostly that's down to a few things: very cheap and delicious pintxos, banging cocktails and friendly service. It's been trading on those three for about the last decade (of course, having a luxe cocktail bar on the roof doesn't hurt either). Naked For Satan is modelled on the classic bars of Barcelona and San Sebastian, just subtract a few 60 year-old Spanish guys and add a few Fitzroy hipsters. The crowds in here on Friday nights are a testament to the quality—not menu venues in Melbourne are so packed after this many years in the game. Just remember to hang on to your toothpicks—that's how they calculate the bill.
Provincial Rooftop
It's hard to miss The Provincial, crumbling away on the corner of Brunswick and Johnston St. In fact, it's Portia de Rossi's favourite bar in Melbourne. And in 2017 it got even better, with the addition of a sweet rooftop beer garden and bar. This is our top Fitzroy pick for summer afternoons and lazy Sunday sessions. Along with Naked In The Sky, it's one of the few rooftop bars in the neighbourhood, and the views are on par with the ones from Pride Rock (you can make up your own mind which suburb counts as the 'shadowy place'). There's a hefty wine and cocktail list up here, plus a solid craft line-up on the taps. Food-wise, wrap your gob around burgers like 'The Jack Nicholson' (fried chicken and mac patty) or 'The Fitzy' (beef, cheese Doritos, and bacon). Yep, Doritos in a burger. Not even kidding.
Mr Wow's Emporium
The tagline here is "purveyors of fine drinks, good times and bocce", which is pretty accurate. Mr Wow's Emporium is from the same guys that brought you Lily Blacks, Double Happiness and New Gold Mountain. It's a cosy cocktail and wine lounge with a crackling fire, friendly bar staff, and even a sunny courtyard for when Melbourne's weather decides to be decent. The cocktail list gets updated seasonally, but at the moment you can try creations like the Posh Poodle (Havana Especial, Plantation pineapple rum and house-made lavender syrup) or Pot O' Gold (12 year-old Irish whisk, mixed with Jameson, Pedro Ximenez, lemon juice and bitters—woof). Probably play bocce before trying those...
Pixel Alley
Ahh Pixel Alley. You know just how to push our buttons...usually in an up-down-up-down-A-B-A-B combo that unleashes fireballs from our eyeballs. Welcome to one of Melbourne's few dedicated gaming bars (other good ones include Bartronica in the CBD, GGEZ, Queen of Spades and Pixel Bar). There's nearly 100 retro games squished into Pixel Alley, just below Mr Wow's Emporium on Smith St, including time-worn faves like Street Fighter, Mortal Kombat and Donkey Kong. The walls are covered with retro pixel art from Justine McAllister, and up at the bar they're slinging alcoholic bubble cups, 'Boss Level' cocktails (try the Bowser with flame-infused gin) and Bastard Son American pale ale on tap. Just call it our happy place.
The Rochey
The Rochey has gone through a number of incarnations over the year. For a while there it was languishing in the realm of sticky-floored saloon (still a lot of fun, but you wouldn't take a date there). But we're happy to say the place is BACK with a vengeance, thanks largely to a kitchen takeover from chef Mischa Tropp. It's now serving spicy southern-Indian food (heavy on the cumin, fenugreek, cinnamon and cardamom). But the rocking pub side of the businesses is still going strong. Don't miss the mid-week happy hour from 3-7pm on weekdays, or free comedy upstairs on Thursday nights. And for cocktails? Try the Lady Luck: Beefeater gin, absinthe, Pampelle, passionfruit and pineapple. Scrumptious.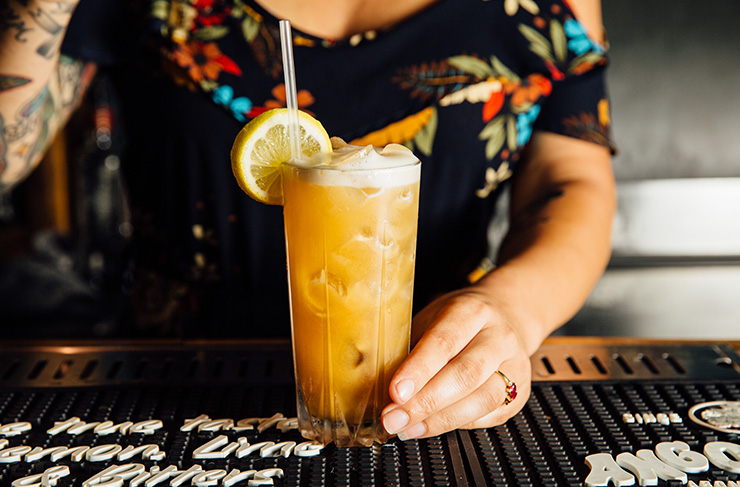 Photography: Annika Kafcaloudis
The Shady Lady
Gloriously kitsch, enthusiastically whimsical, shamelessly boozy—that's how we'd describe The Shady Lady, Johnston St's new shabby-chic Tiki cocktail bar. Co-owners MandyJo Reinier, Rosie and Georgina Maughan have created something really cool here—a Fitzroy bar that doesn't fit into any neat, pre-defined category. They're slinging Furphy and picklebacks for $13 (a shot of whisky, chased with pickle brine), plus a range of fruity cocktails. The interior looks like a cross between your Grandma's house and a dive bar—gold-flower wallpaper, bric-a-brac on every possible surface, and a cosy little timber beer garden out back. Big ups for their tinnies choice too: nice to see Tecate and Balter on there.
Labour In Vain
From the very new to the very, very old. Labour In Vain was built back in 1853, at a time when Fitzroy was not exactly what you'd call 'prime Melbourne real estate'. And even though the suburb surrounding it has gentrified, Labour In Vain is still one of the best spots to get a taste of the 'rea;' Fitzroy: tired furniture from the 1980s, carpet that could tell you some stories, and a sunny beer deck that runs regular live music gigs when the weather is good. Don't go expecting artful cocktails (they've nailed the basics, but that's as far as it goes), but you CAN expect a surprisingly solid line-up of froths, including Young Henrys, Moon Dog, 2 Brothers and McCracken's. Keep an eye on the website for upcoming gigs. Local music is pretty much part of the wallpaper around here.
Still hungry? Check out Fitzroy's best restaurants over here.
Image credit: Michelle Jarni