Melbourne's North is probably better known for burgers. But the South is no slouch either (big thanks to South Yarra, Prahran and Windsor for that one). From Port Melbourne to Mordialloc, we smashed the best burgers south of the Yarra, and these our favourites. Fish n' chip burgers, big triple-patty stacks, a South African burger chain and Glen Waverley's best (now flipping in Ripponlea). If it's cheesy and bad for our arteries, we gave it a crack.
Here are the best burgers in Melbourne's South.
Cool Bean Kitchen
Moorabbin
You could drive past this place a hundred times without realising they have some of the best burgers in Melbourne. Cool Bean Kitchen is hidden along the industrial part of South Rd in Moorabbin, and the signage isn't much chop. This is definitely an in-the-know type of burger bar. Both the fried chicken burgers and the beef burgers are mouth-watering, with a great range of sides too.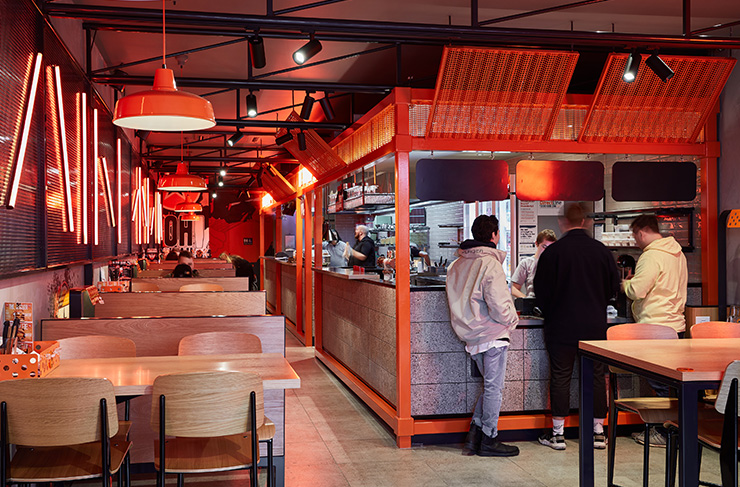 Photography: Griffin Simm
Rocomamas
Windsor
Rocomamas is a cult South African burger bar that's just popped up on Chapel St in Windsor. You'll spot the orange neon from across the street. There's nothing subtle about these smashed-patty beauties: they're saucy, juicy, overflowing with cheese and condiments. Exactly what you want after a big night on Chapel St. Grab a White Oreo Custard Shake and the triple-stack 'Slacker Burger'. Happy days.
Dandenong Pavilion
Dandenong
One of the first to bring the American-style burger to Melbourne. The Dandenong Pavilion used to have a hidden burger menu, but with so much publicity, the so-called secret menu is not really a secret anymore. Just ask your waiter what's grilling today and they'll bring you something ridiculous.
D'Lish Fish
Port Melbourne
As one of Melbourne's most iconic fish and chip venues, D'Lish Fish upped their burger game in late 2017. The beef patties are cooked to perfection and their house sauce goes down a treat. There's six burgers on the menu and you can customise however you want. Our pick? Get a double of 'The Burger', but switch out the buns for potato cakes.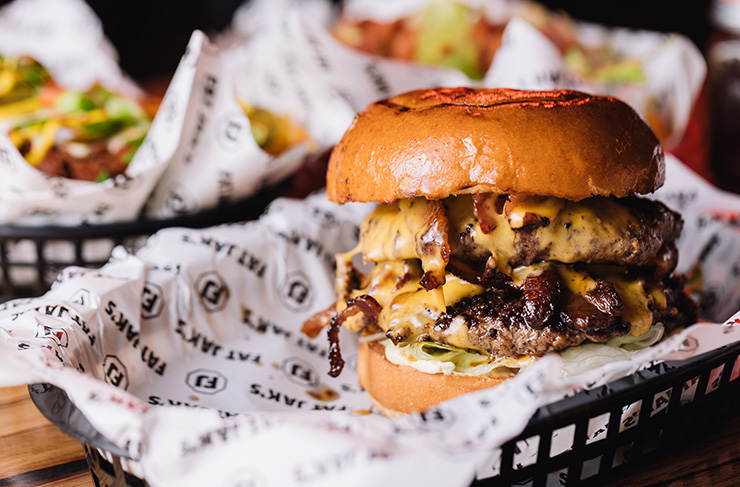 Photography: Griffin Simm
Fat Jaks
St Kilda
Fat Jaks have one of the best menus in Melbourne when it comes to comfort food. We're talking everything from burgers and parmas to pizzas and loaded dogs. Fat Jaks is more than just a burger joint—but daaamn do that do some quality stacks. Doesn't matter if you choose beef, fried chicken or even brisket. Our pick is their riff on the classic Big Mac.
Frank's
Cheltenham
One of the BEST cafe burgers in Melbourne, and could nearly be one of the Top 10 burgers in the city—it was that good. Normally a single patty burger, adding the extra patty for $3 is a must. The extra beef makes the meat ratio just perfect. Keep an eye out for Frank's next time you're in Cheltenham. Side note: the coffee thick shake is unbelievable
Hello Sam
South Yarra
With a new chef in the kitchen, Hello Sam have re-invented themselves over the last few months. They've always been one of our favourites, but with the addition of fried chicken, their fried Nutella burger and a range of loaded fries, they're now on par with some of Chapel St's more famous burger joints. Defs worth a re-visit before you get into summer-bod mode.
Home To Roost
Malvern East
No beef. That's right, no beef burgers anywhere. Home to Roost has made the best burger list without having beef or fried chicken on the menu (!!). You wouldn't believe us unless we shared it with you, but HTR has the BEST grilled chicken burgers in town. If you live close by, you'll know what we're talking about. Not a huge venue or burger menu, but what they do, they do really well.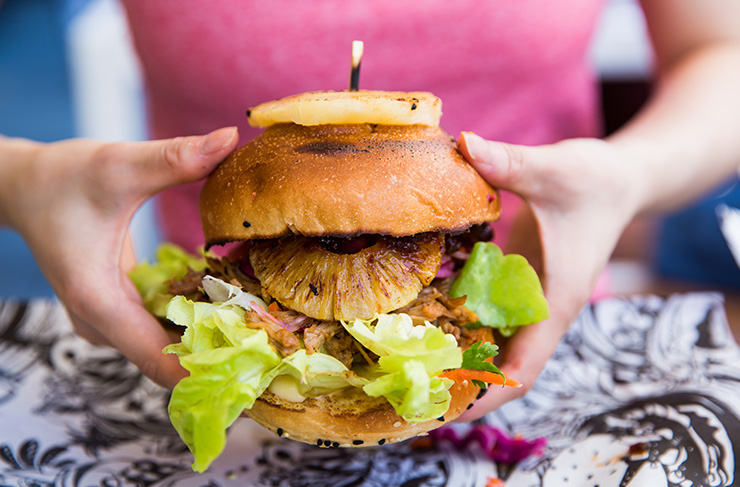 Photography: Jenna Fahey-White
Kung Fu Burger
South Yarra
Ku POW! It's all about the fried chicken at Kung Fu. The 'Minister Chicken' is its name, and big and juicy is its game. Sided with Peking pork tacos, Bruce's chips and $5 beers daily, Kung Fu Burger is a great addition to the Chapel St strip. Nice to see a brand shaking up Melbourne's burger game with some on-point Asian fusion.
LA Burgers
South Yarra
L.A. Burgers is on Toorak Rd in South Yarra (just opposite the station), and it's doing—hands down—some of the best burgers we've tasted this year. You don't need to travel to the States to get a sample of In-N-Out Burger. L.A Burgers is the next best thing. Our pick: the Third Street Promenade. Triple beef, triple cheese and triple the love. Don't forget a cheeky concrete dessert.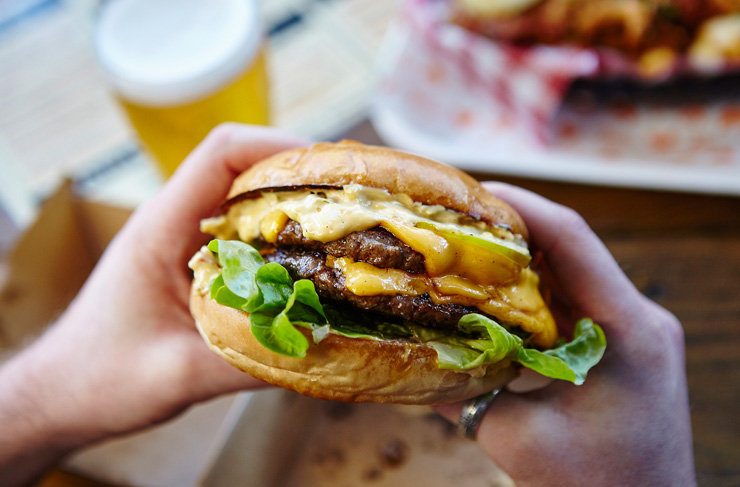 Photography: Michelle Jarni
Leonard's House Of Love
South Yarra
If you love a good slathering of melted cheese, then you'll love Leonard's. From the double cheeseburger to the south side fried chicken burger, Leonard's are doing everything just right. They even have a vegan burger, which aren't the easiest to come by. The hardest bit is finding a table indoors when the night gets busy. Pro tip: add potato tots to your burger. No regrets.
Little Food Hut
Mulgrave
Don't judge a book by its cover is the moral of this story. If a place is recommended to you from a reliable source, and you're nearby, give it a crack. The Little Food Hut is exactly that—you could drive past this place and not even blink, but once you've tried the burgers, that won't happen again. Quality all 'round. From the beef to the bacon, fried chicken and gravy fries. Don't miss the Slick Rick with a Chick.
Nostimo & Co
Elsternwick
Take your pick: Mi Goreng Burger or the Chief Wiggum, which has a chocolate doughnut instead of a bun. The crew at Nostimo are coming up with some crazy ideas, and each one tastes better than the last. Pair your burger with a Nutella milkshake and fries and your set. Definitely worth checking out their Insta feed for some #foodporn inspo.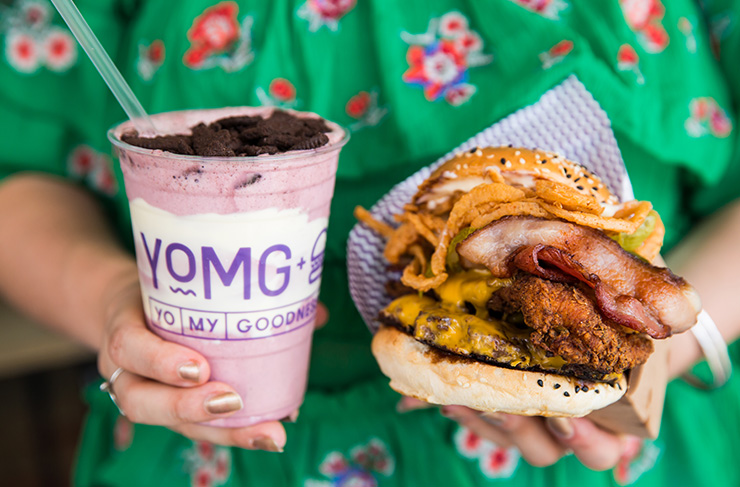 Photography: Jenna Fahey-White
YOMG
Mordialloc
YOMG has become a legit destination for serious burger-lovers—locals and non-locals alike. YOMG gives a whole new meaning to the expression 'treat yo self'. As far as truly delicious and quality comfort food goes, the Mordialloc store is about as good as it gets (there's also one in Glen Waverley). The menu is split into burgers, fries, shakes and wings, and then there's the frozen yogurt bar, which includes every topping you could possibly dream of. Solid pick.
PHAT Pizza Burger Bar
Elwood
From the team behind Lezzet Turkish Restaurant, PHAT is keeping it simple. It's been set-up as a fast-food / quick stop kind of venue. Burgers are being sent out of the kitchen in record time (usually 5-8 minutes). If you're looking for a quick bite that'll satisfy the cravings but not be too OTT, Phat Pizza is the place for you. Also serving some quality pizza, as you might have guessed from the name.
The Blufff
Sandringham
The Blufff opened its doors in Sandringham in late 2017, and made a noise fairly quickly with extravagant milkshakes, burgers and desserts. The venue holds about 40 hungry people, and it's run by two brothers. As a venue specialising in comfort food, everything you get from The Blufff is exactly what you expect. The beef and fried chicken are both juicy, cheese melted to perfection, and the house sauce is magic.
Tuck Shop Takeaway
Caulfield
Occupying a former dodgy fish & chip shop opposite Caulfield Town Hall, Tuck Shop Take Away has been slinging burgers, jaffles, and shakes to hungry locals for more than five years now. All their patties, buns, and fries are made in-house, and when they run out, that's it. You'll have to wait until tomorrow, so make sure you go early. The double patty Major is usually the way to go here.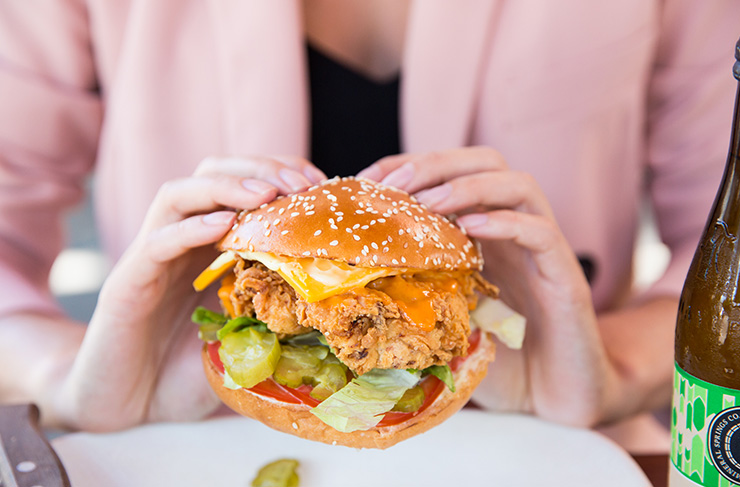 Photography: Jenna Fahey-White
Ziggy's
Balaclava, South Melbourne
Heading to Ziggy's? You need the Recovery—double beef, double bacon, double cheese, double guilt, topped off with pickles and tomato. Ziggy's do have a lot more to offer than just burgers (although there are 10+ on the menu). They also do Shawarma wraps and salads. A nice addition to the Balaclava and South Melbourne burger scenes.
Mr Burger
South Yarra
From burgers the size of your head to something a bit more sedate. Mr Burger isn't interested in Frankenfood monstrosities. They're all about quality (seriously, we once sat in on their patty-tasting session, which lasted long into the night). The burgers here fit into your hand and into your heart. Our personal pick is the Mr Hot: a spicy stack with beef, cheese, bacon, onion rings, chilli mayo and lots of jalapenos. Great kick to this one.
Burgerlove
St Kilda, South Melbourne, Prahran & CBD
These guys have been building OTT stacks since way back in 1994. They've got it down to a fine art. It's probably best for newbies to start with something modest: maybe the Cheeky Cheese (beef patty, double cheese, pickles and a range of condiments). When you're ready, upgrade to The Meataxe, one of Burgerlove's signature stacks: a beef patty, crispy southern style fried chicken, bacon, double American cheddar, onion straws, two jalapeno poppers, lettuce, house-made chipotle and XXX BBQ sauce. Holy mother of god.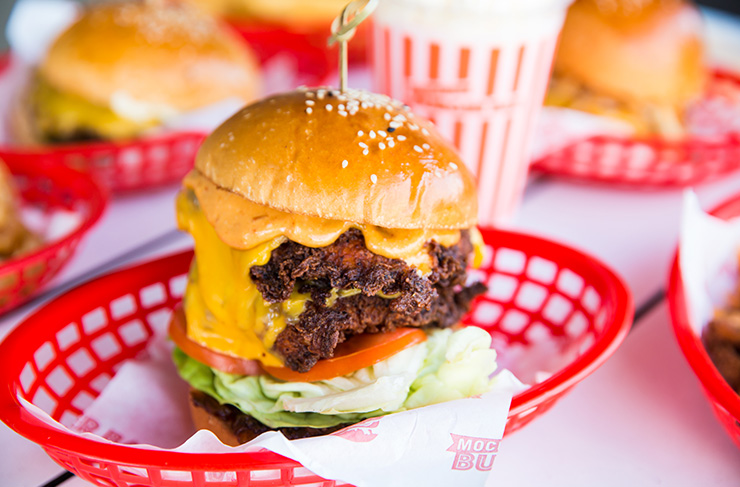 Photography: Jenna Fahey-White
Mocha Jo's
Ripponlea & Glen Waverley
We never thought we'd see the day that Mocha Jo's opened a second burger bar outside Glen Waverley, but here we are. The new Mocha Jo's has just popped up opposite Ripponlea station with a 40-seat diner, slinging outrageous stacks and cheek-puckering American-style thickshakes. Go the The Mac n' Cheese: a panko-crumbed mac patty, beef, double cheese, lettuce, mustard, pickles, jalapenos and brown onion jam. It's a belt-busting mouthful.
California Burgers
Windsor
California Burgers is as close as you're gonna get to legit, In-N-Out style burgers in Melbourne. Owners Theo and Rosemary Tzavaras spend half the year flying back and forwards between California and Melbourne, tasting new burgers, learning what's new on the California scene. The big hunk of raw onion really gives these some zing. And don't forget to ask about their secret off-menu 'Animal Style' patties.
Hungry for more? We've rounded up the best burgers in Melbourne's West and North, plus the best fried chicken stacks in town.
When Brennan's not writing articles about burgers for The Urban List you can track him down at Burgers of Melbourne.
Image credit: Griffin Simm