Wherever you are in the world, the hunt for the perfect coffee continues. And, being an Aussie, you're not going to expect just any old cup of joe. Good news for you guys headed to Amsterdam: we've got a round-up of the best cafes in each district of the city.
Emphasis on café and not ahem, coffee shop. Go to one of those for a whole different kind of hit...
City Centre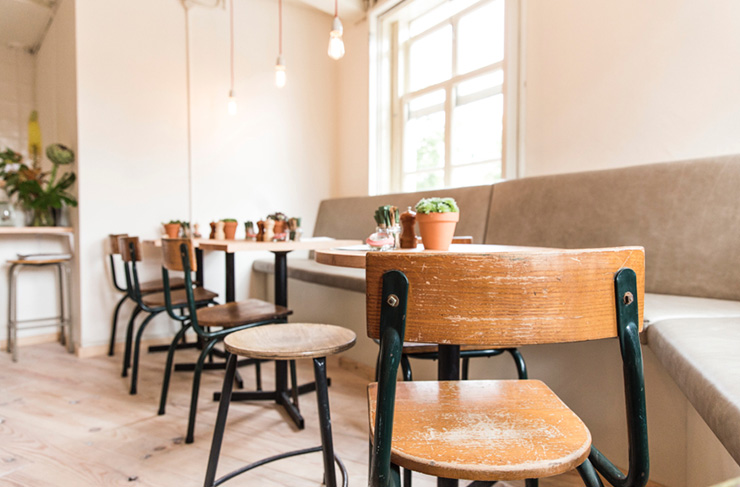 Photography: Culy
Vinnies
Right by one of the busiest tourist strips in Amsterdam, Vinnies café and deli offers an oasis amongst the hustle and bustle. Head here for coffee and the shakshuka eggs, or keep it simple with the homemade brioche with butter and jam.
Pro Tip: Amsterdam can be a bit of a sleepy city (things tend to open late) but Vinnies is ready and raring to go from 7:30am. Perfect for when that jetlag hit hard.
Mook Pancakes
Trust us, your Insta will thank us for this one. Pancakes stacked up high, piled up with fresh fruit, and drenched in chocolate and peanut butter. It's all about balance, right? The pancakes at Mooks, both savoury and sweet, are made with wholegrain spelt flour, and there's no added sugar or salt in sight. Plenty of melted peanut butter though. I know we mentioned that, but it feels important to reiterate.
Black Gold
When you need to duck out of the rain (this will happen often) but want to avoid the masses, Black Gold is the place to go. Trust us, this place won't physically fit the masses. Luckily, the small size only adds to its cosy vibe. It's tucked away down a side street right by Nieuwmarkt. Browse through a collection a range of vinyl records as you sip down a quality capp. It all feels very Melbourne.
Amsterdam East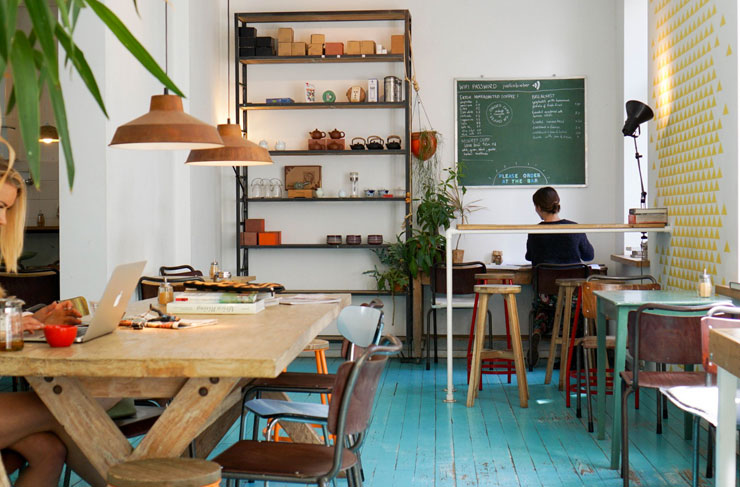 Photography: Coffee & Stories
Rum Baba
Our personal favourite, Rum Baba offers up some of Amsterdam's best coffee in the ever-groovy Amsterdam East. Sit with the locals at this laid-back cafe, sipping on a quality coffee (brewed just down the road at their bakery and roaster—another good spot to visit) and scoffing down a toastie with cheese and chorizo. Pro tip: grab a slice of the Appel tart. It's a Dutch classic, and you'll struggle to find anywhere doing it as good as Rum Baba.
Bar Louie Louie
Ask just about anyone where to go for brunch in Amsterdam east, and they'll suggest Bar Louie Louie. The range isn't huge, but they know what they're doing. That goes for the coffee too. Go all out with the 'Compleet Ontbijt' and be treated to scrambled eggs on toast with avo, a classic Dutch pancake with icing sugar and maple syrup, Greek yoghurt with honey, and some seasonal fruit salad. Yeah, you won't go hungry here. The café (turned bar in the evenings) is super funky inside, and only a hop, skip and a jump from Oosterpark for a nice stroll to work off the calories afterwards. Heads up: the menu is in Dutch, but the wait staff are ready and willing to help you out.
Badhuis
If you find yourself in Amsterdam east in the Winter, specifally the Indische Buurt, get yourself over to Badhuis quick smart. Like Bar Louie Louie, this one offers up lunch and dinner, and it's a great spot for a wine, but sitting by the fireplace while you sip a fresh mint tea (literally fresh mint in a glass of hot water, honey on the side–you'll find this all around the Netherlands) is good at any hour. Plus, this café, housed in an old Bath House, has two resident cats that pop up every now and then for added charm.
Amsterdam West
Caffenation
A must-visit when you make your way over to the west. Caffenation takes their coffee seriously, but it's all good vibes when you step through that door. With seasonal blends changing on the reg, masterclasses on offer, and jars of cookies on each table, you'll have to be dragged away. After an Insta amongst the cosy décor and abundant plants, of course.
Foodhallen
Okay, so this one isn't so much a café as it is a food hall, (in fact, it's not a cafe at all) but is anyone really going to say no to that? You might not leave with a good coffee but deep down you know you really wanted that G&T instead. Built inside an old tram parking structure it's got those hipster vibes down pat, but the food stands on its own. Burgers, Bitterballen (the classic Dutch beer snack) and tasty Asian eats await.
De Pijp
Scandinavian Embassy
Not the actual embassy (although we don't doubt they have awesome coffee there too). No, this unassuming little café is more focused on brewing the perfect blend than processing your visa. Come for a great cup of coffee, or enjoy some of the best breakfast in town. Be sure to grab a cinnamon scroll, baked in-house each day (even better if you manage to grab one right out of the oven. So buttery, so good).
CT Coffee and Coconuts
This is one you're definitely gonna want to check out, even just for a squiz. It's an old theatre and cafe, built over three floors, and a major student hangout. And with its comfy beanbags, laid back beach-shack décor and chilled vibes, it's easy to see why. Come for CT Coffee and Coconut's atmosphere, stay for the coconut milk cold brews and tasty eats. We're getting the Brioche French toast with seasonal fruit, ricotta, almonds, lavender, honey and basil every time. And the green coconut bowl. And the Magic Mango lassi, with mango, yoghurt, mint, honey, orange blossom and masala magic. We're gonna be here for a while, is what we're saying.
H/Earth
Escape the hustle and bustle of the Albert Cyup street market with H/Earth, one of the cutest spots in De Pijp—and that's saying a lot. The friendly staff offer up a seriously good brew, best followed up with one of their delicious vegetarian and vegan eats. We're talking homemade pasta, an array of hearty soups, and sushi. No getting stuck with a side salad here. Plus, there's art from local artists for sale around the place, live music performances, and, most importantly, the seats are swings. Yep. Swings. Note: No entering H/Earth until you've tried a fresh Stroopwaffel from the market. That's a non-negotioble.
Amsterdam North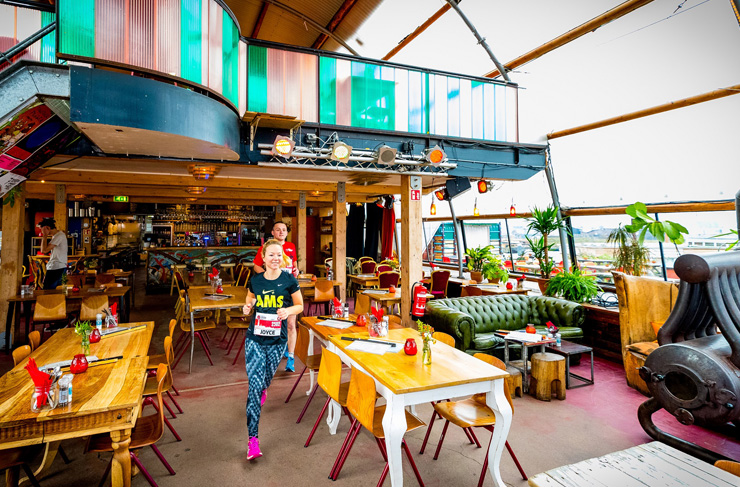 Photography: Amsterdam Urban Trail
Noorderlicht
Only a short ferry ride from Central Station, if you're headed to Amsterdam North, chances are you're headed to Noorderlicht cafe. Right on the water, this local favourite is the perfect place to while away a sunny afternoon as you take in a live gig, festival or just meet some mates for a drink. But if you're just after a tasty lunch or a caffeine hit, they've got you covered too. Sip down a latte while you polish off a goats cheese and smoked eggplant toastie, or chuck back a hot choc spiked with dark rum to warm you from the inside out in the colder months (so, most of them).
Pllek
Okay, if you're not headed to Nooderlicht for a bite, you're headed to Pllek. Made from old shipping containers inside and a 'beach' overlooking out the water out front, there's a reason this one is so popular. Go for the greek yoghurt with seasonal fruits, nuts and seeds (or coconut yoghurt for a vegan option) and keep the good vibes coming by catching a yoga sesh right after. When there's not a festival going on, that is. What a mix, hey.
Jordaan/ The Nine Streets
So technically these are two areas, but if we didn't combine them we'd never finish this article. Stop it Amsterdam, we can't keep up!
Honestly, there are so many good cafes in this district that you can't really go wrong. Trawl through one of the prettiest parts of the Amsterdam and you're sure to find a winner. But fi you're after a little more guidance…
Ree 7
When you hit that mid-afternoon slump, duck into Ree7 and let them rejuvenate your soul with a quality cup of joe. Wide windows letting sunlight stream in, exposed brick, fresh flowers, a cute upstairs seating area—the whole vibe is very wholesome. Particularly when you add in a slice of homemade carrot cake. If people-watching is more your thing, nab one of the outdoor tables and bask in the absolute charm of this city. Heads up: just down the road is the every busy Pluk café, another cute option for brekky. If you can beat the queues.
Winkel 43
If you're going to the Netherlands, you have to try Apple tart (Don't quote me on this but they may actually kick you out of the country if you don't). And if you're going to eat apple tart, you might as well try one of the best, right? Join the masses at Winkel 43 and order your fresh mint tea and a generous slice of Apple Tart. With cream, please. Don't even bother looking at the menu. They know why you're there.
Wanting to try some cafes closer to home while you plan that trip? Here are the best breakfasts in Melbourne.
Image credit: Jenna Fahey-White