For anyone that enjoys the occasional cake, Danish, croissant, éclair, hot chocolate, macaron or lemon tart, Melbourne's a pretty good place to be. The city has almost as many dessert bars as it has dentists—a correlation that works out pretty well (for the dentists). If you want something that's gonna torpedo your diet and make the top button of your jeans explode, you've come to the right place.
Presenting our list of Melbourne's best dessert parlours, high tea salons, chocolate factories, bakeries and waffle houses. If your Mum asks, tell her they're salad bars.
Cakes & Desserts
Om Nom
Start with the best, right? Om Nom at the Adelphi Hotel is Melbourne's pre-eminent sugar temple. If you want to impress someone, take 'em here. There's an a la carte pudding menu, but it's rarely a bad idea to sign up for the $48 Dessert Degustation. Think vanilla panna cotta with Granny Smith apple jelly, peanut butter parfait with choc-coated rice bubbles, or maybe some coconut sorbet with Malibu foam and pickled pineapple. Yeah, these guys don't muck around.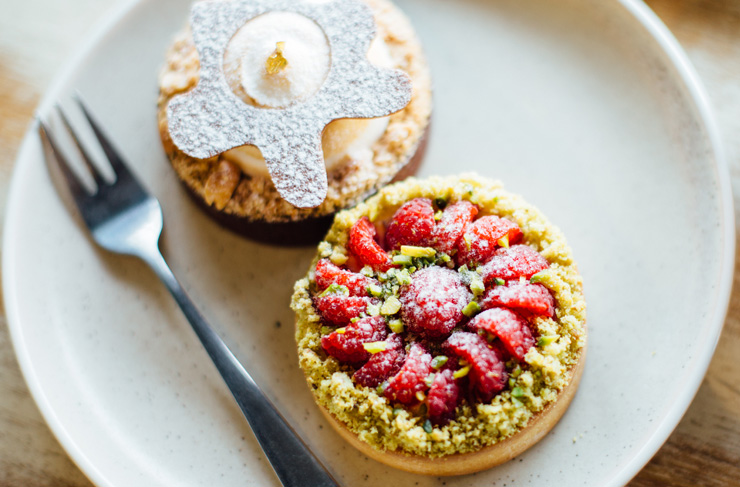 Photographer: Annika Kafcaloudis
Don't Lose Your Temper
Home to the best hot chocolate in Melbourne. Ex-Vue de Monde pastry pros Anthony Hart and Michael Furness opened Don't Lose Your Temper on Johnston St in 2018. The name refers to the delicate art of chocolate tempering (AKA The Doom Of Masterchef). Take our advice and order a cup of the 40% Jivara hot chocolate, plus a 'Banana Splat' banoffee tart (one of their best sellers). A choc pastry shell, piped with salted peanut caramel, banana and white chocolate custard ganache (err wtf), toasted vanilla marshmallows and peanut crumble.
Brunetti
Brunetti's is as Melbourne as a black coat and a three-quarter latte (in fact, their three-quarter lattes are bloody good). But we're here for sweets, right? The encyclopaedic 'mignon' selection is legendary: tiny lemon meringue tarts on a shortbread base, Torta di Arancia doused in orange glaze, feuilletine praline topped with dark chocolate mousse. It'd take weeks to try them all. Personally we're a sucker for their crumbly cannoli. It's a tough call though: the pastry counter here is the dessert equivalent of Sophie's Choice.
Bibelot
If you're talking desserts in South Melbourne, there's only one name you need to know: Bibelot. You'll find it at the Coventry St entrance to Chez Dre. The first thing you notice in here is the 5m dessert bar, loaded with a rainbow mix of petits gateaux: tiny tulips made from chocolate figs and wine, jasmine and lychee puddings, plum and Hojicha tarts (topped with tiny icing flowers), citrus slices you'd sell a kidney for. There's realy no way to go wrong here, but ask the friendly staff behind the espresso counter for some tips as to what's new. If cakes aren't your thing, try the 100% fruit purée artisan gelato. The perfect snack for a sunny day in South Melbourne.
Cafe Zumbo
Legendary croquembouche sadist Adriano Zumbo launched his first Melbourne dessert cafe a few years ago in South Yarra. The restaurant and diner section is undergoing a significant renno, but the dessert counter on Claremont St is still pumping out banoffee blondies, double-choc lamingtons, the legendary V8 Vanilla Cakes and 'Zumbarons' by the truckload. If you get up early enough you can watch the Zumpa loompas (trademarked) toiling away through the glass windows on the Daly St walkway. For sweet tooths like us, this is basically cake porn.

Photography: Max Kruse
Waffle Press
Not many people know about this one. It's a coin laundrette and authentic Belgian waffle house that's Richmond's blood sugar levels up since 2017. You can wash your jeans and load up on waffles with fresh strawberries and Nutella, or Oreo-crumbled cookies and cream, all at the same time. Waffle Press owner Amelia Le is serving up two kinds: liège and 'Brussels'. Brussels are your classic waffle, while the liège are denser, chewier flecked with little pearls of coarse sugar. Both are drop-dead delicious.
Birch & Purchese Sweet Studio
Birch & Purchese is the brainchild of husband and wife team Darren Purchese and Cath Claringbold. Their dessert bar on Chapel St has become a bit of a sugar mecca for travellers staying at the Olsen Hotel, just down the road, but they also do huge and intricate cake installations for weddings and other big events. The single origin triple choc cookies are truly a thing of beauty, but B&P also does their own range of dessert condiments. If you swing by for a chocpop, don't leave without a jar of their ridiculous salted caramel spread. That stuff makes Nutella look like toothpaste.
Hopetoun Tea Rooms
If you could ingest calories through the eyes, Hopetoun Tea Rooms (est. 1892) in The Block Arcade would cause more worldwide weight gain than McDonalds. It's almost impossible not to stop and stare through the windows at the twee, Miss Marple-esque decor and the frankly alarming window display. Expect apricot pistachio tarts, piled high with fresh strawberries, black forest gateaux, creamy vanilla slices, stacked 12-inches high, and a lemon tart that'll make your cheeks pucker. If you're going on Saturday & Sunday, prepare to queue big-time. And Mother's Day? It books up a year in advance. No joke.
Raw Trader
Raw Trader is basically a successful dessert bar without the fun stuff. They specialise in raw, gluten-free, vegan, paleo, sugar-free and organic desserts...which kind of sounds like something you'd use to discipline naughty grandchildren. But the pastry wizards here actually manage to make this food taste GOOD. Really really good. Don't believe us? Order up some of their famous Almond Snickers Cake or the wicked caramel slice and tell us why we need sugar again. Pro tip though: don't bring in any doughnuts from Short Stop nextdoor. They frown on that here (it's a "gluten-free zone").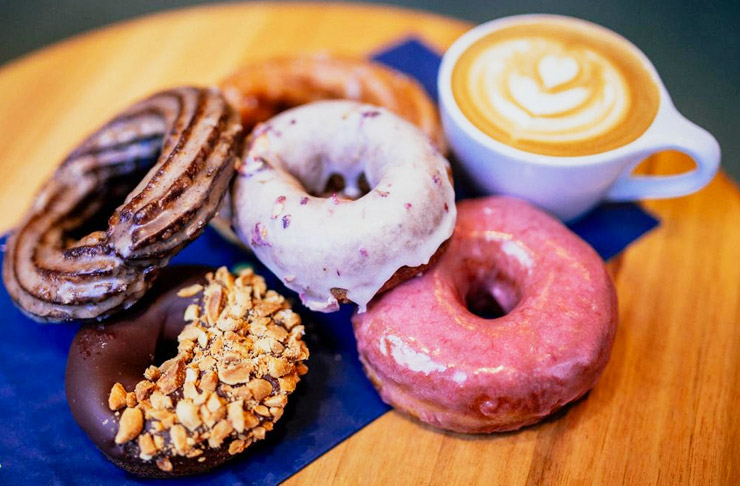 Short Stop
Speaking of Short Stop, if you like your desserts with (you know) sugar in them, you might want to give Raw Trader the organic vegan flick and come here instead. They're a backstreet doughnut and coffee shop in Sutherland St, just behind Elizabeth St in the CBD. It's not about volume with Short Stop—they only bake half a dozen flavours each day, and the doughnuts are usually gonski by around 2pm. Fingers crossed you catch them on Maple Walnut & Brown Butter day...or Earl Grey & Rose day...actually they're all pretty f*cking amazing. Grab a coffee while you're there—they do espresso or filter, both from Market Lane.
La Belle Miette
It's probably fair to say Melbourne's short-lived obsession with the macaron is over. We're partial to the odd one, sure. But it's not like 2008 when the city went macaron mad and people were selling their kidneys for a Strawberry Passionfruit & Rhubarb. Still, when the craving strikes, nothing beats La Belle Miette. Their macarons are made from pure fruit purees and premium grade South Australian almonds. 'Lemon Crisp' is one of the best, but they also do a range of artisan chocolates and truffles. Proper choc too: sourced from French chocolate house Cacao Barry and Belgian Callebaut. Check 'em out on Collins St or in Hardware Lane.
Proof Is In The Pudding
The proof really is in the pudding with this place. More specifically it's in the Almond Ganache Torte, a dessert that made founder and head baker Isabelle Bach a household South Yarra name. These days Proof Is In The Pudding does a lot of bespoke cakes for fancy events, but you can still stop by their dessert cafe (The Baker's Bench) for a slice of red velvet cheesecake or an 'Afternoon Delight': moist chocolate cake, creamy strawberry coconut drip, vanilla bean cream and sparkle-dipped strawberry. Tastes like Neapolitan ice-cream on steroids. Keep an eye out for their dessert bento boxes too—very good for surprising work colleagues.
Aix Crepêrie Salon
There are a few Crepêries in Melbourne, but Aix is still our favourite. First for location: it's up the end of Centre Place, AKA Melbourne's best people-watching spot. Second for quality: owner John has been turning out beautiful and delicate desserts crepes for decades now. It's usually best to keep things simple here: grab one of the teeny tiny tables near the street, order a lemon and sugar crepe (or Tiramisu with coffee syrup, double cream and hazelnuts if you're feeling frisky) and enjoy your little slice of Melbourne heaven for the next 30 minutes. John hasn't gotten round to building a website yet, but you'll find him at 24 Centre Pl, 6am – 5pm.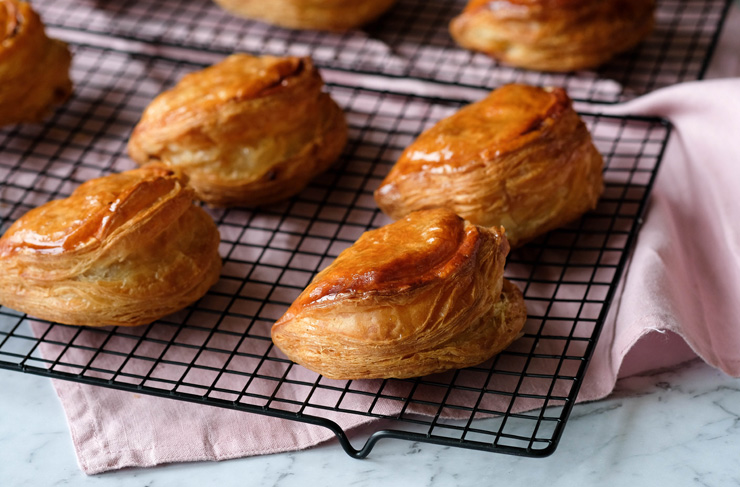 PAFU
A dessert bar that sells just one dessert? Crazier things have happened. Plus, the moment you put a Pafu in your mouth, you'll understand why this place doesn't care about anything else. PAFU is a dessert station from the guys behind Hokkaido baked cheese tarts. Their specialty is the Pafu: sweet, fluffy and light puff pastry, stuffed with poached Fiji apples and housemade vanillas custard. That's it. Each one costs $4.20 and is the perfect bite-sized smackerel when you've worked up an appetite shopping at QV.
Bakeries & Treats
Agathé Pâtisserie
Pastry chef Agathe Kerr is a certified genius. Melbourne's unofficial dessert queen qualified from the prestigious École de Boulangerie et Pâtisserie de Paris, and has made a very French splash with her infused croissants (pandan, matcha, café au lait) and cruffins (salted caramel, Nutella, peanut caramel), baked fresh each day in her South Melbourne Market HQ. But then in 2018 she invented the Hot Cross Croissant—a bun/croissant hybrid that nuked all our preconceptions about gimmicky food crossovers. After tasting that, we'll follow wherever she bakes. Check her out at her South Melbourne patisserie, or at Agathe Petite in the CBD.

Photography: Michelle Jarni
Rustica
The Rustica empire has grown over the last few years. They now have bakeries and cafes in Hawthorn, Fitzroy, the old Guilford Ln. site, plus a new grab-and-go cafe underneath The Rialto. It's hard to say which is more famous: owner-baker Brenton Lang's handmade sourdough or their addictive cronuts and bombolini (sugar-dusted wonder nuggets, piped with custard or Nutella). You can always swing by for breakfast of course, or maybe a little dill-cured ocean trout served with chilli labneh, garlic pangrattato and heirloom tomatoes, but really it's the desserts that keep us coming back for more. Easily Top 3 doughnuts in the city.
Lune Croissanterie
If there was a gold medal for Melbourne croissants (and there bloody well should be) Lune would probably win. Certainly if hype and Sunday morning queues are any judge. Every morning Kate Reid enters 'Lune Lab' inside her Fitzroy warehouse, the temperature-controlled pastry equivalent of Mr White's superlab in Breaking Bad. It's futuristic, it's fetishized, and it's the birthplace of croissant perfection. You have to queue here on weekends to get your hand on a box (and people have done for YEARS). Alternatively you can book online and sit down to three courses of pastries with bottomless coffee at the Lune Lab. Believe the hype.
Gontran Cherrier
Gontran Cherrier kind of changed the boulangerie game in Melbourne. This guy (brief bio coming at you) worked for his family boulangerie in Luc-sur-Mer before going on to Michelin-starred restaurants and opening his own kickass bakery in Montmartre. Ever since opening in Melbourne, it's been one of the city's premier spots for croissants and pain au chocolat (light, flaky and the perfect espresso companion). The French dessert range is pretty exceptional though. You really should try the Chausson Aux Pommes (apple turnover) next time you're in.
Crux & Co
The Crux & Co built its early rep on the Frankenstein-ish 'crogel', a croissant-bagel hybrid they unleashed on Melbourne back in 2016. Since then they've continued to innovate, showcasing the cutting edge of sugary confections in their patisserie on Little Collins St (just near Parliament Station). Right now the only thing you need to know is that they're doing some of the best Hong Kong-style lacquered éclairs we've ever eaten: salted caramel, lemon meringue and bitter chocolate and a bunch of other flavours. If you've got a special occasion coming up, start browsing their online cake gallery. If you don't have a special occasion, start planning one.
Baker D. Chirico
We fell in love with Baker D. Chirico (or 'Baker' as it's known to the locals) before we put a single bread roll in our mouths. The branding is button-cute, and the smell of fresh-baked lemon meringue tarts, choc peanut ganache and sour cherry cheesecakes is enough to make you swear over your life savings for a mouthful. Happily that won't be necessary, as prices are pretty reasonable. If you're popping in for coffee, don't miss the gorgeous Figalicious Tarts with blushing figs, ricotta and candied almonds. There's no better fuel for a lap around the Tan.
Photography: Jenna Fahey-White
Q Le Baker
Mustachioed Quentin Berthonneau is the guy behind Prahran Market sensation Q Le Baker: and you can spot him through the big cafe window, up at the crack of dawn, baking Porridge & black rice bread or a range of sweet treats. Think apple Danishes, croissants that rival Lune, dark choc brownies with a sprinkle of salt (makes all the difference) and limited-edition goodies like Chocolate & Pear Turnovers: housemade choc custard with hibiscus-poached pears and purple wheat puff pastry. There's a reason this guy got gigs at Vue de Monde and Chez Dres.
Chocolate Bars
Koko Black
Koko Black have gone back to their roots over the last year or two. New management meant a new direction: exquisite branding, luxe gift boxes and A-Grade, high-end chocolate. And the switch worked. There's no fresh air between Koko Black and most of the city's other chocolatiers (Haigh's competes with them for quality, but not quite presentation). You can pick up a range of artisan truffles and chocolates, but sit down for a real meal: Dr. Marty's crumpets with French butter and raspberry cocoa nib jam, apple and walnut brioche swirls or choco, raspberry and vanilla cream puffs, topped with coulis. Freaking nom.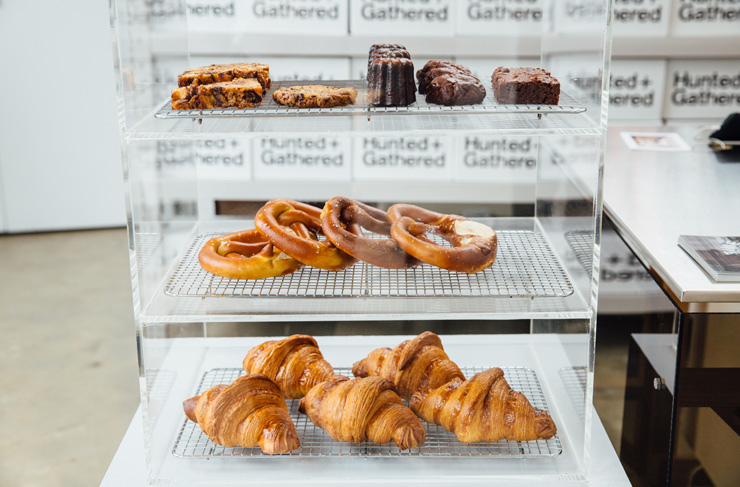 Photography: Annika Kafcaloudis
Hunted + Gathered
In the backstreets of Cremorne there is a nondescript New York-ish warehouse (like every second building in Cremorne). Except this one is special, because inside you'll find chocolate factory Hunted + Gathered, along with their consumer-facing cafe space. These guys have been popping up in cafes and restaurants all over town, but until now the factory doors had remained closed—Wonka style. Now they've thrown open the warehouse, and you can get choc brownies, cakes, pastries and epic hot chocolates (brewed from Dominican Republic cocoa beans). Just follow your nose. You'll smell this place from 200m away.
Godiva
Cult Belgian chocolate house, Godiva, landed in Melbourne Emporium in 2017. It's not just a chocolate shop really, it's more of a concept store. A place for the brand to test new releases, sell limited-edition gift boxes, and tempt you with choc-dipped strawberries while you sip on a silky Belgian hot chocolate. Ask them about the Truffes Legendaires, Super Premium G Bars and the single sachet cookie collection. You'll find them up on Lvl 1, just near the escalators.
Ratio Cocoa Roasters
The brains behind Ratio, Debbie Makin, wanted to bring a proper bean-to-bar experience to Melbourne, so she created Ratio in 2017. It specialises in single origin, handcrafted, small batch chocolate with zero preservatives and additives. Better yet? They do regular behind-the-scenes factory tours. Our tips are the simple dark chocolate (a mix of cocoa nibs and organic raw cane sugar), the choc brownies, served with vanilla bean ice-cream, and the uber-rich chocolate milkshakes.
Atypic Chocolate
The rich, chocolaty heart of the South Melbourne Market—Atypic has a similar ethos to Ratio. Been to bar, handcrafting single-origin, small-batch chocolate. That's the name of the game. And thanks to the big glass windows on the store, you don't just get to taste the final product, you can see how it's made. In summer they run artisan chocolate soft serve, but there's also a range of choc-based pastries (the brownies and hazelnut merveilleux are our pick), single-origin choc tablets, meringue with organic praline and Euro-style hot chocolate. Next time it's blowing a gale at South Melbourne Market, swing by for one of these. It'll warm the cockles.
Hungry for more? Here are all the best desserts you should be eating in Melbourne.
Image credit: Annika Kafcaloudis