According to Wikipedia, a mushroom (or toadstool) is the "fleshy, spore-bearing fruiting body of a fungus, typically produced above ground on soil or on its food-source"…Doesn't sound so appetising, does it?!
But praise Mary hallelujah! Being the highly intelligent genii we Urban Listers are when it comes to all things food-related, we NEVER let a disconcerting definition get in the way of us devouring any form of food that crosses our paths (cock-a-leekie soup, anyone? Yep, that's a thing…).
Thus we are afforded one of life's true joys – devouring, brunch-in-brunch out, the delicious fungus that is the glorious MUSHROOM! Because we're certain you're as intelligent as we are and also love a good mushie with your eggs in the morning, we've rounded up the best mushroom breakfasts on the menus of some of Melbourne's best cafes.
Admiral Cheng-Ho & Monk Bodhi Dharma | Abbotsford & Balaclava
Whether you're a true-blooded hipster or as mainstream as the river Nile, no one can deny that these vegan-friendly sister spots are two of Melbourne's best cafes. And the mushroom dish they share is, frankly, off-chops delicious. Well done, Admiral Cheng-Ho and Monk Bodhi Dharma, well done.
The Dish: Umami Mushrooms
Slow roasted king oyster, shitake, oyster and Swiss brown mushrooms on a house made pumpkin, spinach and sun dried tomato polenta bread. Served with almond feta cheese, thyme and red chili oil.
Wide Open Road | Brunswick
If you like your mushrooms big and brown, baked with nutritious 'n' equally delicious black beans, and served in a warming terracotta pot, then Wide Open Road's mushie shakshuka is one of the best breakfast options for ya' to sink your fork into!
The Dish: Mushroom Shakshuka
Served with black turtle beans, preserved lemon chermoula, goats curd, a poached egg and sourdough toast.
Three Bags Full | Abbotsford
Anyone who's anyone has been to Three Bags Full, 'tis true. And anyone of these anyones who are 'in-the-know' (like us) has tried the mushies. Ask any mushroom aficionado, and they'll tell you to speedy-Gonzales your way into Three Bags Full for one of the best breakfasts in Melbourne. STAT! (Editor's note: their smashed av also made it onto our list of 50 Meals you should have eaten if you live in Melbourne).
The Dish: Pan-Fried Mushrooms
Served on toast of your choice, with shallot, herbs, goats curd and almond dukkah.



Image credit: Three Bags Full Facebook.
Patch Café | Richmond
The latest Paleo café to hit the streets of Melbourne, Patch is winning over cavemen and contemporary-men alike with its delectable fare. And it's not surprising, with a menu spotted with primal dishes, that the humble mushroom is a clear standout. Oh, and did someone say truffle oil? NOM!
The Dish: Wild Mushrooms
Shitake, woodear, oyster mushrooms, thyme, truffle oil, and poached egg with Paleo toast or sourdough.
Las Chicas | Balaclava
One the most trusted spots for breakfast on the southside, Las Chicas is well and truly entrenched as one of Melbourne's best cafes. With an extensive menu, every dish as delicious as the next, Las Chicas is an absolute nightmare for indecisive orderers. So to save you the dreaded ordering regret next time you dine, just say it with us – 'I'll have the mushrooms, please.'
The Dish: Sautéed Mushrooms
Sautéed field and shitake mushrooms served on toasted sourdough with Yarra Valley feta, thyme and a poached egg.
Industry Beans | Fitzroy
Ummmm, anything with TRUFFLE, MUSHROOM and POLENTA CHIPS for BREAKFAST, gets a big fat TUL tick of approval. And if you want to get scientific about it, 9 out of 10 nutritionists also recommend Industry Beans' mushies.
The Dish: Wild Mushrooms
With a truffle foam, watercress, polenta chips and a poached egg.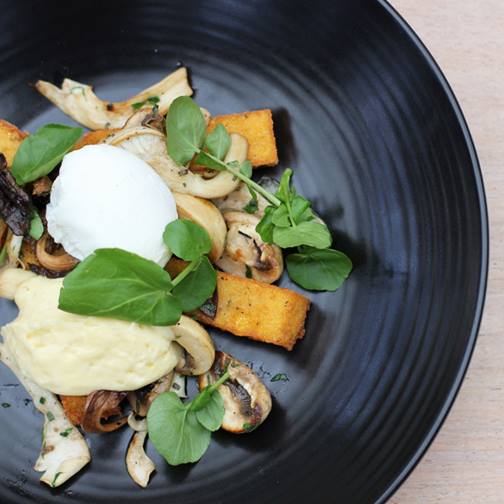 Image credit: Industry Beans Facebook.
Bluebird Espresso | Collingwood
As per the above introduction, anything with BRIOCHE and BECHAMEL gets an epically morbidly obese tick of approval from us. The nutritionists might not recommended Bluebird Espresso's Mushrooms on Brioche though folks…
The Dish: Mushrooms on Brioche
With cheesy béchamel, poached eggs, parmesan and balsamic glaze.
The Grain Store | Melbourne CBD
The Grain Store has one of our favourite interior fit-outs, as well as an equally impressive breakfast, lunch and dinner menu. But of course, being fanatics for the fungi, we can't go past this bad boy for brekkie.
The Dish: Portobello Mushroom & Gruyere Potato Rosti
Served with poached eggs, hazelnut hollandaise and sunchoke chips.
Pilar of Salt | Richmond
Pilar of Salt is a must-try of the Richmond dining scene, and if you've been there you'll agree it consistently delivers some of the best breakfasts in Melbourne. The mushroom number is no exception!
The Dish: Wild Japanese Mushrooms
Served with avocado and goats curd crème, black sesame seeds, wasabi nori crisps and marinated silken tofu on rye.
Two Birds One Stone | South Yarra
If there's one thing we miiiight like more than mushrooms, it's cheese, and whatever they're doing out there in Meredith to make their feta so ridiculously damn good, we'd give our little fingers to make sure they never stop! The combination of roasted mushrooms and feta cheese at Two Birds One Stone makes this dish one of Melbourne's best breakfasts, especially for fungi fanciers.
The Dish : Roasted Field Mushrooms
Served with Meredith feta, chive oil and watercress leaves on toast.
Main image credit: Running With Tweezers