These days, a delicious meal just doesn't seem to cut it with Melbourne's foodie crowd. Oh no, a good pasta or steak just won't do – people want Colour! Creativity! Crazy, I've-never-heard-of-that-but-I'm-sure-it-tastes-delicious type ingredients!
The public asked for the bar to be lifted and Melbourne's best restaurants have delivered, with a slew of venues knocking the whole notion of creativity in the kitchen out of the ball park. Thanks to social media, it's easier than ever to spread the word about these standout restaurants and also, to brag to your followers once you've dined there.
So which Melbourne restaurants should be on your #foodporn go-to list? We've wined, dined and snapped our way around town to find Melbourne's most Instagram-worthy restaurants with meals that are all delicious, beautifully presented and guaranteed to rake in the likes.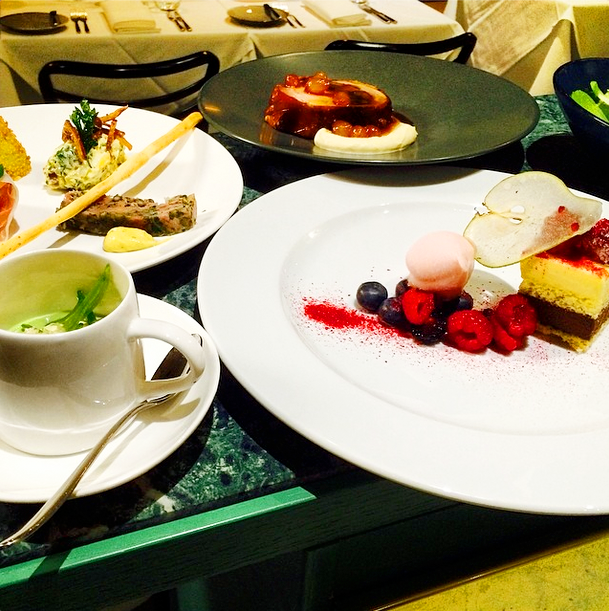 The droolworthy 'The Whole Hog' menu at Prix Fixe. Image Credit: Instagram @prixfixedining
PRIX FIXE | MELBOURNE CBD
Starting off our list of most Instagram-worthy restaurants in Melbourne is Prix Fixe, the new culinary venture of famed chef Philippa Sibley and Melbourne café impresario Jason M. Jones. Prix Fixe is one of Melbourne's most unique dining concepts, a ticketed restaurant with a themed set menu that changes each month. Previous menus have included The Whole Hog (all things piggy related), Ode to Autumn (a showcase of hearty meals and autumnal ingredients), and Vive Le France (delicious dishes that are oh-so-French) with the resulting meals – think porchetta rolled with drunken dates and smoked maple, game terrine with pear and ginger chutney, and confit en brik with caramelised witlof and Paris mash – totally #foodporn worthy. You'd better take those snaps quickly, though, because trust us, you'll want to dig in soon after. Hats off to Sibley, Jones and the Prix Fixe crew!
Follow Prix Fixe on Instagram @prixfixedining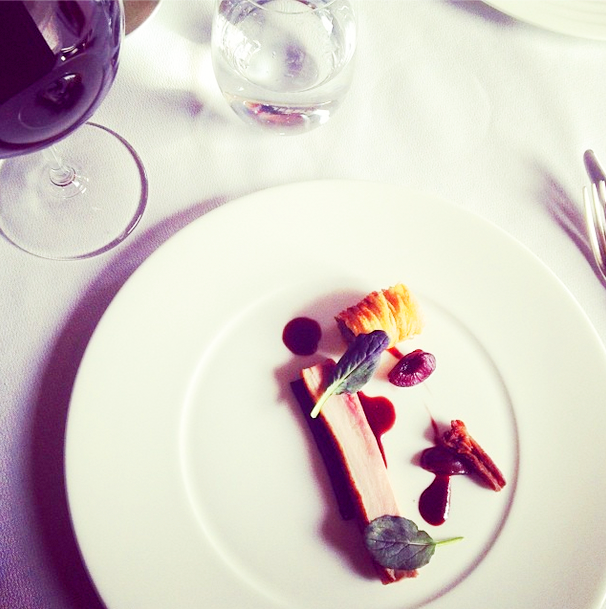 The food at Woodland House is as pretty as it is delicious. Image Credit: Instagram @woodland_house
WOODLAND HOUSE | PRAHRAN
Another of Melbourne's most Instagram-worthy restaurants is Prahran's Woodland House. Set to become a fine dining institution thanks to the incredible skill of chefs Thomas Woods and Hayden McFarland, Woodland House is gathering quite the reputation for their beautifully plated degustation and tasting menus, which just quietly, we think are some of Melbourne's best! The menu at Woodland House features the finest local, seasonal and sustainable produce arranged like pieces of artwork – you won't be able to resist getting your cameras and iPhones out here! The food tastes as good as it looks, if not better, with some of the stellar dishes including Jerusalem artichokes with prickly pear and chestnut cream, and fresh marron with birch poached woodear and preserved grape. Mmmmm. Urban Listers, Woodland House is a Melbourne dining must-try!
Follow Woodland House on Instagram @woodland_house
THE TOWN MOUSE | CARLTON
For anyone's who's a MasterChef fan, you'll have heard of The Town Mouse – the restaurant responsible for the jaw-droppingly beautiful (and tasty) pear sorbet sitting in a nest of piped chocolate ganache, on top of a bed of walnut crumble, poached pear and salted caramel – a.k.a one of Melbourne's most Instagram-worthy dishes EVER. But it's not just The Town Mouse's desserts that will have you reaching for your smart phone – their savoury food will have you tagging #OMG #foodporn #getinmybelly too. Cameras at the ready…you're in for a like-a-palooza with things like octopus, salt baked golden beetroot, globe artichoke, rosemary and fennel, and sand flathead with salted orange, saffron, rapa, pickled leeks and sea blight guaranteed to induce envy amongst your friends and followers. As much a feast for the eyes, as it is the stomach.
Follow The Town Mouse on Instagram @thetownmouse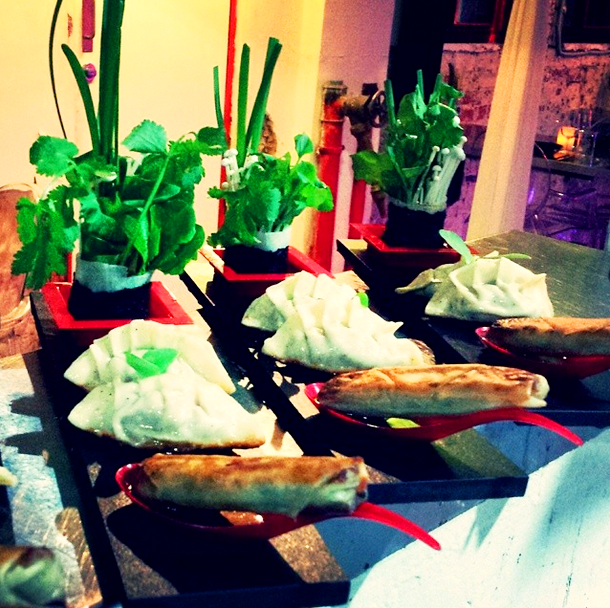 The organic degustation at Shu Restaurant is totally #foodporn worthy. Image Credit: Instagram @shurestaurant
SHU RESTAURANT | COLLINGWOOD
Collingwood's Shu Restaurant is not your average Chinese diner. Instead of dishing out stereotypical Chinese food, the Shu Restaurant team use seasonal, locally grown, organic produce to create mouth-watering, eye-popping degustations – yup, organic Chinese degustation dining is a thing people! (Editor's note: Shu Restaurant does a vegan night on Wednesdays, too). Not content with just creating delicious meals, Shu's kitchen crew put as much work into the presentation as they do the cooking. While the menu changes each night (depending on what's available and in season), things like daikon rolls with cucumber and micro herbs, and five spice beef with ginger, chilli and kale give you an idea of the mini-artworks that will be hitting the table. Snap, tag, and then eat away!
Follow Shu Restaurant on Instagram @shurestaurant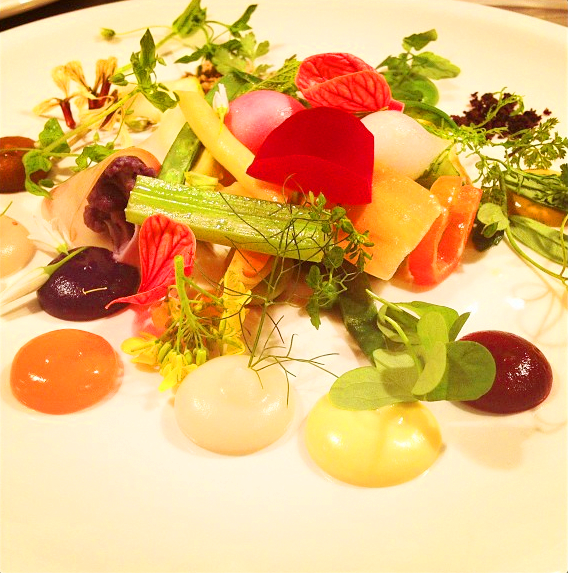 Behold the 'Meli Melo' at Brooks - simply ahhhmazing. Image Credit: Instagram @brooksmelbourne
BROOKS | MELBOURNE CBD
Last but not least on our list of most Instagram-worthy restaurants in Melbourne is Brooks, a gorgeous dining space housed just off Collins Street. Chef Nic Poelaert is not just one of Melbourne's best chefs, he's also one of the most creative – seriously, the food that comes out of the kitchen is almost too pretty to eat (key word – ALMOST!). So what had us scrambling for our iPhones? Let's be honest, pretty much everything, however the two standouts are easily the 'Meli Melo' – a salad of roughly 30 different fruits, vegies and herbs in either their natural form, pureed or tossed in butter – and the 'Forest Floor' – a decadent dessert made from chocolate gateaux and chocolate crumbs, sorrel and mint granita, hazelnut parfait, meringue and tuilles, all arranged to literally look like a forest floor. Simply amazing.
Follow Brooks on Instagram @brooksmelbourne
Have we missed any uber creative restaurants, Urban Listers? Who do you think should be added to the list of Melbourne's most Instagram-worthy restaurants?