Are you on the hunt for your next under-the-radar destination? Look no further because beautiful Buenos Aires has you covered. Boasting European-inspired buildings, rainbow-colored streets, secret fine-dining spots and electric local festivals—what's not to love?
And Buenos Aires is just the beginning. The gateway to South America offers access to some of the world's most incredible destinations—we're talking UNESCO World Heritage-level destinations.
The best part? Air New Zealand will get you there with ease and style on their one-stop flight via Auckland—did someone say champagne?
Convinced? Same. Whether you're travelling solo, with your crew or your significant other, here's everything you need to tick off in beautiful Buenos Aires and beyond.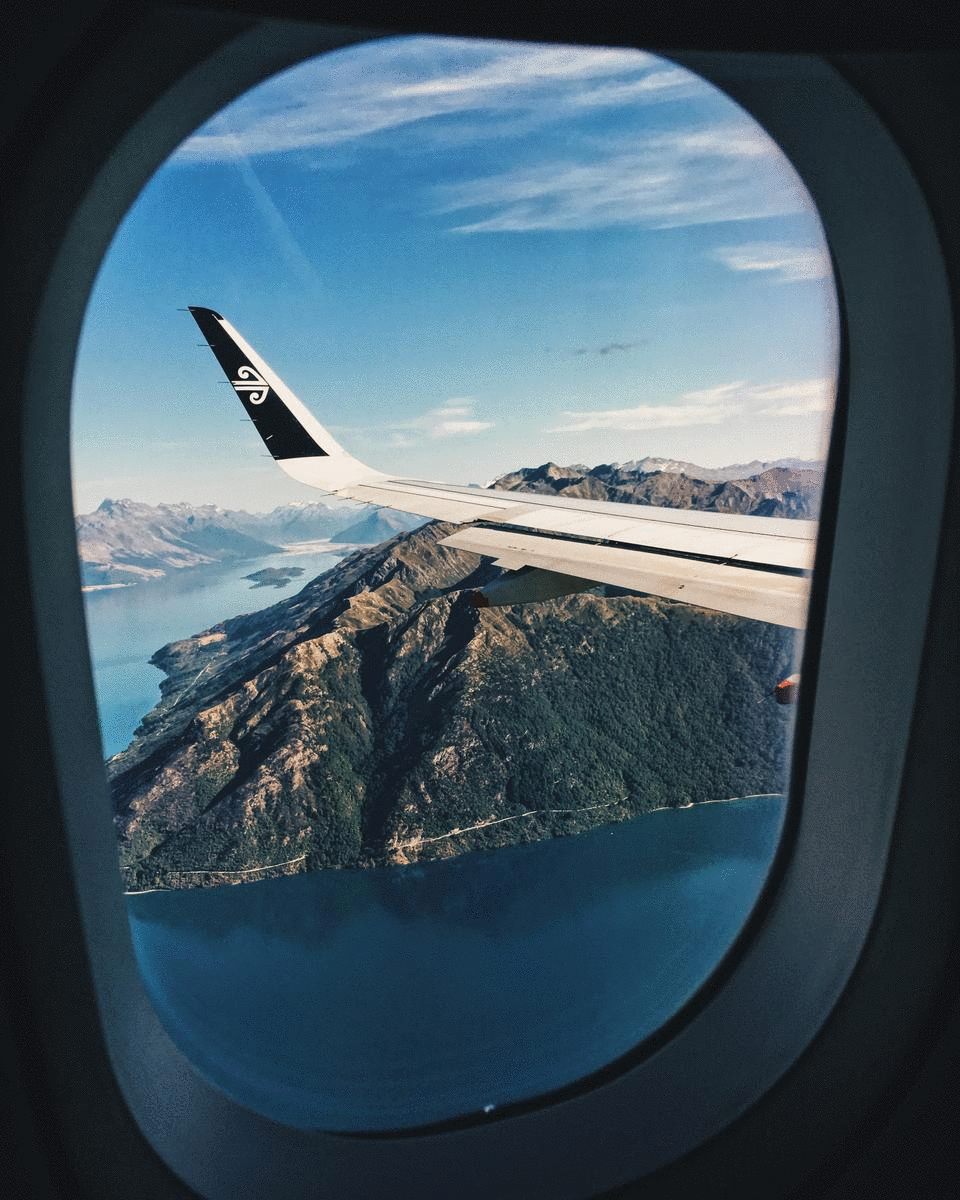 Coupled Up
Buenos Aires is known as the 'Paris of South America,' making it the ideal romantic holiday spot for couples looking for something out of the ordinary. Uncover the sensual secrets of the city including hidden bars, tango dancing and unassuming fine-dining.
Uncover Hidden Next-Level Restaurants
There's this thing in Buenos Aires called puerta cerradas, which translates to 'closed-door restaurants' and it promises to be the most authentic and memorable dining experience of your life. Often hosted by chefs in their own homes, this intimate setting is a way for them to experiment with food—so you're always in for a drool-worthy surprise. For flavourful fine dining with a fresh twist, check out Casa Felix, which serves an ever-changing set menu inspired by chef Diego Felix's travels around South America. For a more social affair, book in at Casa Saltshaker, one of Buenos Aires' original puerta cerradas that offers a shared table and succulent Mediterranean-influenced South American fare.
Get Twisted In A Tango
It's time to impress your lover with some moves—some tango dance moves that is. Originating on the border between Argentina and Uruguay, getting around this sensual dance is a must-do when in Buenos Aires. Master the moves with a beginners class at La Viruta and then hit the dance floor at the historic Bar Los Laureles, a legendary tango bar dating back to the early 1900s. If you're more into spectating than strutting your stuff, book in at Café de Los Angelitos for dinner and an unforgettable show starring 21 professional tango dancers.
Sidle Into A Speakeasy
Buenos Aires' bar game is strong, offering a plethora of secret speakeasies and creative cocktail joints to dazzle your significant other. Hit up Harrison Speakeasy, a prohibition-themed hidden bar tucked away behind a sushi restaurant serving sophisticated vibes and cocktails. Alternatively venture down to the docks where you'll find Florería Atlántico, a basement bar located through the back of a flower shop and a refrigerator door. They're shaking up destination-inspired cocktails and offering succulent seafood bites.
Next Stop | Chase The Iguazú Falls
Trade the bustling city for peaceful nature and make your way north for an absolute must-do, the Iguazú Falls. Bordering Argentina and Brazil, the impressive scene features 275 intense waterfalls plunging down 82 metres of jagged rock and is known as the world's largest waterfall. Once you're done ticking off this bucket list natural wonder, there's plenty left for nature-lovers to explore in the lush subtropical rainforest of Iguazú National Park. Pro tip: from Buenos Aires, getting a plane there with Aerolineas Airlines will be quickest and will save you 15+ hours on a bus.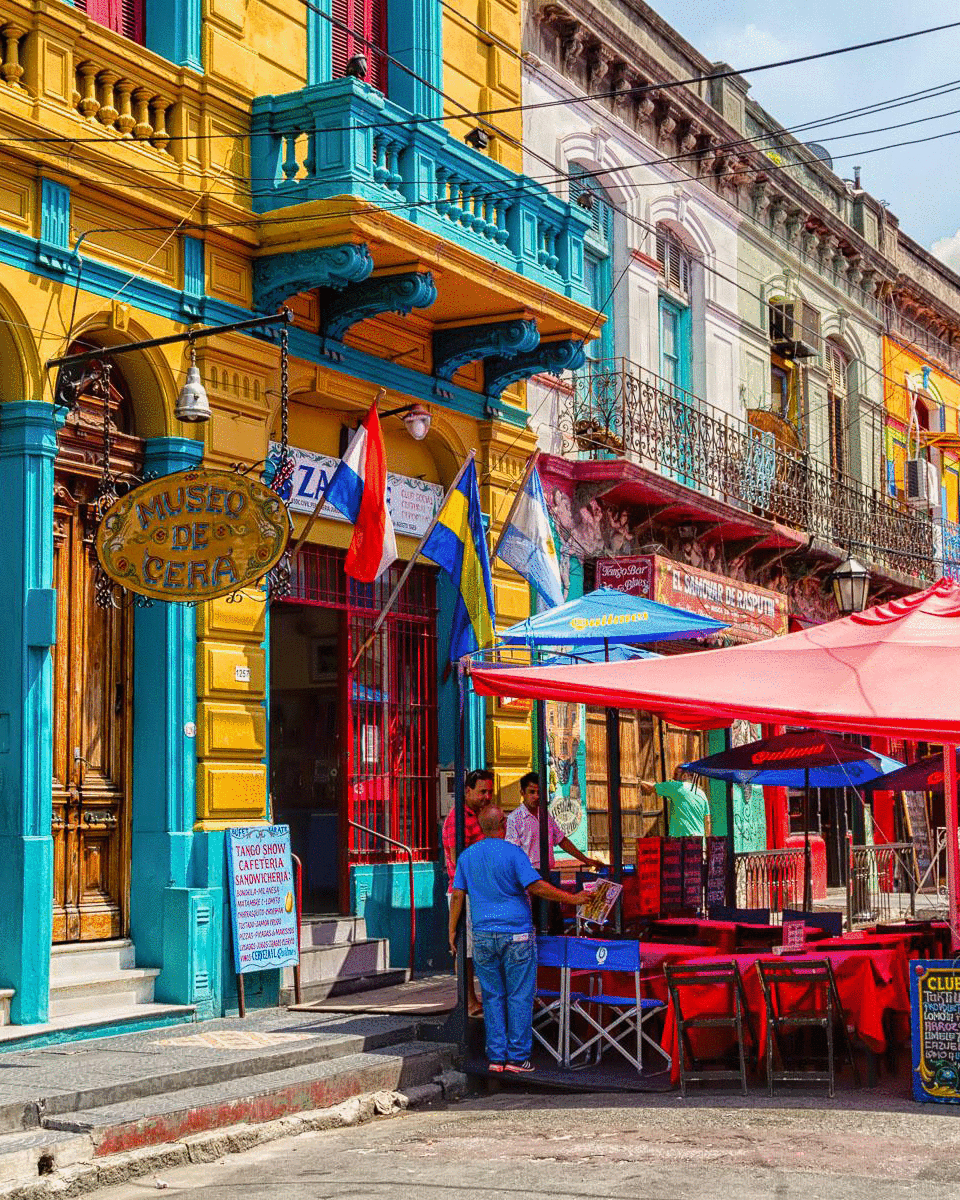 Solo Chicas
Ladies assemble because it's time to Eat, Pray, Love your way across the enchanting content of South America. From creative outings to eclectic markets and high-end shopping, we've sorted your solo trip to Buenos Aires.
Soak Up The Creativity
From vibrant local art to stunning European-inspired architecture, Buenos Aires really does have it all. Flex your creativity at Museo de Arte Latinoamericano de Buenos Aires, also known as MALBA—a stunning venue boasting elegant glass ceilings and modern art from across Latin America, including works by Frida Kahlo. Book-lovers should not miss El Ateneo Grand Splendid, which was recently named the world's most beautiful bookstore by National Geographic. Housed in a historic performing arts theatre, the balconies are littered with rows of literature set to the backdrop of a grand stage and frescoed ceilings.
Scout Out The Markets And Colourful Streets
Immerse yourself in the local culture of each neighborhood by hopping between the eclectic ferias (markets). These aren't your typical flea markets as each boasts a unique personality, offering everything from tango entertainment to bric-a-brac bargains and hand-made local eats. Start off at Buenos Aires' most famous market Feria de San Telmo which lines the picturesque cobbled streets of San Telmo every Sunday. For the perfect 'Gram and some local goodies, head to Feria de Caminito, tucked away in the rainbow-coloured district of La Boca.
Shop Up A Storm
Credit card at the ready because South America's most fashionable city is sure to leave a noticeable dent in your bank account. Buenos Aires is known for its exquisite leather goods and jewellery, so you'll easily snap up a few staples at the city's artisan stores and high-end malls. Stop by the stylish suburb of Recoleta for stunning upscale boutiques sitting pretty in the French-inspired neighbourhood, or make your way up to Palermo which offers trendier stores with an eclectic, boho vibe.
Next Stop | Day Trip To Uruguay
Add another stamp to your passport with a day trip to Uruguay. A one-hour ferry ride from Buenos Aires will drop you off at the UNESCO World Heritage Site of Colonia del Sacramento. The quaint cobbled streets are lined with historic Portuguese buildings draped in vines and flowers along with vintage cars around every corner and lively alfresco dining. It's easy to feel as though you have stepped back in time visiting Colonia, making it the perfect fairytale spot to while away the day.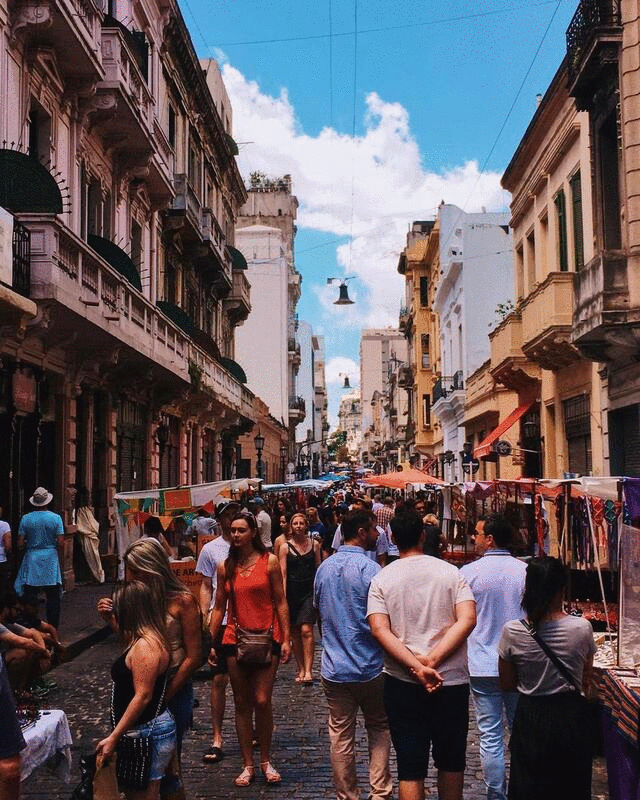 Ultimate Crew Holiday
Fire up the group chat because your next team vacation is to the luscious lands of South America. Landing in Buenos Aires you'll soak up the city-scene before smashing through the bucket list en route to Brazil.
Hit The Town
One thing's for sure: porteños (those born and bred in Buenos Aires) sure know how to party, and they tend to be out and about most nights of the week. From sipping Quilmes al fresco style in Plaza Serrano, to dancing to reggaeton in the super clubs along the Costanera, you won't find yourself short of things to do after dark in this vibrant city. Wondering where to start? Rally the crew because we've curated a list of the best nightclubs in Buenos Aires. You're welcome.
Discover South American Street Art
Go beyond the guidebooks and sign up for a walking tour that will take you through the northwestern neighbourhoods between Colegiales and Palermo Hollywood, offering an off-the-beaten-path insight into Argentina's thriving creative community. You'll discover secret street art spots, larger-than-life murals by world-famous artists and if you're lucky, you'll see a street artist in action because the proceeds from this tour fund future mural projects.
Get Around The Craft Brews
Although Argentina may traditionally be all about Malbec wine, there is no shortage of local brews to sample in Buenos Aires. The microbrewery trend has well and truly hit the city and you'll find an artisanal beer joint in almost every neighbourhood. Head to Antares in San Telmo for a lively atmosphere and true taste of Argentine craft beer, or to Juguetes Perdidos for some innovative sips and a yarn about brewing if you fancy it.
Next Stop | Tick Off The Wander-List
We suggest gathering your crew and smashing through that wander-list with a group tour from Argentina to Brazil. Make some mates along the way while you jet boat out into the incredible Iguazú Falls, snap some pics at Sugar Loaf Mountain and live it up with a cocktail cruise in Rio. Once in Brazil, we suggest rejuvenating with a few days on the beach sipping coconuts at Copacabana—it really doesn't get much better. Pro tip: time your trip with Carnival, an epic five-day festival held in Rio every February featuring 24-hour street parties, colourful parades, lively performances and endless cocktails.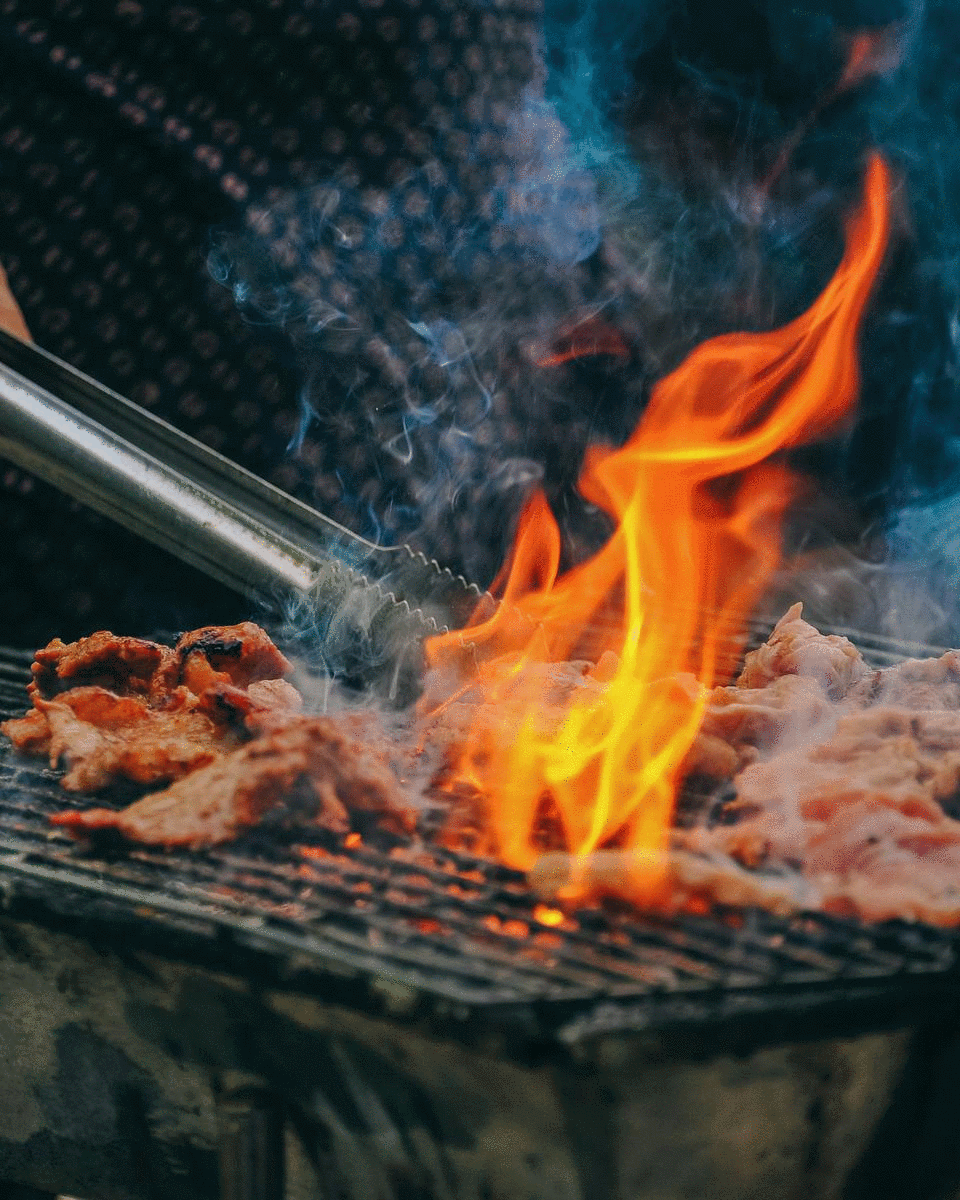 Solo Hombres
Newsflash to all dudes traveling solo, the colourful city of Buenos Aires is just bursting with unforgettable things to eat, see and do. With easy access to the rest of your South American bucket list, consider your next man-cation sorted.
Sink Your Teeth Into Succulent Meats
Foodies rejoice because Buenos Aires is brimming with mouth-watering grilled carne (meat) to devour. Make a beeline for your local Parrilla, which means steakhouse, for a truly authentic Argentinian meal. Here you'll enjoy a smorgasbord of local meats like flavourful chorizo sausage or life-changing steaks, grilled to perfection over an open flame. When it comes to the best of the best, hit up Don Julio for prime, grass-fed Aberdeen angus, La Cabrera for sirloin steaks the size of your face and La Carnicería for a more adventurous Parrilla moment frequented by foodies in the know. Top tip: avoid delicious disappointment and make sure you book ahead or alternatively, book a Parrilla tour.
Watch A Fútbol Match At La Bombonera Stadium
If you thought the Italians and Spanish were football crazy, just wait until you see the streets of Buenos Aires on game day. Football fanatics should not miss La Bombonera Stadium in La Boca, home to Argentina's beloved Boca Juniors. We suggest trying to score tickets to the coveted superclasico game against their rival team, River Plate, for a truly electric sporting experience. Get decked out in the team colours of yellow and blue and join the hardcore fans in their festivities, or alternatively, take a guided tour of the stadium.
Meet Mates On 'The Man Tour'
No, we didn't make this up—a 'man tour' of Buenos Aires actually exists and we're all about this unique way to explore the city off the beaten path. Freshen up with a traditional straight-razor shave at a local barbershop, visit one of the oldest hatteries in the world, devour the city's best empanadas and wind the tour down with a trip to a classic cigar bar. You'll enjoy a Cuban cigar alongside some premium sips (whisky anyone?) and tasty bar stacks. And the best part? As a solo traveller, a local tour is the best way to boost your Facebook friends number and meet some mates on your trip.
Next Stop | Brazil's Best Kept Secret
Known as 'Magic Island' by the locals, Florianópolis (or Floripa for short) is an under-the-radar gem off the coast of Brazil just waiting to be discovered. Boasting 42 beaches (yes, you read that right), endless water sports, stunning resorts and pumping Brazilian nightlife, this really is the definition of paradise. Across the island, you'll discover breathtaking beaches like Praia da Joaquina—the go-to for surfers or Ilha do Campeche, the perfect spot for a beer and lazy beach day. Keen adventurers should not miss the chance to go paragliding, windsurfing, hiking or scuba diving—consider your bucket list well and truly sorted.
Make your South American dream a reality and book flights to Buenos Aires today with Air New Zealand. They offer one-stop flights via Auckland and we recommend opting for Premium Economy because who doesn't love a little luxury in transit?
Editor's note: This article is sponsored by Air New Zealand and proudly endorsed by The Urban List. To find out more about who we work with and why, read our editorial policy here.
Image Credit: Unsplash, Polina Kocheva, Milosz Maslanka