It's Monday and, surprise, surprise, once again you didn't get around to grocery shopping on the weekend. We don't blame you – it's spring, the sun is shining and the nearest beer garden is a much more enticing prospect than trolley dodging at Coles.

It's times like these when, in the immortal words of one Peter Griffin, Bird is the Word. Plump, juicy, moist breast meat. Sweet, salty, savoury, lemony, cajuny, spicy, peppery, tangy, sticky, crispy, barbequey skin. Moist (there's that word again!), flavoursome stuffing. Chewy, crunchy, delectable wings … yup, we're talking poultry of the takeaway variety!
Now we like to think of ourselves as considerate souls at TUL, so, in the interest of your bare pantries and to ease the pain of Monday dinner indecision, we've rounded up Melbourne's hottest chicks and most bangin' birds. Without further ado, we present to you the takeaway chicken joints** you need in your life for moments just like these.

Foxes Den – Elwood & Port Melbourne

With locations in the beach and bayside suburbs of Elwood and Port Melbourne, the clever owners of Foxes Den have reimagined the chicken shop concept, turning their backs on grease-stained lino and fat vats in favour of high end design and healthy, wholesome meals featuring local, ethically-farmed produce.

In addition to AHHmazing free-range chooks, you'll find a revolving selection of seasonal salads made with soba noodles, quinoa and the like. The chicken rolls are worth flying the coop for – choose from the traditional version with mayo or gravy, or something more exotic such as chicken, brie and pear, or Asian-style with plum sauce and coriander.

With super-cool coop-inspired fitouts by local interior design establishment, Hecker Guthrie, Foxes Den is without doubt the place to go for foxes in the know. We're plucking excited about their lunch boxes, perfect for corporate picnics and launching just in time for racing season. Clever chooks.

Foxes Den | 107 Ormond Road in Elwood AND 99 Bay Street in Port Melbourne
03 9531 3335 and 03 9646 4353 respectively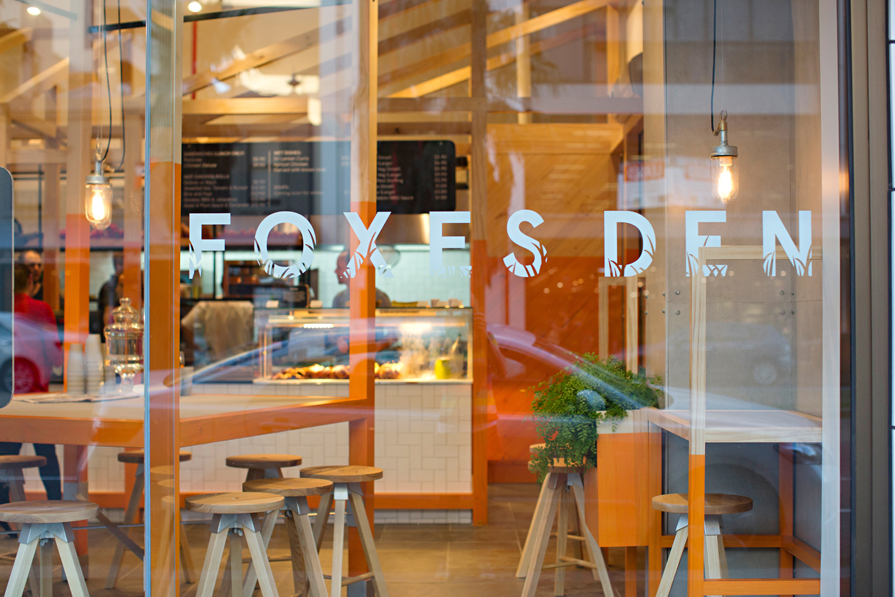 The Hecker Guthrie designed interiors at Foxes Den. Image Credit: Fi Mims Photography

Legs 'n' Breasts – Camberwell

Sometimes, you just want what you know… And this, folks, is exactly what an old-school takeaway chicken shop should be. Legs 'n' Breasts has a pun-derful name, an interior that is by no means glamorous (meaning you can wear your t-dacks), and does a mean trade in huge, organic birds. The gravy is homemade, the thick-cut chips (with extra chicken salt, please!) are so darn good, and their chicken rolls are the business. White bread, sweet mayo, and the gloriously nutrient-lacking crunchiness that is iceberg lettuce. You'd be cuckoo to bypass this old fashioned gem with prices to match.

Legs 'n' Breasts | Market Place in Camberwell
03 9882 9090

Pecking Order – Richmond

It may be rolling distance from Swan Street, but Pecking Order is by no means greasy fodder for the drunken Saturday night crowd. This newcomer is a premium poultry providore: the chickens are free range and the nuggets are posh – rolled in Japanese panko breadcrumbs and cooked to golden perfection. There are also corn cobs, super fresh salads and mouth watering chicken wraps and burgers, served with sauces that range from mild mannered southern barbeque, to super spicy red pepper and lime.

With a cool, modern fitout, you'll probably want to eat in. But, if Monday night telly beckons, the flame-grilled quarter, half or whole birds with crinkle cut chicken salt chips are a great takeaway option.

Pecking Order | 440 Church Street in Richmond
03 9429 3771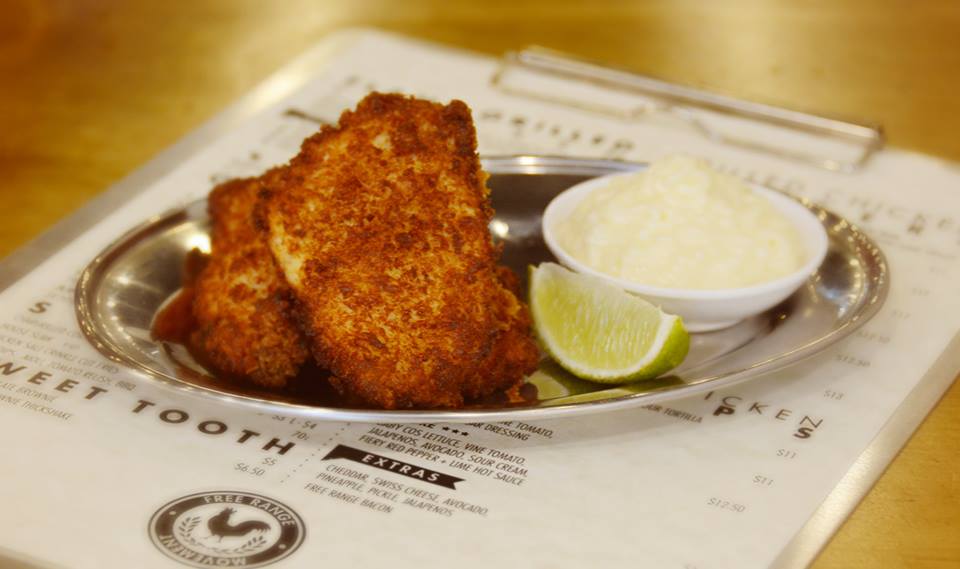 Posh nuggets in all their panko breadcrumb glory. Image Credit: Pecking Order Facebook

Super Tasty Rooster – Fitzroy North

Super Tasty Rooster is a popular old-school BBQ chicken and chippery keeping the fine people of Fitzroy North fed. The chickens are delicious, and the prices and serving sizes will make you smile. Need something to combat the naughtiness of that scrumptious skin? The good eggs at STR also do a great variety of fresh and colourful salads.

Super Tasty Rooster | 121 Scotchmer Street in Fitzroy North
03 9486 2774

Feast on Carlisle – Balaclava

Great chicken, great chips, great salads, great prices, great packs…sometimes things are that simple. Feast on Carlisle is one of those cases.

Feast on Carlisle | 240 Carlisle Street in Balaclava
03 95252 2700

Chicken on Lygon – Brunswick East

Keeping the Brunswick East hipsters in supply of free-range poultry is Chicken on Lygon in Brunswick East. The hot Lilydale chicks are reliably tasty, and the chips are top notch (liberally doused with chicky salt, you'll be glad to know). The chicken burgers are simple but yummy, or you can get your fancy on and opt for a delicious wrap with aioli and salad. Add a side of mash and gravy or some roast vegies and you're good to go.

Chicken on Lygon | 61 Lygon Street in Brunswick Street
03 9078 5541

GAMI – CBD

Korean-style fried chook goodness, right here. Order it plain and straight up, or coated with sweet chili, sweet soy garlic or spicy sauce. You'll also get a side of cabbage salad and radish pickles. Half your (c)luck.
(Wanna read more about GAMI? Then check out our Manly Meals roundup here).

GAMI | Multiple locations

PM24 – CBD

Just cos it's takeaway doesn't mean your standards should drop. For all you posh birds, PM24 does a 5 star rotisserie chicken with sautéed potatoes that will put any home-cooked chook to shame. On the more expensive end of the spectrum, we recommend this for when the prospective in-laws are coming around and you need to fake your culinary skills. Pick up from 6pm daily (baguettes are also available at lunchtime for CBD worker bees).

PM24 | 24 Russell Street in Melbourne
03 9207 7424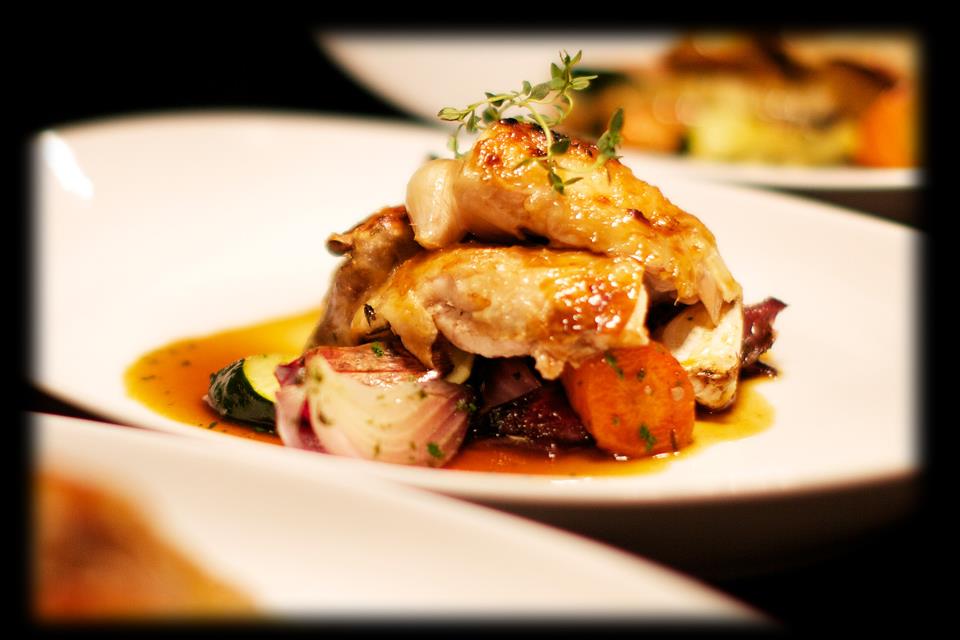 The crowds flock to PM24 for their organic Milawa roast chook! Image Credit: PM24 Facebook

**All chickens in this story are guaranteed to contain 100% actual, real, made-from-animal chicken. No word of a lie.
TUL Note: What goes perfectly with rotisserie chicken? CHIPS! Here's our round up of Melbourne's best hot chips and fries.

Main Image Credit: BBQ Success