Dr Morse owners Jon Costelloe, Anthony Daniel and Pete Walsh are cementing their reputation as Abbotsford's coolest restaurateurs—who would've thought they could top Dr Morse?
Over two years in the making, Bodriggy & Co barely just opened and has already attracted hundreds of beer-loving Melbournians. Can't say I'm surprised, though: who doesn't love a good brewpub? Especially when said brewpub is dishing out primo grub on top of a zillion drink options.
I'll just lay it out there because I know some of you are probably thinking it: Bodriggy & Co feels like Howler and Dr Morse had a baby. Though a tad pricier than Howler (okay, a lot pricier), Bodriggy & Co has a similar Spiel: Mexican fare, spacious venue and a thumping DJ booth.
However, there's a lot of stuff to process once you step into Bodriggy & Co. First, the vastness of the venue: it's a 400-seater, so bring your buds. Also, the sheer volume and variety of alcohol in this place far surpasses anything else in Abbotsford (and possibly in a lot of the surrounding suburbs, but don't quote me on that): there are 64 taps in this joint. Sixty-four. And they're not even all beer. There are Noisy Ritual wines. There are delicious cocktails. There's water, I guess? You get the point.
The Bodriggy & Co menu is also quite robust and dare I say, a little more 'sophisticated' than your typical Melbourne Mexican place. I mean, if you tend to roll your eyes at the sight of 'tacos' on your run-of-the-mill pub menu, there's none of that here—if you've ever been to Dr Morse, you know these guys mean business when it comes to food.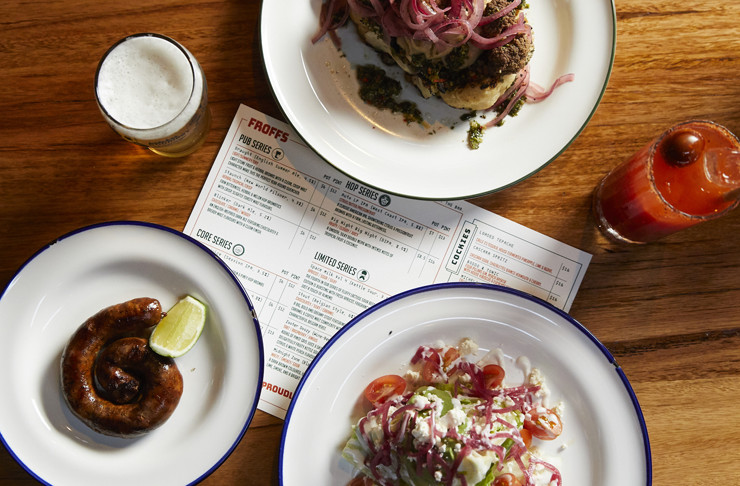 Albeit a bit pricey for a brewpub, the food is a grade above your average pub food. The menu is vegan/vegetarian-friendly and leans toward a share plates situation. We're talking tacos, ceviche, cauliflower steak if you want to get fancy and even some juicy beef short rib if you're feeling hungry. There's even a 'feed me' option, which is a little weird for a pub, that'll set you back $55 per person.
Besides the food, there are a lot of fun little details in the venue that make it worth the two-year wait: cool little decals on all the glasses, handrails from the old MCG on the way to the bathrooms and a cool, vintage-y backlit bar menu that lays out all the delicious beers.
As for choosing drink favourites, it's a bit hard. The Auto LP IPA is pretty delish, with a hint of citrus and passionfruit that goes down nicely. There's a nice chocolatey stout that will definitely warm you up on these cold winter nights and even a wine-beer hybrid which I haven't been brave enough to try. But now that it's here, I'm really looking forward to slowly making my way through the entire beer list at Bodriggy—it'll take a while.
Bodriggy & Co is open every day, 11:30 am until late.
THE DETAILS
What: Bodriggy & Co
Where: 245 Johnston St, Abbotsford
Keep up to date with the latest openings around Melbourne on our Food & Drink section.
Image credit: Ben Capp