You might not recognize The Ascot Lot these days. The gates are closed. Everything's quiet. Apocalyptic tumbleweeds are blowing beneath the benches (you know…probably). And in their traditional spot, the girls at Burrito Bae are still here, cooking away.
Nothing says "Melbourne's changed" more than one of our favourite food trucks, quietly making burritos in a temporarily closed food truck park.
"We've been lucky to have such a strong relationship with The Ascot Lot," says Burrito Bae owner, Bec. "It means we've been able to stay open, which has been heaven-sent for us. We don't know where we'd be without them."
It does sound like a grim picture—Mexican food, minus the crowds, the sun and the cold beer—but the one silver lining of running a food truck during COVID is that you're already nimble. You're already used to working on the fly, delivering orders, teaming up with other companies and running your business on wheels. Even when those wheels are forcibly parked.
"COVID brought many unknowns to the hospitality industry," she says. "With every new announcement, the big question was 'How will we survive this?', 'How can we adapt?' Unfortunately, like many other small businesses, we haven't been offered any government grants, so it's forced Burrito Bae to get creative."
Luckily, sites like Mr Yum and Uber Eats have come to the rescue, giving Burrito Bae a fragile (but incredibly valuable) lifeline. Mr Yum has even reduced their fees during lockdown, to help food trucks and restaurants clinging to wafer-thin profit margins. "The Ascot Vale locals have been so supportive," says Bec. "They really band together as a community to support local businesses within the area"
Other than that, owners Bec and Alana have been busy on Instagram and Facebook, trying to build burrito hype for when lockdown ends. Everyone's mindset is pretty much the same: do whatever it takes to get through this rough patch, and then surely the crowds will come back. Surely there are golden, burrito-filled days on the horizon.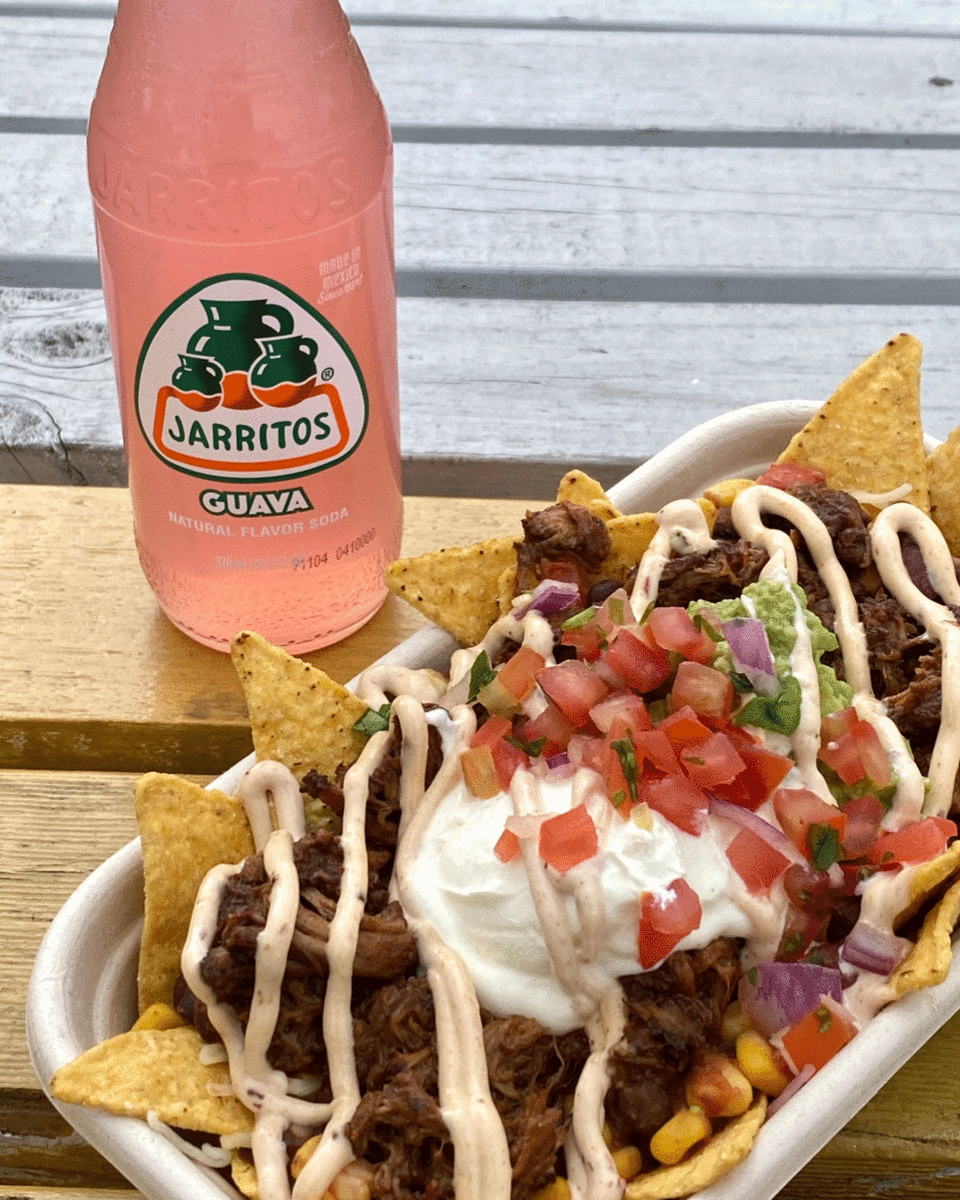 "Mostly we rely on our wonderful regulars and locals, which have helped grow a steady base throughout COVID," says Alana. "Word of mouth is huge for us in this area, and providing quality food and service keeps customers coming back. We'd like to encourage people to support their local business throughout COVID—and even post COVID. Business around Melbourne have taken a huge hit, and making a small change to buy from local businesses makes a huge difference."
Behind every fun-loving food truck, there's a story of long nights, sweat and toil. And it's the same for Burrito Bae. Running a Mexican food truck might seem like a barrel of laughs, but sourcing ingredients, sticking to health regulations, and trying not to scald yourself while pumping out hundreds of burritos isn't easy. It wasn't easy before the global pandemic, and it sure isn't easy now.
You can follow Burrito Bae's lockdown shenanigans on their Instagram and Facebook pages. And until The Ascot Lot opens its doors, northsiders can still order fresh, mind-blowing burritos through Mr Yum and Uber Eats.