Can't Do Tomorrow kicked off at The Facility in Kensington on Thursday 20 February. And with the array of amazing artists at the festival, you'd be mad not to take advantage of the $40 entry price. An absolute steal. Pre-book your ticket, and use the code URBANCDT at checkout to get $10 off.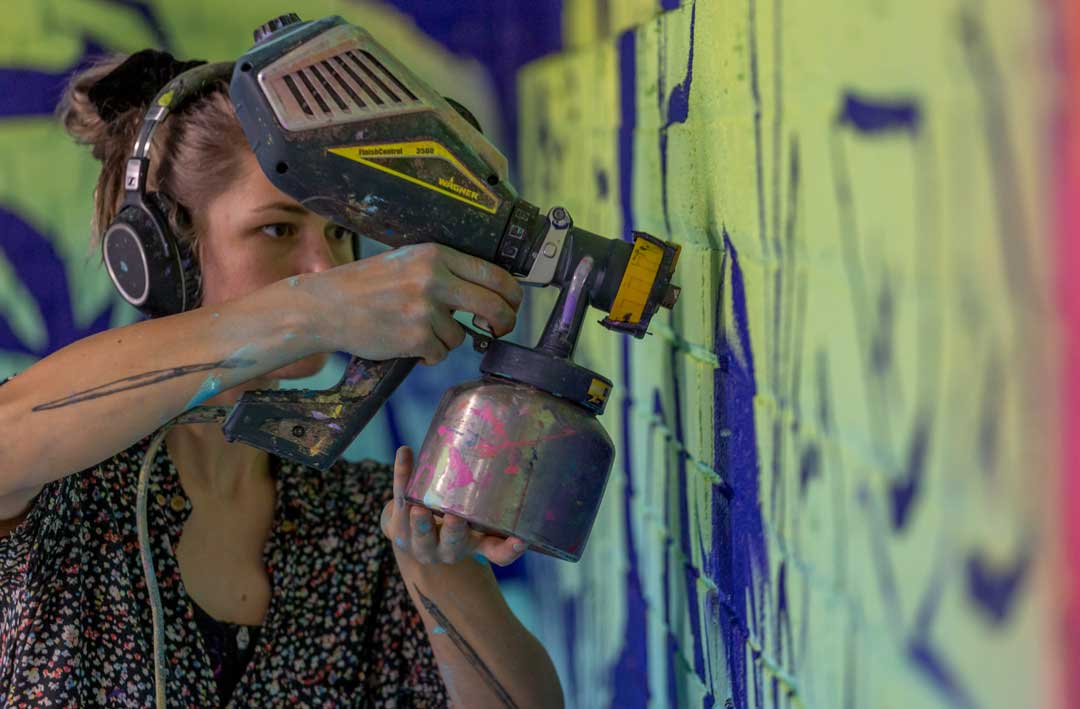 One of the artists that you won't want to miss at Can't Do Tomorrow is George Rose. The in-demand artist has transformed Can't Do Tomorrow's talks auditorium from floor to ceiling
with a fully-immersive swatch book of colour.
We caught up with George ahead of Can't Do Tomorrow (CDT) to see what she's working on.
What interested you most about taking part in Can't Do Tomorrow?
When I first met the CDT team their enthusiasm was infectious. The Facility is such an epic venue and the space paired with the motivation and passion of the crew really got me excited about the event.
The talks theatre is quite a complicated room and I'm not one to shy away from a challenge, so I got really excited about the prospect of painting the space when I first saw and spoke to them.
Tell Us about what you're doing at CDT?
My room at CDT is hosting several talks and workshops so they have built a theatre within The Facility which has been specially created for this purpose. I've managed to paint every surface in this room—from the roof to the floors, the stage, the seating banks, the windows all the pipes, doors and the chairs... everything.
My intention was to create a completely immersive mural which engulfs and overwhelms its audience. I really want to watch some people walk into the space for the first time to gauge their reactions.
CDT is profiling female artists in a big way, who are some female artists we should know about?
There are so many amazing females out there killing it at the moment. CDT has, of course, profiled some amazing peers such as Justine McAllister, Elle, Lisa King and Kate Pullen; but there are many more active female artists outside of this whose work I adore.
A couple of my Aussie faves include Emily Devers, Bronte Naylor, Claire Foxton, Mina Leung, Esther Olsson—the list can go on and on.
How do you think Melbourne's street art scene compares to other cities around the world?
Melbourne has always been Australia's mecca for street art. Whilst our community feels smaller compared to other cities, I think there exists a huge wealth of talent here.
Personally I think presently there is a bit of a flux occurring in the urban art environment. What it is to be a street artist/muralist/urban artists seems to be evolving and changing at a rapid rate compared to maybe 10 years ago when it was super emerging.
It's like this art movement is in its pubescent years and really pushing the boundaries of what it can do. I think it's an exciting time to be watching this relatively youthful art movement and to see where it goes from here.
How do you think CDT will benefit Melbourne's street art scene?
I think it's great to get a dedicated urban art festival—events such as this have been popping up globally. There are now several dedicated urban art museums so it's pretty great to see the support drumming up in the city I presently call home.
What's next for you? (if you can talk about it)
I've spent so long at CDT that it's hard to think about what's next!
I've been so focused on CDT that I could liken the feeling to diving into a body of water and surfacing momentarily disorientated—sometimes it takes a few seconds to acclimatise to your surrounds.
I know I've got a few walls and projects coming up around Australia including a couple of festivals. I'm also actually really excited to get into my studio and work on some more personal projects this year. I always have several projects on the burn at any one time.
Can't wait to check out Can't Do Tomorrow? Get your tickets here and use the promo code URBANCDT to get $10 off.
THE DETAILS
What: Can't Do Tomorrow
When: Thursday 20 February to Sunday 29 February
Where: The Facility, 12 Elizabeth Street, Kensington
For tickets, head to cantdotomorrow.com.
Image credit:
Artist: George Rose
Photo: p1xels