Don't Lose Your Temper is a bit like that scene in Willy Wonka & The Chocolate Factory'—you know, where the kids see the candy wonderland for the first time. Your eyes widen. The world goes very still. Your brain starts fizzing at the smell of Banoffee pie, almond croissants, blueberry muffins, hot chocolate and other treats the Cookie Monster used to call 'sometimes food'.
This is Melbourne's new dessert cafe. A sugar dusted espresso bar, specialising in naughty nibbles and cosy vibes.
The name is a little wink-wink patisserie gag. It refers to the delicate alchemy of chocolate tempering, AKA The Doom Of Masterchef. In fact co-owner Anthony Hart is the last guy you'd expect to lose his cool. He's got the Zen-like concentration of all serious pastry professionals, although his eyes light up when we chat about the new cafe.
"We started the business wholesale a few years ago, but this is our first time in our own space," he says. "We didn't know if it would work, but we thought: whatever, let's give it a try."
Anthony started the wholesale side of things by himself—supplying cakes and pastries to Tipo 00 and The Press Club, among others—but for this bricks and mortar project he's teamed up with pastry wizard (and best buddy) Michael Furness. The two met while working the pastry pass at Shannon Bennett's Vue de Monde ages ago, and stayed in touch. When Anthony wanted to start up a dedicated cafe, he brought Michael on as a full-time partner.
The result is pretty awesome. Don't Lose Your Temper isn't trying to be classic northside cool—there aren't any architectural fireworks or lighting installations. Anthony and Michael just wanted to let their pastries do the talking. You've got a homely red door, a few seats up at the window (our favourite spot), an espresso machine and a well-stocked dessert counter, running the length of the space. That's about it.
But damn, these guys can bake. There's a reason they're sought after by some of Melbourne's best restaurants and cafes. The croissants come from Cobb Lane ("They're as good as Lune in my book," Anthony says) but pretty much everything else is done in-house.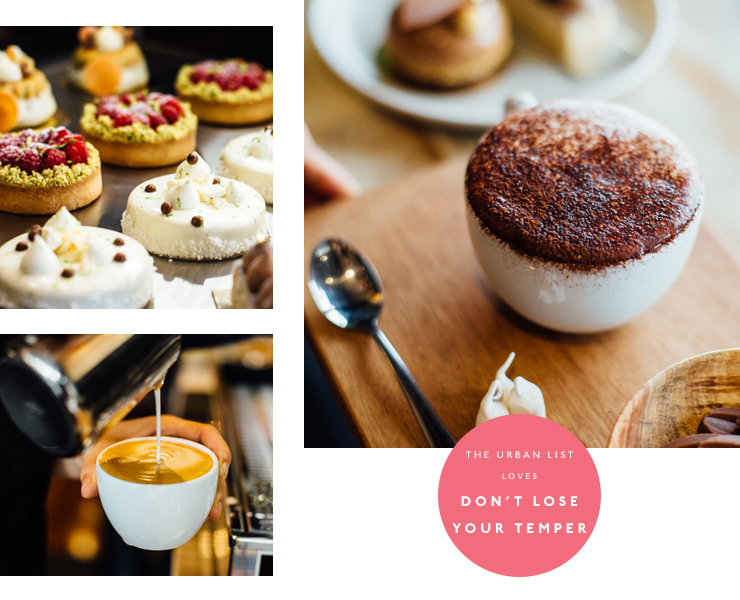 We're talking passionfruit curd tarts with kaffir lime and vanilla powder. Caramel and chocolate eclairs, made from fresh Clark St coffee ("I wanted to see what good coffee could taste like in a dessert.") And our personal fave: the 'Banana Splat' banoffee tart. A choc pastry shell, piped with salted peanut caramel, banana and white chocolate custard ganache (err wtf), toasted vanilla marshmallows and peanut crumble. This thing should come with a pleasure warning. It's that good.
You're gonna need something to wash down your pastry, right? We humbly recommend the crap out of the hot chocolate. It might be the best we've ever tasted. Anthony and Michael make it with melted down 40% Jivara chocolate (for milk) or 70% if you like things a little more sultry. Filled to the tippy top of your mug, dusted with more choc and served with housemade marshmallows. It's officially nuts.
If you want something more substantial, there's a small range of homemade sourdough toasties (try the pumpkin and caramelised onion).
The boys are also running the wholesale and catering business out of the back kitchen. That means you can get world-class cakes and patisseries at your next big event—just ring them up and chat particulars. "The only thing we don't have lying around are big cakes," Anthony says. "People seem surprised when they come in and can't just grab a big cake, but we prefer to bake them to order."
Interestingly, Anthony has baked all over Europe and South Africa, and says Australians have a sweeter tooth than the rest of the world. "In Europe, they're always asking for more bitterness, less sugar," he says. "But here it's all about the sweetness."
Want to learn more about Don't Lose Your Temper? Check out our Directory page.
Image credit: Annika Kafcaloudis