There are two normal human reactions to a 'cheeseburger dumpling': outrage and curiosity. Personally? Chalk us down for 'Curious' (life's too short to get angry over dumplings).
When we heard there was a new bar in Melbourne slinging fish n' chip dumplings, beef rending dumplings and apple freaking crumble dumplings, we knew it was only a matter of time till we were sitting there ordering one of everything on the menu.
And that's pretty much how it turned out. A random Wednesday night and we're sitting in Drumplings, surrounded by piles of bamboo steamers like it's our last meal on Earth. People are starting to stare and point. We give them a professional nod, like we do this all the time.
Drumplings popped up on Bourke St a couple of months ago, decked out in pink neon and Tiki furniture. It's a screwy little restaurant from founder Deon St.Mor (great name), who's worked at MOR Cosmetics and St. Jerome's (RIP).
Deon teamed up with head chef Jeremy Raven (why do all these guys sound like superheroes?) to craft a dumpling menu that's one part China Town, two parts Willy Wonka. We've got a sneaky suspicion that 'Drumplings' is a portmanteau of 'drunk dumplings'. The menu definitely feels like it was built after a couple of beers.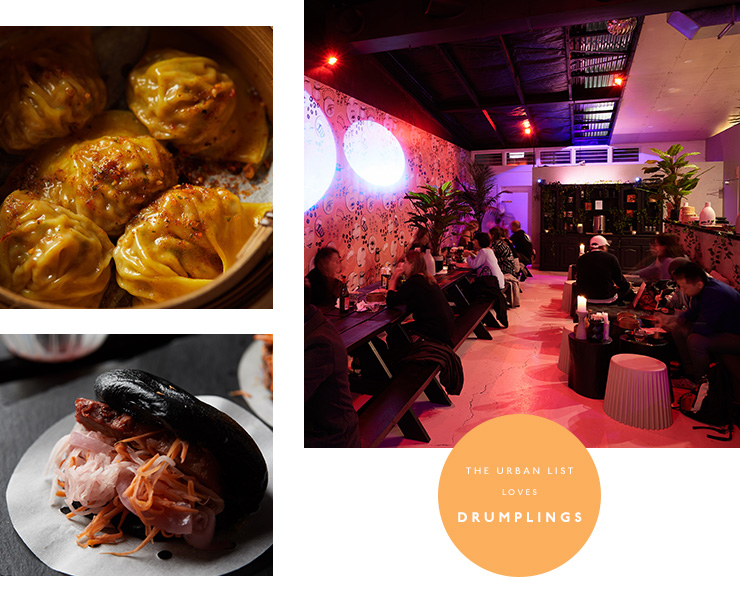 Let's start with the cheeseburger dumplings. They're the best-seller so far, and probably the most controversial thing on the menu: three golden wontons, stuffed with beef and topped with sesame seeds. One bite and we're sold. They taste exactly like a cheeseburger, right down to the meat sweats and the sweet pickly tang. Dunking them in chilli and black vinegar was not a great idea (there are some combinations the human tongue was never meant to try) but a little Sriracha kicked them up nicely.
The other highlight? The Chilli Con Carne dumplings, a cross-continent hybrid that took us by surprise. The beef ragout has a fantastic spicy punch, mixed with kidney beans, coriander, lime and hickory salt.
When you think about it, dumplings are really just parcels to deliver scalding hot flavour into your food hole. There's nothing in the instructions that says they have to be filled with prawn and dipped in soy. And as long as you leave your cultural prejudice hanging by the door, it's easy to enjoy these for what they are: steamed blobs of deliciousness. The glutinous skin that binds two nations together.
Anyway, Drumplings has an entire traditional dumpling menu if the idea of 'chicken laksa dumplings' makes you cry inside (braised chicken, lemongrass, lemon pepper + vermicelli, and quite delicious, just FYI). There's your classic har gow (eight for $8) chef'd up a little with sesame oil and shrimp floss, or you can get steamed prawn and ginger, soupy xiao long bao and scallop and prawn, if the mood strikes you. Drumplings doesn't discriminate.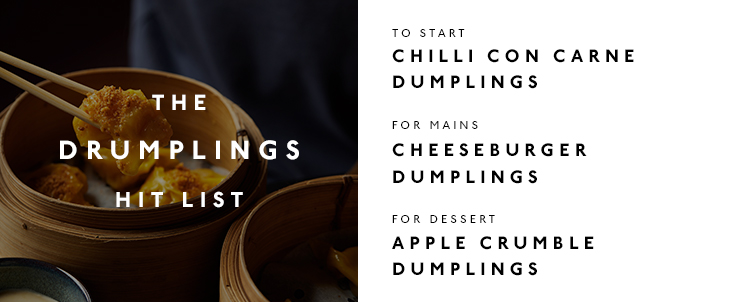 "We've got all the price points ticked off," says head chef Jeremy. "If you're a big geezer and you come in and you want to smash a plate of dumplings for $8, you can do that. If you want to try something a bit different, we've got that too."
Anyone that uses the word 'geezer' sincerely is aces in our book.
Drumplings has another surprise up its sleeve. An industrial courtyard out back, decked out in fake grass and surrounded by high-rises. The plan is to use this space more in summer (when people's fingers won't be too numb for chopsticks). Get some DJs out here, run steamed bao parties, pipe in some sunshine. The dream sounds pretty great TBH.
You'll need drinks to go with those dumps, and there's a few ways to go. Although Drumplings doesn't have Coke yet (get on that guys—dumplings without Coke is illegal in some countries) there's a range of healthy Kombucha that won't dissolve your tooth enamel, plus fizzy cucumber water served in super cute Pikachu cans. Guess which one we went for...
At the end of the day, you can't call yourself a dumpling fan if you haven't given Drumplings a crack. And you can't troll without tasting either. Yeah a cheeseburger dumpling sounds weird, but so does a lot of food. Think about it: someone had to be the first to eat an oyster.
Want to learn more about Drumplings? Check out our Directory page.
Image credit: Griffin Simm