Consider yourself a bit of a foodie but sometimes don't have the energy to be trekking all over town to find yo'self something as simple as a new bag of coffee beans or some market fresh groceries to make dinner? Well don't lift a finger, stay on the couch and keep watching those Friends re-runs 'cause we've found you five of Melbourne's best online foodie finds, where all you have to do is hit 'buy' and wait for that doorbell to ring! See below for our top picks for online gourmet food and drink shopping.
DINEAMIC
If you're sick of planning each and every meal you eat in a bid to be healthier, this one could be right up your alley. Dineamic and their team of professional chefs and nutritionists create fresh, healthy meals using nutritious ingredients that can be delivered straight to your home or office. Not only is the service great for those who just don't have time to cook, but it's also perfect for those who are looking for some guidance when it comes to cooking healthy meals for the whole family. All you need to do is re-heat and serve and your yummy meal will be ready in just under 10 minutes! You'll find everything on the menu that you can find in gourmet restaurants, such as inventive pasta and risotto dishes, fragrant curries, tender steak, delicious soups and lots more. Dineamic also caters for specific dietary requirements and has meals that are vegetarian, gluten-free, dairy-free, preservative-free and 99% fat free – they're always doing something new and exciting to keep everyone happy!
GRIFFITHS BROS
If you're a Melburnian, then chances are you love your coffee as much as we do – it's a no brainer. So we're going to take a punt and say you're gong to like Griffiths Bros, too. For one, as Australia's oldest coffee roasting company (we're talking circa 1800s), it's suffice to say they know a thing or two when it comes to making the perfect cuppa! And two, they have an online store, which means you can access their amazing Fairtrade organic or single origin blends from wherever you like, whenever you like! That got your attention now didn't it? Here's how it goes: The guys at Griffiths source the finest coffee beans from all over the world and bring them back to roast on site at their digs in Mulgrave. These premium beans are then distributed to some of Melbourne's best cafes and available for you to snap up via the online store to get roasting at home. Try their Just Fair blend made from 100% Fairtrade and organically certified Arabica beans from Honduras and Peru, boasting a super smooth finish, or get more adventurous with the New Guinea dark organic single origin that is both rich and sweet. Head on over to the site to check out their huge range of syrups, teas and drinking chocolate, too! Trust us, coffee lovers – you won't leave empty-handed and, we ask: why would you?
YOUSLI
Get excited about brekkie again thanks to Yousli, the brand new site that allows you to create your very own museli mix and have it delivered to your door. Just pick your base – choose from classic, gluten-free, high fibre or cinnamon and wholegrain – add your toppings and away you go! There's a huge selection of nuts and grains including all the favourites like puffed quinoa, chia seeds, linseed, pistachios and pecans, PLUS everything from goji berries and pomegranate seeds, to coconut flakes and Inca berries! The best part is there are no hidden calories. Just keep your eye on the nutritional calendar on the left side of the screen that updates itself every time you add or subtract an ingredient – pretty cool hey? And, if you don't want the fuss of creating your own mix, just add one of the pre-made muesli packs to your cart and you're set. We love the hazelnut, cacao and mulberry blend, which is the latest addition to the Yousli family. Oh, and did we mention you get to name your individually made muesli creations? Yep, give them a name so that next time you log in you can just select it and add it to your cart.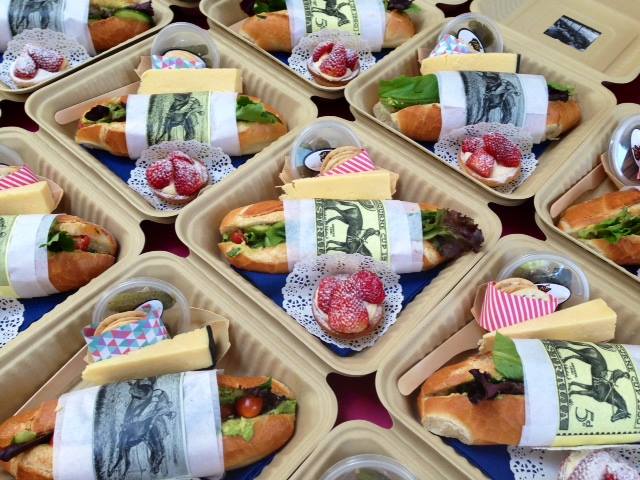 GOLDILOCKS LUNCH BOX
Want something different for lunch as well as the thrill of having it personally delivered? There's just something about a parcel arriving with your name on it that makes it all the more exciting – especially when it's food! Goldilocks Lunch Box pack and deliver delicious home made lunches made from organic market fresh ingredients – all based on a particular weekly theme! Each mouth-watering lunch box also comes with something sweet to ensure you're well prepared when that 3pm sugar craving hits. The only catch is you need to order a minimum of 20 lunch boxes, which is pretty perfect for an office setting don't you think?
BERTIE'S BUTCHER
For many, getting to the butcher is one of those things that doesn't quite eventuate as regularly as it should, which is why Bertie's Butcher in Richmond offers customers a quick and easy way to order their fave cuts of meat online. Obsessed with pork belly? Go crazy over lamb shanks? Love a good roast chicken? Bertie's has you covered with their great selection of free range and organic meats free from all the nasties like growth promoters, animal protein and hormones. They've also got some great hamper packs like the BBQ Meat Pack, which contains everything you need for a family barbie, as well as an organic produce box made up of yummy in-season veggies! Bertie's pride themselves on offering top-quality advice to customers, so if there's anything you need to know about the meat or how to cook it, just drop them a line and they'll be happy to help. Plus if you spend over $100 you'll get free delivery – great for a weekly or fortnightly shop!
Image Credit: Dineamic and Goldilocks Lunch Box