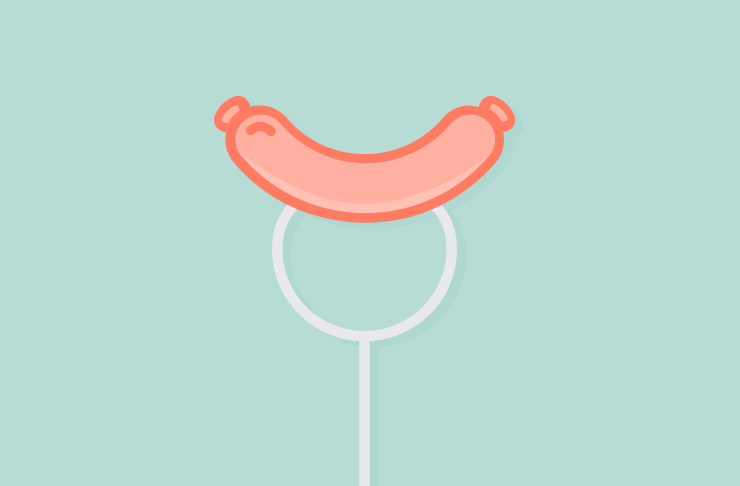 Yep we know, there's an unprecedented amount of FOMO to be had right now. Just when we finally accepted that we're not in Europe, Splendour In The Grass just sent us into massive relapse. Awesome. But get this Melburnians, life doesn't stop for anyone. The universe isn't interested in your European getaway or your splendid weekend in NSW. (We're not bitter at all...can you tell?)
Heads up. Here's what you're *really* in for this week.
Gemini
Feel like you're constantly rushing these days? Your higher powers want to remind you that while the train might be full speed ahead, there's plenty of stations at which to stop. You just need to choose wisely.
In other news, here's something you shouldn't do slowly... or quietly. And that's eating ramen. Here's our ultimate guide on the delicious bowl of noodles.
Cancer
We'd love to tell you something you don't know, but with Saturn entering your third house this week, we thought we'd give it to your straight. It's time to stop being a control freak. Key word – try.
You can't control everything. But you can be in charge of making your own brekky. Here's our recipe to make your own delicious Malaysian breakfast.
Leo
Lately, you've been wondering what the point of it all is. Venus is heading into a period of retrograde this week and you need to take a step back too. Stop thinking too hard, you're killing the vibe.
In other really important news, you can now send your mates anonymous eggplant emojis. Beats us why.
Virgo
Ol' mate social media's great at keeping us informed... especially on what we're missing. This week your chart's all about disconnecting, so put down the phone and pick up one of those paper things instead. We think they're called books. You'll be in touch in no time.
We love keeping y'all in the loop, and here's another scoop: Melbourne's own Rone is back in town with his next major exhibit. You're very welcome.
Libra
According to your reading this week, your scales are perfectly balanced. And when does that ever happen!? You need to capitalise on this rare cosmic event, 'coz something awesome this way comes.
Speaking of awesome things, there's a music festival taking place in a winery and it's got your name written all over it.
Scorpio
Wanting to blend in with the crowd is so last century. With Mercury picking up a new orbit this week, you've got the green light to add some brand new accessories to your 'drobe.
To kickstart your accessory search, we think you should check out this Swiss bag brand. Their pieces are one-of-a-kind. No, literally.
Sagittarius
Let's face it, your wanderlust is starting to affect your day job. Before your deadlines pile up to almost mythic proportions, you need to get focused. Consider this your astronomic friendly warning.
'Cause you're not heading to France anytime soon (soz), here's Agathé Pâtisserie's very own recipe for their kick-ass French Onion Soup.
Capricorn
Feeling like you've been stuck in a grey area recently? Well, yeah, literally ('cause winter bites), but metaphorically too? It's hard to make sure you don't spiral out of control. Maybe take a few notes from your galaxy – it seems to have things pretty down pat.
We want to help you add some colour into your life, good thing there's a unicorn festival on this weekend.
Aquarius
Your unpredictability means you're super popular in the dating game, but your friends? They're so done with your flakiness. Seriously, if they wanted flake, they'd just get a Cadbury. You need to check yo'self, before you wreck yo'self.
Sounds like you're drowning in fizzling friendships. An almond milk latte at one of Brighton's newest digs, The Brighton Buoy, may help you stay afloat.
Pisces
That band-aiding strategy you've been applying is starting to wear thin. Interestingly, this week your reading is shining a spotlight on three little words: handle with care. Tread lightly Pisces. You don't want to rock the boat.
But there's no problem a juicy, fresh, deep-fried doughnut can't fix (duh). St Gerry's has you covered.
Aries
We understand that you guys aren't morning people. Especially not before your first caffeine fix of the day...and ESPECIALLY not with all the majorly sub-par radio shows we've got on air right now. There's so much audible garbage going 'round we're surprised your ears aren't bleeding too.
It's time to take out the trash – we've got your (ears') back. Here's all the podcasts you seriously need in your life.
Taurus
This just in, one of your galaxy's biggest stars just spontaneously combusted and things are kind of haywire up there right now. This week is all about staying organised, because one wrong move may cause you a major slip up of epic proportions. And ain't nobody got time for that.
Wanna take it easy? We know about a luxe boutique hotel in Sydney that you could really use a stay at...
Need more suggestions to deal with your week ahead? Search our Directory for the best of Melbourne.
Image credit: Gabrielle Stjernqvist