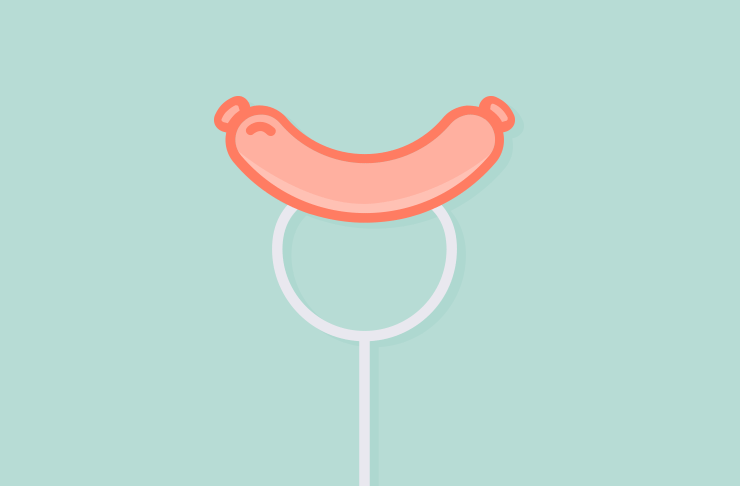 There's nothing like getting halfway through August to give us a little spring in our step (no pun intended). With the blossoms nearly blooming, the temperature slowly but surely rising, hey – at least we don't have to wear two pairs of socks anymore. We'll take a win any way we get one.
Are things lookin' up? You be the judge. Here's what you're *really* in for this week.
Gemini
All good things must come to an end. We know that saying is (un)officially the oldest phrase in the book, and your Higher Powers aren't entirely sure that it's even true anymore. Today the Sun completed its orbit of Earth in record speed. This is your cue to harness all that solar energy and unleash your inner optimist. We know they're in there somewhere.
We're trying to be more optimistic too. Let's not forget that when one door closes, another restaurant opens… in Melbourne at least. RIP Saigon Sally. You will be missed.
Cancer
It's about the tenth time you've deleted dating apps from your phone. Tinder, Bumble, the lot. After your recent string of dates, the Powers That Be can't really blame you – they were effin' tragic. Unlike your irrational dating thought process, this week your key to success is to take things slow. You need to time to filter out all of those potential suiters.
But just in case you do end up on a date this week, you should think about hitting up Melbourne's brand new bookshop and wine bar.
Leo
There's only one thing a Leo loves more than having their shit together. And that's feeling like they do. It's time to take a step back and realise that no matter how good your Insta filter can make it seem, no one has their shit 100% together. So what's on the cards this week? Embracing those unknowns and accepting that you really don't have it all figured out. And that's pretty damn exciting.
Unlike this new app, it actually does have it all figured out. With plants at least.
Virgo
Whether you're deciding what to order from the UberEats menu or deciding to hit snooze for the third time, life is undeniably all about choices. Venus is perfeclty aligned this month, meaning that your decision-making process is going to be on fleek. So here's to a picture perfect week. Nope, we don't really know what those look like either.
While you're making decisions this week, make sure you wear an on-point beanie. Check out some cool ones over here.
Libra
At the end of this week your love department is going to be packing more heat than the sauna at your local leisure centre. Yep, sort of like the weather, you're gonna be turning it up, you lil' minx, you. Mercury's definitely rising... and we're not just talking about the planet.
If you're keen for more heat on all fronts, we've got a list of all the best places for hot yoga in Melbourne that really are bringing the heat.
Scorpio
Been planning a social media hiatus recently? Need to cleanse yourself from that 'smart' phone that's making you feel dumber with every pointless (but hilarious) meme video you watch? According to your reading this week, it's high-time you got in touch with your inner book worm. It's been cocooning long enough and it's time to it set free once more.
We've got a list of Melbourne's best bookstores to get you back on track.
Sagittarius
Everything's been going haywire recently. It's like your life is one giant hurricane and there's social calendar debris flying around left, right and centre. This morning your galaxy had a minor astronomical disaster, with a meteor having collided with the rim of one of Jupiter's orbits. Thank your lucky stars Jupiter slowed its roll this month. It's a sign that planning needs to be your strong suit this week to avoid major disasters.
Here's a perfectly planned 48 hours in Lisbon that will trigger your wanderlust. Soz in advance.
Capricorn
Recently people just don't seem to be doing it for you. Empty promises, 'friends' eating your last piece of chocolate and way too many annoying people ruining your overly-priced but delicious af brunch. Yep we know, sometimes people just suck. This week the Universe is sending you the equivalent of a cosmic green light to toss in people for your pooch. Not that you really needed any out-of-this-world approval, let's be honest.
Your pupper deserves the best on offer. Pupper meet The Pet Grocer, The Pet Grocer, meet Pupper.
Aquarius
You've been trying to decide whether living in the digital era is making your life better or that much worse. As Uranus enters your Third House this week, the Powers That Be want you to move forward and start turning those adversities into opportunities. You're onto bigger and better things.
But we get that life's tough, so if all else fails, there's nothing a cold, hard drink can't fix. It's a good thing we've got a solid guide to Melbourne's best bars. One vodka on the rocks comin' right up.
Pisces
Melbourne weather has a good habit of ruining days one shower at a time. Waterlogged shoes, drenched hair and soaked clothes. This week as Saturn gains a new orbit, you'll be picking up a collection of new habits... and they're (mostly) good. Hopefully one of them involves remembering to pack an umbrella.
There are so many things in this life that are better dry. Gin martinis, dried fruit (underrated and you know it), but your skin? Hell no. Here are our top tips on how to maintain your beautiful complexion in winter.
Aries
Whether you're getting over a relationship (with brunch) or with an actual person, for the Aries it's all about closure. This week your House of Love is loaded with stars, a reassuring sign that there will be no shortage of love in the weeks to come.
Speaking of wrapping up odds and ends, there's a new spot on Chapel Street wrapping delicious Mexican goodies in tacos. Say hello to Tacocat.
Taurus
The sub-zero temperatures has meant that the definition of stepping out of your comfort zone really just means leaving the house. Hey, no judgment. But this week as Saturn picks up a new orbit, it's your time to metaphorically step out of your comfort zone and try something new. Even if that genuinely does mean leaving the house for the first time in a few weeks, props to you.
If you're the kind of person who only leaves the house for food and nothing but food, you should check out the menu at My Son Joy. You won't be bored, or disappointed.
Image credit: Gabrielle Stjernqvist