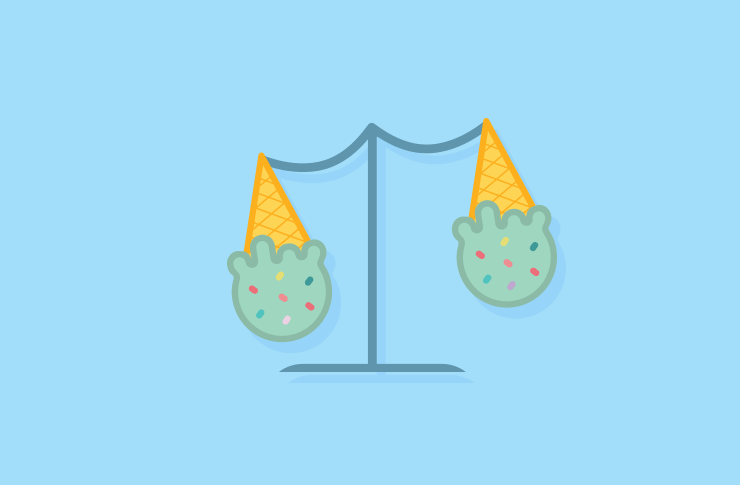 Honestly, we'd love to deliver some news that made you feel like a walking ray of sunshine, but apparently this week the Universe thought it would be a good idea to throw everyone the astrological equivalent of a curve ball. We've only got one thing to say to you. And that's "May the odds be ever in your favour".
Oh, and here's what you're *really* in for this week.
Gemini
There's a good chance you won't want to hear this, but unfortunately for you Gems, this week's going to be the definition of a hailstorm. Unpredictable, painful and ice cold. Your Powers That Be say that next week is looking up, and so should you.
But we don't your week to be all bad. The Food Repository will definitely put some good vibes back into your life.
Cancer
The best way to tackle a buffet is to go hard or go home. If your plate isn't overflowing, you're doing it wrong. But in life, that's not so much the case. You need to pace yourself to win this marathon.
Speaking of loading it up, have you checked out our list of Melbourne's best acai bowls yet?
Leo
It's true, we all want someone to look at us the way we all look at the waiter when they're bringing food to the table. So do you guys want the good news or bad new first? Well, the bad news is that this week love isn't on the cards, but drinks definitely are.
If you're looking for a place to go where you can eat, drink and be merry and not worry about your dream bae, you need a visit to Smith Street.
Virgo
What's in the Virgo skill set? Well among other things, overthinking ranks pretty highly. But quite frankly, that's not doing much good for anyone, including yourself. This week it's high time you accepted that you can't control everything, (other than what you're ordering for brunch). Live and learn, people.
Struggling to maintain control in your life? Sounds like you need a PT. It's a good thing we know a heap of them... and on a first name basis too.
Libra
As Mercury moves into your House of Love later in the week, we're certain that the temperature is definitely going to be rising. And just like your coffee, your mystery lover is going to be strong, dark and delicious. Things are officially starting to get percolating.
Don't deny it, you're a natural born coffee snob. And let's be honest, you've definitely said at least one of these 20 things.
Scorpio
This week Mars is coming in hot, and you can consider your House of Heat very much ignited. Keeping your cool has never been your strong suit, but this week it's your time to shine, hot head. But be careful when you play with fire – you don't want to get burned.
Just in case you feel like cooling it down, good news. Melbourne's getting Australia's first ever nitrogren ice-cream truck. #winning
Sagittarius
Your mumma didn't raise no quitter. This week, just when you think you're getting too old to play games, don't throw in the towel. Things are just about to start getting interesting. Our advice? Play at own risk.
We think you'll agree, you're never too old for fairy floss. Especially not when it's in your cocktail.
Capricorn
We have pretty good reason to believe Saturn nearly collided with Jupiter this month. Consider this near-miss atmospheric catastrophe your green light from the Powers That Be to get lit AF... not that you didn't already have that planned anyway.
Getting lit sure does get an appetite going. Check out our list of Melbourne's best drunk food.
Aquarius
There are some epic movements happening in your fourth house at the end of this week. We know your hobbies include backseat driving, but trust us, this week you need to kick back and relax and let fate take the wheel.
We've done the hard yards for you and discovered Melbourne's most dog-friendly cafe. Thank us later.
Pisces
All this cloud coverage these days is pretty miserable, but believe it or not, whipping out your inner optimist is on the cards this week. If you needed any confirmation, check our the stars tonight. They're going to be shining brighter than a diamond.
You can never have too much good news. You can now get Kong BBQ, Baby Pizza And Hawker Hall all on Deliveroo.
Aries
This week is all about listening to that lil' voice inside your head (no you're not crazy). Taking on board all of those tips and hints will guarantee you a one-way ticket to Greatness Town, population you.
Looking for something to keep you sane? There's five new cafes here in Melbs we think you'll like.
Taurus
With the moon entering its first phase of the Full Moon Cycle, this week you're going to be in the market for all things new. Spring's around the corner which means new season, new 'drobe. You didn't think the Universe would be letting you spring into September without a new pair of shoes, did you?
Speaking of all things new, did you hear Kit Kat has released six epic new flavours?
Image credit: Gabrielle Stjernqvist