Fashion. Design. Food. At The Urban List, we admit that when it comes to these things, Italians Do It Better. In collaboration with Peroni, our latest series celebrates entertaining and teaches you how to be the perfect host, the Italian way.
---
Springtime means sunshine, long evenings and lots of lush, fresh produce, and what better way to bring all of these elements together than a picnic. When it comes to al fresco dining, we've been looking to our Italian cousins for tips on how to throw the most suave, stylish picnic your suburb's ever seen. Want to know just how it's done? Read on for our 4 hot tips for having the perfect picnic, the Italian way!
#1: Set The Scene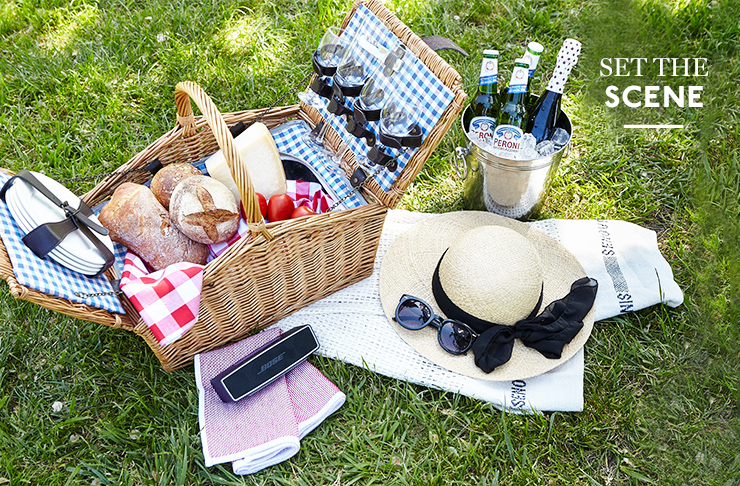 Hosting the perfect picnic is ALL about making things feel as easy as possible. From picking out a stylish picnic blanket, to sourcing a stunning picnic hamper (um, nobody ever pulled anything chic out of a Woolies bag…), to remembering to pack a portable speaker—one that's fully charged!—here are our scene-setting must-have's.
The blanket
Go for something soft and chic. On a warm day, cotton is much better than wool, and if you're worried about that cream blanket getting stained, pack some red and white table linens for the traditional Italian look.
The hamper
A classic woven willow hamper, complete with buckles and leather detailing is the ultimate in luxury picnicking. Make sure it's loaded up with petite plates, glassware and cutlery (ever tried serving antipasti with your hands?) before packing it full of delicious edibles.
The music
Chillout tunes are the only thing you should be playing in the open air (nobody likes that guy in a singlet blasting Tiesto…). Opt for some Leon Bridges, Chet Faker or something of a similar vibe.
#2: Pack The Perfect Hamper
When it comes to picnic eats, Italian cuisine was literally made to be consumed outdoors. Boasting some of the freshest, most delicious produce in the world, no al fresco dining experience is complete without our hamper must-have's.
The bread
Freshly baked ciabatta has the perfect amount of bite to it for an afternoon's picnicking. Remember to bring a bread knife—while ciabatta is delicious, it's not the easiest to tear, so be sure you're prepared to slice it when serving.
The cheeses
Yup, we'd recommend you pick up more than one! Go for a hard cheese such as Parmigiano, and use it sparingly, as well as buying some bocconcini (which is a bite-size style of mozzarella) for a milder option that's delicious with freshly sliced Roma tomatoes.
The charcuterie
Peppercorn salumi, prosciutto and other cured meats make for a drool-worthy addition to your picnic. These traditional Italian meat cuts are packed FULL of flavour, so a little goes a long way. Our top tip? Ask your local meatsmith what's good on the day, and pick a variety of charcuterie, from the spicy to the mild, to keep everyone happy.
The antipasti
Mouth-watering olives, blanched red capsicum, pumpkin with fennel seeds and basil… Italian antipasti served in oil makes an ideal addition to your picnic spread. The oil preserves the ingredients, stopping them from drying out and making for some incredible flavours.
The olive oil
Nothing beats a slice of flour-dusted ciabatta dipped in delicious extra virgin olive oil. Pick up some balsamic vinegar too, and blend a few drops of it into a small saucer of olive oil for the ultimate bread-dipping solution.
#3: Keep Your Drinks Cold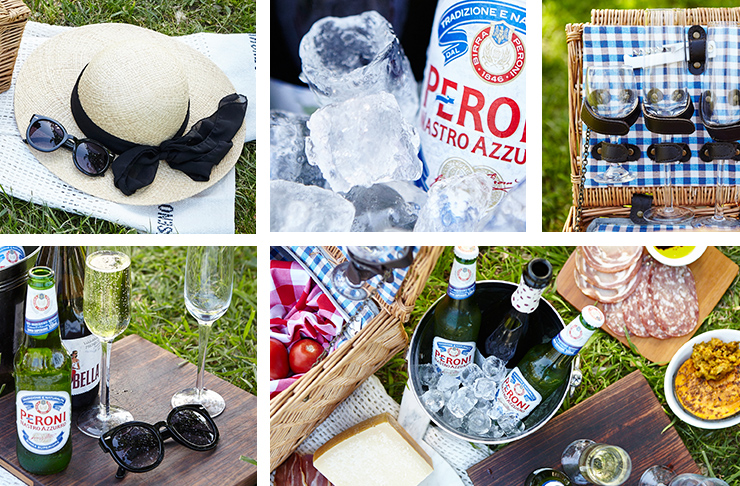 Let's face it: A beautiful summer's day can be ruined by a luke-warm beverage. Chilling your drinks should be the first thing on your picnic agenda when you arrive at your chosen park. Here's what you'll need to make sure you're sipping all summer long.
The drinks
Spirits are an absolute 'no' at a park-side picnic—you'll drink them far too quickly in the heat. Opt for a cold beer or a chilled glass of Prosecco for that authentic Italian taste.
The ice bucket
While an Esky might be practical, an ice bucket a about 1,000,000 times more stylish. Pick up some ice on your way to the park and get your ice bucked filled with bottles, pronto.
The glassware
If you're sipping a beer, make sure you keep it in the bottle—it will stay colder for longer that way. If you're a fan of a glass of fizz, proper glassware (not plastic!) is a must!
The bar accessories
A bottle opener and a stopper are essential to make sure you can a) open your tipple of choice, and b) it's not flat after ten minutes in the sun.
#4: Find Your Italian Flair
If you look hard enough, there's a little bit if Italian flair in even the daggiest of us. To find your own Italian flair, we suggest looking to the leading stars of 90's classic, The Talented Mr Ripley. Gwyneth Paltrow's effortlessly chic style and Jude Law's casual cool are the perfect style inspo sources for your picnic, even if you're not sunning yourself on a beach in Northern Italy.
SUN-KISSED CHIC | GWYNETH PALTROW
Cotton shirts, cute prints and a must-have bikini sum up Gwyneth's relaxed, refined beach-side look. Pick up a cotton playsuit that you can live in, whether you're picnicking in a city park or relaxing along the coast,
The playsuit: Henna Frippery Playsuit, $495 by Zimmermann
The swimwear: Hayati bikini, $179.90 by Tigerlily (halter & briefs)
The hat: Oversized sunhat, $59.95 by Seed
LUXE IN LINEN | JUDE LAW
Classic wire-framed Wayfarers, a pair of linen shorts and a classic white shirt (sleeves rolled up at all times, dudes) epitomise Jude Law's suave look that's equal parts 'sailing on Lake Como' and 'chilling with a cold beer'.
The shirt: Classic Linen Shirt, $119 by Trenery
The shorts: Linen Drawstring Shorts, $99.95 by Country Road
The sunglasses: Tortoiseshell 'River' Sunglasses, $540 by Tom Ford
---
Plan your very own Italian experience with the help of Peroni and The Urban List. Search in our directory for premium grocers, bottle shops, delis and more.
Image credit: Michelle Jarni for The Urban List