Remember when Kindles first came out? People were convinced that paper books were going the same way as the mini-disc player (RIP you beautiful, inconvenient bastard).
Fast-forward a decade or so, and it feels like books aren't just hanging around, they're having a moment. And that rising literary tide is floating a few Melbourne boats. First there was Buck Mulligan's, a moody little Irish bookstore and whisky bar in Northcote. And now—praised be—we've got Willows & Wine.
"A few people have come in and said they've always wanted to do something like this," says owner and creator Alice Wheeler. "I've also see a few hospo guys sniffing around. I expect within a year you'll be seeing them everywhere."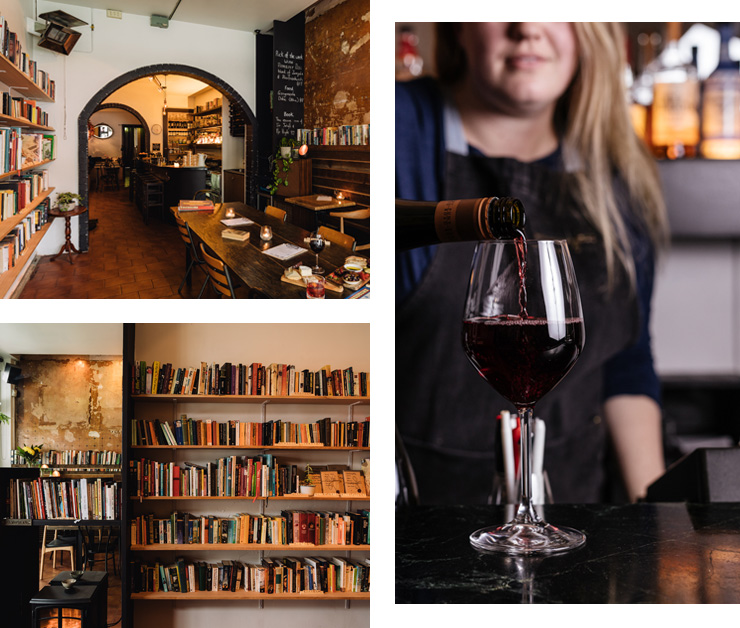 You can understand the desire to replicate this formula; Willows is one of those classic kick-yourself ideas. Dog-eared-second hand paperbacks, candlelight, vintage board games and plenty of dark timber, plus a hand-picked selection of local and international wines. A pre-loved bookshop and wine bar, all in one. How was it taken until 2017 for this to be a thing? The concept is so drop-dead on point it's as if Wheeler plucked it from the ethereal stew of Melbourne's cultural subconscious. The bar we deserve, but also the one we need right now.
The space used to be a Spanish bodega, a candlelit grotto on West Melbourne's bustling Victoria St, just near the Queen Vic Market. "I don't like telling people we're in West Melbourne," Alice laughs. "They always go, 'Where's that?'"
Alice and her partner stripped the place right back, exposing the brick arches and peeling paintwork that gives Willows its weather-beaten character. A small pot-bellied stove glows red by the entrance, and the place is lit by the soft glow of tea candles. There's a big custom-built timber table up front, plus a few bar stools and smaller tables, perfect for that first, nervous Tinder date.
Alice sources her books from charity drives, op-shops and other discard bins. A lot of them are donated by customers (Willows runs a couple of book clubs, and there are even plans for literary speed dating down the track). The system is pretty laissez-faire: you can come in, grab a book off the shelves, sit down and start reading. There's no obligation to buy. "I'm not trying to make a profit off the books," Alice says. "I've deliberately priced them low. They really just cover the petrol it takes to go and collect them."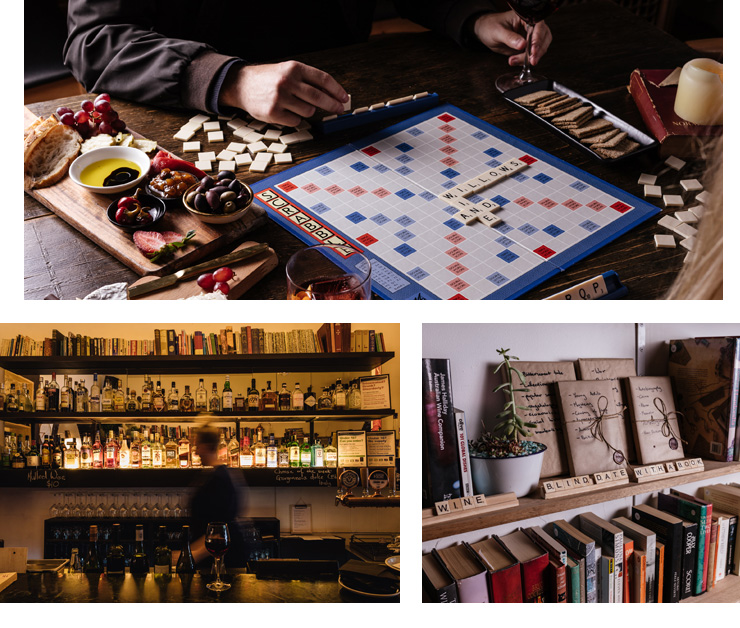 The wine-list is superb, as you'd expect. Alice sources wines from boutique local growers, plus some well-travelled bottles from Germany and Italy. There's a rotating wine of the week to keep regulars on their toes, plus a slow-cooker of mulled wine steaming on the bar. "We pretty much just stock what we like to drink," Alice says. "We try to keep it seasonal too. There aren't many people coming in and ordering a Sav Blanc right now. It's all about the pinots."
The food menu is small and built for grazing. Artisan cheese plates and charcuterie (sliced with the grater from The Artisan's Bottega next door), plus a vegan antipasti board, sourced from the Queen Vic grocers just down the road. Alice scours the market stalls regularly to see what's fresh: today's board is a cute collection of olives, grapes, bell chillies, crusty sourdough and ruby-red strawberries (good snacking fuel for a heated game of Guess Who or Scrabble up at the bar – be warned, Alice is a master).
The best Melbourne bars are always the ones that feel effortless. Willows has that vibe. You get the sense that Alice Wheeler doesn't work a day in her life, not really—for her, this is fun. Sitting up at the bar, mixing Negronis and pouring vino, chatting Dickens with the regulars, hustling Connect Four or reading a weather-beaten paperback, she's found her niche in life. And it's a damn cosy one.
Want all the info on Willows & Wine? Read on.
Image credit: Griffin Simm